Hollywood, USA
•
360° Aerial Panoramas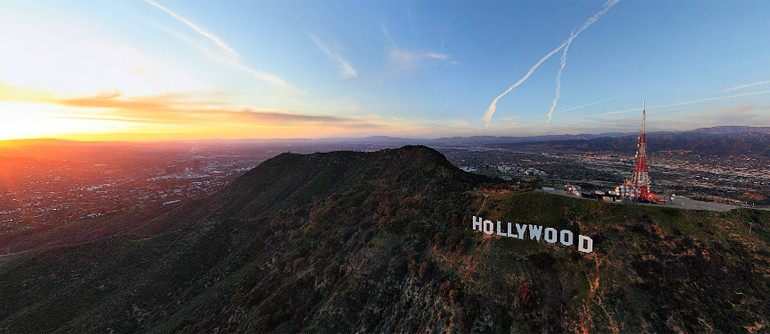 ---
2010 is an anniversary year for Hollywood. Exactly one hundred years ago an American film director David Wark Griffith shot there the film In Old California which became the first Hollywood movie. But the history of the place itself had begun much earlier. The first Spanish conquerors appeared on the West Cost exactly in this region. They banished the Indians from their land and settled ranchos on that territory. Then near the ranchos a whole village grew. It was called in the honor of the local flora Wood and Holly, a kind of bush with sharp leaves, and it covers the hills. Movie came there represented by N. Zeling who in the beginning of the XX century purchased the part of the land for his Chicago film company's branch.
And off it went. The film companies became more and more, first, thanks to the immigrants who flooded the USA. So, the Hungarian Adolph Zukor, who began his carrier as an apprentice of furrier, founded Paramount. The German Carl Laemmle, who sold clothes, created Universal. Brothers Warner, who advertized bicycles in their native Poland, founded Warner Bros. And Luis B. Mayer from Minsk, who earned a livelihood by reselling of scrap metal, became the head of Metro-Goldwin-Mayer.
From that moment Hollywood as a rancho stopped to exist and stayed in the past. Banks, restaurants, clubs and many other places which a developing film industry is interested in appeared there. Hollywood was spoken about all over the world. Everyone wanted to go along its streets and to take part in the shooting process; and the most desirable wish of any lady was to become a new star. In its turn, Hollywood had not been able to keep its independence for a long time, because the lack of water made it became a part of Los Angeles.
A famous sign HOLLYWOOD with its huge letters appeared in 1923 on the South slope of Mount Lee at a height of 491 meters with an advertising purpose exclusively. It was the way to announce publicly about itself of the Hollywoodland Construction Company. It was planned that the sign would be there for about 1.5 years, however, owing to the developing of the American Dream Factory and its fame it was decided to leave it.
The inscription was associated with a movie industry so much that in September of 1932 actress Peg Entwistle committed a suicide: she jumped down from the letter "H" as a sign of protest against Hollywood which had repudiated her.
When the inscription was constructed nobody planned its long life that is why the letters made of wood and metallic plates were losing their good state. During another restoration in 1949 it was decided to take off the part of the word «LAND». But in spite of the restoration works the sign's state continued worsening. Finally, the first letter «O» tumbled down and became similar to the capital letter «u» and the third letter «O» was completely destroyed and the sign became «HuLLYWO D».
In 1978 the destroying sign was completely changed. The present letters have the following size: 14 m height and 9-12 m width. This size is little less than in the original version.
Now the inscription on the hill is guarded by the law and it's forbidden to make unauthorized changes. However, there were cases when it happened. So, in January of 1976 the sign became in the state of «HOLLYWEED» as a protest of the public against new Californian law about marihuana. In May of 1987 the students of Californian Technological University changed the sign for «CALTECH» with covering the part of its letters. And in 1993 before the American Football match between Californian University in Los Angeles and South Californian University the sign was changed for «GO UCLA».
In 2000 Los Angeles Police Department installed a security system equipped with movement detectors and video surveillance devices. Now if somebody approaches to the sign less than 50 yards (45.72 meters), the alarm system is on and police comes.
It's curious, but now Hollywood is one of the poorest districts of Los Angeles. Its inhabitants earn in average 20-30% less than those who live in other districts. Besides, the record number of unhappy people live there and it's quite simple to be explained, because hundreds and thousands of sufferers come there in a rush for fame, but only select few can achieve it.
Although at present time Hollywood is formally the heart of American movie industry (now there is only one large movie studio - Paramount, when Warner Bros., Universal and other companies moved long time ago), however, this district is more than just a "land" or a geographical point. The word itself became a common noun and it is one of the symbols of American Dream as well as a peculiar standard for the film creators all over the world.
30 July 2010
Comments
2016-06-21 09:54:28
5 from 5
"europe at home"
hitesh gupta, India
2016-02-18 04:58:44
"hellooo .... I'm from Indonesia . I found the website by browsing on the internet . I'm very interested to visit this website . and it turns out after it opened , the website is very nice and very helpful . mix of color matching and very creative . I was so inspired to work like this website . thank you
www.sttgarut.ac.id"
ade winda, Indonesia
2015-04-01 06:43:28
5 from 5
"This why we love Hollywood CA it's amazing place to live Los Angeles CA is one of the must creative
place in the world with movies industry and many California dreams thanks for beautiful photos www.directorylocksmith.com"
Bryan Shultz, USA
2014-11-20 15:00:10
3 from 5
"I totally agree with Ken Hoffman' comments above. Hollywood is a great disappointment. We visited my son in Ventura and had a drive through Lose Angeles before we left to come home. We were really so disappointed and shocked at how tacky and run-down Hollywood is. All the famous streets are still there but it looks down-at-heel and scruffy, quite the reverse of what is portrayed on the screen. I'm surprised any famous celebs still live there today. It gets 2 out of 10 in my book."
Lynn Harding, South Africa
2014-08-04 16:29:08
5 from 5
"The panorama is beautiful, no doubt. But the article is equally good, in a sense, that it is very entertaining at he same time educating the readers throughout the world about the history of Hollywood. Many thanks for the writers and panorama graphers!!!"
shripad Ambekar, India
2014-04-30 20:17:40
"Your article is correct about Hollywood. I'll go a step further. Hollywood is the most overrated place in the U.S. Hollywood Blvd. is a tacky joke with it's 'walk of fame'. The sidewalks could use a scrubbing."
Ken Hoffman, USA
2014-02-03 12:21:12
"Are you searching for a very quick
Loan? At an
affordable interest rate? Have you
been turned down
constantly by your Banks and other
financial
institutions?
The good-news is here !!! We Offer
LOANS ranging
from 1,000.00 Min. to 5,000,000.00
Max. at 3%
interest rate per annul. contact us
today at (texcoloan24hours@fengv.com)"
MONICA LEE, USA
2013-12-14 13:34:30
4 from 5
"What a city. we visited in July'2013. Now the super photography remembering us those 45 golden days of our life in USA. I am proud & happy to visit the place with my life partner."
Subrata & Monideepa Chakraborty, India
2013-06-12 19:36:30
5 from 5
"Great idea - lots of memories as I was there in 2000 for 4 months. Nothing has changed. It was my first journey abroad and will be remembered for years"
Justyna Gaska, Poland
2013-05-28 23:24:59
"It s good"
Samandar Yourmahmadov, Tajikistan
2013-03-14 21:55:25
4 from 5
"nice,"
roger de wolf, Trinidad and Tobago
2013-03-04 00:26:27
5 from 5
"What a wonderful way for our children plan their vacations, Imean it's one thing to tell them how beautiful our planet is but to see it before their very own eye's is amazing. For us too, and our for fathers who perhaps never got to see anything of our world other than to serve and protect their country! Look how many changes they have seen! Absolutely Awestruck!!! Thank you for this....A."
Anita White, Canada
2013-02-25 10:30:06
5 from 5
"hello from a tiny country in the South Pacific! beautiful presentation! thank you for sharing! looking forward to being there in a few weeks time!"
fredlyn kalulu, Vanuatu
2013-02-10 17:42:42
4 from 5
"hollywood I "
thalia lesley mylynn goodwin, Peru
2012-11-29 16:42:55
1 from 5
"Very nice Presentation.Thank you very much.We like this."
Tharakad Sundaresan Muralikrishnan, India
2012-11-09 01:58:33
5 from 5
"Now if I had a solid month to view, I couldn't begin to see and explore it all."
Marty Friedman, USA
2012-10-16 01:31:03
5 from 5
"The panoramic views of New York are fabulous, one of my favorite cities to visit. What a brilliant thing to do. Well done. Susan x England"
Susan McKenzie, United Kingdom
2012-10-12 01:23:16
4 from 5
"Does anyone agree that there should a Museum/Live Venue complex celebrating the history of the most important art form in history built above the Hollywood sign?"
William Bergmann, USA
2012-09-11 15:51:15
3 from 5
"good,more..."
m. k., Iran
2012-09-02 23:39:40
5 from 5
"tanks.it was very good."
pejman purtagh, Iran
2012-08-15 01:41:03
5 from 5
"THIS IS FANTASTIC,YOU HAVE DONE A SUPERB JOB LOVE WHAT IVE
SEEN SO FAR AND SHARING IT WITH FRIENDS. THANK YOU VERY MUCH CRAIG"
Craig Tatro, USA
2012-08-14 09:22:28
4 from 5
"We met in Hollywood on May 2, 1945 at the Skylark Supper Club on Sunset Blvd. We got married seven weeks later on June 28, 1945 at the St Ambrose Catholic Church on Sunset Blvd by Father O'Toole. I was a Navy airship pilot stationed at the NAS Santa Ana, I was from Kenton, Ohio, Evelyn from Carroll, Iowa...we have been happily married for 67 years. We have two sons, seven grandchildren, eight great-grands. We live in Florida, all the rest of the Wheelers live in the Indianapolis area. My roommate at Santa Ana said our marriage wouldn't last three years, so Ray Agosti wherever you are you were just plain wrong, lol"
John and Evelyn Wheeler, USA
2012-08-07 14:54:54
2 from 5
ali sohrabi, Iran
2012-08-07 08:14:55
5 from 5
"Thanks so much for the brilliant photo. I was able to pan and zoom and find the house I grew up in right under the Hollywood sign and over looking the Hollywood reservoir.That was between 1950 and 1967. Wow, a lot of memories. Thanks again!"
Steve Thoemmes, USA
2012-08-06 05:36:15
4 from 5
"Very nice pictures.But they don't stop anywhere. So I couldn't cut it off and print it out.But any way awesome pictures!!!"
Jun Uetake, Japan
2012-07-24 23:44:32
5 from 5
"Excellent view. no words to thank the Almighty."
velusamy gounder manohar gounder, India
2012-07-21 20:54:49
5 from 5
"I arrived US on 1971 ( 12 years old) from the Philippines and my first sight from the plane landing to Los Angeles CA is seeing the Hollywood sign. I felt like I was in a dream but the realty is it's going to be my beloved country and my home where my children and grandchildren will be forever be for generation to come. God Bless America the land that I love."
anna saldana, USA
2012-07-15 02:50:29
4 from 5
"I was raised in Hollywood but moved away in 1938. It was a clean town before WWII and was a good family town. During the Great Depression the entertainment industry fared better than some industries. I used to enjoy hiking in the Hollywood hills with our dog. Once, about 1935, I climbed up and stood on the crossbar of the letter "A" when it had "land" was still part of the sign. Looking forward, toward the downhill direction was scary, it seemed to be so high. The top of Mt. Lee was just a cleared off, and leveled dirt area. There was no infrastructure, and no security. Life was simpler then, one reason being that there was only about one sixth as many people in Hollywood, back in its "Golden Age"."
Dale Berkihiser, USA
Varvara, AirPano: Thanks a lot for your story.
2012-07-04 06:31:42
5 from 5
"AWESOME! ! !TOO GOOD. STAY BLESSED."
SD PATU, Fiji
2012-06-28 11:39:45
5 from 5
"Great Filming For All That You Have Made Wish I Could Get It On dvd Just Wonderful To See All The Places I Will Never Be Able To See In Real Life
John Cousins Gosport Hampshire England"
john cousins, United Kingdom
2012-06-25 18:12:43
5 from 5
"nice"
krishna murthy, India
2012-06-25 10:07:03
5 from 5
"I don't have enough words to describe my feeling toward to creators of this map. It is God who create this beautiful earth in order for people to enjoy it. Thank you so much for the minutes of happines from watching this video."
Inna Suvorov, Canada
2012-06-19 18:16:23
5 from 5
"love reading the history and the details besides seeing the stunning panoramas . . . good work guys . ."
mohd sho, United Arab Emirates
2012-06-10 17:54:56
5 from 5
"Great job showing this site. God made it, We enjoy all of it!"
Curtis McRee, USA
2012-05-15 18:50:06
1 from 5
killeryyy killeryyyy, China
2012-04-15 23:03:28
5 from 5
ED NELSON, USA
2012-04-07 11:27:59
2 from 5
vahid poursafar, Iraq
2012-03-08 21:34:05
5 from 5
"The Hollywood hills are beautiful,lots of great homes in the hills,
The flats of Hollywood has made a come back
It a great place,dont sell it short."
marcia george, USA
Varvara, AirPano: We won't, be sure :)