Akhmad Kadyrov Mosque, Grozny, Russia
•
360° Aerial Panoramas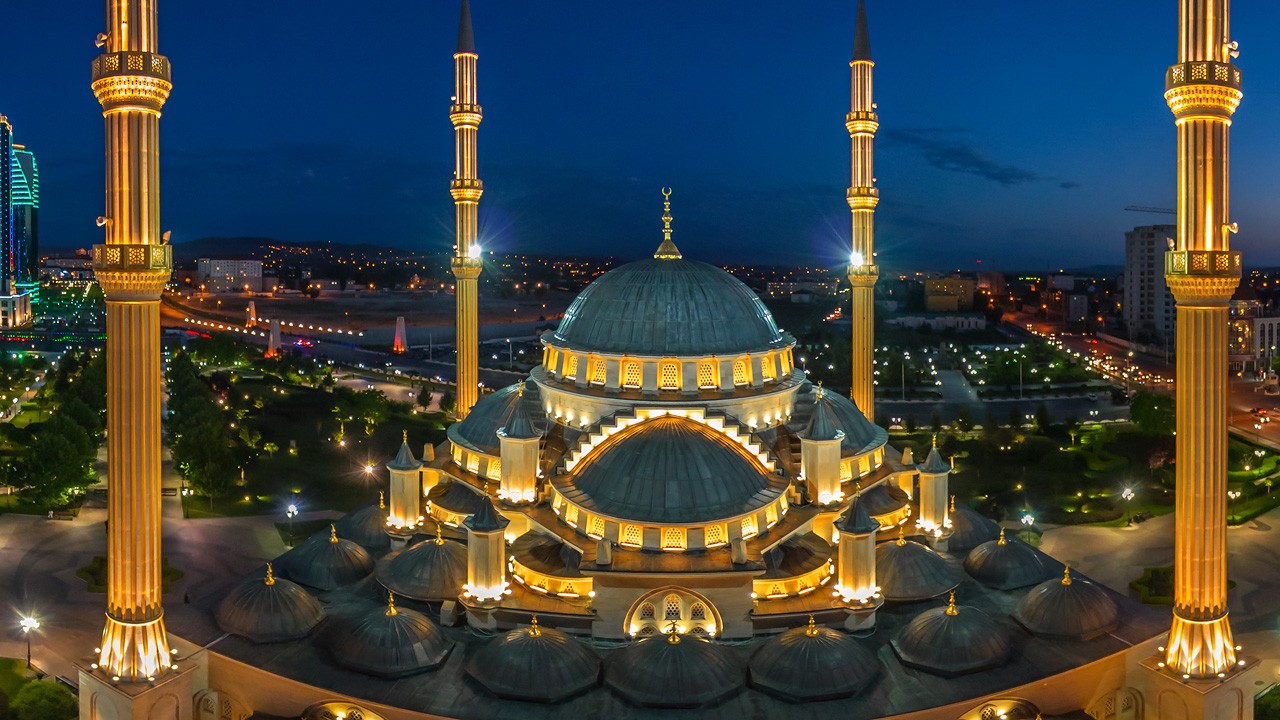 ---
Grozny was founded as one of the fortresses of the Caucasian line of defense in 1818. When the defense line was no longer needed, many of the fortresses (including Kizlyar, Maykop, and Vladikavkaz) were granted town status. In 1870 the town of Grozny became a regional center going through a rapid growth period. In the 1890s, Grozny experienced a large migration of workers coming to the city due to the oil industry development. The first oil well was drilled in 1893, and at the same time they built a new railroad, which made Grozny the largest industrial center of the Caucasus region. In 1926-1928 a new water and sewer system was installed in the city. In 1934, the city of Grozny became a center of the Chechen-Ingush Autonomous Oblast, which was later transformed into the Chechen-Ingush Autonomous Soviet Socialist Republic (ASSR). The Chechen administrative status in the country has changed more than once during the course of its history, but the city of Grozny has always remained its capital.
The city of Grozny suffered its last trial in current history during the First and the Second Chechen Wars (1994— 1999) when the city was taken by storm and was seriously damaged. After that, some people proposed to move the capital of the republic to the less damaged town of Gudermes. However, Akhmad Kadyrov, the president of Chechnya at that time, did not support the idea, saying that the entire history of Chechnya was closely connected to Grozny. During that time there had been a restoration and rebuilding of the city. Within a decade, the famous "Heart of Chechnya" Mosque was built, along with a large Islamic complex, a soccer stadium, the Grozny-City Towers (a five-star skyscraper hotel and business center complex).
The main focus of our photo expedition was the Akhmad Kadyrov Mosque, officially known as the "Heart of Chechnya". It is a mosque of amazing beauty. The exterior walls are adorned in travertine marble, and the interior walls are decorated with white marble brought from Marmara Island (Marmara Adasi in Turkish), which is located on the Sea of Marmara. The "Heart of Chechnya" is the largest mosque in Russia and is one of the largest in Europe. The diameter of its dome is 16 meters, and the height is 32 meters. Four minarets of the mosque are 62 meters tall, which makes them the tallest minarets in Russia.
Although it is usually prohibited, they made an exception for the AirPano team and let us climb up to one of the minarets. After a dizzying ascent of steep stairs, we saw a marvelous view of the city. It is hard to imagine that a muezzin used to climb up to a minaret several times a day for the call to prayer (adhan or azan). Imagine walking a narrow stairwell up to the 20th floor of a building over and over again — one must be in good physical shape. Of course, a modern muezzin's job is much easier: there are loudspeakers installed on the minarets, and a microphone is connected to the lower level of the mosque. However, the view from a minaret is worth the climb.
The "Heart of Chechnya" Mosque can accommodate 10,000 people, and the same number of people can pray on the square in front of the Mosque as well as in the summer gallery. The walls and the dome are skillfully painted by master artisans from Turkey. The inner surface of the main dome is decorated by the words from Surat al-Ikhlas ("The Purity of Faith", the 112th Sura of the Qur'an): "He is Allah, who is one, the eternal God. He neither begets nor is born, nor is there to Him any equivalent".
Interestingly, there are 36 chandeliers in the "Heart of Chechnya" Mosque that are modeled after other famous mosques: al-Kubbat Sahra in Jerusalem, Rovzat-Nebevi in Medina, and the Kaaba shrine in Mecca. The mosque itself and all its elements are impressively large: a chandelier alone is 8 meters high. However, it is not the grand size that will impress you the most, but the airy lightness of the structure. The dome seems to float atop 4 supporting columns.
We visited the city of Grozny during the month of Ramadan, when Muslims are fasting. With the support of Russia and the Chechen Muftiate, we were able to take unique pictures during Namaz (or Salat), a Muslim prayer. We were deeply impressed by the Tarawih, a nightly prayer performed by Muslims during the Islamic month of Ramadan: hundreds of men, shoulder to shoulder, were praying together. A break is taken after every 4 rak'ah (a set of the prescribed movements and words), during which the men can sit down. Thus the name "Tarawih," which means "rest."
We noticed a considerable number of police patrols on the streets of Grozny. There is almost no crime, however, and you won't see drunken people there either. Our guides said laughingly, "If you see a drunkard, make sure to take a picture! We are going to show it to everyone!"
The beauty of local women is legendary; and there is a good reason for that. One doesn't need to be a poet or an artist to appreciate their grace. Despite common opinion, a long dress and a shawl only enhances a female's natural beauty and elegance. We saw girls wearing short skirts on the streets of Grozny as well, and there were no complaints from the public. So, local customs are not as strict as people outside of Chechnya commonly think.
Southern sunsets are short, and the mosque beautifully glows in the descending ascending darkness. The surrounding park and fountains are illuminated as well, which makes it an inviting place for an evening stroll. The Grozny-City towers in the background, colorfully illuminated in the eastern tradition. "Grozny is the best city on Earth," says the multi-colored running text line on one of the towers. Moreover, when nightly prayer is over, moths attracted by the light circle around the minarets, becoming pillars of light reaching out to the sky...
When telling a story about this photo expedition, we cannot leave out the famous hospitality of highlanders. We were welcome everywhere we went, and even strangers were very friendly and kind and unceasingly helpful.
My special thanks go to the people that supported us during this trip and helped us organize it: to Chairman of Russia мufties Council — mufti Sheikh Rawil Gaynetdin, Deputy Chairman — Rushan hazrat Abbyasov, Chairman of Spiritual Administration of Muslims of Chechen Republic — Salah hajji Mezhiev and Ildar Yambikov.
I have only warm memories of our trip to Chechnya. There is no doubt that I would like to return there to learn more about the tradition and culture of Chechen people. And now, we invite you to see the city of Grozny through our photo panoramas!
Photo by Stas Sedov, Sergey Shandin
14 July 2014
Comments
2017-05-30 13:47:16
"I LIKE VERY MUCH RUSSIA AND ITS PRESIDENT V.PUTIN. I NEVER EXPECT SUCH TYPE OF BEAUTIFUL MOSQUE IN GROZNY, RUSSIA. THIS TELLS US HOW RELIGION EQUALITY IS EXPECTED IN Russia."
Addis Alemahu, Ethiopia
2016-06-19 17:42:37
5 from 5
"Allahuakbar! mashallah so beautiful mosque.. It looks very similar to Turkish sultan Ahmed mosque. I am very happy to see it here on this link, can any visitor from outside country see the BOWL of our beloved prophet Hazrat Mohammad SWA. ?"
Ahamed Chowdhury, Bangladesh
2016-06-17 09:38:26
"I never knew that there will be so beautiful Mosque in Chechnya. May Allah grant me a chance to visit this mosque in my life. However, I knew that Chechans are true Muslims and observe full Islamic codes of conduct. May live long Chechnya. Amin!"
Syed Walayat Shah Sherazi, Pakistan
2016-02-09 03:35:58
5 from 5
"Awesome, the most impressive architecture of this century. Wish I could visit it one day. Help me God"
Amri Tanduklangi, Indonesia
2015-12-31 00:49:41
5 from 5
"Does anyone tell about Chechen mosque akhmand in the following pic , the face of salam people on the qibla or not? They stading with round shape.."
AbdUl Jabbar qadri chishti, Pakistan
2015-12-31 00:40:22
5 from 5
"Mashallah, subhanallah ,, beautyful mosque of Chechen, bt unfortunately Chechen involve with khuarij firqae Danish Isis ,, I wish I will pray salat in these mosque"
Abdul jabbar Qadri chishti niazi, Pakistan
2015-09-05 07:04:03
5 from 5
"Havent visited in a while Air pano. But its always a pleasure to vist to see your beautiful work. I can assure you i will not take so long to come back and vist you. Thank You for the Marvelous Show."
Larry Hernandez, USA
2015-09-03 22:14:11
5 from 5
"The architecture seems to be divinely inspired- a glorious and fitting tribute to God!
Many thanks and continue your amazing work!"
Naznine Qureshi, USA
2015-08-10 12:54:39
5 from 5
"fantastic.i`m Moslem too.it is not completely different from Iranian ones but it is some how different. good job."
mona hosseinpour, Iran
2015-07-13 13:06:09
5 from 5
"Mashaallah! I'm interesting in Russia for a while. I never knew before they have a great Masjid like this. I hope Inshaallah one day I will be there."
Shirley Lee, Australia
2015-04-28 03:04:07
5 from 5
"Very beautifull Mosque,Assalama Alaikum,Allah Akbar,Masha Allah.If Allah give me chance I wana visit this Mosques Inshallah."
Muhammad Chaudhary, Canada
2015-03-11 16:07:24
5 from 5
"Masha Allah.. Excellent, un imaginable"
Mohamed Jameel, India
2015-01-20 23:01:54
5 from 5
"Maa sha Allah"
Imtiaz ahmed Hoosain, South Africa
2014-12-27 08:37:52
5 from 5
"Fantastic.
How do you do this?
Some technical info, please
Once again FANTASTIC"
A Hemraj, Canada
2014-12-04 09:01:58
5 from 5
"This is a very beautiful Mosque. I can see why they call it The Heart of Chechnya. I was very impressed when I first saw this live as it stands out both in day and night.
The pictures and videos taken here captures the place brilliantly. Great job. Thanks"
Delan Adikari, Australia
2014-11-02 19:39:27
5 from 5
"Fantastic, amazing, beautiful photos. An interesting narrative and the mix of sound music-verbalcoinciding with several picture displays. This is an appropriate presentation of the Muslim symbolism even though at this very time there are radical Islamists committing devilish deeds in Syria and Iraq. Job well done, AirPano."
Ed Nelson, USA
2014-10-02 12:47:15
5 from 5
"so awesome so so so awesome site
but i cant find iran!!!!!!!!
please come to iran
we are waiting
good luck"
maedeh b, Iran
2014-09-15 19:49:30
5 from 5
"yOU ARE THE BEST OF the BEST OK/."
german porras, USA
2014-09-11 09:22:53
4 from 5
""subhanallah,beautiful" MUST WATCH AND SHARE....""
Mohamed Anwar Fatehdin, USA
2014-09-08 16:00:41
"SubhanAllah, MashaAllah, Islam is showing might in Chechen which can be seen in it's most beautiful mosque and it is full with pious people. I wish and pray to Allah to enable me to offer Salah in this marvelous mosque INSHALLA. Peofessor(Dr.)Syed Shahid Akhtar Jafri, Ethiopian Civil Service University, Addis Ababa, Ethiopia, Email:jafri_ssa@rediffmail.com"
Syed Jafri, India
2014-09-06 17:27:19
5 from 5
"Really amazing site in everything
Beautiful mosque,Thank you very much for the team teamwork"
ashraf mohamed, Egypt
2014-08-28 05:15:12
5 from 5
"we are amazed to see a Mosque like this in Russia.We have seen different Mosques in Serbia,but not this magnificent.May Allah bless you.Please send more these type of views.
Haleema/Moideen Moopen,USA"
moideen moopen, USA
2014-08-25 09:50:36
5 from 5
"The most amazing thing I ever seen on Internet not only my eyes are so amazed by this my heart my soul mashallah I wish we have more of stuff like this thank you and Allah bless you all

What is the name of the first song "the Quran " one thank you again amazing job"
Mohamed Nabil, USA
2014-08-24 18:33:04
5 from 5
"MashaAllah"
Mohammad Farooq, USA
2014-08-23 10:45:15
5 from 5
"Absolutely divine."
Haleem Hasnain, Pakistan
2014-08-21 07:07:00
5 from 5
"I thankfully admire this par-excellence panorama which makes one short of words for doing so!! Every aspect of this is "out of this world"!! Bravo ."
Tahir Ahmed Butt, Pakistan
2014-08-18 19:30:53
"Subhan Allah. Excellent presentation. I loved the panoramic view. Allah bless you all."
Abdus Sami, Pakistan
2014-08-16 13:25:40
5 from 5
"What a lovely and beautiful architecture. Really breath taking. Are the rows curved and can they be so in a mosque other than KAABA? A commentary simultaneously would be a good addition in the presentation. Thanks a lot and may Allah reward you all for the good work."
fayaz Mir, India
2014-08-16 05:58:22
4 from 5
"Mahsha Allah Guzony the Mosque buildings are
beautiful and Great no doubt but one must realize the beauty is not the concrete structure but beauty
can only shine with the audience coming for prayers
bowing heads before the Creator"
Farhat Darvesh, Bahrain
2014-08-08 01:21:42
5 from 5
"masha Allah beautiful what can I say.Few years ago this place looked exactly like Gaza of today.Lets all of us pray oneday Gaza will look like Grosny.Insha Allah."
abdulwahab hassam, United Kingdom
2014-08-03 20:58:02
5 from 5
"Inshallah, one day will attempt to visit this House of God.."
Yakub suleman, Canada
2014-07-31 04:08:52
5 from 5
"Wondrfull"
Sohil Karowlya, USA
2014-07-30 23:21:29
5 from 5
"Subhanallah what a beautiful mosque and the city of Grozny.. The people must be as beautiful as the city. Mashallah it will be worth visiting this lovely city. May Allah Bless the people of Grozny and our brothers who produced this video."
Badrudin Adatia, Canada
2014-07-30 22:50:50
5 from 5
"Beautiful and nice."
Mahmood Khan, USA
2014-07-26 14:25:05
5 from 5
"Excellent and wonderfull work MASHALLAH, this is only possible with the Power of ALLAH ST"
Faruk Aly Gadit Aly Gadit, Mozambique
2014-07-25 16:56:13
5 from 5
"Thank you,it was so great,great panorama,great people and great mosque.
Muslims are always kind and warm.i want to invite your team to come Iran and make good panaroma of Iran's beautifull cities and mosques."
ali azizi, Iran
2014-07-24 13:26:24
5 from 5
"Its been a very well though planned and a very well executed project. Great team work my profound wishes to the team hope you do more of such wonderful projects highly impressed. I now have to plan visiting this Mosque. . Inshallah God bless u all."
Jinnah Imtiazi, Pakistan
2014-07-23 19:45:02
5 from 5
"Subhanallah > Alhamdullillah. AllahOAkbar. Islam was perfected for entire Human creation. Islam will live till eternity. Ameen. Very Lucky Grozny Muslims. Keep up the good human values. Share, Care, Kindness, Generocity & brotherhood. Love ALL."
ADam Mussaji, Canada
2014-07-23 15:59:26
5 from 5
"Awesome this one of the best mosques I have ever seen mashallah subhanallah !!!! And so many Muslims in Russia unbelievable"
Shahil Razeen, Sri Lanka
2014-07-23 02:13:11
5 from 5
"I never thought I would see a beautiful Mosque in Russia and great views of it.
May Allah bless all the people of Grozny and the people that have sent us this awesome pictures."
Amzad Ali Saheb, Canada
2014-07-22 19:39:18
5 from 5
"i like it"
shaik sanaulla, India
2014-07-22 01:57:07
5 from 5
"MASHA'ALLAH"
Taji Kurji, Canada
2014-07-21 23:09:11
5 from 5
"Very beautiful.
Allahu Akber!
May Allah grant Paradise to all the Faithful...Ameen!"
Salim Dharamsi, Canada
2014-07-19 11:10:34
5 from 5
"thanks very much ...it was very nice.."
bahareh gh, Iran
2014-07-18 20:25:26
5 from 5
"I am short of words to express my comments
on the super unique Mosques designed by
Great Artichects however, the actual beauty
can only be seen with strength of Muslims coming to pray otherwise without audience no beauty.
So I request brothers sisters to always go for
prayers and make Duwah for everyone IA angles will pray for you."
Farhat Darvesh, Canada
2014-07-16 13:17:30
5 from 5
"very very nice. thank you airpano."
aliakbar izanloo, Iran
2014-07-16 06:36:41
5 from 5
"subhanallah,beautiful"
MN Shukor, Malaysia
2014-07-15 20:12:44
5 from 5
"MOST BEAUTIFUL! MUST WATCH AND SHARE...."
Roshanali Lakhani, Canada
2014-07-15 18:32:45
5 from 5
"I'm totally speechless... I don't know how to thank you ! I've always been seeing your panoramas a long time ago. You put a lot of effort to make this one and therefore you have my love and respect "
Anas Kamel, Jordan
2014-07-15 17:59:43
5 from 5
Muhammad awad, Jordan