Moscow Kremlin at Night
•
360° Aerial Panoramas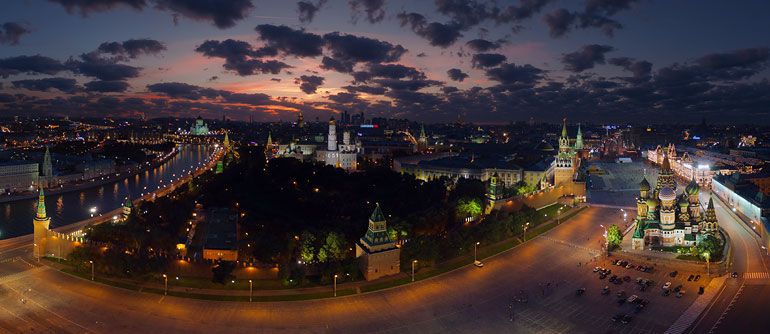 ---

Remember the story on how our photographer Dima Moiseenko bought a book called "Ten Easy Ways to Improve the Quality of Your Photos" in a supermarket? The fourth advice in this book was: "Buy a sturdy tripod. It will allow you to secure your camera very well when you shoot at night." Without delay, we went to the store and bought the sturdiest tripod we could find. This spring Dima Moiseenko became the first man in the world who shot a fantastic areal panoramic view of Las Vegas at night from his heavy-duty tripod installed in the helicopter.
Inspired by his success we decided to shoot a panoramic photo of Moscow at night. Considering that there were no real helicopters allowed above the city of Moscow, we decided to use our small helicopter purchased in a toy store. We used it a lot for our Moscow photo sessions during daytime. For example, we used it for this panorama of Moscow State University. However, we couldn't attach Dima's large and sturdy tripod for night photography to our little helicopter. The helicopter simply couldn't take off.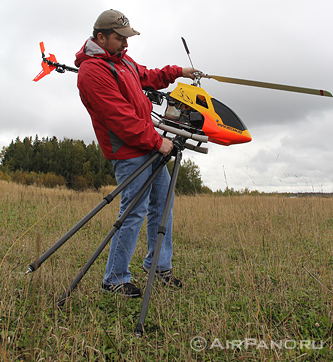 We spent all night trying to solve this problem, but nothing came to our minds. The following morning we gave up and called Dima asking to read us next advice from that wise book. Dima was shooting a wedding at that moment, but after hearing our cry for help, he asked the groom and the bride to wait while he opened the book and read the following passage into the phone: "If you have weight or luggage space limitations you can buy a small light travel size tripod for tourists."
As usual, a genius solution was the simplest one, and it was laying on the surface. We went to the camera store again. The store manager remembered us from the last time, when we spent half of the day choosing the largest, heaviest, and sturdiest tripod in his store. We told him that this time we needed the smallest, lightest, and most compact tripod. He looked at us with a great interest and asked: "What are you going to shoot?"
To keep our know-how a secret, I evasively replied: "We are under-water photographers. One of our guys almost drowned with that heavy tripod, this is why we are looking for a light one now." The store manager left and returned with a very good palm-size model.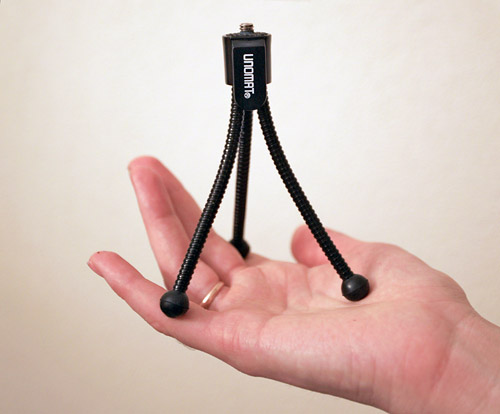 "If you have an emergency situation under water, — said the manager — you can just leave it there. It's only 1 dollar. We use these tripods in our store as price tag holders, but it'll serve your purpose just as well."
Encouraged by the attractive price we purchased two tripods and left. We attached our new tripod to the helicopter and tried to fly it again. The helicopter lifted off the floor for a moment, but something kept pulling it down. After a short but powerful brainstorm we got an outstanding idea. We ran to the camera, removed 16GB flash card and replaced it with a 4GB one. Voila! With 12GB off its propellers, our helicopter soared into the air.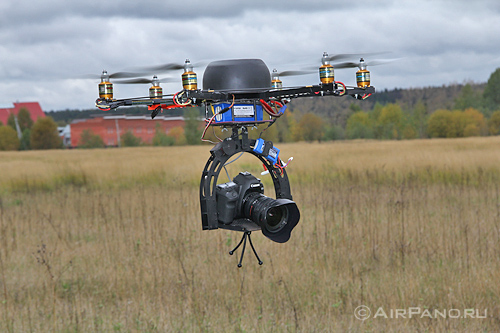 This is how we shot our first panoramic photos of Moscow at night from the radio-controlled helicopter — we used a very simple, small but sturdy and affordable tripod, and a lightweight flash card.
24.12.2011
Comments
2017-03-10 00:37:13
5 from 5
"Awesome photography it looks like a virtual tour."
Ahmed Talib, India
2015-04-22 06:58:13
"Hi! Would you mind if I share your blog with my facebook group? There's a lot of folks that I think would really appreciate your content. Please let me know. Many thanks"
Nelly Mackinnon, Belgium
2015-04-19 13:13:29
"Hey I am so excited I found your site, I really found you by mistake, while I was browsing on Bing for something else, Anyways I am here now and would just like to say cheers for a incredible post and a all round exciting blog I also love the themedesign, I don't have time to look over it all at the minute but I have saved it and also included your RSS feeds, so when I have time I will be back to read a lot more, Please do keep up the awesome b."
Soila Dowden, United Kingdom
2015-04-04 13:18:50
"I all the time emailed this website post page to all my associates, for the reason that if like to read it next my links will too."
Kurtis Preciado, France
2014-02-19 15:55:31
"picture respons is good but give me this helicopter is price"
rajeev gupta, India
2014-02-09 17:06:03
""Amazing!! What a dedication to bring our world to us. Thank you is not enough. Since I just visited Bryce Canyon just a month +212630922303 jafry"
jafry amine, Morocco
2014-01-09 00:51:13
"Very Nice..."
Maamoun Banna, Switzerland
2013-11-21 20:45:10
5 from 5
"Pictures ok but other tripod and flash card jokes?????? ."
Bojan Krmec, Slovenia
2013-11-03 07:07:20
5 from 5
"amazing fabulous wonderful.......thanks a lot"
glenn badal, Suriname
2013-06-12 13:13:09
"Magnifique ! Quelle merveilleuse idée. Bravo à l'auteur."
Matrullo Nadine, France
2013-01-18 05:53:45
5 from 5
"ESTA TECNICA DE FOTOGRAFIA Y PELICULA ES CASI PERFECTA,PUES SOLO FALTA QUE SE PUEDA INTRODUCIR UNO EN ELLAS.HERMOSO TODO!"
RODOLFO VILLARREAL, Mexico
2012-12-18 12:17:43
5 from 5
"Excellent and truely amazing.keep it up and add some beautiful sight of India ,if feasible."
punyashlok acharya, India
2012-12-13 10:32:36
5 from 5
"No comments.Its amazing.Fantastic work."
shams rehman, Pakistan
2012-12-06 02:17:31
5 from 5
"After visiting this city in 1993, your pictures brought back wonderful memories. Daylight pictures of Red Square would emphasise the historical aspects of the location. Thank you."
Desmond McKinnon, Australia
2012-11-10 20:26:55
5 from 5
"Brilliant concept....great to review places visited on holidays."
Anne Bird, United Kingdom
2012-11-04 01:49:32
5 from 5
"Parabéns pelo vosso excelente trabalho ! Maravilhosa esta vista sobre o Kremlin :)"
Paula Cardoso, Portugal
2012-10-01 07:06:50
5 from 5
"The Kremlin is so Beautiful! And the architecture is truly Magnificent!! A truly Beautiful place to live!
Thank You!

Donnalee Davis, Pennsylvania, USA"
Donnalee Davis, USA
2012-09-17 21:33:00
5 from 5
"All of it is "Awesome".....Lets have some more fascinating views!!"
Sarabjeet Dhillon, Canada
2012-08-14 01:42:38
5 from 5
"excellent, words cant say how much I enjoyed it.keep up the good work."
joe baillie, United Kingdom
2012-08-07 22:52:43
"hello.my name is mohammad mahdi.iam from iran.very nice.tankyou"
mohammad mahdi, Iran
2012-07-19 22:14:11
3 from 5
"I didn't know Kremlin at night could be so romantic and dreamlike. It is beautiful!!!"
Mariemel Nierras, Philippines
2012-07-15 04:58:47
"sin palabras esto es vida esto es hermosisimo los las bellezas de nuestro planeta los felicito ........"
camilo delgado, Colombia
2012-07-13 15:18:20
4 from 5
"JUST BEAUTIFUL,LOVE IT"
NAEEM CHEEMA, Pakistan
2012-07-13 06:55:32
5 from 5
"¡¡ MUCHAS GRACIAS,..TENGO 77 AÑOS,..ME ESTAN AHORRANDO LAS MOLESTIAS DE VIAJAR Y MUCHOS PESOS, US DDLLS, Y EUROS,..PORQUE CON ESTOS PANORAMAS NO VEO LA NECESIDAD DE VIAJAR,..Y NI SOÑANDO PODRIA VER VISTAS SIMILARES DE 360 GRADOS"
Fernando Perea yEstrada, Mexico
2012-07-12 10:07:55
5 from 5
"I love Kremlin one. You would never know how much I appreciate your works. It took me almost 3 month to reach Kremlin riding bicycle from Vladivostok. I cannot forget the moment I saw tiny portion of red brick of Kremlin wall from distance. 4 years later now, it's great joy to watch evening light on those little buildings and the river. I like the background trumpet jazz, too. Thank you for great works!!!"
Naoto Kurihara, Japan
Varvara, AirPano: It's really great you liked it. Thanks for your message.
2012-07-07 22:37:06
5 from 5
"Why do you need a tripod on the helicpoter? Are you landing it on tall buildings and then filming?"
martin plasterer, Canada
Varvara, AirPano: In all the books dedicated to the professional photography it is written that a tripod is needed. It really works, as you can see :)
2012-07-05 16:33:56
5 from 5
"Tengo ya casi 70 anios y nunca he visto esta maravilla que Uds.crearon .Sigan adelante asi seguimos disfrutando de este espectaculo maravilloso.

Carlos Sanchez"
Carlos Sanchez, Argentina
Varvara, AirPano: Estimado Carlos. Para nosotros es un gran placer recibir tan mensajes como el suyo. Muchas gracias y suerte a Vd!
2012-07-05 14:05:08
5 from 5
"Fantastic. Very nicely made. Enbjoyable & learning."
Dawood Rasheed, Pakistan
2012-07-02 04:04:21
5 from 5
Ron Ihrig, USA
2012-06-14 11:34:46
5 from 5
"Truly remarkable what you have produced, certain that viewers from all around the globe will be appreciate fully your contribution, great viewing, wonderful education for us all. Thank you."
Peter Morrison, Australia
Varvara, AirPano: It gives us pleasure to know it. We appreciate your interest.
2012-06-11 18:19:36
5 from 5
"Thank you for all the wonderfull pictures of the world and musik"
kramer arnold don arnoldo, Germany
2012-06-01 04:15:18
5 from 5
"Very, very interesting and beautiful!"
Magdalena Duran, El Salvador
2012-05-30 02:02:07
5 from 5
"EXCELENTES FOTOS. LES PEDIRIA DE NUESTRA BELLA COLOMBIA, QUE TIENE PAISAJES HERMOSOS, GRACIAS"
G. HAYDEE MURCIA ORTEGON, Colombia
Varvara, AirPano: Gracias a Vd. Bienvenidos a nuestra pagina-web!
2012-05-16 10:52:29
5 from 5
"Bonjour ,
Grandiose , magnifique , superbe !
Merci pour cette initiative.
...Désolé mais je ne parle ni écris votre langue
Cordial salut de France."
Gérard Glory, France
2012-05-06 23:14:36
5 from 5
"the image is fantastic,please keep up the good work"
kehinde oluyadi, Nigeria
2012-05-04 05:01:05
5 from 5
"emocionante,excelente,viva,viva,viva"
Maria E. Correa, Colombia
2012-04-26 13:59:45
4 from 5
"Normally a Tripod is used to place something on the ground.When the motive was to fly the Camera,why have a tripod at all ?"
Ravi Sheopory, India
Varvara, AirPano: Nobody knows how it works, but it really works :) And you can see the result with your own eyes: night shooting made from greatly vibrating RC helicopter ;)
2012-04-23 08:59:02
1 from 5
fan guongzai, China
2012-04-06 19:09:05
5 from 5
"Maravilloso, Wonderful, Espectacular, Beautiful."
Teresa Martinez, USA
2012-04-06 16:59:04
5 from 5
"Gratulalok.KOSZ."
Francis Perencsik, Canada
2012-04-05 19:41:06
"FABULOSOS VIDEOS Y FOTOS; DE PARQUES, MONUMENTOS Y LUGARES ,PATRIMONIOS DE LA HUMANIDAD"
german porras, USA
Varvara, AirPano: We are grateful for your message.
2012-04-02 06:28:26
5 from 5
"Muy hermosa las vistas panoramicas sobre la ciudad de Moscu con este tripode y camara potente, en esta ciudad estudio un hermano en el año 1986 hermoso pais LA UNION SOBIETICA"
Maria Elena Camargo Puert6o, Colombia
2012-03-17 23:21:45
"Wonderful but very few panorama of Asia & none from India"
jyotindra mankad, India
2012-03-15 10:45:22
3 from 5
"Nice shots .. please have photos of TAJMAHAL"
Anirudh Mandalkar, India
2012-03-14 00:04:36
5 from 5
"I definitely love these panoramic views, especially of Russia. I never really appreciated the beauty of the largest nation on Earth!Great music as well."
Steve Brynan, USA
Varvara, AirPano:
Thank you for your message. Good luck!
2012-03-07 20:37:34
5 from 5
"Tank you very much.Wonderful views!"
maria sumner, Brazil
2012-03-07 05:31:59
4 from 5
"Good work, but Small tripod I liked most, thanks!"
Arif Qureshi, Pakistan
2012-03-04 03:52:45
5 from 5
"These views are wonderful indeed."
Antonio Cirer, Spain
2012-02-29 19:43:34
5 from 5
"Terrific photography!"
Michael Northen, USA
2012-02-28 15:25:28
5 from 5
"Thank you very very much.I m siting at home and visit everywhere with the music."
eylul kurdoglu, Turkey