Egyptian pyramids. Part I
AirPano team has already captured the Egyptian pyramids in 2011. But technologies have developed significantly since that time, in addition we started creating 360° videos. That's why we wanted to photograph the great pyramids of Giza again.
Several times we addressed different Egyptian authorities for an aerial photography permission. But every time we got a refusal: we were not allowed to bring our aerial equipment. So, if we can't capture the pyramids from the air, we can try to do it in a more usual way — from the ground. So, being in an unusual for our joint photo shoots situation — without Stas the drone operator — I headed for Cairo.
I arrived in the late evening. My driver Gabriel met me in the airport to take me to Giza. It was a long way to go, so we quickly fell into conversation. For 45 years Gabriel had been serving in the police, now he is a driver in the hotel. We stopped our car on a bridge, and we went out to have a look at the Nile. While Gabriel was smoking, hot wind was sweeping away the sparks from his cigarette. I was in Cairo, such a huge and enigmatic city.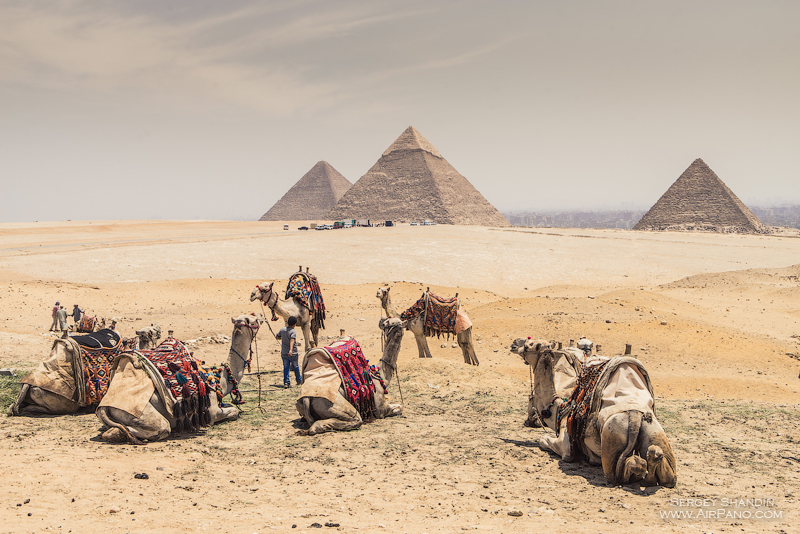 My friend Yury agreed to keep me company for some part of my trip. He arrived in Cairo a bit later than me and the next day we went together to the pyramids. Hot air, dust and numerous camel-drivers, who noisily offer their services, surrounded us. Sweat goes down right in the eyes. I was trying to find a better viewing angle. As soon as I set up my tripod, I got besieged by a crowd of souvenir sellers. The first attempt was spoiled. It is extremely hot there. My drinking water got hot, too. At times like this you wish you were a camel.
In the evening, on the edge of getting a sunstroke we went to the city. It was +47C° in shade. I had a shower in the hotel and went to take dinner on the roof with a view of the Great Sphinx. It was getting dark very fast and the silhouette of pyramids were seen in the twilight.
The next day Yury went to the city while I headed for pyramids again. My first attempt was a failure: security at the entrance did not like my cameras, both their quality and quantity: "These are professional cameras, you are not allowed to take them!" Soon after some negotiations I understood that an easier way was to go to another entrance, where I was easily allowed in. But still, as long as I was on the territory of the pyramids with big cameras, every now and again the security was checking my photography permission. Sure I had this permission, but some of them felt it was their duty to check once again.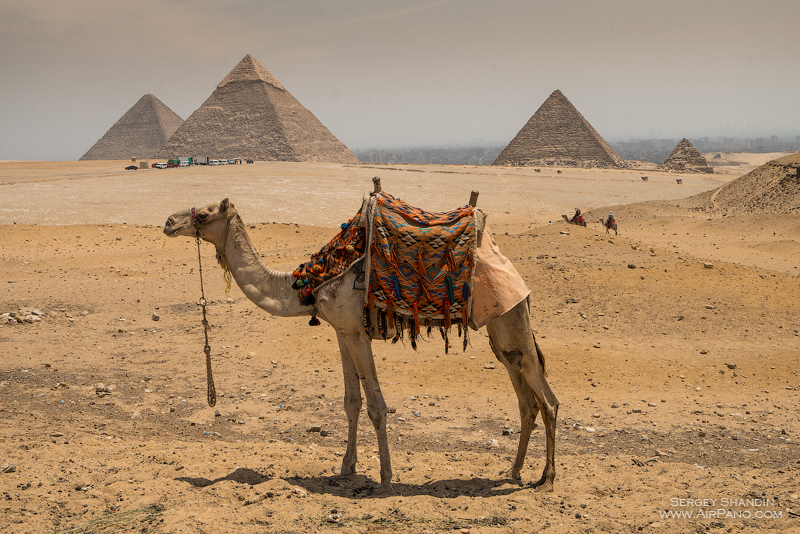 One bright example. While looking for the better view I went off the tourist route. Soon a guard approached me. I smiled and said: "Marhaban, good afternoon, dear officer! What can I do for you? Here is my permission, in case you want to check." He was hardly speaking English, so he gestured to follow him to the police office. Ok, I would go, I thought. We walked 100 meters, then 200, 300... "I won't go any further" I said. "You are on a camel, and I, like a prisoner, should walk on foot? No, I'll stay here, and you can bring the police with you." As soon as he understood that I'm not going to follow him, he called someone and in a while a policeman wearing a wide-brimmed hat came to us. "Hello", I said, "this camel-driver doesn't allow me to photograph, although I consciously paid for my permission to take pictures." The policemen looked at my permission, then at my camera and said: "Everything is ok, you can photograph. But do not climb the pyramids." In total, I was checked seven times on that day. But despite this, I managed to find a couple of good scenes.
Cairo is famous not only for its pyramids. The mighty citadel of Cairo — also known as the Saladin fortress — is one more widely known symbol of the city. But only a part of the wall has remained from the initial fortress dated the 12th century. In the centre of its territory is the Mosque of Muhammad Ali, sometimes referred as the Alabaster Mosque, and it is one of the largest mosques of its kind in Cairo. Its windows offer a magnificent view of the city. It's quite cold inside the mosque. Having asked for permission, we started photographing. Actually, everyone takes pictures here, but not at the time of the prayer, of course. The interior resembles the one of the Turkish mosques. And it's not surprising since its architect — Yusuf Bushnak — came to Egypt from Istanbul.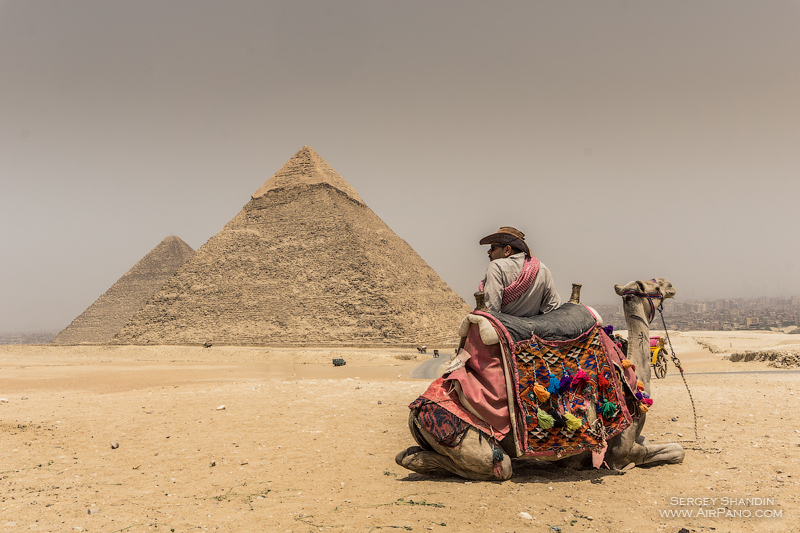 I joined Yury in Old Cairo and we wandered a bit in the local markets. In the evening we decided to go back to the hotel on foot, it's more interesting. As far as we understood the map, we could make a shortcut through a park. So, that's what we did. But the "park" turned out to be a little bit strange. No plants, no trees, only some strange yards without roofs. People sat along the roadside, cooked meals and drank tea; children and dogs had fun nearby. Only afterwards we understood that we came across the City of the Dead — an ancient necropolis, where thousands of people live in vaults (and according to some estimations, the number of "living" residents in this cemetery is around half a million people!). Some of them even built different extensions to the vaults and installed electricity. In my imagination it should have been a more sombre place. But Yury even liked it, and the next day we came back to have a look at it in the daylight.
People not only live in the cemetery, but also organise noisy markets; they are not troubled by the closeness of the dead. In that market I came across one old man who sold me a jalabiya — a traditional long garment. And it only did good for me: people began coming up and talking to me more often, offering me some fruit and, to my relief, the number of come-in-my-shop annoyance lessened significantly.

Our last day we devoted to the monastery of Simon the Shoemaker, located in a big cave on the Muqattam Mountain. Yury showed me the location on the map, and I realised that our adventures were not over: the monastery was situated right in the centre of the Garbage City — Manshiyat Naser. Garbage collectors were the ones to gain money to build this monastery.
A huge district, dominantly inhabited by the copts, is fully occupied by the garbage separation and recycling. The trucks overloaded with garbage ride back and forth, dust is in the air, and the trash itself can occupy up to several floors of the buildings. It is a really hard job. And right in the centre of this place one of the largest religious buildings of the Middle East was created. In a natural cave a large amphitheatre, which has a capacity of 20,000 people, was built. Inside there is a reliquary with saint remains. Religious carvings are on the walls of the cave. A school and a kindergarten are also here. The difference with the outer district is absolutely astounding.
We spent only a couple of days in Cairo. But this huge ant-hill — dirty, dusty, but beautiful at the same time — definitely enchanted me.
Authors of the video: Sergey Shandin, Nickolay Denisov and Ivan Roslyakov
01 July 2016
Read more
Photogallery
360° Photo
Add your review about "Egyptian pyramids. Part I"