St.Moritz, Swiss Alps, Virtual Tour
•
360° Aerial Panoramas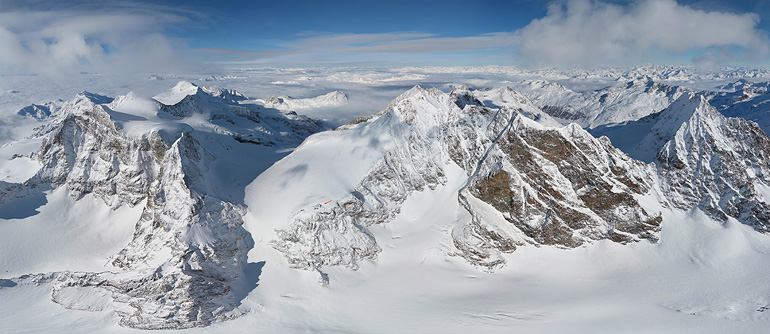 ---
St. Moritz is one of the most respectable ski resorts in the Swiss Alps. In the brochures of tourist operators, St. Moritz is described as a place of "leisure for the demanding clients". This resort has managed to astonish me more than once. However, it is not because of the restaurants located among the ski tracks, where visitors are served black caviar in ski boots and truffles, it is not because of the orchestra with live musicians, and it is lastly not because of the "light, healing, and sparkling champagne air".
I was first surprised by a story told by my friends, who had come back from St. Moritz. According to them and as well as statistics, this blissful place has 360 sunny days a year, which is extremely important for skiers. So, my friends stayed at St. Moritz for a week and were "lucky" to get those five cloudy days. On the other hand, the sixth day, as expected, was sunny. :)
The next time I was surprised was when I was visiting St. Moritz myself. I stopped at a small local store to see if I could find a sweater for myself. I picked a nice one off the shelf, automatically checked the price tag and was completely shocked. It immediately reminded me of an old joke about a visitor carefully studying a menu in a restaurant and then asking the waiter; "Are these prices or phone numbers?" :)
The sweater that had caught my eye had a price tag of 6,000 Euros (about 8,000 US dollars). Apparently, my face expressed such surprise that the elderly and very polite owner of the store told me that the sweaters on the other shelf were cheaper. I approached that shelf and checked the price: indeed, they were cheaper — only 4,000 Euros.
So I decided to forego purchasing clothing for now, and I instead called the AirGrisha Company and hired a helicopter for three hours — all for the price of one sweater. During that flight I created 40 panoramas, 9 of which are shown on this website.
---
Now, here is some information about St. Moritz.
Swiss St. Moritz is rightfully considered the "King" of the Alpine ski resorts. "Aristocratic", "cosmopolitan", and "respectable" all describe St. Moritz, a favorite place of leisure for the representatives of royal dynasties, multi-millionaires, politicians, and show business stars.
St. Moritz is located 1,856 meters above sea level on the shores of the lake bearing the same name, in the Engadin region in Graubünden Canton. Today the settlement itself counts 5,600 residents; at the peak of the season you can add about 3,000 service personnel, as well as thousands of tourists. This place has perfect conditions for downhill ski training: the 36 "black" tracks and 136 "red" tracks provide many possibilities for snowboarders, beginner cross country skiers, and skaters. The total length of the regional downhill ski tracks is 350 km, and the length of the cross country tracks is 150 km.
St. Moritz is considered to be the "brightest" resort of Switzerland; there are 322 sunny days a year. This explains why there is no shortage of tourists, even after the ski season is over (in the summer, late spring, and the early fall). During the warm seasons, tourists enjoy water cruisers, nice walks, bike rides, thermal water, stunning landscapes, and the elite ambience of the resort.
You can ride the air tram directly from St. Moritz to Corviglia station at a height of 2,486 meters, while taking in the dizzying view of Piz Noir (3,057 meters above the sea level). Experienced skiers value this steep track for its ultimate challenge.
Several luxurious ski resorts adjoin Corviglia station, including Piz Corvatsch (3,451 meter above the sea level). This is one of the most stunning places to ski. The track runs along the glacier.
Piz Bernina is raised 4,048 meters above sea level, which makes it the highest point of the Eastern Alps. The "Mark and Rosa" cabin, which is a key rest point for climbers, is located here at a height of 3,600 meters. Usually, climbers go down to the cabin at the end of their route. Despite its shabby exterior, the cabins are equipped for a very civilized break. The service personnel are constantly on duty, and everybody is always welcome to stay. If all comfortable places are taken, you will still be able to stay in an unheated shed on a very basic bed.
Bregaglia Valley, a wonderful Alpine valley, is located southwest of Graubünden Canton. Nowadays, its lower region belongs to Italy; while in the upper Swiss region, you can find the artificial Lake Albigna, created in 1959 to supply hydroelectric power plants. Passing by, one can see the wall of the dam unexpectedly appearing among the snow-covered mountains, and then the same idyllic landscapes of Switzerland with their dollhouses, and, lastly, the majestic mountain massifs.
In our panoramas you will also see two alpine lakes (Silvaplauna and Silsersee) with surrounding villages. Because of the steady winds blowing from Maloja Pass, Silvaplauna Lake is popular among windsurfers, yachtsmen, and kite lovers. At the end of the 19th century, a famous German philosopher, Friedrich Nietzsche, lived in one of the local villages for 7 years. He took walks on the Silvaplauna Lake so frequently and enjoyed the heavenly beauty of the landscape so much that a memorable plaque was installed in his honor.
In the Engadin Valley, 5 kilometers from St. Moritz, at a height of 1,797 meters above the sea level, there is a small airport called Samedan (with only one landing strip). It is the most elevated European airport. The airport used to have a regular schedule with regular flights. Unfortunately, all flights were canceled due to numerous plane crashes. However, you can catch a flight into Samedan on a private jet. The local air is very thin, especially during summertime. This is why less powerful light helicopters, which usually fly here from the valley, have a hard time taking off and flying back home. And if a helicopter has heavy cargo and a full tank of fuel, it cannot take off vertically, (like helicopters typically do) but instead has to take off in an aircraft manner, driving along the runway, gradually increasing the speed to achieve acceleration, and then gaining altitude.
The fact is that the cargo weight, which would cause no problems at the usual altitude in the valley, becomes excessive in the thin air, and a helicopter engine does not have sufficient capacity to take off vertically.
Photo and text by Oleg Gaponyuk
12 October 2010
Comments
2014-11-22 17:15:25
"Magnificent beat ! I would like to apprentice whilst you amend your web site, how could i subscribe for a weblog website? The account helped me a acceptable deal. I have been tiny bit familiar of this your broadcast offered brilliant transparent idea"
Joeann Grooms, Italy
2013-10-03 22:47:35
5 from 5
"Egyszerűen csodálatos, szinte életszerű, vagy talán szebb is? Remek munka. Köszönet az élményért!"
Tamás Bóna, Hungary
2013-08-11 04:24:47
5 from 5
"Absolutely gorgeous!! Some of the best art on the internet!! Thank you for sharing it!!"
Jack Phillips, USA
2013-06-25 22:25:10
5 from 5
"Geweldig, prachtig.indrukwekkend!"
Elly Wakelkamp, Netherlands
2013-06-20 20:59:14
5 from 5
"Formidable, panoramique....Merci"
Δαναη Γκαρμπολα, Greece
2013-02-12 13:04:27
5 from 5
"wonderbaarlijke, mooie ,prachtige beelden .
Ongelooflijk.
Hartelijke groeten"
jean gilissen, Belgium
2013-01-27 13:47:48
5 from 5
"These panorama pictures are just absolutely fantastic! Really amazing!
Thank you so much for sharing them with the whole world!"
Johann Mueller, Austria
2012-12-14 18:52:45
5 from 5
"Spracovie je na veľmi vysokej úrovni a nedá sa tomu nič vytknúť.Veľmi som sa tomuto materialu potešil."
Jozef Kapolka, Switzerland
2012-11-17 16:47:39
5 from 5
"Wonderful!! Great work. Many thanks for sharing."
Trang Mai, Vietnam
2012-11-13 09:25:00
5 from 5
"Some place I fell in love withwhile visiting with malak my wife 1085 , 10 beauiful days , in the middle of snow with the warmest feeling you can ever get even sub.zero. with the new technology of 3D and high resolution , i can see it more beautiful than i can imagine."
Nashaat eldaly, Venezuela
2012-11-13 04:03:31
4 from 5
"I do realy enjoy the new technologhy , it added a new parameter with the high res. to places i lived in and visited throughout the last 60 years , Thank you for that."
Nashaat El-Daly, Venezuela
2012-11-04 19:17:50
5 from 5
""GREAT, EXCELLENT, FANTASTIC, WONDERFUL & AMAZING. CONGRATULATION.
THIS IS THE REAL HAPPINESS IN THE WONDERFUL LIFE.
THANKS TO ALL FOR ALL THIS GREAT WORK."
KAMLAKAR PATIL, India
2012-10-28 14:53:18
1 from 5
"Hello my loved one! I wish to say that this
article is amazing, great written and come with almost all vital infos.

I would like to peer more posts like this .
Chadwick"
Chadwick Logue, Malta
2012-10-02 01:26:41
5 from 5
"PLEASE KEEP ME POSTED FOR SIMILAR SITES AND FOR NEW ADDITIONS TO YOUR SITE PLEASE.

RGH4141@GMAIL.COM"
RON harman, USA
2012-09-29 07:22:12
5 from 5
"Exceptional imaging of the world places.
Maybe you can translate in spanish in a future short.
Thanks a lot."
ernesto ruiz, Mexico
2012-08-31 15:30:00
"I really like these kinds of pictures.by my friends"
Mohammad Salari, Iran
2012-07-17 03:25:45
5 from 5
"Awsome and beautiful aerial pictures!"
alicia mauricio, Argentina
2012-07-14 09:34:33
"i like 360 AERIAL PANORAMA"
renu gupta, India
2012-07-13 16:08:29
5 from 5
"Simply STUNNING achievement in aerial photography and is BEAUTIFUL ART!!! OUTSTANDING WORK!! AMAZING CLARITY!!"
Lynn Carter, USA
2012-07-04 21:36:57
5 from 5
"beautiful hsve visitd msny of your sights but could not see all the things you present
great photos kudos"
sam wayman, USA
2012-07-01 12:25:34
5 from 5
"Marvellous!! almost facing jetleg after experiencing the so-real view"
Jaya Sankar, India
2012-06-26 03:23:53
5 from 5
秋雄 張, Taiwan Region
2012-06-23 07:53:29
5 from 5
"super extraordinario... rebasa lo inimaginable...muy agradecido por este magnifico viaje.. felicidades y gracias por compartir"
gonzalo moreno gutierrez, Mexico
2012-06-21 21:21:18
"Great work! But a lot of mountain labels are wrong. For example, in the Bernina's panorama, Piz Corvatsch is Pizzo Scalino; Piz Alv is Piz Roseg.
Best regards from Italy!"
Stefano Caldera, Italy
Varvara, AirPano: Dear Stefano, thanks a lot for your recommendations! We agree with you and would like to make changes. Can you, please, mark your notes on each pano? And soon these changes will appear on our web-site.
2012-06-19 20:08:50
5 from 5
"really awsme thing on web, Love to see these view.. even in our real life it wouldnt be possible to see such an amazing things ... Kudos!!!!!!!"
Imran Ali, India
2012-06-17 09:40:05
5 from 5
"Very good video pictures"
Juří Kopecký, Czech Republic
2012-06-12 21:35:45
5 from 5
"ABSOLUTELY DELIGHTFUL, NEVER, EVER BELIEVED THIS WOULD BE AVAILABLE ON THE INTERNET...KUDOS!"
C. LADD, USA
2012-06-11 15:12:01
4 from 5
"Computer technology at its best. Fantastic!"
DikDik Pellek
2012-06-09 12:44:56
"精美绝顶,身临其境。太美妙了。"
chen guozhang, China
2012-05-26 09:17:51
5 from 5
"It's wonderful."
tuss arnan, Thailand
2012-05-23 22:58:26
5 from 5
"Vsechny prezentace jsou krasne. Velmi dekuji."
Vera Jelinkova, Czech Republic
2012-05-21 12:54:31
"very good"
faranak gh, Iran
2012-05-17 23:32:47
5 from 5
"tu eres el mensajero del TODOPODEROSO, CREADOR DEL UNIVERSO!Te felicito, por ensenarnos y apreciar las Maravillas que ha creado, dichosos los ojos que pueden ver. gracias"
Jeannette Kehela, USA
2012-05-15 05:11:51
"Enorme belleza, gracias por compartirla. Cordiales saludos"
Victoria Luisa Cattelani, Argentina
2012-05-12 09:55:58
3 from 5
"wow!It is awesome.I like it very much"
venaganti manikanta, India
2012-05-06 23:48:03
5 from 5
"incrivel,muito bonito da vontade de estar la,é uma festa para os olhos."
LUIZ CLAUDIO PAULUCCI, Brazil
2012-05-05 01:16:59
5 from 5
"MUCHAS GRACIAS POR DEJARNOS VER PAISAJES TAN ABSOLUTAMENTE MARAVILLOSOS, NO HAY PALABRAS, GRACIAS DE TODO CORAZON HOY Y SIEMPRE, FABULOSOS UNICOS"
CARLOS ALBERTO VANEGAS UPEGUI, Colombia
Varvara, AirPano: Le agradecemos, Carlos, por sus palabras cordiales.
2012-04-30 19:03:39
5 from 5
"tremendous !!! congretulate for for this workJ.neytcheff"
josette. neytcheff, France
2012-04-29 18:12:12
5 from 5
"magique !merci pour cette parenthése"
elisabeth chatel, France
2012-04-26 07:42:47
5 from 5
"It is the art of technology and technology of art ... It's really wonderful"
Federico A. LOPEZ UGARTE, Bolivia
2012-04-21 18:21:58
"wonderful"
Luiz Carlos Guedes Freire de Souza, Brazil
2012-04-18 08:47:45
5 from 5
"LA MARAVILLOSA CREACIÓN DEL GRAN ARQUITECTO DEL UNIVERSO"
VÍCTOR CAMPANA, Peru
2012-04-17 20:34:52
5 from 5
"Very good video pictures ."
Jacques . Locker ., Netherlands
2012-04-17 18:30:49
5 from 5
"Verry good video ."
Jacques Locker, Netherlands
2012-04-16 02:25:52
5 from 5
"美妙绝伦。"
dinghua tang, China
2012-04-15 19:36:35
5 from 5
"I have been working with Credit Suisse more than 23 years and have traveled to Switzerland more that 20 times. I have seen all the routes to Alp and specifically have been in St. Moritz. I have seen the hotel which used to belong to Shah of Iran.
You have done an excellent job, it is so beautiful.
Congratulations."
Sousan Zarrabi, Iran
2012-04-12 14:20:52
5 from 5
"Gracias por estas imágenes tan bellas todo es tan espectacular y que buen trabajo felicidades..."
MarcoAntonio Carmona Sampedro, Mexico
2012-04-12 04:08:12
5 from 5
"Fifty years ago I often skied on the Corvatsch slopes of St.Moritz (Switzerland being my native country) and this gorgeous panorama is a great souvenir for an old man. Thank you."
Erich Heer, USA
Varvara, AirPano: We are pleased with your attention, Erich. Thank you for the comment!
2012-04-11 21:20:59
5 from 5
"Díky za skvělou prezentaci krás naší planety.Kéž zůstane stejná i pro další generace"
Antonie Hůrková, Czech Republic
2012-04-06 16:35:48
5 from 5
"Breastakingly beautiful.Thanks."
FRANCIS PERENCSIK, Canada