Rosa Khutor Ski Resort. Southern slope. Sochi, Russia
In southern Russia, there is the unique all-season resort Rosa Khutor, located on the territory of the city of Sochi. It has its own beach on the Black Sea coast and different ski runs. In 2018, it was awarded the title of Russia's Best Ski Resort by World Ski Awards for the 6th time! Let's see how skiing looks from the first-person perspective.
One of the pistes on the southern slope, Storogka, is classified as "red". And this is the most interesting type of ski slopes. "Red" class of pistes is not as difficult as "black", which is accessible only for experts, and not as easy as "blue" or "green" aimed for beginners. There are no flat sections and a skier has to be skilled in the small radius turn and other tricks. Storogka is 2,200 meters long and has 533 meters of vertical drop. It originates at the conjunction of the pistes Yavor and Fialka.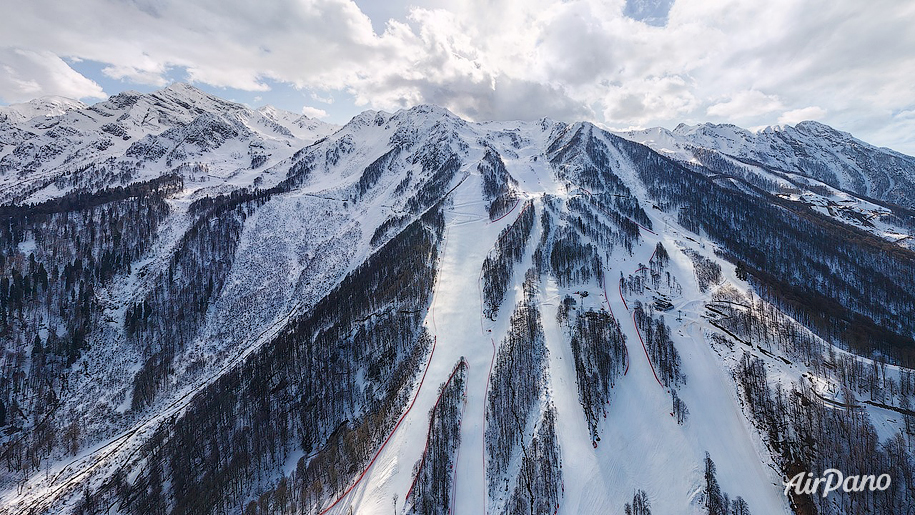 Yavor is the longest piste of Rosa Khutor with a length of 4.2 km. It is "green" along its entire length, the easiest piste, but it offers an unbelievably scenic view of the Black Sea and the Caucasus mountains. Some sections of Yavor has a vertical drop of 350-650 meters, making the skiing even more exciting. The piste ends at the Edelweiss chairlift.
And you, too, admire the beauty of the Russian mountains!
Read more
360° Photo
Add your review about "Rosa Khutor Ski Resort. Southern slope. Sochi, Russia"