New Jerusalem Monastery, Russia
•
360° Aerial Panoramas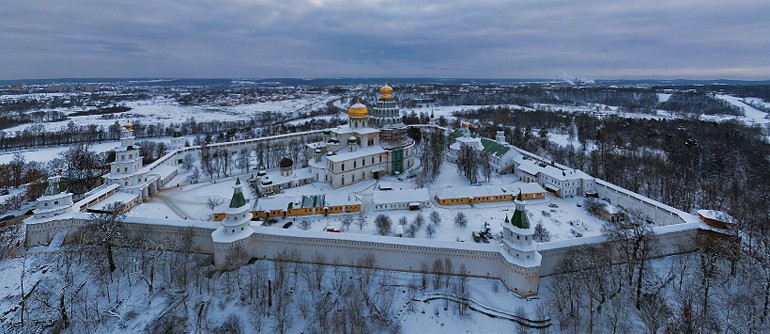 ---
In the 17th century, a little town located just 50 kilometers from Moscow suddenly became a stronghold of the spiritual and geographical revolution: it was supposed to become the new Holy Land of the Christians, with an exact replica of The Church of the Holy Sepulchre, its topography and relics. This is how the local hills gained their names: Mount Zion, Mount Tabor, and the Mount of Olives. In addition, the Istra River was renamed the Jordan River. These were the only similarities to the Holy Land — the brutal Russian climate remained unchanged, and the little settlement near Moscow named "New Jerusalem" couldn't become the center of Orthodox Christianity.
The famous Patriarch Nikon of Moscow, an unusual person who, although being greatly misunderstood by contemporaries, played a huge role in the history of Russia. In fact, he was the author and initiator of the already mentioned changes. Among Nikon's schismatic ideas were the church reforms that permanently divided the country, giving rise to the Old Believers movement.
Patriarch Nikon was actively involved not only in the religious but also social life of the country, trying to interfere with government affairs. Alas, he crossed the line in this sphere, just as he did with the church. As a result, he was evicted from Moscow and then settled down in New Jerusalem, placing the construction of the Resurrection Cathedral under his personal supervision.
We have to give credit to the scale of the idea. The Resurrection Cathedral was supposed to visually represent the leadership of Russia in the world of Orthodox Christianity. The Patriarch ordered architects to copy the Palestinian Cathedral and, at the same time, gave them room for creativity. For example, there was the idea of building a temple with 365 chapels representing each day of the year! However, this particular idea was turned down during the construction. Nevertheless, the cathedral, decorated with hand-painted tiles and white-stone carvings, turned out to be rather whimsical. The domes of the underground church rose up from the ground level in front of the main section — the Resurrection Cathedral was crowned with a mighty dome that rests on the cross-shaped foundation; and further behind them, there was a huge stone-tented roof over the Holy Sepulchre Chapel. The tent was so big that the architects couldn't secure it well enough, and so in 1723 it collapsed.
After the two fires that followed the first incident, the cathedral underwent a major restoration, which was supervised by architect K. Blank, who implemented the design from the famous Francesco Bartolomeo Rastrelli. By the 20th century a number of additional structures appeared in the monastery. However, in 1941 most of the buildings were damaged due to the war, and many architectural monuments were completely destroyed. Some of them were rebuilt, except for the main architectural piece — the gigantic seven-tier belfry.
Today the New Jerusalem monastery shares a ground with the art museum that is also located on its territory. The city of Istra (former Voskresensk) has always been in the shadows, silently growing around the monastery. Like the monastery, during World War II, the city was occupied and then completely destroyed during the retreat of the enemy troops. After the war, architect A. V. Schusev designed a master plan that would turn the city of Istra into a large recreational center; but industrial and scientific research fields began to develop here instead. This is why, aside for the New Jerusalem Monastery, the main "landmarks" of Istra are a baby food factory, furniture and textile factories, as well as tile, brick, and other plants. This contrast of old and new is depicted in our panoramas that were shot in the freezing (below 0°F!) winter of 2009.
17 May 2010
Comments
2015-05-09 03:01:39
"I feel sa when I read people guiving lessons and telling what is THE real Jerusalem and where it is. OK than, shall I remind you that it is in Palestine wherejewisn, muslims chii sunni,christiansorthodoxes,Copts, catholics, and ansyro-chaldeans, arameans, protestants have always been welcome they have been expelled or killed by jewish terrorists of the Haganah army but nevertheless, half of this town belong still to Palestine,till now becouse everyday fanatic colons expelled palestinian citizens from their ancestar home to develop new cities. Russia, like oter countries is justified to defend the right to consider Jerusalem as a historical christian headtown but never pretend to colonize this area as pomised. Meanwhile I remind that when USA helped the fanatic islamists of IS against the government of Bchar al Assad, russians keep helping him to protect christians, yezidi, kurds, chii and alawi againt barbar islamists."
Michel Demeuldre, Belgium
2014-02-04 18:48:54
5 from 5
"I see that you made it to Jerusalem and I am glad for all Jerusalem-lovers. One point, though, you "forgot" to mention in the title: Jerusalem is in the state of Israel (and is its capital)..."
Kalte Lokshen, USA
2014-02-01 00:27:32
4 from 5
"Amazing! Great enjoyment. My Bible tells me that Jesus Christ, the Son of the Living God, will some day rule with His saints for a thousand years from this Holy City. Note: His coming is soon!"
Jim Comfort, USA
2014-01-27 20:24:02
5 from 5
"Simplesmente maravilhoso! Local a visitar; certamente..."
Jorge Rosa, Portugal
2014-01-27 20:22:11
"Simplesmente; Maravilhoso!..."
Jorge Rosa, Portugal
2013-07-14 23:35:44
5 from 5
"Fantastic i wish one day i visit this holy city the land of prophets The land of Abraham and his descendents"
omar yahya, Pakistan
2013-04-01 00:46:11
5 from 5
"This is great to see the beauty, I would like to see it in my life! Thanks for making this opportunity to see the real masterpieces."
Giga B, Georgia
2013-02-05 01:10:43
"Never seen anything like this before very interesting."
Michelle Goldstein, Canada
2013-01-13 19:24:21
5 from 5
"Great... Hope to see more!"
Dollie Mirasol, Kuwait
2012-11-20 06:04:54
5 from 5
"Wondeful work ... beautiful"
Paula Cardoso, Portugal
2012-11-15 10:24:30
5 from 5
"Hi, This site is amazing!! It gives us the opportunity to appreciate God's work on planet Earth, keep up the good work :)"
Alexandra Shami, Malaysia
2012-11-12 23:06:39
5 from 5
"it realy great work guys
keep it up
Ahmed palestine"
Ahmed Shaat, Pakistan
2012-10-27 04:38:32
5 from 5
jay Adams, USA
2012-09-12 08:10:16
5 from 5
"Wondeful work, enables us, who cannot physically visit,to wonder at the amazing work of God's creation !
Praise the Lord !"
Rego Rossi, India
2012-07-11 12:33:01
"Jerusalem talk to me"
Terry Tibbs, Bouvet Island
2012-07-11 12:28:40
1 from 5
"what happened to the old one?"
George Agdgdgwengo, Uganda
2012-07-11 03:34:14
3 from 5
"I was looking for England, Ireland, Scotland, Wales and partularly Liverpool, UK, The Catchedral there, The Mersy Tunnel, The gardens on the Mersey, Speak Hall and other wonders."
Moira Townsend, Australia
2012-07-09 19:47:02
3 from 5
"I enjoyed it very much but am disappointed not to see Israel,Jordon or more of Africa"
lou burke, USA
2012-07-07 22:44:56
5 from 5
"I am a Retired Chief Petty officer with 30 years
of service before I retired in 1975. During my
travels, I was not fortunate enough to actually
see this city. BUT NOW I HAVE!! i thank you and
the Lord for making it possible for me!Thank you
so very much I am 74 years old now and I would
very much like to visit in person before the Lord
calls me home!! God Bless to all."
Charles Horton, USA
2012-07-04 11:14:14
5 from 5
"Absolutely fantastic, great work, continue to impress, Cïàñèáî Áîëüøîå"
Dan Slabbert, South Africa
2012-06-25 03:35:58
5 from 5
"WONDERFUL ! I love moving around to see details . The winter scene is beautiful ."
Sue Miles, USA
2012-06-21 23:35:17
4 from 5
"Wow I looked at the New Jerusalem - !!"
lagi vuki, Fiji
2012-06-19 23:43:48
1 from 5
"Very Beautiful"
Ranjit Fernando, Sri Lanka
2012-06-14 14:08:57
5 from 5
"TOATE REALIZARILE SUNT DEOSEBIT DE BINE REALIZATE.
Fiti SANATOSI."
Silvesan Ioan, Romania
2012-05-31 18:57:46
5 from 5
"GREAT"
steven lim, Malaysia
2012-05-28 22:48:14
4 from 5
"Fantastic !!!"
Luis Paulo Martsucelli, Brazil
2012-05-17 19:49:26
4 from 5
"Really appreciate your sharing attitude and leading others to know the wonders.

It would have been more useful for sparing more info and monastrians living style also.

God bless you abundantly with much more gifts."
Joseph Fernandez, Iraq
2012-05-11 10:23:33
5 from 5
"I love this NEW JARUSALEM in the snow falling day it is very beautiful and AWESOME...................keep it up.
good luck"
Madhavi latha, India
2012-05-11 10:23:32
5 from 5
"I love this NEW JARUSALEM in the snow falling day it is very beautiful and AWESOME...................keep it up.
good luck"
Madhavi latha, India
2012-05-10 09:23:56
5 from 5
"Par excellence-Gods gift."
vijay kumar, India
2012-05-06 11:57:54
4 from 5
"Awesome work yar.
But why I rated 4 do you know the reason because, when you are showing 360 degree angle you have to show that in video if you do so its really awesome.But now I am not saying that it's not awesome it is really really awesome and a fantastic job.Really no words."
Joseph Gorantla, India
Varvara, AirPano: Many thanks
2012-03-27 15:36:49
5 from 5
"BEAUTIFUL ....SUBHANALLAH"
Nasir Ali, Pakistan
2012-03-22 20:11:40
5 from 5
"Awesome!!You do a very great job!!! Many beautiful photo~I love it !"
Mengzi NO, China
2012-03-17 18:34:07
5 from 5
"At my sge, I am no longer able to travel to these marvelous places, These videos allows me to somewhat fulfill a dream to see something of the places I never got to see. Thank you! I would like more please."
Mary Brumley, Japan
Varvara, AirPano: We are grateful for your interest in this panorama. Come to visit us again soon!
2011-11-02 00:51:33
5 from 5
"Beautiful !

It's uplifting to view this,
15 years after having made several pilgrimages
to this most holy monastery.

There was a little too much in the panorama,I thought, however, on Istra.
rather than more of New Jerusalem's unique
architecture. For example, the exquisite and rare tilework around windows and beneath the dome.

May Patriarch Nikon's monumental Monastery --
along with the gem of a Skete too - be
completely renovated according to the original
blueprint. Soon!
And may this great Hierarch be canonized swiftly as well !"
Barbara S.
2011-10-13 05:00:44
5 from 5
"THATS AWESOME! Congratulations!! I'm from Brazil, but i'm going to Russia in January,I'll stay in Krasnoyarks! Awesome job!!"
Fernando Helfenstein