On the edge of the Grimsvotn volcano crater
•
360° Panorama
---
Before Dima Moiseenko go on his story the first part of which has been already told here (the 3-hour helicopter flight to the volcano), I would like to tell in brief about "the hero of the occasion" that is the Grimsvotn volcano.
The Grimsvotn is a not ordinary volcano. And in Dima's reportage there won't be the extremely high magma fountains as well as the red-hot lava streams flowing into the ocean, though for 24 hours the Grimsvotn was gushing out ashes dozens and hundreds times more than erupting Eyjafjallajokull last year.
It is unique because the huge 500-meter ice layer covers it. Besides, on the top of the volcano there is a caldera - enormous cup full of ice too. This cup's area, or in other words - ice lake, is 35 km². The volcano was erupting and the ice began to thaw. The eruption melted the ice layer in the caldera and much water accumulated there. As a consequence, a new lake appeared with a cone in its center.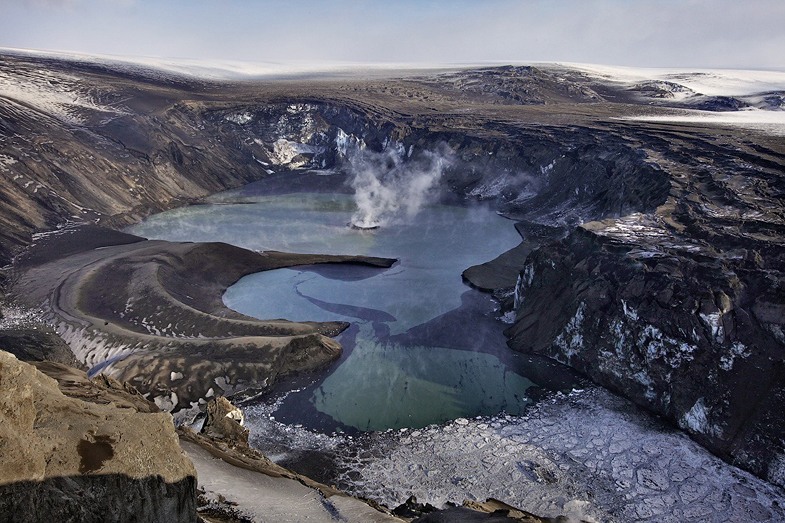 Due to the Grimsvotn was covered with ice while it was erupting the steam explosion happened similar to the explosion of a steam pot. That is why the altitude of the steam and ash fountain was so high and reached 15-20 kilometers. Although this year eruption is more grandiose than the last year eruption of Eyjafjallajokull, the Grimsvotn gushes out the special basaltic ashes which fractions are bigger and heavier. They quickly fell down and the air service was not paralyzed all over Europe as it had occurred in 2010.
Dima arrived in Iceland on the fourth day of the eruption but the volcano began to calm down. Then from the locals he found out than the Grimsvotn's eruption usually lasts 3-7 days. But when on TV they broadcasted that the ash fountain was 20 km height but we didn't think about it :) First Dima flew by helicopter over half Iceland but the volcano was covered with clouds and he wasn't able to shoot. But he acquainted with a guide and they got to the volcano by driving and walking.
So, below you can find the second part of the reportage.
__________________________________________________________________________________________________________________
Well, we never give up, especially if we arrived from sunny and warm Moscow in the other end of the earth. Except a helicopter I was able to get to the Grimsvotn by super-jeep. Super-jeep is a high elevated with big and wide wheels off-road vehicle used in Iceland. Frankly speaking, the rent price is not low for such entertainment including the service of ex rally champion of Iceland - Oscar.
I was highly recommended not to go alone but to take somebody with me (later I understood why...)
We left at 8 p.m. in order to reach the mountain surroundings before the sunset and to stand at the volcano's crater before the sunrise. Having had an experience in shooting from helicopters, I asked Oscar about the warm clothes and immediately received from him a one-piece suit with thick fur inside which would be useful for Icelandic woodcutter or oil industry worker (if there are forests or oil in this country).
First two hours the road was asphalt then it became gravel and the snow areas and ice fields appeared. The champion drove 80 km/hour taking notice of nothing just having reduced pressure in tires. Finally, I understood that my personal jeep is nothing here.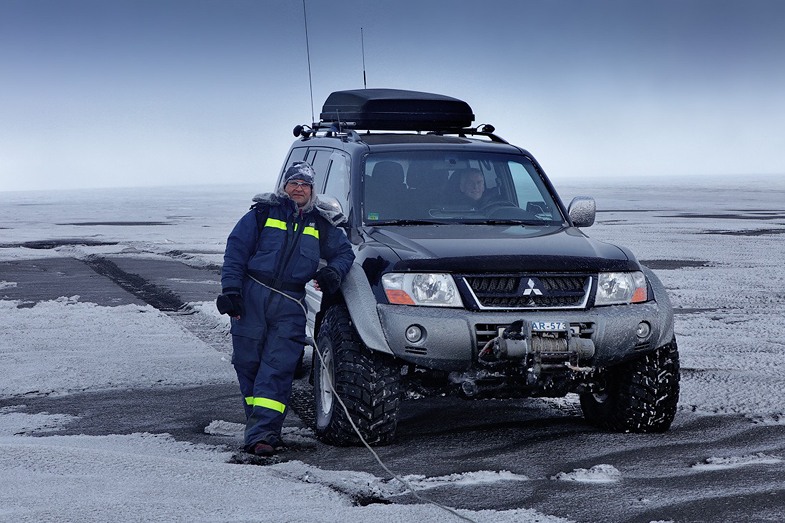 After not very picturesque sunset we started climbing a glacier where, on the west, our volcano was located. The white nights have already begun in Iceland and the darkness lasts only 3.5 hours, so, little time left from the sunset till the sunrise and the Biggest Glacier in Europe was waiting for me!
Telling the truth, Icelandic glaciers differ from the standard cracked ice fields of Patagonia or Antarctica. In Iceland a glacier is covered with a thick snow layer smoothing out the surface and it is very easy to move by super-jeep.
But... not that day. As swearing Oscar explained me, the fallen down ashes had covered the ice unevenly. Where there was a thin ash layer, the sun heated up it much and melted the ice surface. And vice versa, if the ash layer is more than 10 cm it was a good thermo-insulation. In short, it was better even not to think about calm trip of 40 km long and 1 km height: we were shaken from side to side so much...
...so much that when the driver announced about our arrival to the Grimsvotn I just fell out from the jeep.
His imagination of the word "near" was completely in accordance with Icelandic understanding of the word "safety" because the crater was seen 2 kilometers far from the place we stood on. Well, spherical panoramas are not shot in such distance, so, I had to explain it to Oscar and offered various ways to find the decision: to get to the crater from the right or the left side, or from behind, perhaps. Due to in front of it there was a 500-meter precipice I didn't insist on that variant.
I was just given the binoculars and heard "cracks".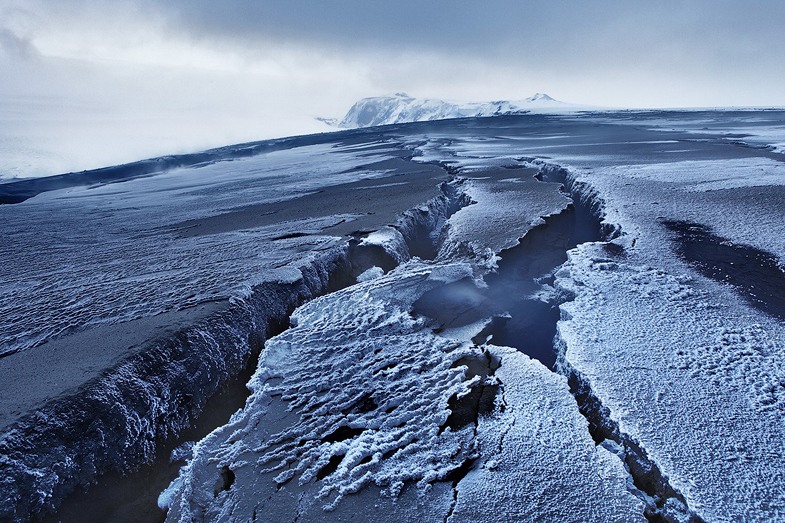 Having estimated that there were the 10-meter precipices behind and on the left which represented a difficult task even for Super-Mega-Jeep, I chose the variant to get there from the South.
I could not believe that Oscar was the same man who took me there: then he drove the jeep to the crater very smoothly checking almost each meter of the surface. Then the driver showed the hazes of sulfuric evaporations gushing out from the ash layer into the melted snow, poked into a couple of chasms where our jeep could have gone in easily and refused to go forward. Less than 500 meters left.
I was guided by Max who is Icelander of the Ukrainian origin. Having tied with a rope to be in safe, we went ahead. The way was difficult: it was even worse than to step upon sand because the ash layer was sinking 10 centimeters down.
Near the first crack of about 50 centimeters width and depth, where the nasty sulfuric smell was gushing out from, Max stopped and stood still. I jumped it over and went on moving. The rope was drawn.
I had to explain to Max that it would be impossible to shoot the volcano as the crater was not seen from that position. And it would have been better to stay and drink beer in Reykjavik rather than go to the volcano... I reminded him that he had to follow me and stand by, so, it was needed that he just followed my steps... Bridging over the difficulties sooner o later I was standing on a small hillock over the crater. I had half an hour till the sunrise.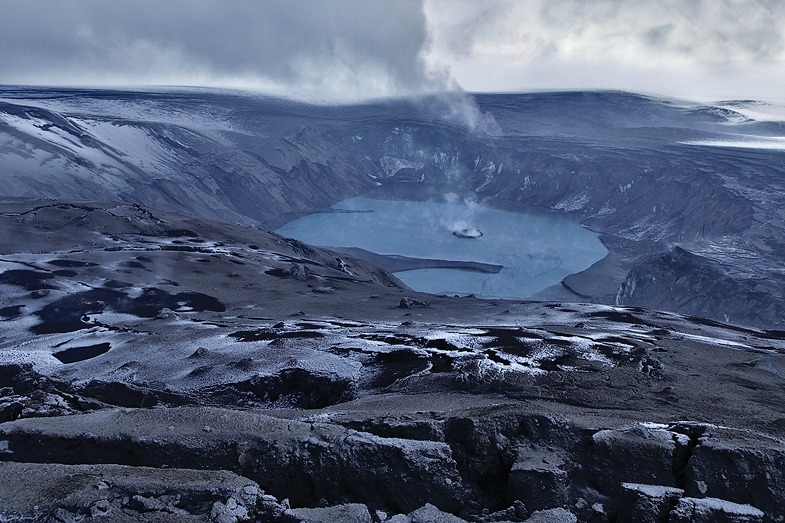 Then 5 hours I was waiting for the only moment when the sun, finally, lighted up the small crater in the center of the lake.
My memories of next 5 hours standing there and feeling ice, wearing me out wind can be described with the following short phrases:
...I dragged my feet to shoot at dawn
...but, of course, there was no sunlight
...there was a big cloud instead the sun
...a couple of hours passed and I was still standing at the edge between the ice cracks
...My feet were absolutely cold; I shot a couple of panoramas with no sunlight
...and went back to the car (about hundred meters up)
...crashing
...I looked back: a big ash cloud was rising over the volcano...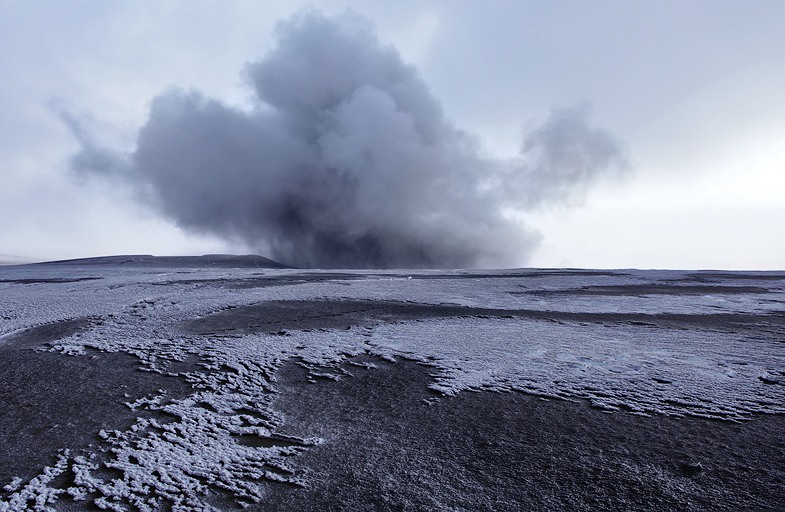 ...but the crater was not seen from the parking
...one minute later the cloud died
...I could make a couple of shots just off the cuff
...as soon as I had warmed myself in the car, the sunlight appeared
...I took the equipment and went to the edge again:
...the sun was shining behind the cloud
...but it lighted up only the crater's part... I had to wait
...I shot a couple of spheres of the lighted part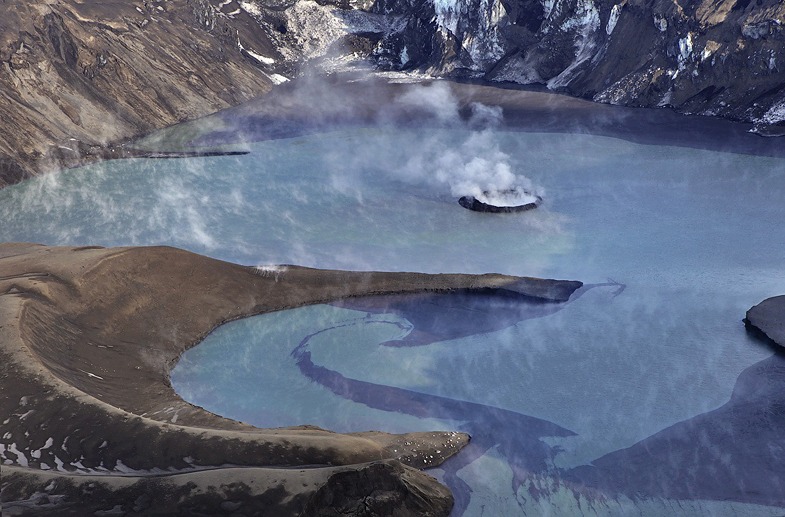 ...the cloud came again
...And it was not clear: to wait or not to wait
...I wanted the sun would light up the small round volcano in the center of the crater's lake
...another hour passed...
...I felt cold
...the window blew, the ashes flew. I hardly breathed. The ashes fell into the eyes and objective...
Crashing again. As I understood later, the big crater's edges were of ice and ashes and from time to time the emissions happened not from the main crater but from aside: either from the left or the right side from me. As a result, the part of the vertical slope fell with a great noise into water and on its place the powerful ash emission happened.
After the next 100-meter block of ice had fell down and the wind had taken the thick sulfuric evaporations from the neighbor crack, I attentively observed the area I was standing on and decided immediately to go away...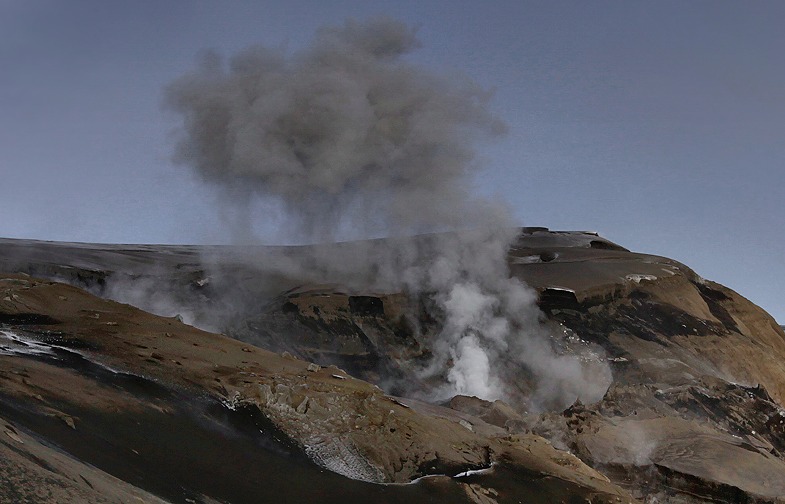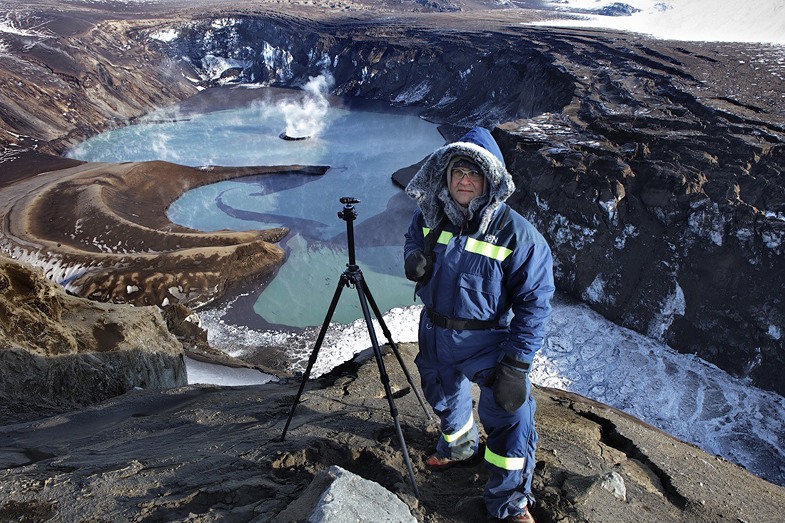 I was climbing up to the car but on the half way the sun overlooked again, I gave a deep sigh, left the tripod, rucksack and took only two cameras and ran back to the precipice. There, while the sun was shining, I shot the last panorama holding the camera in the hands.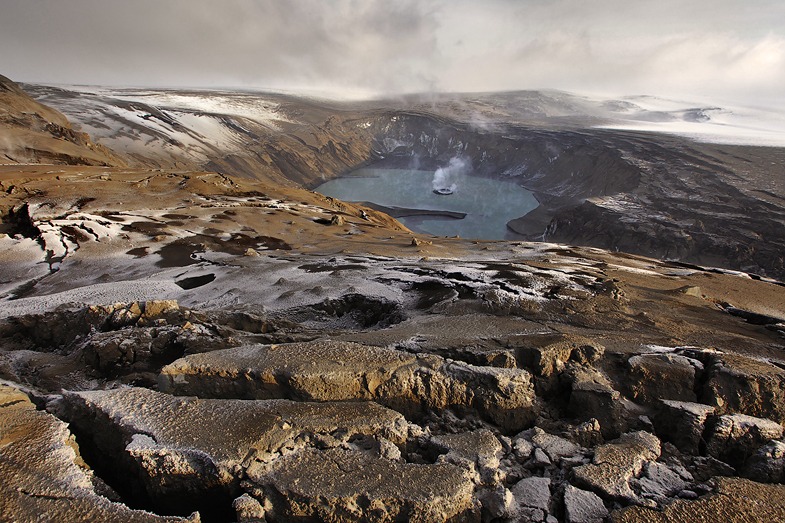 The way back almost was not remembered me. We were shaken; Oscar was crossing the rivers not decelerating.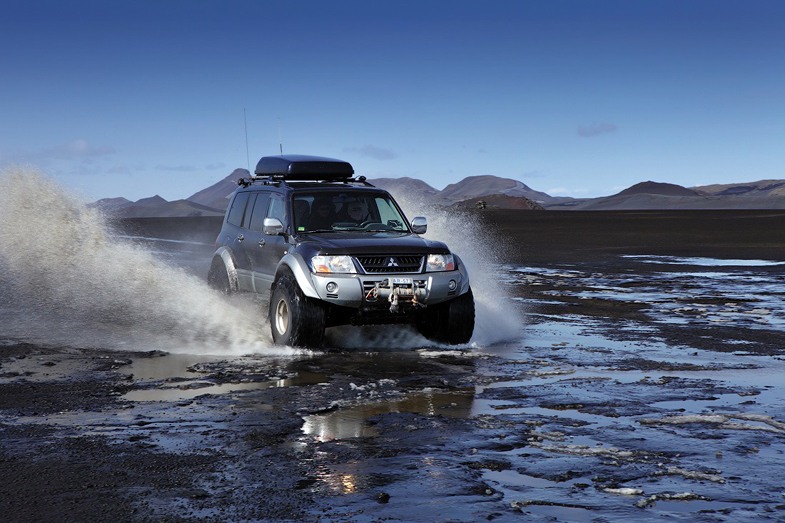 We had breakfast in a weather station: Max turned out a provident cook. Then Asphalt and Reykjavik.
So, the volcano has been shot and the spherical panorama has been ready, I am at a hotel room and while the files are uploading into ftp AirPano I'm writing the report. Now I'll go to bed and tomorrow I could, probably, go to the Blue Lagoon and relax there.
Written and shot by Dmitry Moiseenko
9 June 2011
Also we offer you to see virtual tour with 82 panoramas of Iceland.
Comments
2015-11-09 03:18:23
5 from 5
"My husband and I were in Iceland 5 years ago on a tour. Loved every minute and had lots of memories of all the waterfalls and volcano areas. Would love to go back some day. Hugs,Ginny"
Virginia Higdon, USA
2014-10-28 02:19:18
"Spent time in Iceland in 1966-68 with the navy. Thought it was beautiful and hope to revisit."
Rex Lauterbach, USA
2014-03-20 01:20:30
5 from 5
"what a wonderfull time you must have had I was so enthralled to hear about this visit thank you so much for your description ! please tell us more."
Kathleen Boulter, Canada
2014-01-07 09:39:25
5 from 5
"My husband and I hired a car and drove right throughout Iceland but, unfortunately, did not get to the Westfjordland area. Iceland is one of the most beautiful places on earth. We were there in an Icelandic spring when all the waterfalls (thousands of them) were like raging torrents with the melting snow. Driving around Iceland was certainly a hair-raising experience - the roads were pretty rough and we had a few shredded tyres with the sharp rocks (many of the roads are not paved). Also the notorious "killer sheep" provided a challenging and unexpected danger. Because of the heavy snow drifts, the roads throughout the interior and rural areas of Iceland are elevated so that the snow ploughers can push the snow down into the valleys, but when these stubborn little sheep stand on the road, they just won't move. This is the cause of a few awful accidents by tourists thus is why the locals call these sheep "Killer Sheep". However, if you drive carefully you won't have problems. The hire car companies don't like you going into the interior but we were glad we risked it. Iceland has a breathtaking stark beauty that is alien to us (as we are from the sunny warm environment of Australia). It is an expensive country but worth every cent to get there. The staggering beauty of the eastern Fjords is breathtaking. We spent a glorious three weeks driving around Iceland but could have spent another month! I am determined to go back to see the pristine beauty and incredible birdlife of the western fjordland (far north eastern Iceland)."
Kathryn Byrne, Australia
2013-09-24 14:19:23
"Excellent!!!"
lucian gadea, Romania
2013-09-20 15:26:10
5 from 5
"My wife and I had a bus tour of Iceland in July/Aug 2013. It was wonderful. Such rugged beauty, wonderful people and great food."
Robert Cook, Canada
2013-09-03 01:26:47
5 from 5
"I am an Icelander an I have travelled to many places in Iceland I have for example crossed over Vatnajokull on skies with pulka an also on me superjeep and also on kajak on Langisjor and your Panorama pictures of my country shoves the places very well.
best wishes from Reykjavik Iceland.
Small picture webside www.picasaweb.google.com/maggidan50"
Magnus Bardarson, Iceland
2013-06-07 03:57:38
5 from 5
"When can I go to such a breath-taking place ?"
Jinook Yang, Korea
2013-02-27 02:09:45
5 from 5
"I was stationed at the NATO base in Kef from 86-88, great place to see, people are warm and friendly once they know you, otherwise u may think they are a bit rude, but that is just their culture. Visit in the summer months, it may get into the 60's if u r lucky. Great place to eat fish."
Curt Sattler, USA
2013-02-11 00:09:13
5 from 5
"I visited Iceland in Dec., 2012 and it was a highly recommended experience, It was cold but enjoyable.

I saw the glacier but nothing was like this.

good work."
Khaled Elsayed, Canada
2013-01-18 18:26:45
4 from 5
"Meget smukt"
Eugeniusz Rybarczyk, Denmark
2013-01-08 16:25:47
5 from 5
"Wow ! Just fantastic shooting ! Great experience. Keep it up!!!"
Samir Parekh, India
2012-12-29 18:46:27
5 from 5
"I visited Iceland this year yes it was a wonderful experience"
Gretta Bolton, United Kingdom
2012-12-02 06:27:58
5 from 5
"Fantastic - I was in Iceland (US Navy) 1967-1968. Brought back a lot of memories and I hope to visit again sometime just to see how things changed."
James Walsh, USA
2012-10-23 16:53:41
5 from 5
"Beautiful photos I was in Reykjavik in July 2012 which was summer time experience 24hrs sunlight so called the land of the midnight sun, visited the town and the glaciers and also the blue lagoon just love the country."
Alan Lai, Malaysia
2012-10-01 18:01:47
5 from 5
"Am so carried by the wonder and glory. Thank you so much for creating in me a thirst for Iceland and it's staggering craters and volcanoes."
Jean Richardson, United Kingdom
2012-07-15 08:01:34
5 from 5
"Congratulations. What a wonderful panorama but you succeeded through pain, persistance and danger. Thanks very much for sharing it with the world.
Regards Andrew Mitchell"
Andrew Mitchell, Australia
2012-07-11 19:32:27
5 from 5
"Dear Dmitry Moiseenko,
we are thousands of miles apart. You have simply poured pleasure into my heart, through your wonderful panoramic videos. I am 66 now, a practising Child Specialist in Mumbai, India. It is a great and rare spark of my luck that I tumbled upon this amzing treasure you have created! This is the first time in my life of 66 years that I am so much pleased watching a panorama! I salute you wherever you are. May God give you unlimited energy to make many more such wonderful creations for our generations to come. I have 2 grand sons each 3 years old. I am preseving this creation of yours as the most valuable gift from a loving grand father to his grand children. I wish during my life time I get one opportunity to touch your hands to thank you for giving me this happiness.
All good wishes to you my friend,
Dr. Sudhakar Joshi, Mumbai, India."
Dr. Sudhakar Joshi, India
Varvara, AirPano: Dear Dr. Sudhakar.
Thank you very much for your letter.

Perhaps, it will be another one trip to India including Mumbai. If it happens, it will be great pleasure to me to shake your hand because I really appreciate your kind words.

Best regards,
Dmitry Moiseenko
2012-07-09 20:06:17
5 from 5
"I have family in Iceland and just loved it there.They are all so hospitable and friendly. I went to a glacier by bus but saw nothing like what you showed from the air. Thank you so much."
Tudy Flesher, USA
2012-07-06 16:08:23
5 from 5
"Thank you for sharing such a wonderful sight and experience for you. I never bothered to find out anything about Iceland. You have given me the first amazing glimpse."
Stasia Very, Australia
2012-07-05 00:08:46
4 from 5
"I have travelled the world.I found Iceland to be one of my best experiences.Great riendly people and tasty food.The views are breathtaking ..glaciers town encased in lava hot springs.."
al bessey, Canada
Varvara, AirPano: Many thanks for the message left.
2012-07-02 07:05:22
5 from 5
"This WAS on our Earth, right? Incredible. Awesome job."
Joe Armbruster, USA
2012-07-01 19:38:12
5 from 5
"Absolutely amazing."
Barbara Zebell, USA
2012-06-16 05:16:22
5 from 5
"Excellent photography. Will be seeing Iceland in Aug 2012 during a cruise."
V.P. Velu, USA
Varvara, AirPano: Have a nice trip! It's a wonderful place.
2012-06-15 17:07:43
5 from 5
"Incredibly awesome! Thank you for my journey to Iceland!"
Tasha Rhodes, USA
2012-06-05 21:18:16
5 from 5
"Loved my trip to Iceland and now take every opportunity offered to read about and view photos of this beautiful country. Immense thanks for your exquisite and exciting photographs, your commentary, and my virtual tour!"
Vicki Elberfeld, USA
Varvara, AirPano: We are pleased you left your message here.
2012-06-01 20:08:03
5 from 5
"This place,possibly too hot even today if you went near, is superb to look at from above!My congratulations,dear ladies and gentlemen!"
Sadasivan Neelakantan Dr, India
2012-05-24 13:01:57
5 from 5
"Beautiful pictures.!"
Krishnamurthy Sivaraman, India
2012-05-20 23:26:25
5 from 5
"Went to Iceland 1941 -1943 (US army) great country. Your photo's were outstanding.."
William De Groat, USA
2012-05-12 02:08:28
5 from 5
"my family came from karmoy norway and i have wondered about iceland and norway .i thought these were great and i thank you at almost 85 i am sure i will not get to see ether of them so thanks again"
lars medhaug, USA
2012-03-27 12:26:51
5 from 5
"Awesome pictures."
PULLESWARA RAO YALLA, India
2012-02-25 10:44:52
5 from 5
"Fantastic photos of a volcano that most of us would hardly have a chance to go to and to see it personally. Your courage, persistance and passion in photography is just admirable! Thank you for this excellent work and sharing it with us"
Wanda Chan, Hong Kong
Varvara, AirPano: You are welcome! We are happy you enjoyed this pano!
2012-01-09 03:08:40
"Dear Dima, your stills photos are so good, real excelent job by all standards!!! I just can't understand what to do with the panoramas and why you made them for, it almost as useless like Google Earth photos. Keep sending your stills, here we can judge your skils at the most."
Ayathulla junior, Iran
2011-09-30 11:06:40
5 from 5
"I've never been to Iceland and hardly ever will... And even if it happens I will hardly visit such corner of Iceland like the Grimsvotn volcano. Thank you, guys, for your enthusiasm in showing the severe and wild nature of that country! It is really interesting and impressive!"
Hans Reinhardt