Forest waterfall, 360 video panorama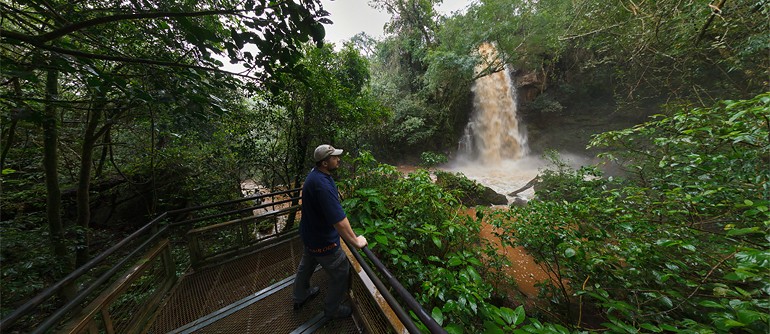 ---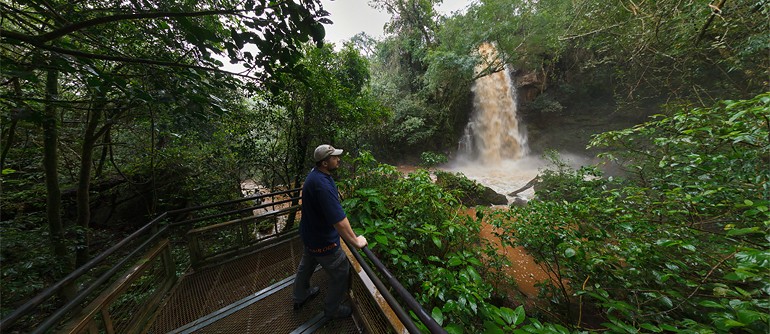 For the past 2 years AirPano team has achieved impressive results in panoramic photography.
We have developed and refined a method of capturing spherical aerial panoramas at nighttime. We have created the first nighttime virtual tour over Las Vegas in the history of the world.
We have managed to photograph a gigapixel panorama from a helicopter.
We have found a way — that seemed impossible at first — to photograph spherical panoramas from an airplane.
We have gone underwater, inside a microwave oven, and soared in a hot air balloon.
Our spherical panoramas have been recognized and awarded for 2 years in a row, 2011 and 2012, at Epson International Pano Awards competition.
Our desire to add more action to our panoramas along with the urge to constantly develop our skills brought us to shooting spherical video. However, our first experimental 360 filming showed that 3D video panoramas had their flaws. Quality of a video spherical panorama could not compete with a quality of a classical panoramic photograph. Naturally, we were not happy about it.
This, however, did not take away our dream of adding more action to our panoramas. New idea came from one of the website comments. It said, "you have everything in your panoramas, but sound and smell". Adding a smell turned out to be quite a challenge. Working with a sound, on the other hand, was in our area of expertise: we have already added a sound of falling water to our panorama. So we thought, why not add falling water itself to the picture? As a result, we combined a high-resolution static spherical panorama with a video of a forest waterfall to show the natural beauty of the place.
The only downside of this new creation is a need for a rather powerful computer and a high-speed Internet connection to view the panorama, because its size is about 18 MB.
AirPano used the following equpment for shooting this virtual tour: Canon 5D Mark II, Sigma 15mm, Gitzo tripod, Nodal Ninja 4 tripod head.
Authors of the video: Stanislav Sedov, Dmitriy Moiseenko and Ivan Roslyakov

30 July 2012
Comments
2014-10-21 10:02:41
5 from 5
"zelo lepo"
rosana pengal, Slovenia
2014-09-15 11:28:10
"its very nice iknow you want to see that
its acceptable for people"
amir mohammad hayati, Iran
2014-04-24 07:22:02
5 from 5
"Hi,Will this panorama is how to shoot and production?"
cmy china, China
2014-03-15 02:43:06
"can't select data Unknown column 'airpano_ddata_item.top10' in 'where clause'"
Tong Gorokh, Ukraine
2014-03-03 18:21:03
5 from 5
"Amazing..Awesome work.."
Nisar Thettath, Qatar
2013-11-22 09:53:26
5 from 5
Hodine Magda, Hungary
2013-09-01 14:30:58
5 from 5
"very beautiful.thanks"
zahra karbalaei, Iran
2013-09-01 12:01:41
4 from 5
"How much is a dream"
sajjad dostvandi, Iran
2013-07-20 12:18:06
5 from 5
"It's very nice.
Thank you for this picture."
Ebrahim-e majidi, Iran
2013-06-02 20:41:03
5 from 5
"A todas les daria 10 no 5 porque son espectaculares, quisiera poder dedicar mi tiempo a estos trabajos tan interesantes, cuidense mucho, a traves de Uds. podemos disfrutar de lugares que jamas podriamos visitar muchas gracias"
Coleccionador Gonzalez, Spain
2013-05-21 16:24:43
5 from 5
"this place like ramsar city in my country!
very nice & beautiful place"
matin afshar, Iran
2013-04-07 22:12:41
4 from 5
"very nice place!"
Hossein Nafari, Iran
2013-03-29 14:20:28
5 from 5
"Great place. I can feel it."
Olson Tramp, USA
2013-03-05 20:19:10
4 from 5
"seeing places that i may not go there ever....................
your panorama just makes me feel calm & happy."
fatemeh ahmadi, Iran
2013-02-28 02:35:45
5 from 5
"Extra........"
Adi New, USA
2013-02-07 20:04:48
3 from 5
"Really very helpful...."
MOHAMMAD RAFIQ MALIK, India
2013-02-04 06:35:43
"nice"
leslie lin, China
2013-01-18 10:43:30
5 from 5
"very nice"
md mazhar ali ali, India
2013-01-08 03:06:04
1 from 5
"Not impressed. Video stopped and started again over and over. Looked like a stop gap movie, no fluidity.
I have a high speed 10 mps) connection and a computer 3 years old with windows 7. Should have been better.
Ed"
ed diehl, USA
2012-11-21 15:17:40
5 from 5
"Nice work, Pano team!!!!!!!!!!!!"
Akash Yadav, India
2012-10-05 15:30:10
4 from 5
"thanks so much"
mohammad jafarizad, Iran
2012-09-06 06:16:31
1 from 5
faisal alrawqi, Saudi Arabia
2012-08-31 17:08:21
5 from 5
"very gooooooooooooood"
amir REZA, Iran
2012-08-30 07:03:16
5 from 5
"So nice..."
Mukul Tiwari, India
2012-08-28 06:24:04
"INCREDIBLE.. VERY GOOD
MARVELOUS!
I COULD NOT STOP THE MUSIC FROM INDIA.. PLEASE CAN YOU HELP ME?"
MARIA DE LOURDES GERK, Brazil
2012-08-23 05:05:40
5 from 5
"Beautiful cannot find words to describe"
smita THAKER, USA
2012-08-22 16:28:57
"what a awsomeee seen i like it"
patel kamal, India
2012-08-20 20:23:36
"Thanks so much for this wonderful experience all the rotating pictures are marvellous"
jorge alfonso Chameng Atenas
2012-08-16 10:28:54
5 from 5
"Awsome catch guys"
pandit martand Sharma Ippili, USA
2012-08-16 01:27:05
5 from 5
"Excellent work. thanks for that.."
Lindawati Santosa, Australia
2012-08-15 13:50:06
5 from 5
"How beautiful is our world. Let's keep it that way."
Oscar Ramos, USA
2012-08-14 09:21:26
5 from 5
"beautiful"
Srboljub Dimitrijevic, Serbia and Montenegro
2012-08-13 21:45:29
5 from 5
"The picture and sound of waterfall is good.Quality of both is excellent. Had one problem on my lap top though, could not open to wide screen as I've been able to do with ALL of past sendings. I retried this with your Leaning Tower of Pisa panorama and it worked as usual."
Ed Nelson, USA
2012-08-13 20:57:44
5 from 5
"Parabéns, Sensacional, Maravilhoso, Estupendo.
Aranha
Minas Gerais
Brasil"
Paulo Rattes, Brazil
2012-08-13 20:13:55
5 from 5
"J'aime ces panoramas, notament le Taj Mahl, des souvenirs pour moi

Merci"
claude cascio, France
2012-08-13 19:39:10
5 from 5
"awsomeeeeeeeeeee..>>>>>>>>>>>>>>>>>.....>>>.>"
Kishore Paratala, India