Las Vegas at Dusk and Night
•
360° Aerial Panorama
This panorama can be opened in several different resolutions. High resolution panorama with the best quality is about 7 Mb large and it is suitable for fast internet connections and modern computers. For slower internet and old weak computers we created the smaller low resolution panorama. Some small details have been sacrificed but the size of low resolution panorama is nomore than 2 Mb.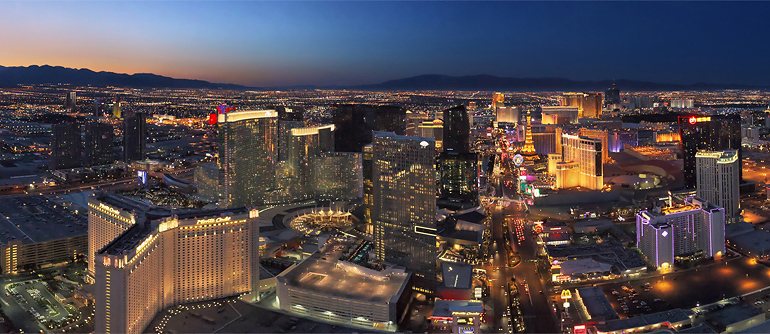 Open Aerial Panorama (high resolution)
This Virtual Tour is also available in the following formats: -
LOW
-
iPad/Android
| | | | | |
| --- | --- | --- | --- | --- |
| | | Tweet | | |
After we had taken the first and the third prizes in the contest Epson International Pano Awards, had shot the spherical panorama at a speed of 250 kilometers per hour, had made the aerial gig-panorama, had dived and had shot from inside the microwave oven, in a supermarket our photographer Dima Moiseenko bought the book "Ten Easy Ways to Improve the Quality of Your Photos".
The first advice on "Which camera is better?" we didn't appreciate because we had already got the camera. The second advice on an objective was not useful too due to the same reason. The third advice: "When making a portrait, focus on the eyes of a model" was useless as we don't make portraits.
In general, we understood that we had already got enough experience and had achieved much in shooting because none advice, we had read in that book, was useful for us yet.
But, suddenly, Dima, who was reading that book for us aloud, raise his forefinger up. It's an ordinary thing when Dima, using such gesture, says something wise and that is why we were all ears. Dima was reading slowly: "Buy a firm tripod. It allows you to fix safely your camera making night shooting". Well, we appreciated that information as we had never shot night aerial panoramas. Staying silent a couple of minutes Dima announced that nobody had ever shot it before, perhaps.
Frankly speaking, it was strange that we had not still realized it because the advice itself was so easy. So, without any delay we went to a shop and bought the firmest tripod we could find there. In order to check our new purchase Dima with his new tripod left directly for Las Vegas. There he with difficulty put the tripod into a helicopter and flew up to shoot a night city.
And, in general, he succeeded indeed.
28 November 2011
2014-07-25 01:37:15
"Hello, i think that i saw you visited my site so i came to "return the favor".I am attempting to find things to improve my site!I suppose its ok to use some of your ideas!!"
Damion Nance, Qatar
2014-06-18 04:19:10
5 from 5
"very nice panorama !!!of las vegas .....montreal nord quebec canada"
alice tremblaycanada, Canada
2014-05-11 02:12:56
5 from 5
"WOW!!!"
Diana Michel, Canada
2014-05-09 05:45:29
"Good!!!!!!"
Douglas Haunss, Brazil
2014-02-26 13:38:41
"everything is fine and in peace"
wang xp, China
2014-01-31 14:24:46
5 from 5
"Hallo AirPano,
schon wieder bedanke ich mich sehr herzlich fьr diese herrlichen Aufnahmen. Wir waren im November 2013 in Las Vegas! Auf meiner Homepage habe ich auch diese Stream eingebettet, herzlichen Dank fьr diese hervorragenden Bilder!"
Andreas Bьttig, Germany
2014-01-13 16:44:28
5 from 5
"muy buen trabajo!!!!!!excelente fotografнa...."
ernesto adolfo russo, Argentina
2013-10-29 01:17:16
4 from 5
"In a word: beautiful"
Peyman Ahmadi, Iran
2013-10-23 15:28:52
5 from 5
"Fantastic-Super"
Maria Teresa Carrera, Spain
2013-09-16 19:13:03
"Bahoot Bahoot acha hai meri taraf se 5 maise pure 5 star hai .
Thanks"
Phool Chand Khatumria, India
2013-09-16 19:11:39
"Bahoot Bahoot acha hai meri taraf se 5 maise pure 5 star hai .
Thanks"
Phool Chand Khatumria, India
2013-09-01 11:46:02
"ان چيسه اخه ري
باييد رشت شومره بگم چي بيدينيد"
vahid ss, Iran
2013-07-20 00:37:45
"veri niiiiiiiiiiiiiiiiiiiiiiiiiiiiiiiiiiiiiiiic"
baran hydari, Iran
2013-06-15 07:53:07
5 from 5
"Fantastic!!"
Ruby Brull, USA
2013-05-25 00:16:07
5 from 5
"Realy amazing ."
Ali Alkazaz, Iraq
2013-05-24 05:15:44
5 from 5
"WOAOOOOOO!!!!"
Katto Daniel, Venezuela
2013-05-14 12:21:32
5 from 5
"very, very wonderful"
Herman Janssens, Belgium
2013-01-29 07:19:57
1 from 5
"Amazing"
Yasmin Amin, Bangladesh
2013-01-28 05:59:12
4 from 5
SAN AYE, Myanmar
2012-11-13 03:38:55
3 from 5
simon brahs, Italy
2012-11-12 02:41:02
"fantastic............"
douglas haunss, Brazil
2012-09-18 17:01:42
"hi,iran is beautiful too,please register of iran,example holy shrine,mashhad,Damavand,persian golf,Kish Island,gheshm island,Khazar sea,Northern Forest and etc
please put our country photos"
Ali Uoneci, Iran
2012-09-17 23:41:56
"Amazing & wonderful place,I hope visiting LA."
Rookhosh Ali, Iraq
2012-09-14 12:24:01
"ITS AMAZING. GREAT WORK. ITS LIKE WONDER."
SEJAL RAJPUT, India
2012-09-09 04:08:35
5 from 5
"I just came back from Las Vegas and this video brought it all back in full color and vision.
AWESOME,
Thanks."
giovanni stagnaro, Panama
2012-08-31 15:45:00
"Really nice , but Iran is more beautiful why of the beautiful anywhere in this website is not registered ! ?"
sadegh hajian, Iran
2012-08-17 05:35:16
5 from 5
"Very Good"
Bill Tomany, USA
2012-08-15 18:17:03
"Is very, very fantastic!!!"
Andrй Albuquerque, Brazil
2012-08-11 22:25:35
5 from 5
"Awesome pics dear"
C B, India
2012-08-11 17:31:29
5 from 5
"VERY NICE"
KUMARA SWAMY MATTUPALLI, India
2012-08-03 00:52:08
5 from 5
"This was absolutely fantastic I want more this is so good and its beautiful thanks so much!!!!"
Maureen House, USA
2012-07-28 16:00:31
5 from 5
"thanks for the effort, and for making it free to see, really appreciated, and god bless you"
Ahmad Abdelhafeez, Egypt
2012-07-26 16:47:19
"Thank you for this immense service-it is simply awesome."
Sachithananda Jayaprasad, India
2012-07-22 09:29:06
4 from 5
"It is wonderful"
سعید توکلی, Iran
2012-07-21 17:47:20
1 from 5
Kiran Mehta, India
2012-07-21 06:04:55
5 from 5
"Last year from 3rd june to 30 th june my wife and me were on tour conducted by thomas cook ! what we saw in real its nothing when we saw this video! there are no word in our english dictionary to cote !
hats off !"
vellore shanmugam shiva kumar, India
2012-07-20 06:05:07
5 from 5
"great email i enjoued he same.thanks"
ali currimbhoy, Bahrain
2012-07-19 13:53:09
3 from 5
"I would have given a higher rating except your website makes too many pop-up windows. They are really annoying."
Richard Powell, Australia
2012-07-17 22:23:35
4 from 5
"I have been to Las Vegas twice, five years apart. Beautiful place. Loved it. Enjoyed the shows. The panorama is very good."
Mushtaq Ahmed, India
2012-07-13 08:12:00
5 from 5
"i lived there 30 years ago wow what a change i guess i'll have to go back"
wayne wallace, USA
2012-07-08 23:48:15
3 from 5
"Great place for romance"
Joan Bellas, United Kingdom
2012-07-07 01:44:09
5 from 5
"One of my very favorite cities to visit whenever I can scratch together a couple of extra dollars. It offers all kinds of entertainment for an adult. Shows, shopping,gaming and dining that all would be happy to indulge in.........Adrenalin Rush for sure...."
Jane Smith, USA
2012-07-06 00:22:40
5 from 5
"Simply Awesome Site!!!!!!! Maybe one day I can see it for real!!!"
Cathy Dale, USA
2012-06-28 18:19:35
5 from 5
"Such a pretty place!"
Paige Preston, USA
2012-06-26 11:20:21
5 from 5
"Was in LV in May. Loved it and the grand Canyon,Hoover dam and every other attraction there. Thats why Im heading back soon."
Rick Tretheway, New Zealand
2012-06-25 20:21:58
5 from 5
"As a resident of the area for nine years, I can say that you have caught the excitement and glsmour of Las Vegas! Too bad you can't do the same thing with the interiors of some of the casinos! Great!!"
Wallace Cash, USA
2012-06-13 02:14:30
5 from 5
"woooooooooooooooooow"
kenneth ke timporta, Argentina
2012-06-12 16:40:27
5 from 5
"simply superb."
joe thow, Malaysia
2012-06-05 10:16:53
5 from 5
"This is Height of Creativity ;)"
Syan Ghosh, India
2012-06-02 10:47:38
"you are very prude...i am very honest but you can belive my idea...no problem...he...................."
MARAL mohammadi, Iran