The Drakensberg - Dragon Mountains, South Africa
•
360° Aerial Panoramas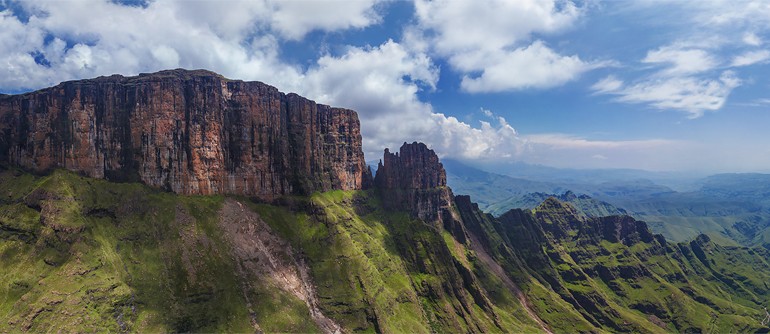 ---
Packing for my first trip to the Republic of South Africa, I didn't bother to research all of its sights beforehand. I thought it would be enough to focus on the most famous ones, such as Kruger National Park, Cape Town, Table Mountain, the Cape of Good Hope, and, of course, Victoria Falls easily accessible by plane, even though it's located outside the Republic of South Africa on the border of Zambia and Zimbabwe.

But, as it usually happens during trips, some things become clear only on the spot. Back in Cape Town airport I noticed huge posters with amazing mountain views entitled "The Drakensberg". I automatically switched to my "adventure photographer" mode and started searching Google for the name right away. 15 minutes later I knew that my anticipated week-long vacation on Durban beaches at the end of the trip would be cut short, because only 300 kilometers away from the ocean there was the Drakensberg National Park. They also offered helicopter tours there!
It's funny that most web pages dedicated to the Drakensberg have photos of a very extreme Northern end of Drakensberg range called Blyde River Canyon, which is not in the national park Kwazulu Natal. So pay attention and don't try to find that view here.
I don't know about the exact origin of the name, but according to one version, clouds and fog hanging over the slopes of the mountain are reminiscent of a hot steam exhaled by a dragon. They were right about the fog! Having woken up before dawn, I searched for a good shooting spot only to find a thick veil of mist that practically hid the entire mountain. The sun was rising, and the fog was slowly clearing up. It was time to go to a heliport.
The most beautiful sights of the Drakensberg are located in the uKhahlamba Drakensberg Park (there is no spelling mistake here! It is the ancient name of the mountains meaning "barrier of spears"). Some of its parts are accessible by a helicopter, with the only exception of Amphitheater, which is off-limits for some reason.
Flights are highly dependent on weather conditions. Having spent a few hours at the computer looking for holes in heavy clouds over the mountains (while it was bright and shiny at the foothills), the pilot and I decided to try our luck anyway. The only thing that worried him was accidentally crossing the border of Lesotho, a mysterious country located entirely within the Republic of South Africa, with borders running along the top of the mountains. However, it seemed that Lesotho citizens were too lazy to monitor their border — I didn't see any border patrol units or radar stations.

Looking for holes in heavy clouds, we took off. 10 minutes later we were flying over the mountains, quickly passing cloud formations, while the pilot was focusing on keeping the helicopter above the rocks in strong wind conditions. The view was very beautiful, but scary at the same time. Finally I realized why it was called the "Drakensberg" — located opposite to each other, there were straight rows of vertical cliffs cut by crevices. All together it looked like a huge beast's jaw with sharp teeth. Clouds covered the sun, and I felt really uncomfortable, so I took few panoramic photos and asked the pilot to leave this gloomy place.
"If Amphitheater is off-limits, I'll just photograph something else," I thought to myself and took a car to the part of the mountains that was called Royal Natal National Park.

But Dragons mocked me! Evening sky was very cloudy, and only a weak sunray illuminated my path; and in the morning the sky was clear with bright sun, and beautiful Amphitheater. Shining sun means that I can safely fly over the mountains! A few hours later I was sitting beside an open door of a helicopter. Illuminated "dragon's teeth" seemed not so dangerous anymore, streams and waterfalls sparkled in the sun, and we didn't expect any attack on our aircraft from Lesotho territory.
And here are few official facts about the Drakensberg.
---
AirPano team had previously photographed sights of the Republic of South Africa, including the Cape of Good Hope and Cape Town. Now we want to tell you about another outstanding monument of South Africa: the Drakensberg (Dragon Mountains).

It's one of the highest mountain ranges in the country. It has an average height of 2,000 meters; two of its highest peaks (Mafadi and Thabana-Ntlenyana) are 3450 and 3482 meters high respectively. The Drakensberg is situated on the territory of three countries: South Africa, Swaziland, and Lesotho. The latter one deserves a special mention — it is a unique enclave within the Republic of South Africa, and it's surrounded by the Drakensberg Mountains in the east and south. Moreover, local mountain trekking routes are considered to be the best in Africa.
Listed as a UNESCO World Heritage Site in 2000, the Drakensberg is a beautiful mountain range cut by numerous rivers. You can also see Tugela Falls that drops in five free-leaping falls from the eastern cliff. The highest of them (411 meters) drops water with an average speed of 1 cubic meter per second. The total drop in five free-leaping falls is 948 meters, which makes Tugela Falls the second highest waterfall in the world after Angel Falls in Venezuela. Tugela sometimes freezes and forms dazzling ice columns. Over the waterfalls you can see the Mont-aux-Sources Mountain, the source of Tugela River considered one of the biggest in South Africa.
They say that these lands inspired Tolkien, who was born in South Africa, to write his epic "Lord of the Rings" novel.
The Drakensberg Mountain in South Africa is not like any other mountain range in the world. Here one can find peaks next to completely flat tops, and rainforests next to meadows and savannas. Historically, this area was inhabited by the Bushmen (a collective name for indigenous African tribes). Little is known about the Bushmen of the Drakensberg. Their last group was seen here in 1878, and then they disappeared, leaving behind the only reminder of their existence — amazing rock paintings. The paintings are unique not only because of their good condition, but also because of the variety of subjects: hunting scenes, religious ceremonies, and peaceful life depictions reveal every little detail from the history of these mysterious ancient people.

Currently about 40,000 pieces of the Bushmen art were found in the Drakensberg. This is the largest collection of its kind in the world. 20,000 individual rock paintings are located within five hundred different caves and on the mountain slopes. It is hard to determine the exact age of the paintings based on used pigment, so it is believed that the oldest one was made about 2,400 years ago.
The Drakensberg is rich in various minerals: coal, manganese ores, tin ores, gold, and even platinum. Finally, nothing can compare to the Drakensberg's flora and fauna. Of 2,153 plants 119 are listed as endangered, and 98 are endemic, which means that they can't be found anywhere outside these places. It is a home to 299 bird species; and among unique animals there is endangered white rhino and white-tailed gnu.

It's not surprising that two million tourists visit this natural monument in South Africa every year. If for some reason you can't join their ranks, you have an opportunity to take our virtual tour. It will allow you to at least partially witness the beauty and grandeur of this famous South African landmark.
Photo and text by Dmitry Moiseenko
26 July 2013
Comments
2017-03-10 20:58:55
5 from 5
"noice"
tyrell gibbinz, Zambia
2015-11-27 11:27:23
5 from 5
"Prompt on what camera it was shot?"
Ilya Savinov, Belarus
2014-05-27 16:10:10
1 from 5
"NICE"
Khwezi Mbele, South Africa
2014-05-22 03:33:13
5 from 5
"I like nature wow God create wonderful things in de universe"
mamorena josephina, South Africa
2014-04-17 23:07:48
5 from 5
"fantastic landscapes, and a magnificent site!"
Adri den Hartogh, Netherlands
2014-04-13 01:11:58
5 from 5
brian lackenby, United Kingdom
2013-12-01 10:37:30
5 from 5
"This is VULTURE'S RETREAT, in the High Drakensberg. It's just north of Champagne Castle."
Paul Anthony, South Africa
2013-11-30 00:53:20
5 from 5
"STUNNING PANORAMAS!

Thought I'd message to say, the reason you see pictures of the Blyde River Canyon is that it IS technically in the Drakensburg. The range is just under 1000km long, and the Canyon is almost at the very extreme Northern bit. It's also the lowest part of the range- with parts of its floor under 2000 feet above sea level.

The part of the Drakensberg you are referring to is called the 'High Berg', which makes up 200km of the range, in Kwazulu Natal. This portion is the mist dramatic, and the peaks actually average around 10,000 feet (3000m) here, not the 2000m you quote elsewhere (that Stat is only true for the Northern part of the range).

Amazing pictures, you are very gifted! Please let me know, where did you get that final image? It's a spectacular valley! I'm guessing it was on the Lesotho side!"
Alexander Terego, South Africa
Varvara, AirPano: Dear Alexander, thank you for your comment! We have corrected the text. The final image is a crop of first panorama in the tour. You can open virtual tour, there you can open a map and you'll see, that this photo is made not in Lesotho.
2013-11-24 01:21:01
5 from 5
"Fenomenalno, hvala vam sto postojite!"
samantha rigler, Serbia and Montenegro
2013-10-18 16:52:47
"Fantastic site, wonderful marketing tool and idea to allow people around the world see the Drakensberg who would not otherwise be able to visit the area.Would love you to somehow market the site www.drakensbergholidays.co.za which is a non profit website for the Okhahlamba Drakensberg Community Tourism Organisation.Well done"
Berrnice Gavin, South Africa
2013-10-02 13:59:47
4 from 5
"HI.I OFFER YOU TO VISIT FROM ARDABIL OF IRAN AND TAKE IT S BEAUTIFUL PLACES IN YOUR SITE"
TAHA FATHI, Iran
2013-10-02 13:50:28
"Earth has many beautiful places, as have people who want to destroy.'re beautiful".YOUR SITE IS VERY VERY GOOD"
TAHA FATHI, Iran
2013-09-25 19:29:37
5 from 5
"YUOR SITE IS VERY VERY AMAZING. I THINK I AM REALY IN MY FAVORITE PLACE .VERY THANKS."
saleh rezaei, Iran
2013-09-23 17:06:55
1 from 5
"Iran Nature is more beautiful than the photos."
mohammad moosavi, Iran
2013-09-12 17:30:59
5 from 5
"All of them are perfect.thanks alot.I could not go nowhere this summer but I could see many place with your pictures."
Megan Master, Iran
2013-09-04 22:56:57
"Hi. very nice..thanks"
HAMID@MF farhadi, Iran
2013-09-04 17:06:30
"Earth has many beautiful places, as have people who want to destroy.'re beautiful"
Irismá Rosa Vale, Brazil
2013-08-27 12:49:06
5 from 5
"Excellent photography and amazing capture of the views.It is a captivating site with immense positive aura behind it.Thanks for bringing this nature's delight to us."
Ajit vikram Bhargava, India
2013-08-26 02:49:10
5 from 5
"wonderful photos..this is the most amazing thing I've seen"
Ghada Jaleel, Iraq
2013-08-25 14:24:10
2 from 5
"las vistas sobre Barcelona son muy buenas , pero la musica que las acompana son del sur de Espana , en Barcelona ( Cataluna) tenemos musica , cultura , historia , danza y lengua propia que no tiene nada que ver con el resto de Espana. es una lastima....."
marta lloret BARCELONA --, Spain
2013-08-23 00:07:51
5 from 5
"Magníficos lugares!!!! Me reconforta ver paisajes y gente tan entregada al lugar y aquellos que la visitan; tan entregados al descanso y la paz que se visualiza.
Abrazos hermanos!"
wilman viera, Uruguay
2013-08-22 15:11:26
4 from 5
"ESPECTACUAR"
Antoni Cedillo Ortés, Spain
2013-08-20 12:23:38
5 from 5
"unbelievable"
kirit bavishiya, India
2013-08-16 12:18:57
5 from 5
"Very very Great."
Ali Keshani, Iran
2013-08-16 11:44:19
5 from 5
"There is no place like home!! Unfortunately I am working in Hong Kong! Thank you for bringing me back to my beautiful country!"
Shane Dale, South Africa
2013-08-12 01:06:45
"i m impress to see your 360 degree panorama view.i would like to know which software u use to move the panoramic picture"
abdul munayem, Bangladesh
2013-08-11 12:50:03
5 from 5
"wow nice work airpano"
ddddddddddddd wwwwwwwwwwwwwwwwwwww, Bosnia and Herzegovina
2013-08-07 13:35:42
"fabuloso!!!!!!!!!!!!!"
Roberto Portillo T, Mexico
2013-08-04 22:41:29
5 from 5
"The best world panoramas i have seen thus far.
Keep up the wonderful work and be blessed for preserving these landmarks.
Big up!!!"
Imani Matafu, Tanzania
2013-08-02 09:00:19
5 from 5
"wonderful! you are doing the greatest thing for our planet, thank you so much!"
shi yiping, China
2013-08-02 06:42:53
5 from 5
"Beautiful pictures. I made my self dizzy watching the pictures move around in panorama"
Betty Mizer, USA
2013-07-29 22:51:33
5 from 5
"I wish I was in your place"
amir zahedi, Iran
2013-07-29 01:01:26
4 from 5
"i think so, m i in dream, vav! what a technology."
PUSHPA RATHOD, India
2013-07-28 22:56:52
"The Beautiful!!!
Iran-Gilan-Rasht"
Damon Rashti, Iran
2013-07-28 22:55:26
5 from 5
"The Beautiful!!!"
Damon Rashti, Iraq
2013-07-27 23:05:12
5 from 5
"I never expected to see such grandeur and beauty in this land that I have wondered about.. Thank you AirPano for your courageous pictures...It is like I am there for a real tour in person"
Doris Mason, USA
2013-07-27 21:23:47
5 from 5
"Beautiful scenery, especially the mountain waterfall. I notice your quicken up of the download when changing from scene to scene and the quickness of the zoom-in & zoom-out compared to the previous Panoramas. "I like" !"
Ed Nelson, USA
2013-07-27 12:37:21
5 from 5
"Please send Blyde River Canyon Photos to my mail please!!!"
Karthik Reddy, India
2013-07-26 23:52:26
5 from 5
"Jednoducho krásne...prajem vela uspechov"
František Murár, Slovakia
2013-07-26 23:20:15
5 from 5
"VERY NICE PHOTOS, WISH I COULD SEE IT IN PERSON."
THOMAS MCCOLL, USA
2013-07-26 14:30:43
5 from 5
"Images were so great and beautiful. I love you air pano"
aliakbar izanloo, Iran
2013-07-26 13:49:45
5 from 5
"Kompletno izvanredno obradjeno i morao sam odmah da ponovim gledanje i citanje.
BRAVO !"
Zoran Ljubenovic, Serbia and Montenegro
2013-07-26 13:46:16
5 from 5
"Hello, you are grateful that I can look at a very beautiful place where I definitely did not. Thank you for the beautiful pictures from the video. Charles"
Karel Hofmann, Czech Republic
Varvara, AirPano: Many thanks! Hope to see you on our site again!
2013-07-26 12:48:11
5 from 5
"Incredibel! be well"
matija coz, Slovenia