Virtual Tour of Cape Town, South Africa
•
360° Aerial Panoramas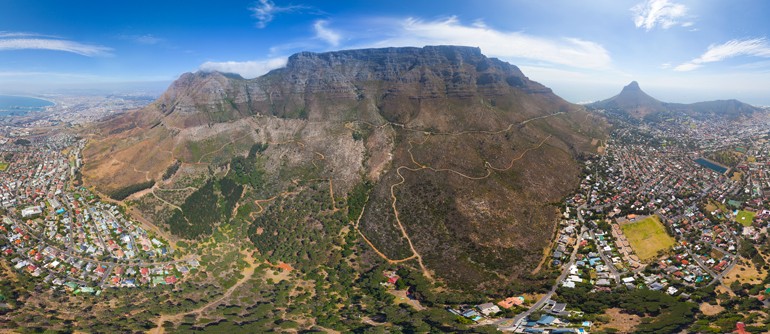 ---
Cape Town is one of the most popular cities on the African continent. It is located in the southwestern part of the continent, on the shore of the Atlantic ocean, near the Cape of Good Hope. The history of Cape Town is also that of the entire country: the history of the Republic of South Africa begins in year 1652, when a Dutch seafarer Jan van Riebeeck founded the city of Cape Town. However, this date is just a mere formality for the city itself: the first settlements in this area date back to over 12 000 years!
Nowadays, Cape Town is one of the most attractive resort cities in the world, a wonderful oasis that combines the unique look of Africa with the best accomplishments of the Western civilization. Cape Town's hotels feature high quality amenities, and Cape Town's beaches — are a heaven for divers and surfers, young people and those who are looking for a relaxed vacation. In other words, it is a travel destination for all styles, tastes and ages.
Most of the buildings in the city are only several storeys high, except for the Downtown business area. Here you can spend several hours just walking down the streets and admiring the incredible architecture: churches, antique mansions and seaside boulevards. Here you can visit many museums (including the only Museum of Russian Art in Africa). At night, visitors have lots of entertainment options to explore, once again, for all tastes.
One can enjoy all of this in a pleasant, mild "Mediterranean" climate. Also, it's worth mentioning that not only its human residents appreciate the weather in Cape Town: various types of grapevines found this climate very good; hence many wineries around the city. South African wines are world famous, and the great majority of them are produced here. They say that during his exile on the nearby Saint Helena Island Napoleon frequently requested the wine from Cape Town.

What else is Cape Town famous for? If you think that penguins live only in the Antarctica, you are mistaken. There is a large colony of African penguins right next to Cape Town. You might think "what are the penguins doing in the African heat", but the answer is very simple: these penguins live near the coast, which is washed by a cold Benguela current. Seals rest right on the city piers next to the speed boats and restaurants.
However, the main attraction of Cape Town is, of course, the famous Table Mountain: it is a symbol and a calling card of the city. It is featured on its flag, and one constellation in the South Hemisphere was named after it.

This mountain was the first one to greet the seafarers arriving to this part of the African continent. Back in those days, captains even offered a golden coin to a sailor who was the first one to see this long-awaited sign of the land ahead.

This natural plateau raises over 1000 m over the sea level and literally hangs over Cape Town, creating a lively background and this very special pleasant climate.

This is how Ivan Andreevich Goncharov, a famous Russian explorer, described the Table Mountain: "it looks like a table, like a coffer, like a grand piano, like a wall — anything, but the mountain". Many consider it to be one of the strongest energy centers of the planet — much stronger than the Egyptian Pyramids, since this mountain is not man-made. At the same time, it is unclear how the Nature was able to create such a perfect architectural structure.

Standing on the top of the mountain, you can easily imagine that you are standing at the utmost point of the earth, in one of its unique and untouched corners. It is partially true: this is where the continent ends and 4500 km of water separate the shores of the South Africa from the Antarctica.


However, this place is not a savage corner at all: the mountain top features an incredible view onto the central part and all attractions of Cape Town. There is nothing unusual about this contradiction, as this metropolis is built on such paradoxes: everything is unusual, bright, close to nature, and at the same time, very modern in Cape Town.
Photography by Dmitry Moiseenko
13 April 2012
Comments
2016-08-09 20:59:31
5 from 5
"thank you very much for your work may god protect and reward you you are very kind to do that for us"
oussama hocine, Algeria
2015-02-09 11:09:18
5 from 5
"Are these available in 3D? Can they be viewed by a VR Viewer such as VR Gear or Google Cardboard? like the Chrome Experiment of the helicopter flying over the bears in Kamchatka and the video is running but you can look anywhere you want, its amazing, even more so in Virtual Reality helmet, when you turn your head, that's what you see. I hope these work on Google Cardboard SBS Stereo!"
Robert England, USA
2015-02-06 16:27:56
"I am looking for a DVD of capetown from the air to buy. My father was born in capetown and had a video made before he left. As I child, my siblings and I decided to record over this sentimental video with music channels. I am trying my hardest to find a video or DVD of Cape Town in the 70's 80's or 90's as a present to him. Does anyone have any idea where I can get my hands on something like this? Thanks in advance"
Fleur Crawford, United Kingdom
2015-01-12 20:41:57
"I am Moosa Abdul am malawian"
Moosa Abdul, Malawi
2014-04-24 10:22:54
"I like i having a travil to southafreca becaus they are have beaotiful plases for visit"
kamran nikfarjam, Iran
2014-04-18 22:25:32
5 from 5
"Fantastic, super good technology.
Please consider to include the Panama Canal and other áreas from Panama.
Thanks"
Ana Marian, Panama
2014-04-07 11:10:03
"Ce pays Arc en Ciel mérite d'être visité

Si vous voulez recevoir mes reportages en diaporamas Merci d'écrire à guypujol@orange.fr et vous partirez du Cap à Johannesburg pour finir par les Chutes Victoria

A bientôt"
ARIEJOIE Guy, France
2014-02-19 05:45:28
5 from 5
"Visite Ciudad del Cabo en Oct 2.013 y me impacto su belleza. Fue la Ciudad que mas me gusto en mi viaje al Africa. Aconsejo a quien pueda ir que no deje de hacerlo. Mario"
Mario Escobar G, Colombia
2014-01-08 19:24:31
4 from 5
"i like that place i very enjoy i so happy"
kannan kanal, South Africa
2013-12-02 06:29:42
5 from 5
"i had just visualated a panorama with 360° and I found a big pleasure ti discover such as a place wonderfull cape town i'll do my best to visit this coin of our beautiful continent."
Samyr NEJI, Tunisia
2013-11-30 01:06:03
5 from 5
"You are brilliantly talented!"
Alexander Terego, South Africa
2013-11-18 12:07:31
4 from 5
"Great views of a stunning city !
Lived in Camps Bay for 12 years.
When we left in the eighties, I said to my wife "we will never live like this in paradise - every again."
Great panoramas of Africa's PREMIER tourist destination."
Herb Enslin, Australia
2013-11-06 22:57:10
"Cape Town is a beautiful and friendly city, places like the Waterfront, Glenn Beach or the stunning Table Mountain, are unique"
José Mª Alvarez, Spain
2013-10-14 12:34:32
5 from 5
"I am so fortunate to live in Cape Town. What a beautiful site for such a splendid City!!"
Sharonette Webb, South Africa
2013-08-28 23:03:36
5 from 5
"Cape Town and its environs has to be one of he most beautiful places on this earth. Have visited there once and would like to do so again some day."
J Ronald Burnet, USA
2013-08-20 01:15:51
5 from 5
"looking like heaven. I also want to spend one to two month in cape town. images are awesome."
rajeev goyal, India
2013-05-18 11:33:51
5 from 5
"I always say that I am so lucky to live where people pay to come on holiday. Fantasic pictures. Thanks."
Rollo Ravenscroft, South Africa
2013-05-04 13:02:10
5 from 5
"this is wonderful .... wow... i hv no word abt it....."
Mukesh Patidar, India
2013-04-01 22:29:56
5 from 5
"Quite exquisite... I plan to go here for a missions trip in July via Impact South Africa.. This masterpiece has made me so much more excited now.. Thank you"
NJ W, USA
2013-02-23 19:58:36
5 from 5
"Großartige Bilder und Videos, die Lust darauf machen, selbst dorthin zu reisen. Vielen Dank."
Michael Dohmen, Germany
2013-02-15 18:06:37
5 from 5
"Einfach super bin im Rollstuhl und kann so auch von der Welt etwas sehen !
Gruss Edi"
Eduard Pfiffner, Switzerland
2012-10-14 19:45:59
5 from 5
"Estive em Cape Town e gostei muito. Quando vejo as fotos, boas recordações me iluminam."
Jose Menezes, Brazil
2012-09-14 19:05:27
5 from 5
"Lovely to see the Cape displayed on your site. One of the friendliest City's on the planet. Very reasonable accomodation and restaurants if you have a good local contact or find a nice B&B. Only 11 hours from Europe with great view as you fly in over False Bay or Table Bay. Lovely outdoor holiday."
Ken Bridgens, South Africa
2012-08-13 23:32:54
5 from 5
"My son and his wife are missionaries in Senegal and have a health situation that brings them to Capetown. What it means to me to see where they are so far away..what a wonderful site!"
Donna Burke, Canada
2012-08-02 17:02:30
5 from 5
"Bedankt voor de prachtige beelden .
Het is een tweede belevenis .groeten ,Willem."
Willem Schop, Netherlands
2012-07-29 20:25:53
5 from 5
"WoW!!! This is my home city! Being an Ex-SA Air Force member, I have many aerial experiences of Cape-Town,but what you guys have done here is just AWESOME!!"
Victor Berry, Oman
2012-07-19 00:41:15
5 from 5
"Mooi,mooi ik was er 2 jaar geleden.Goed dat zo terug te zien"
oma Chrisje, Belgium
2012-07-11 12:59:33
5 from 5
"Pretty good job, indeed. I have enjoyed it a lot and I want to thank you for it. Best wishes for South Africa"
Enrique de Miguel, Spain
2012-07-05 05:54:12
"Ausum view grt job done people"
Sudeep Deswal, India
2012-07-02 16:21:21
5 from 5
"Kaapstad, voor mij de mooiste stad van de Wereld.
Wat 'n rijkdom dat we dit alles vanuit de stoel kunnen bekijken.
Dank
Berend"
Jan Berend Klönne, Netherlands
2012-07-01 16:29:06
5 from 5
"What a miraculous achievement! It's hard to describe what a gift this site is. For people unable to move far from a chair, this transports them through time and memories to somewhere quite magical. For me, having heard that Cape Town is the most beautiful city on earth, I now want to visit it even more after my "virtual visit" today. Words of thanks seem inaequate but nonethless, a heartfelt Thank You."
Yolanda Betham, United Kingdom
2012-06-28 15:17:56
5 from 5
"At age 18 in 1939 I joined the British Army. In April 1942 we were transported, a 3 month's journey, from England to India via Cape Town. The welcome we were given there will never be forgotten. I visited again as a tourist in 1970 and will never forget the magnificent views from Table Mountain."
w e bert bradford, New Zealand
2012-06-18 12:00:51
5 from 5
"Very good as we used to live in Cape Town"
Joseph Davies, Australia
2012-06-01 11:46:28
5 from 5
"Wow! This is just great. 36 years ago I've lived in SA/the Cape for nearly 14 years. This takes me back "home". It's nearly if I can touch it. At last I'm able to give my family the "feel" of Capetown! Thank you so very very much."
Mirian Thomas, Netherlands
Varvara, AirPano: You are welcome, Thomas.
2012-05-02 04:47:10
5 from 5
"I grew up in Cape Town from the age of 8 until 28 and my family still lives there. This is a fantastic panorama, I saw where I used to live, saw where my niece and family now lives, and went up in the old cableway to the top of Table Mountain. Lions Head is named just that, Lions Head, and I've climbed it on a fairly easy circular path -- this brings back memories, I've been away a long time, and will forward this for my family there to look at and admire. Best regards, alles van die beste !"
April Hutchings, USA
Varvara, AirPano: We are thankful for your comment.
2012-04-27 20:30:53
5 from 5
"非常棒的网站~~很漂亮的地方。"
xun gu, China
2012-04-06 17:13:43
5 from 5
"FANTASZTIKUS, MINDEN FELVETEL.KOZS."
Ferenc PERENCSIK, Hungary
2012-03-17 21:25:32
5 from 5
"I have just spent 3 months in the area photographed from the air of Table Mountain and its surroundings. My sons house is in line with the cable station at the foot of Table Mountain and is featured in your aerial photos, which are truly excellent and very much enjoyed by my son and me."
Rita tSas-Rolfes
Varvara, AirPano: We are glad to have your opinion here, on our web-site.
2012-03-08 15:21:15
5 from 5
"Wonderful and amazing work... Congragulations :)"
Swathi Reddy, India
2012-03-03 15:51:38
5 from 5
"Excellent work wonderful & amazing...congratulation....KSA-SCTA-MAS"
Fahad AlWadie, Saudi Arabia
2012-02-12 15:47:43
5 from 5
"it is sunday. i planned a relaxing day. thank you very much you really made it!it is beautiful work you made, i am just amaized.i am from Hungary we dont have see, no ocean..i feel i am there..i hope i can visit one day also in reality.thank you indeed.Ildiko, from Budapest,Hungary"
Ildiko Biro, Hungary
Varvara, AirPano: It's nice to hear it! Thank you for interest in our project!
2012-01-23 10:41:01
5 from 5
"WONDERFUL!!! Thankas a lot, I enjoy very much!"
Biljana Lekovic Milojkovic, Serbia and Montenegro
2012-01-22 08:59:48
5 from 5
"Veľmi ma to potešilo, zaujímavé a profesionálne"
Franti&353ek Ing. &352&357astn&253, Slovakia
2012-01-20 19:03:03
5 from 5
"Thanks for showing us this wonderful place, being there is amazing and you allow those who have not been there see Angel Falls. congratulations on your excellent work. greetings from VENEZUELA. thanks for your dedication. look for new scenarios. need to qualify highest mark 10"
JAIME SIERRA, Venezuela
Varvara, AirPano: Oh, we are grateful for your comment! Hope, you will visit us again soon!
2012-01-16 20:22:28
5 from 5
"Good work of yours. It is fantastic as are the others I have seen.
But you forgot a small detail: to mention that the first europeans crossing the cape were portuguese navigators.

My cumpliments,

&201rico Rocha"
&201rico Rocha, Portugal