Cape of Good Hope, South Africa
•
360° Aerial Panoramas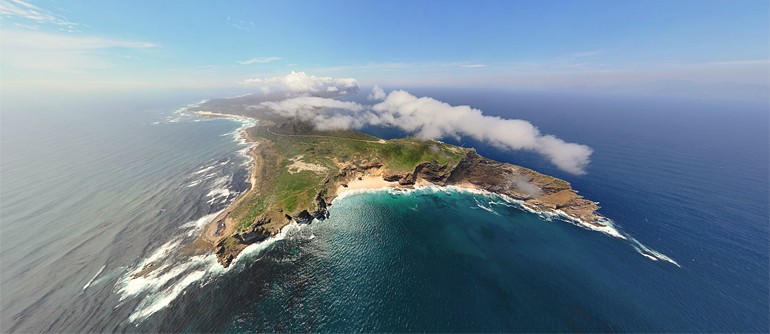 ---
The discovery of Cape of Good Hope — a geographic location with one of the most romantic names in the world — is due to Portuguese navigator Bartolomeu Dias. At the end of the 15th century Portugal was literally obsessed with discovering the seaway to India sending one expedition after another. In 1487 this task was entrusted to Dias.
His voyage, as well as his predecessors', was filled with adventures, shooting incidents with local tribes, and threats of mutiny from his crew. Dias ended up sailing only around Africa thinking that if one continues to sail forward, he would arrive to India sooner or later. After coming to this logical conclusion he turned around, and on his way home in May of 1488 he landed at what he thought was the southernmost point of Africa.
The debarkation was not easy — the storm almost wrecked their ship on the cliffs. As a result, Dias named this place "Cape of Storms" and returned to Portugal with peace of mind. But the King Juan the Second thought that the name was too shortsighted: who would want to discover India through such obstacles? So he changed the name to the Cape of Good Hope envisioning that the sea route to India would be well travelled one day. The expedition, led by famous Vasco da Gama, became a success. By the way, he owes his fame to this voyage as it made him the first European who sailed to India. On July 8th, year 1497 the expedition made a grand exit out of the Port of Lisbon and by November of the same year sailed around the Cape of Storms, or to be precise, the Cape of Good Hope. Needless to say that the storms continuing for days and days made it very difficult and caused a damage beyond repair to one of the vessels...
However, the heroic deeds of the explorers were not in vain, as now humanity possesses not only the sea route from Europe to India but also an outstanding tourist "attraction". Who wouldn't want to boast about standing on the most southern point of the African continent gazing at the vastness of the ocean and knowing that the only closest land is Antarctica?
Centuries later, with the development of cartography, it became clear that "the southernmost point in the continent of Africa" was not the Cape of Good Hope but the Cape Agulhas located 155 km southeast. However, by that time, tourists already made their way to the "imposter" discovered by Bartolomeu Dias so the government decided to simply change the plate to read "The Most South-Western Point of The African Continent" :)
Even this change didn't go without a trick! After arriving to Cape of Good Hope by bus tourists first ride the cable cars, then take a long walk to a high, beautiful, long stretching outbound cape with a panoramic view of the mirror-like ocean, where they take classic photos in "Me and The Most South-Western Point of Africa" style. However this cape, named Cape Point, is not really the most southwestern one.
The real most southwestern point of the African continent is actually situated several kilometers away — it's an unremarkable place by the water, with a small parking lot nearby and an official plate that reads "The Most South-Western Point of The African Continent" (see photo below). This location is hardly known and is visited by less than 10% of all tourists that come to the Cape of Good Hope :)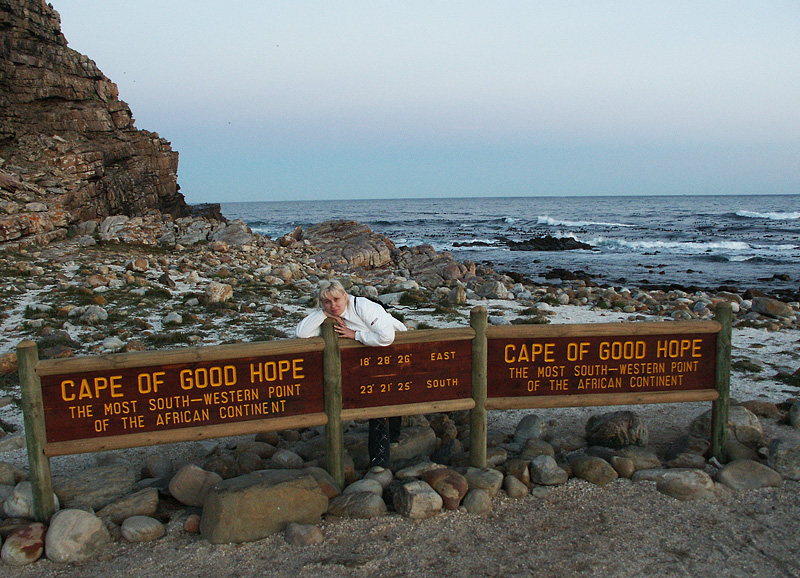 Visitor of our website has pointed that the official sign says wrong latitude (23 degrees instead of 33). Photo above with wrong sign was taken in 2003. We found photo in the web of this sign of 2006, there you can see that wrong coordinates have already been fixed.
Shooting by Dmitry Moiseenko
1 October 2011
Comments
2015-03-20 16:57:13
"in what ways do humans interact with this physical feature"
Juan Lopez, Mexico
2014-12-12 15:53:13
5 from 5
"Really beautiful. I visited there often during the many years I lived in Cape Town. Two years ago you asked one commenter for her source of the meeting of the Indian and Atlantic oceans being Cape Agulhas - may I suggest putting Cape Agulhas into an internet search? Or the question, where do the Atlantic and Indian oceans meet? The difference in colour of the sea that many visitors notice is the meeting of the cold current from the Antarctic to the south and the warm one that flows along the coast from the north-east."
Patsy Tyler, United Kingdom
2014-11-25 22:15:07
4 from 5
"Thanks for this information it help me on my social studies homework"
Amari Douglas, Algeria
2013-12-18 01:08:43
3 from 5
"I got some info on the cape god of hope. THANKS"
jacob baird, Yemen
2013-08-07 01:05:24
5 from 5
"23 degrees south, it says on the sign. That's wrong! Cape Town's latitude is 33 south, and Cape Point's about 50km further south of the city. And Cape Agulhas, the genuine southernmost tip of Africa, further south than Cape Point, is just over 34 degrees south. Anyway, a great place to live."
Peter Merrington, South Africa
2013-06-28 00:43:17
3 from 5
JOH ANTHONY EPUE, Cameroon
2013-06-27 18:37:42
"i am history student i need more explanation on some historical things"
yazeed hussaini, Nigeria
2013-05-11 21:01:41
4 from 5
"Its simply thrilling to watch what's there on the screen. Thanks to your team for bringing this brilliant idea and technique. Just love it! Wish your team with more innovative ideas and success."
Rijied Lamare, India
2013-04-10 23:39:49
"Przyladek dobrej nadziei...cóż to za miejsce??niewiarygodne doznania,wspaniałe widoki..i ta dal..to naprawde już koniec świata..dalej nicość...i te śladziki łódek na oceanie są prawdziwe.Chyba niedłudo napisze bloga o RPA bo jestem zafascynowana tym krajem.Mam mnóstwo zdjęć.Piszę specjalnie po polsku /zeby zainteresować rodaków tym interesujacym krajem.:)"
Maria Koszalka-Bylicka, Poland
2013-04-07 16:38:47
5 from 5
""Eu sou aquel oculto e grande Cabo
aquem chamais vousotros Tormentório,
que nunca a Ptolomeo, Pompónio, Estrabo,
Plínio e quantos paslarao fui notório.
Aqui toda Costa Africana acabo
en este meu nunca visto Promontório,
que a o Polo Antarctico se estiende,
aquem vossa ousadia tanto ofende."

"I am the great and hidden Cape
whom you call yourselves Tormentório,
never to Ptolemy, Pomponio, Strabo,
Pliny and so many I was notorious.
Here I finish the whole African coast
in this never seen promontory,
that for the Antarctic pole extends,
whom your boldness offends."

Os Lusíadas de Luís de Camões Canto V,"
Joan Llabres, Pitcairn
2013-04-06 09:59:18
"I was in South Africa this January, 2013 with a group of friends. We tour the Capetown area and been to the Cape of Good Hope. WHAT A WONDERFUL PLACE. Hope to go back once more to this great place."
Amelia Mendiola, USA
2013-03-27 21:02:14
5 from 5
"This is a great productin for my kids!! Great view of Gods creation!!"
Jessica Labrie, USA
2013-02-07 22:49:19
5 from 5
"We were there last April. This trip to S. Africa is will probably always be one of the highlights of my life! What a spectacular country. Cape Town and the Cape are magnificent!
Great job of showing them!"
Jo Ann Johnson, USA
2013-02-01 20:15:15
5 from 5
gerda Nuyttens, Belgium
2013-01-24 22:58:17
5 from 5
"About 2 weeks ago my almost 70 year old husband climbed to the top of Mt. Kilimanjaro to fulfill one of his bucket list to dos. Since that time he has been touring South Africa taking in two exciting safaris in the Serengeti and Kruger. Tomorrow he is driving to the Cape of Good Hope. Thank you so much for the opportunity for me to see the awesome beauty that awaits him there. God willing, I will be able to do parts of this trip with him next year. You have awakened a real desire for me to see your beautiful country in person. Thanks again for opening my eyes to your world."
Sharon Rhoades, USA
2013-01-21 17:55:42
"This is not the southern most point of South Africa. That's actually Cape Agulhas. But the photography is wonderful."
Adriana Stuijt, Netherlands
AirPano: Of course it is not. And it is described in the text above you comment.
Best regards, Sergey

2012-11-09 17:59:30
"it's good dael
waa meel cajaayiba illiahayna swt u qurankisa ku shegay"
yuusuf ahned, Somalia
2012-11-01 03:24:51
5 from 5
"i lived in south africa for many years,and have since returned to the u k ,but capetown is the jewel in the crown,i was there in march this year on a holiday,enjoyed the splendors of the waterfront,wine route,and knysna,etc,joy,joy.."
ronald armstrong, United Kingdom
2012-09-27 04:03:12
5 from 5
"one of the most beautiful places in the world."
jack keenan, USA
2012-09-26 06:30:25
5 from 5
"what a geographical land mark. I was there with my family and we enjoyed the thrill of seeing the two oceans meet.Keep up the fantastic service you provide AIRPANO."
AYNO PARMAR, Tanzania
2012-09-20 11:06:49
5 from 5
"I was in the Cape of Good Hope in 2009,spent a day
and shot plenty of snaps.
It was thrilling to be in that historical area since maritime history of Europe was always intertwined with Cape. An exotic place."
Gopalakrishnan Karunakar, India
2012-08-12 23:20:50
5 from 5
"Panoramic views are spectacular.
Picture in question above is at Cape Point the most South Western tip of the Cape Peninsular and sign board is correct. This is not at Cape Agulhas where the Indian and Atlantic oceans meet at the most Southern tip of South Africa."
Ken Law, South Africa
2012-08-07 01:44:16
"legal mesmo to estudando sobre o cabo da boa esperança"
gaby portella, Brazil
2012-08-03 09:07:29
2 from 5
"thanks"
Tek Chand
2012-07-31 20:59:19
5 from 5
"and to think Jehovah created all this beauty millions of years ago. ( and not by Evolution ) Paul of Westbank BC Canada"
PAUL LACNY, Canada
2012-07-26 11:18:28
4 from 5
"Most beautiful place in South Africa .I love to go there once again!!!"
Yogesh vaishnav, India
2012-07-23 04:21:07
5 from 5
"Como se faz para vistar o Cabo da Boa Esperança? Há Agências de Viagens especializadas? De onde sai - duração - preços - hotéis?"
Silvan Carlos Nunes Da costa, Brazil
2012-07-22 21:30:36
5 from 5
"South Africa is one of the most beautiful countries in the world. The panorama shown is breathtaking.
Maybe you can show some views of our small but very historic Island in the Mediterranean Sea."
Alexander Spiteri, Malta
2012-07-18 11:29:11
"The coordinates of Cape Agulhas are 34°50′00″S 20°00′09.15″E"
Reimar Fitschen, South Africa
2012-07-18 11:23:45
"I am indeed privileged to have lived in South Africa all my life – to me this is one of the most beautiful countries in the world. I would like to correct a misconception – many people believe that Cape Point is the southernmost part of Africa and that the Indian and Atlantic oceans meet here. Both are untrue, Cape Agulhas is the southernmost point in the continent of Africa. It is located at 34°50′00″S 20°00′09.15″ECoordinates: 34°50′00″S 20°00′09.15″E in the Overberg region, 170 kilometres (105 mi) southeast of Cape Town.. A marker at Cape Agulhas indicates the official dividing line between the Atlantic and Indian oceans."
Reimar Fitschen, South Africa
2012-07-16 22:10:06
4 from 5
"This brought back such wonderful memories of my favorite place on Earth. When I visited the merge of the warm brown waters of the Indian Ocean & the the cool blue Atlantic caused "steam" to rise. Oh how I wish I could return - this is the next best thing!!! Thank you! Beth Irwin - Houston, TX"
Beth Irwin, USA
2012-07-16 19:53:30
5 from 5
"Brought back many memories of visiting here on several occasions 50 years ago."
Peter Holmes, United Kingdom
2012-07-15 14:40:43
5 from 5
"I visited this place in 2009,when i went to Cape town for a medical confrn. it's a serene place.
Dr.P.S.K.RAO"
patri sree krishna rao, India
2012-07-13 00:10:06
5 from 5
"Five does not even begin to rate these many panoramas high enough! All that I have seen so far are amazing, beautiful, informative, spectacular and on and on. Thank you so much for bringing these pictures to us."
Yolande Welch, USA
Varvara, AirPano: Thanks a lot for a high estimation of our efforts!
2012-07-08 12:42:05
5 from 5
"Great!! and Exclusive!!"
Mahesh Nagda, Kenya
2012-07-06 17:13:34
5 from 5
"South Africa was a life changing experience for me. The intertwining of old and new, fierce and gentle, rugged and delicate, history and hope, combine to weave a complex fabric of life there. There is an energy that makes you feel alive every moment of every day. These tours brought all of those memories flooding back. Beautiful. Thank you."
Morag Watt, Canada
2012-07-02 22:00:31
4 from 5
"Looks calm on the day this was photographed, but can be the worse place on planet earth to be on a boat when storms roll in."
Roy Crittenden, USA
2012-07-02 13:56:25
5 from 5
"song :Enya - Only Time
marvelous!!"
Martine LENOIR, France
2012-06-27 11:04:47
5 from 5
elma karimpour, Iran
2012-06-27 05:07:08
5 from 5
"GREAT WHO SANG THE SONG AND WHAT IS THE TITLE? THANK YOU JN"
JANIS NEILL, USA
2012-06-25 07:20:57
4 from 5
"Beautiful pictures I was there 5 years ago and it was just wonderful.I will return someday."
norma barron, USA
2012-06-21 13:00:07
5 from 5
"Absoulutely, breathtakingly beautiful!!!! What a beautiful country South Africa is! Yet some of my fellow country-men cannot appreciate it. Although I live in Durban and regard it as the most beautiful place in the world, CT is also truely amazing. Congratulations to all who worked on this project of AirPano - very well done! Keep it up!!"
Sally Perumal, South Africa
Varvara, AirPano: Dear Sally, it is a pleasure for us to get such message. Regards!
2012-06-20 06:17:43
1 from 5
"Just like hitching a free ride on your helicopter up there and enjoying the sight.
It is simply awesome.
Thank you very much."
HO SY ANDREW, Singapore
2012-06-14 14:22:51
4 from 5
"Absolutely stunning but may I correct you on one thing...the Atlantic and Indian Oceans do NOT meet at Cape Point but at Cape Agulhas which is much further south. Please check this fact for yourself and correct your information. Thanks"
Lynne Philip, South Africa
Varvara, AirPano: We are grateful for your interest in this pano. But, could you, please, send us the link to the source of this information?
2012-05-29 01:54:50
5 from 5
"We just got back home from this trip to So. Africa, and the Cape of Good Hope was spectacular; this sight was breathtaking!"
Penny Barclay, USA
2012-05-12 22:52:38
5 from 5
"The panoramas of so many of our world's wonders are beautiful, and so clear. I grew up in New York City and especially appreciate that pano. I spent 5 months in South Africa in 1973, first in Joahnnesburg, then in Durban and finally in Capetown. Driving the roads between mountains and ocean there was like driving on similar roads down Big Sur in California: breathtaking. The cable car to the top of Table Mountain was worth the fear I felt as it rose up the thin cable line to the magnificent views I saw from the top. Cape Agullas was a wonderful experience as the Indian and Atlantic Oceans shook hands.
Thank you for making so many places accessible to people who may have seen some of these places butnot all. Great work!"
Rosalind Katz, USA
2012-05-07 20:27:05
5 from 5
"I was there in 2008 and it was one of the most wonderful holidays. Fantastic view, it brought back nice memories."
Maria Micallef, Malta
2012-05-06 05:13:21
5 from 5
"excellent views been many places can we send one at a time"
Howie Hamilton, Canada
2012-05-05 21:23:22
5 from 5
"In my twenties in 1958 I made a round tour of Africa. I stoped at Capetown and went alone to the Cape Agulhas at the top end of a preserved botanic reserve and national park. I was just fascinated to look at the foam made by the colliding of Indian and Atlantic Oceans.Both waters were of different colours. Wonderful and a unique experience that I will remember all my life, thanks also to the pictures I took of it at that time."
Gerard Julen, Switzerland
Varvara, AirPano: We appreciate your short story, Gerard, that you left here. Your memories are precious.
2012-04-24 16:01:19
5 from 5
"I,ve been in most of these places shown here, Cape of Good Hope was one this place.
Amazing .. pics. Keep it up."
VALTER EMILIO FIEDLER, Brazil