The best panoramas by AirPano. Part 2
•
360° Aerial Panoramas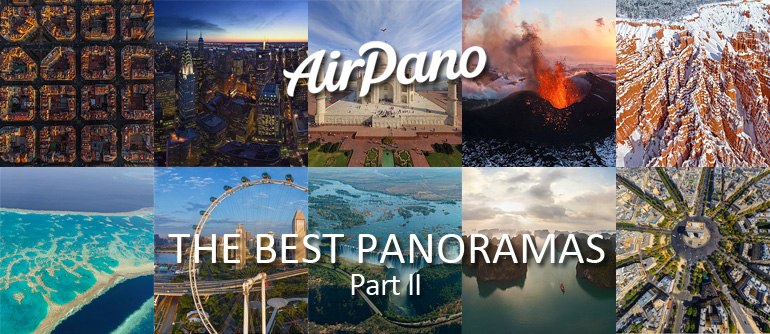 ---
We have selected the best panoramas created by AirPano during the last several years. Most of them are unique because they were shot for the first time in the history of panoramic photography. The Airpano website already features over 2,000 panoramas. To make navigating such a volume of materials easier, we decided to create a collection of the best AirPano panoramas, organizing them into several virtual tours. We tried to choose the most beautiful panoramas of the most unique and meaningful locations. Today, we would like introduce the second virtual tour from our collection of selected panoramas; you will see the erruption of volcano Plosky Tolbachik, unique Victoria waterfall, the highest Ferris wheel in the world and other amazing places of our planet. The first virtual tour of our best panoramas you can see here.
AirPano was founded in 2006. At the same time we created a unique technique of photographing spherical panoramas from the air. Today, AirPano is the largest 360° panorama resource in the world, based on geographical coverage, number of aerial photographs, and artistic and technical quality of images shot from the bird's eye view.
Now, thanks to the panoramic photos published on our website, each visitor can go up in the air and see everything as if he were actually on site: inside a helicopter or even in the bucket of a hot air balloon.
You are invited to join us on this breathtaking journey!
---
If you are interested in any panorama from our selection, you can open a complete virtual tour of any place from the list mentioned below:
— Volcano Plosky Tolbachik, Kamchatka, Russia, 2012;
— Singapore;
— Victoria Falls, Zambia and Zimbabwe border;
— Lake Powell, Utah-Arizona, USA;
— The Great Barrier Reef, Australia.
5 January 2015
Comments
2015-05-11 16:12:48
5 from 5
"all panoramas are excellent and superb view from height"
jagdish chaudhari, India
2015-03-31 19:41:00
5 from 5
"A very impressive web sight, Thanks you very much."
Richard Hosie, Canada
2015-03-12 06:03:47
5 from 5
"! ESPECTACULAR!!!!"
Yamile Latour, Mexico
2015-03-05 14:14:22
4 from 5
Pankaj Srivastava, India
2015-01-15 17:17:40
1 from 5
"beautiful photography."
Jamil Bhatti, United Kingdom
2015-01-11 02:06:11
5 from 5
"Excellent selection. Beautiful remarkable job."
Ed Nelson, USA
2015-01-06 12:14:24
4 from 5
"Gracias a AirPano conozco mejor el mundo en que vivimos. Gran trabajo, altamente ilustrativo. Os deseo a todo el eqluipo un Feliz A#241o 2015.
Enrique Garc#237a-Araenas, Espa#241a"
Enrique Garc#237a -Arenas, Spain
2015-01-06 05:38:04
5 from 5
"Very nice."
dhanakoti rao, India
2015-01-05 22:44:08
5 from 5
"Hi team of PANORAMA. Happy New Year to all of you.As usual PERFECT . Thank you. My best wishes for the new year and every success."
polyxeni Deliolanis, Greece
2015-01-05 18:09:27
5 from 5
"Cada vez mais, me surpreendo com as imagens que recebo da Airpano ! Grato pelos votos de boas festas e retribuo desejando continuar recebendo essas filmagens fabulosas ! Feliz 2015 #225 toda equipe da Airpano!"
osni Pisani, Brazil
2015-01-05 16:08:05
5 from 5
"THE BEST !!!"
Branislav Piroh, Slovakia
2015-01-05 14:51:38
5 from 5
"Hello, unique, beautiful and perfect presentation !!!, thank your team"
Karel Hofmann, Czech Republic