Singapore - Dream City
•
360° Aerial Panoramas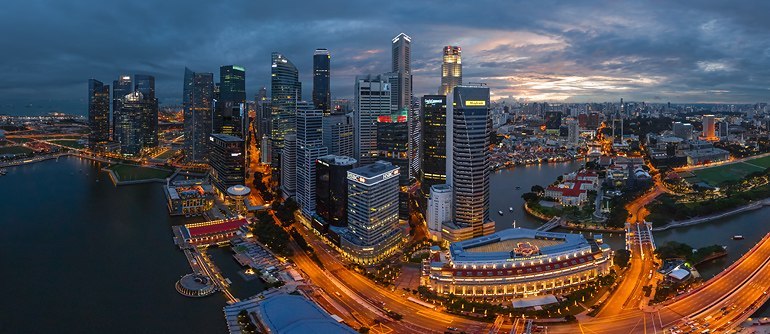 ---
Modern Singapore got lucky with its name. Language learning enthusiasts call it "the Lion City", which is a literal translation from Malay language. Ancient legend says that in the 13th century a beast that has never been seen before, has appeared in these lands:
They saw a strange beast moving with great speed; it had an orange body, black head, and white neck. It looked stronger, faster, and bigger than a goat. Having noticed people, it dropped out of sight.
The beast had made such a strong impression on the prince that he decided to name the city after what he thought was a lion. Malay people had never seen a lion before, but they heard a lot of stories about it. So the prince was convinced that he saw a lion that day. Nowadays a lion image can be found almost everywhere. For example, you can see a dragon with a lion's mouth on the country's postage stamps.
Till 1960s Singapore was a poor country that had to import fresh water and mortar sand. Later on so called "economic boom" or "the 20th century phenomena" happened. Lee Kuan Yew, who was elected as a Prime Minister, decided to make Singapore a financial and trade center of Southeast Asia. He was able to accomplish the impossible: to eliminate crime completely, to defeat mafia groups, and to attract foreign investors. In just a couple of decades he turned Singapore into one of the most prosperous countries in the world.
Besides he managed to make things right for all layers of society from top to bottom. The laws are very strict with no exceptions. For example, it's absolutely forbidden to spit on the ground in Singapore. A fine for this violation amounts to 1500 SGD (1200 USD). You'll pay the same amount for smoking in public places, littering, unauthorized parking in the center of the city, etc. Problem with swarms of mosquitos, typical for Asian region, is handled by scheduling flower watering, while traffic jams and gas pollution are solved by mandatory car-pooling during rush hours (but one of the our Singaporeans visitors says that this law doesn't exist anymore).


These strict rules along with a country's grandeur are represented in the architecture of modern Singapore. Among most well known landmarks of the country there are three 200-meter tall towers in Marina Bay Sands. Being built in 2010, they feature a hotel, a casino, an exhibition center, an ice-skating rink, and much more. The design of the hotel was approved by feng shui masters, and the lead architect, according to his own words, was inspired by a deck of cards. A giant ship on top of the towers is magnificently illuminated at night.


Another skyscraper at Marina Center in Singapore is called Millenia Tower. Its square footprint rests on four illuminated cylinders, which in turn frame a striking glass pyramid. Among other Singapore landmarks is the highest Ferris wheel in the world — Singapore Flyer. It is 165 meters tall, which makes it the tallest of 2 other giants: Star of Nanchang in Nanchang (China) and London Eye in the capital of Great Britain.

We should also mention Supertree Grove (or Gardens of the Bay). It was built based on government's idea of turning Singaporeinto a "garden city". 170 companies from 24 countries of the world had launched a bid to create artificial gardens in Singapore. Several companies got this project and built a unique and futuristic architectural garden on 101 hectares of waterfront land.


Singapore consists of more than 60 islands, including the main island of the same name with all main Singapore landmarks. One of the bigger islands (and the one depicted on our panoramas ) is the Sentosa Island. It has Universal Studios Singapore, one of the biggest amusement parks in the world, the Aquarium, and the Singapore icon, which appears on every photo of Singapore — the Merlion statue (mer — marine, and lion-lion). The Lion symbolizes strength and courage, while its fish body refers to Singapore's connection with the sea. Merlion statue in Singapore is made of concrete. It is 6 meters tall, and weighs 70 tons. Like every other famous Singapore landmark, its nighttime illumination shows the statue from entirely new angle not seen in the daylight.
One of the ancient monuments of Sentosa Island is Fort Siloso, which served as a stronghold during World War 2 and protected country's western border. There is also Keppel Bay with its unique non-vertical skyscrapers designed by the man who also created the master plan for 9/11 World Trade Center Memorial and Museum.
Singapore is an eye-candy city-state. Being in the center (or, as it was in the ancient times, in the end) of Asia, this city has absorbed all the might and splendour of a modern western civilization and is happy to showcase it to the world — it's definitely worth it.
And now I give you Stas Sedov, who personally took part in this photo expedition.
---
I would like to tell you a very funny story that happened on the last day of our photo shoot, right when we were about to take pictures of Keppel Bay. We parked our car near skyscrapers and were about to explore the territory, when we came across a middle-aged man and his son. They got interested in our equipment and asked us what we were doing. We told them with honesty that we were looking for a site to shoot the nearest skyscraper. The man offered to use his own backyard, which was nearby, as a take off spot. It is hard to tell what surprised me the most: a one-storey building surrounded by trees and skyscrapers or its hospitable millionaire owner, who invited his new Russian friends without a second thought. The flight was short and easy. The backyard was a bit small because of the trees — we practically took off from his dining table on a porch. As the helicopter was gaining height, it got into a turbulence zone near skyscrapers — I've had better days for sure! My hands were shaking for a few minutes after everything was over. I hope our host will be pleased to see his tiled roof on one of our panoramas.
We invite you to enjoy Singapore landmarks on our panoramas.
Photography by Stanislav Sedov and Dmitry Moiseenko
7 March 2013
Comments
2015-08-13 09:41:07
"Dear Friends Singapore is fantastic city in the word its a really Lion city because a strange beast moving with great speed it had an orange body, black head, and white neck. It looked stronger, faster, and bigger city so I think the meaning of Lucky Modern Name of SINGAPORE like S- Strong , I- Impressive, N-Nice city, G-GlamorousGreat, A-Amazing, P-Professional, O-Original Dream, R-Right for all Level E-Excellent So it's a Lion city Congratulations for the entire team who made these
pictures. I like so much Singapore for its culture and architecture, I thank you so much.
Dear Friends
Keep doing that MARVELS WORK much love and blessings,Me"
Dipali Shelke, India
2015-05-27 14:22:23
5 from 5
"Singapore is the favourite city of my wife and myself.
I first saw the city in 1964, when virtually all buildings were one or two storey red roofed constructions.
We returned for a week in 1976 and again in 1978. Even then, the transformation was incredible. By the time we visited in 1991 the changing landscape was breathtaking.
Having checked out your wonderful panoramas, we are completely floored. We could never have dreamed that the pace of modernisation would not only continue, but would accelerate so swiftly.
Singapore truly is the jewel of the Orient.
Almost an a parallel are your panoramas. Quite sensational. We will be revisiting Singapore, but your wonderful tours means we will be well orientated before we arrive.
Many, many thanks for one of life's greatest virtual experiences.
Keep up the good work."
Eric Barty, United Kingdom
2015-04-03 05:41:45
5 from 5
"Ahhh, sweet memories! My husband had to work at Singapore Telecom to make sure his equipment was installed properly - so 2 weeks turned into 2.5 months! I got to see just about everything while he was working! We stayed at the then-Westin Stamford on the 38th floor overlooking Singapore Harbor, the quay, and downtown! Quite the view.

Singapore has grown by leaps and bounds - and I would love to go back - even if only for the foods available.

If you have the opportunity, please visit for a least a week!! The Zoo and Night Safari and Sentosa Island during the boat races -- fun!

The orchid gardens - awesome!

The theater and the museums - fantastic!

Thank you, S'gpore, for 2.5 months of amazing. Say hello to Merlion for me, please. Lah."
Marny Dale Fischer, USA
2015-01-22 07:31:19
5 from 5
"Thanks for the Panos of Singapore I have been contemplating going there in the past after seeing these pictures I am on my way .You gave me the nudge I needed."
John Deans, USA
2014-04-22 21:45:53
5 from 5
"I am amazed at the changes in Singapore since I left there in 1991 after living there for three years working in computer related manufacturing. Fantastic Photos!"
John Schlatt, USA
2014-03-31 16:45:11
5 from 5
"Singapore is my dream city.I once went there and stayed at Siloso Beach.Our hotel was very nice.I love this city!"
Narges Bayat, Iran
2014-03-19 18:37:00
5 from 5
"Its amazing photography, awesome photos...
It touched to my heart..!!"
Vicky Pitz, India
2014-02-28 10:54:48
5 from 5
"Truly professional !!
A Panorama is worth a Million words !!"
Daniel Germain, Canada
2014-02-16 00:44:53
5 from 5
"Fantastic....giving ideas that i will be visiting singpore within 2 months"
ravindra mistry, South Africa
2014-01-14 07:22:55
"hi... good afternoon friend !"
linus bagau L, Indonesia
2014-01-11 17:37:45
"Great job! Someone please tell me how i can download them."
Rajib Kumar, India
Varvara, AirPano: Dear Rajib, you can not save panoramas to your local computer. You can view them online only.
2013-11-24 10:55:54
5 from 5
"I am going to spread the amazing work that you and your team have produced to all my friends.
Congratulations on the wonderful article on Singapore to many other other places around the world. All Singaporeans should use this as an introduction to all our oversea friends // Jimmy Y H Yap"
jimmy Yap, Singapore
2013-11-17 18:21:22
"I love the beautiful photos you took of my country. Great work indeed! However, I wish to clarify that we do not have mandatory car-pooling in rush hours as indicated in your write-up. Perhaps you want to correct that statement. Thank! :)"
Won Su, Singapore
Varvara, AirPano: Thank you, Won Su! We've corrected the text.

2013-08-04 11:03:31
"best replica watches replica rolex for men Why must you inform other sites that you plan to buy a wrist watch? Why do you wish to trust a unusual moreover not needed role? fake tag heuer watches For precisely build dialogues to decide if you have obtained false watches or even?"
Buy Replica Watches fake tag heuer, Norfolk Island
2013-07-24 03:31:11
5 from 5
"Maravillosa ciudad que no me imagina tan bella y digna de conocer"
José Ravelo Celis, Venezuela
2013-07-16 15:23:17
5 from 5
"God has blessed you with such superb phogaphy technology. I would like to have this rare collection of 3D and 360 photography.
Suresh Garg"
SURESH GARG, India
2013-06-25 14:13:19
5 from 5
"Fantastic panorama pictures. I love this city. Have been there 17 times in 4 years, thanks to Jade xxx"
Achim Pfefferkorn, Austria
2013-06-23 22:22:31
5 from 5
"Wonderful! thanks for the work you folks are doing--the very informative article is a bonus. Lovely! Lovely!"
Irene Carlyle, USA
Varvara, AirPano: Dear Irene, thank you for your kind words!
2013-06-20 21:03:26
5 from 5
"¡Una gran Ciudad y un gran País!"
Eduardo Perez Nazabal, Spain
2013-06-06 00:52:06
5 from 5
"Well I love this project. Nice work guys and i will go to Signapore one day because i love it so much !!
Congratulations !!!!"
stelios ademi, Greece
Varvara, AirPano: Thank you, Stelios! Have a nice travel to Singapore!
2013-05-31 16:37:30
5 from 5
"awesome depiction of singapore with magnificent pictures. Great job guys"
li qian, Singapore
2013-05-30 17:04:51
5 from 5
"a wondeful garden"
Jun Liu, China
2013-05-29 20:14:02
"I like Singapore"
meng youran, China
2013-05-22 15:43:35
5 from 5
"Just beautiful"
Ravindra Mittal, India
2013-05-11 11:39:21
"Hi,the Singapore is beautiful city.
thank you for this picture"
zahra mohammadi, Iran
2013-05-02 10:23:11
5 from 5
"wow it is realy dream city,thank you for this panorama."
Sultan Mohamed, Yemen
2013-04-21 01:49:25
5 from 5
"superb"
ankit fichadiya, India
2013-04-21 01:45:38
"nice"
ankit fichadiya, India
2013-04-11 15:19:19
5 from 5
"LOVE IT BEEN TO SINGAPORE LOTS OF TIMES MY FAVORITE PLACE TO TRAVEL TO THE MEMORIES ARE TO ME FANTASTIC
THANKYOU"
PATRICIA TOWNER, United Kingdom
2013-04-05 11:24:21
1 from 5
"I Want to see the project very much.
Please help me."
Han Nanxin, China
2013-03-30 14:08:27
5 from 5
"its miraculous............."
shiv chauhan, India
2013-03-18 17:57:34
5 from 5
"Excellent!
As the city has changed a lot in 15 years
Perfect job!"
Vadim Michaliov, Lithuania
2013-03-18 05:44:29
5 from 5
"that`s awesome.LOVING so much."
sandy salvatore, Norway
2013-03-16 17:10:54
"I all airpano like! and i think Add your Shooting team!?"
Sui xuming, China
2013-03-16 06:02:52
4 from 5
"VERY NICE CITY, I LIKE TO SINGAPORE."
NIRDE ASHOK, India
2013-03-13 10:02:14
5 from 5
"very,very beautiful"
smiljana zdrunkovic, Australia
2013-03-11 23:50:09
"it`s very fantastic, marvellous & superb photography
there`s no word 4 that
"Congratulations for the entire team who made these pictures""
bhag patel, India
2013-03-11 12:05:46
5 from 5
"Truly - dream city."
Iwona Kundys, Poland
2013-03-08 23:34:55
5 from 5
"Çäðàâñòâóéòå!Êàæäîå ïîñåùåíèå Âàøèõ ïàíîðàì ïðàçäíèê äëÿ äóøè.Ñåãîäíÿ Ñèíãàïóð.Îòëè÷íàÿ ñúåìêà ñäåëàíà ìàñòåðàìè.Êîðàáëü íà áàøíÿõ,ñàäû,÷óäåñíûé çåëåíûé ëåâ,ïîäâåñíûå äîðîæêè,ñâåðõó îáîçðåíèå äî ìåëî÷åé,âîäà íåîáûêíîâåííî áèðþçîâàÿ.Ñïàñèáî âñåé êîìàíäå ñàéòà çà ñîçäàíèå òàêèõ ïàíîðàì äëÿ íàñ!!!"
Ýëüâèðà Ôåäîð÷óê, Russian Federation
2013-03-08 21:33:06
5 from 5
"¡¡Fantástico!! Sois únicos, cada dia me maravillais más. Gracias por vuestro trabajo."
José Calvo, Spain
2013-03-08 17:48:34
5 from 5
"Increíble!!! ¡Que trabajo sensacional!! Y de óptima calidad. Me siento muy afortunado y privilegiado de poder apreciar su excelente trabajo. FELICITACIONES Y MUCHÍSIMAS GRACIAS POR COMPARTIR SU TRABAJO. POR FAVOR NO DEJEN DE HACERLO."
Leonardo Miño, Ecuador
2013-03-08 15:00:51
5 from 5
"Congratulations for the entire team who made these
pictures. I like so much Singapore for its culture and architecture, old and new.Marvellous! The biggest surprise which I have received to day (8 March -our women's day ) for which I thank you so much."
IRINA ONOFRAS, Romania
2013-03-08 12:05:42
5 from 5
"SPEECHLESS !!!!!!!"
Paul Buhagiar, Malta
2013-03-08 09:55:05
5 from 5
"Fantastic..."
Dharmesh Bamrolia, India
2013-03-08 04:16:23
5 from 5
"Guys, you deserve no less than prophets' place in heaven."
Davood Salehabadi, USA
2013-03-08 01:14:32
5 from 5
"Sensacional!!!!!!!!!!!!!"
Paulo Rattes, Brazil
2013-03-08 00:53:41
5 from 5
"Good work guys(much love and dedication). Seeing all this great panoramas in every angle of this amazing world is a great opportunity for us. Thank you and more power. Arrivederci da Roma!"
Desiree Monge, Italy
2013-03-07 23:33:54
5 from 5
"Dear Friends
Keep doing that MARVELUS WORK much love and blessings,Me"
Jose Angel Arroyo, Mexico
2013-03-07 23:02:59
5 from 5
"Excelente
Felicitaciones por este proyecto tan espectacular.
Disfruto en familia todo el contenido,
Muchos éxitos!"
EDWIN MARIN TRUJILLO, Colombia
2013-03-07 22:59:08
5 from 5
"Truly fantastic. Reminded me of the wonderful trip made by my dear mother and me, to Singapore (and Thailand), 12 years ago. :) Thank you for reviving those beautiful memories. :)"
fren bill, India