Venice, Italy
•
360° Aerial Panoramas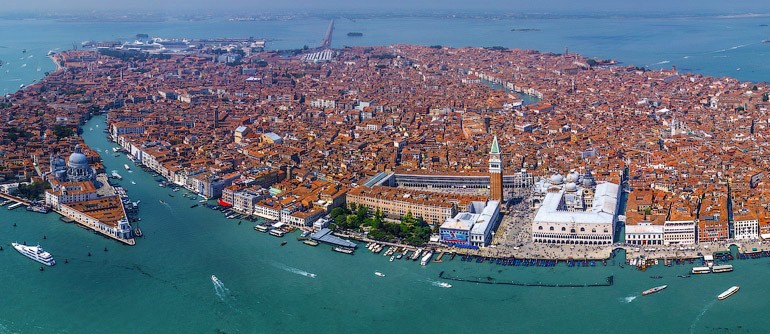 ---
A millennium and a half of Venice history had a lot of exciting events: countless wars and crusades, booming trade and banking. Overall Venice has always been independent, rich, and successful city.
Located in the center of Europe, which means in the middle of main European events, Venice went through several periods of prosperity and downfalls. Today it is one of the most famous cities in the world: 15 million tourists visiting Venice every year is a solid proof of this fact.
Venice is called the "city on water". It's worth mentioning that there are several other cities in Europe that have a lot of canals. For example, Belgian town Ghent was built atop of 26 small islands connected by 207 bridges; capital of Holland was also built atop of 26 small islands. But they could never compete with Venice and its 118 islands, 150 canals, and 400 bridges.
As one can imagine, Venice transportis quite peculiar. There are no roads, cars, taxis, buses, trams, nor bikes. You either walk on foot or use water transportation: boats, motorboats, or gondolas. Tourists use the latter as a romantic adventure rather than means of transportation, which cost them 100 Euros for half an hour ride.
Every detail of a gondola is thoroughly designed and has some kind of symbolic meaning. Its size and shape hasn't changed in centuries and it is protected by law: the length is 11 meters, the width is 140 cm. It has a flat bottom and an asymmetric shape with left side longer than the right side by 24 cm. A straight line divides gondola in half lengthwise, and a gondolier has to stay on one side of the boat to operate it. At full load (1200 kg) gondola can go at a speed of three knots, which is about 4 km per hour.
At the end of XV century Venice had 15 to 29 thousand gondoliers. Together with their families they comprised one quarter of the city's population. In modern days there are only 425 gondoliers in Venice. This number always stays the same regardless of how many gandoliers retire or how many new people join the ranks.
Of course there is more to Venice beside gondoliers and buildings on water. You will definitely want to see other Venice landmarks, such as St Mark Cathedral, St Mark's Square, Doge's Palace, Bridge of Sighs, the Grand Canal, and others.
Alexander Herzen gave a remarkably accurate description of Venice: «Venice is the most wonderful nonsense in the world. It is crazy enough to build a city where no city could ever be built; but to build one of the most elegant and distinguished cities in the world could only do crazy genius."
It was however a real challenge to build such a beautiful city. An uninhabitable area — not even of land, but of water! — has been turned into a miracle. For many centuries construction workers tediously re-routed rivers away from the site, fortified the coast, and drove millions of waterproof larch piles into the ground.
Nevertheless, with passing centuries, it became clear that they couldn't beat nature entirely. Slowly but surely the Adriatic claims its territory: during XX century alone Venice has "sunk" 23 cm. It is predicted that by year 2028 the city will completely go underwater.
It means that we have very little time left to admire and remember an elusive beauty of the famous Italian landmark...
Photography by Stanislav Sedov and Dmitry Moiseenko
3 August 2012
Comments
2016-07-03 18:23:26
5 from 5
"Excellent collection! Any chance of cooperation with global-geography.org???"
Hermann Maurer, Austria
2015-08-09 01:19:41
5 from 5
"Vivai Veneza sempre deslumbrante uma cidade dos cora#231#245es enamorados."
Beth Martins, Brazil
2014-11-15 22:29:51
5 from 5
"FANTASTICO TRABAJO"
VALENTI FAINE ROS, Spain
2014-10-04 10:55:09
5 from 5
"Incredible Venice. Is it possible to imagine something more beautiful? I travelled to Europe last year. Europe is marvellous. Some places, like Venice are famous worldwide. But it was impressive to discover others not so famous: A suggestion: go and take some photos of a hidden jewel: Seville"
Andrew Dolan, USA
2014-08-05 04:34:38
4 from 5
"Que profunda emoción , recordar el ayer , cuando todo en Venecia me hablaba de amor ,..................."
Miguel Ángel Pizzo, Argentina
2014-06-09 05:38:55
"Inacreditável!!! Maravilha!!!!"
Maristela Ribeiro, Brazil
2014-03-28 17:45:41
5 from 5
"Bella, maravillosa, increible, fascinante."
Lilia de la Torre, Cuba
2014-03-25 20:41:59
5 from 5
"What a wonderful landscape! I wish I could to be there... Who knows one day...
Thank you so much to share this gorgeous view of Italy with us."
Daniele Pimentel, Brazil
2014-03-19 22:16:49
5 from 5
"Amazing actually I'm going to do the same idea, but I need some help :("
Mohammad Saleh, Israel
2014-03-14 05:33:22
"非常漂亮"
xj j, China
2014-03-01 17:53:59
"Hi Please refer to Iran in Tehran Check
Beautiful scenery to show all
Thanks to many nice airpano"
Ali iota, Iran
2014-02-21 05:16:04
"Hermosas vistas de Venecia.
Dios mediante en dos meses tengo previsto un viaje para aquellos lados y espero poder disfrutar en vivo de esta hermosura."
ALFREDO MIGUEL CIPOLATTI, Argentina
2014-02-17 18:36:47
1 from 5
"It's beautiful.
Thank you."
François Deguerry, France
2014-02-12 11:46:57
5 from 5
"You brought our memories back!!!Of course with "the very best" way than our photos could do!I have been in Venice for the honeymoon about 7 years ago,it's a wonderful city.Looking forward visiting Venice again.Great site,terrific places.Outstanding,keep up the great work.Thanks a lot!"
Nikos Pelekoudas, Greece
2014-02-09 03:38:40
"Estuve en Italia hace unos cuantos años y, realmente Venecia me conmovio profundamente, es un lugar maravilloso. Quisiera volver algún día."
Zulema SEIJAS, Argentina
2014-02-03 00:29:57
5 from 5
"Been there quite a few times when I lived in Italy but have never seen Venice so beautifully depicted as in your panos. Great job guys!"
Eugenio Palisi, Canada
2014-01-23 22:20:15
5 from 5
"el que conoce Venecia esto es un sueño y quien no lo conozca que lo haga es maravilloso maxi"
maximiano jodra arcediano, Spain
2014-01-04 04:11:25
"güzel bir yapım olmuş teşekürler"
rıza kurt oglu, Turkey
2013-12-02 18:37:23
"Excepcionalmente bonito"
jose montenegro, Portugal
2013-11-20 19:10:06
5 from 5
"site génial, Venise en particulier pour y avoir été 3 fois, mais AirPano devrait être connu du monde entier..."
Robert MABILEAU, France
2013-11-20 00:56:52
4 from 5
"Nostalgia siento al ver las imágenes tan bellas de Venecia k guardo tan gratos recuerdos"
LINA LLOBET, Spain
2013-11-01 23:41:38
5 from 5
"Gracias AIRPANO, vuestro trabajo me esta permitiendo llevarme imágenes del mundo que difícilmente conoceré a mis 72 años.Gracias nuevamente."
mario oscar varela, Argentina
2013-08-12 23:59:59
5 from 5
"Lindo!!!!!!"
Neide Santos, Brazil
2013-08-07 17:15:47
5 from 5
"ITALY
i love venice citi
he is best of the world citi
coming son i m in venice
best regd
zahid chaudhry"
zahid hameed chaudhry, Pakistan
2013-07-19 00:21:29
"wow.
that is cool.it is wonderfull"
yasin y, Iran
2013-06-17 07:49:05
5 from 5
"Amazing Venezia, I love it, just hope to see you again!!!"
Cuqui Garcia, USA
2013-06-14 23:21:12
5 from 5
"your website is both interesting and exciting because brings good memories to those who have been to venice, and aspirations to those who have not.
thank you"
Lenny Farias, Canada
2013-05-15 13:33:30
"Venice> is a city where you can be alone with your love until sunset
Venice is a city in the alley and the love of his life."
farzin sarvari, Iran
2013-05-06 16:19:23
"GHE SBOROOOOOO"
GINO SCIMMIA, Italy
2013-04-22 17:13:15
5 from 5
"Para mi, Venecia es la ciudad mas bonita del mundo"
Manuela Fernández, Spain
2013-02-26 12:37:10
1 from 5
"its very verybeautifal thank for this vebsite."
shahab k, Iran
2013-02-10 05:18:00
"Beautiful!!!!!!!!"
Márcia Greche, Brazil
2013-01-10 17:27:50
5 from 5
"See u there venice feb 2013...venice it's wonderful city..."
Putra Anderson, Indonesia
2012-12-11 13:50:44
5 from 5
"unbleavable images......a normal person can visit the enitre world through your website....."
tabrez shaikh, India
2012-12-01 15:33:19
5 from 5
"Thank you so much.."
hadis hashemzadeh, Iran
2012-11-29 11:55:58
"Alexander Herzen rightly commented, as no one could even thinf of nonsense being a marvel. This floating city is indeed the most unconventional thought accomplished into a living wonder on our beautiful planet. Thanks to the photographers of Airpano. All credits in your honour!!!!!!!!!!!!!"
Saraswati Panicker, India
2012-11-29 11:50:45
5 from 5
"Oops....forgot to rate....However,nothing to think, its obviously gonna be 5."
Saraswati Panicker, India
2012-11-28 02:06:29
"Vuestro programa es una maravilla en todos los senti
dos. Estuve en Venecia, hace 7 años y me la habeis
hecho revivir. gracias de todo corazón
Os acabo de descubrir en la red, pero ya contaís con
un fan seguro."
Ramon Freijido, Spain
2012-11-06 23:07:57
"thats very good and intersting"
ali asghary, Iran
2012-10-31 21:01:09
5 from 5
majid jahri, Iran
2012-10-27 17:50:29
5 from 5
"We have visited Venice at least 10 times and are looking forward to returning Feb/March, 2013. Your panoramas are still awesome to see. See you there!"
giacomo deGori, USA
2012-10-25 04:33:51
5 from 5
"I have never seem anything like your airpano!! What a great trip I have just been on, "Around the World in 1 hour! And did'nt cover all the countries! I am a senior and have on chance of going too for from home, but have traveled all of Canada (Just back from Newfoundland/Labrador) Thank you for my wonderful trip, and many more of them""
Kathleen Murphy, Canada
2012-10-22 21:56:32
"FELICITO A LOS AUTORES DE ESTA PAGINA QUE ME HIZO RECORDAR A ITALIA ,Y HOY LA VUEVO A ADMIRAR PERO DE OTRA PERPECTIVA MUCHAS GRACIAS POR VENECIA , MACCHUPICCHU Y OTROS CESAR"
cesar chan waiy, Peru
2012-10-22 15:45:00
3 from 5
"I have been there in May 2011 with my wife and find very beautiful and enjoyment."
mohanrao pendyala, India
2012-10-21 15:01:33
3 from 5
"I WISH BEST FOR YOU.THANKS"
reza hashemi, India
2012-10-21 13:05:06
5 from 5
"VERY GOOD"
ABBAS JAMALI, Iran
2012-10-20 04:57:09
5 from 5
john einstein, Canada
2012-09-26 21:55:03
""Wonderful. It's true beautiful. Thank you!""
salah dahash, Iraq
2012-09-22 11:07:50
"I Have been there four years ago,Really Wonderful.

Iwish once again to visit VENICE."
manouchehr CH., Iran
2012-09-09 12:14:48
5 from 5
"Gee .i like Venice verrryyyyyyyyyyyyy much ilove site kess"
delnia kh, Iran