Venice, Italy
•
360° Aerial Panorama
This panorama can be opened in several different resolutions. High resolution panorama with the best quality is about 7 Mb large and it is suitable for fast internet connections and modern computers. For slower internet and old weak computers we created the smaller low resolution panorama. Some small details have been sacrificed but the size of low resolution panorama is nomore than 2 Mb.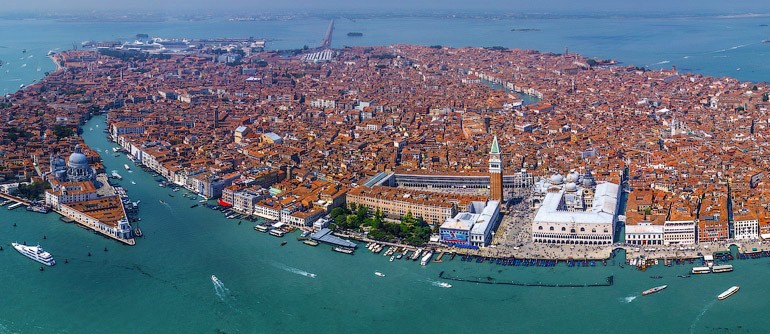 Open Aerial Panorama (high resolution)
A millennium and a half of Venice history had a lot of exciting events: countless wars and crusades, booming trade and banking. Overall Venice has always been independent, rich, and successful city.
Located in the center of Europe, which means in the middle of main European events, Venice went through several periods of prosperity and downfalls. Today it is one of the most famous cities in the world: 15 million tourists visiting Venice every year is a solid proof of this fact.
Venice is called the "city on water". It's worth mentioning that there are several other cities in Europe that have a lot of canals. For example, Belgian town Ghent was built atop of 26 small islands connected by 207 bridges; capital of Holland was also built atop of 26 small islands. But they could never compete with Venice and its 118 islands, 150 canals, and 400 bridges.
As one can imagine,Venice transportis quite peculiar. There are no roads, cars, taxis, buses, trams, nor bikes. You either walk on foot or use water transportation: boats, motorboats, or gondolas. Tourists use the latter as a romantic adventure rather than means of transportation, which cost them 100 Euros for half an hour ride.
Every detail of a gondola is thoroughly designed and has some kind of symbolic meaning. Its size and shape hasn't changed in centuries and it is protected by law: the length is 11 meters, the width is 140 cm. It has a flat bottom and an asymmetric shape with left side longer than the right side by 24 cm. A straight line divides gondola in half lengthwise, and a gondolier has to stay on one side of the boat to operate it. At full load (1200 kg) gondola can go at a speed of three knots, which is about 4 km per hour.
At the end of XV century Venice had 15 to 29 thousand gondoliers. Together with their families they comprised one quarter of the city's population. In modern days there are only 425 gondoliers in Venice. This number always stays the same regardless of how many gandoliers retire or how many new people join the ranks.
Of course there is more to Venice beside gondoliers and buildings on water. You will definitely want to see other Venice landmarks, such as St Mark Cathedral, St Mark's Square, Doge's Palace, Bridge of Sighs, the Grand Canal, and others.
Alexander Herzen gave a remarkably accurate description of Venice: «Venice is the most wonderful nonsense in the world. It is crazy enough to build a city where no city could ever be built; but to build one of the most elegant and distinguished cities in the world could only do crazy genius."
It was however a real challenge to build such a beautiful city. An uninhabitable area - not even of land, but of water! - has been turned into a miracle. For many centuries construction workers tediously re-routed rivers away from the site, fortified the coast, and drove millions of waterproof larch piles into the ground.
Nevertheless, with passing centuries, it became clear that they couldn't beat nature entirely. Slowly but surely the Adriatic claims its territory: during XX century alone Venice has "sunk" 23 cm. It is predicted that by year 2028 the city will completely go underwater.
It means that we have very little time left to admire and remember an elusive beauty of the famous Italian landmark...
Photography by Stanislav Sedov and Dmitriy Moiseenko
Comments
2013-05-15 13:33:30
"Venice> is a city where you can be alone with your love until sunset Venice is a city in the alley and the love of his life."
farzin sarvari, Iran
2013-05-06 16:19:23
"GHE SBOROOOOOO"
GINO SCIMMIA, Italy
2013-04-22 17:13:15
5 from 5
"Para mi, Venecia es la ciudad mas bonita del mundo"
Manuela Fernбndez, Spain
2013-03-31 19:23:56
5 from 5
"Lovely site. just wanted to clarify your comment on gondolas "Its size and shape hasn't changed in centuries" - actually the gondola has undergone many subtle changes over the last 500 years or so - Canaletto's paintings show gondolas being quite flat and symmetrical - today they are almost banana-shaped (prow and stern not touching the water) and asymetrical - a significant characteristic that was introduced in the 19th century to allow the single gondolier to row the boat in a straight line with more ease (once there were 2 gondoliers per boat). The gondola is a boat with a fascinating history..."
Maria Balanos, Italy
Anastasia, AirPano: Dear Maria, thank you for the information about gondolas, we appreciate your cooperation!
2013-02-26 12:37:10
1 from 5
"its very verybeautifal thank for this vebsite."
shahab k, Iran
2013-02-10 05:18:00
"Beautiful!!!!!!!!"
Mбrcia Greche, Brazil
2013-01-10 17:27:50
5 from 5
"See u there venice feb 2013...venice it's wonderful city..."
Putra Anderson, Indonesia
2012-12-11 13:50:44
5 from 5
"unbleavable images......a normal person can visit the enitre world through your website....."
tabrez shaikh, India
2012-12-01 15:33:19
5 from 5
"Thank you so much.."
hadis hashemzadeh, Iran
2012-11-29 11:55:58
"Alexander Herzen rightly commented, as no one could even thinf of nonsense being a marvel. This floating city is indeed the most unconventional thought accomplished into a living wonder on our beautiful planet. Thanks to the photographers of Airpano. All credits in your honour!!!!!!!!!!!!!"
Saraswati Panicker, India
2012-11-29 11:50:45
5 from 5
"Oops....forgot to rate....However,nothing to think, its obviously gonna be 5."
Saraswati Panicker, India
2012-11-28 02:06:29
"Vuestro programa es una maravilla en todos los senti dos. Estuve en Venecia, hace 7 aсos y me la habeis hecho revivir. gracias de todo corazуn Os acabo de descubrir en la red, pero ya contaнs con un fan seguro."
Ramon Freijido, Spain
2012-11-06 23:07:57
"thats very good and intersting"
ali asghary, Iran
2012-10-31 21:01:09
5 from 5
majid jahri, Iran
2012-10-27 17:50:29
5 from 5
"We have visited Venice at least 10 times and are looking forward to returning Feb/March, 2013. Your panoramas are still awesome to see. See you there!"
giacomo deGori, USA
2012-10-25 04:33:51
5 from 5
"I have never seem anything like your airpano!! What a great trip I have just been on, "Around the World in 1 hour! And did'nt cover all the countries! I am a senior and have on chance of going too for from home, but have traveled all of Canada (Just back from Newfoundland/Labrador) Thank you for my wonderful trip, and many more of them""
Kathleen Murphy, Canada
2012-10-22 21:56:32
"FELICITO A LOS AUTORES DE ESTA PAGINA QUE ME HIZO RECORDAR A ITALIA ,Y HOY LA VUEVO A ADMIRAR PERO DE OTRA PERPECTIVA MUCHAS GRACIAS POR VENECIA , MACCHUPICCHU Y OTROS CESAR"
cesar chan waiy, Peru
2012-10-22 15:45:00
3 from 5
"I have been there in May 2011 with my wife and find very beautiful and enjoyment."
mohanrao pendyala, India
2012-10-21 15:01:33
3 from 5
"I WISH BEST FOR YOU.THANKS"
reza hashemi, India
2012-10-21 13:05:06
5 from 5
"VERY GOOD"
ABBAS JAMALI, Iran
2012-10-20 04:57:09
5 from 5
john einstein, Canada
2012-09-26 21:55:03
""Wonderful. It's true beautiful. Thank you!""
salah dahash, Iraq
2012-09-22 11:07:50
"I Have been there four years ago,Really Wonderful. Iwish once again to visit VENICE."
manouchehr CH., Iran
2012-09-09 12:14:48
5 from 5
"Gee .i like Venice verrryyyyyyyyyyyyy much ilove site kess"
delnia kh, Iran
2012-09-08 12:20:15
"wish best for you"
amir khalili, Iran
2012-09-08 06:35:42
5 from 5
"Just beautiful. We have had the good fortune to have been there two times. You must stay overnight; it is a different city at night."
Francesca Capozzi-Alvin, USA
2012-09-07 13:24:52
1 from 5
reza joon, Iran
2012-09-06 11:24:35
5 from 5
"Amazing thank you"
sedki alashkar, Yemen
2012-09-06 00:19:43
5 from 5
Ali Kh, Iran
2012-09-05 12:13:47
"thank you soooooooooooooooooooooo much"
mahnaz kafshi, Iran
2012-09-04 12:49:27
5 from 5
"wonderfull,I wish visit venice as soon as posible"
javad elahi, Iran
2012-09-01 22:12:30
5 from 5
"very nice!!!!bellisimo.... grazie....i love italy ti amo ittaly"
vahab s, Iran
2012-09-01 12:43:37
"Absolutely Wonderful. I enjoyed the virtual tour which made me want to step in and wander the streets. It is a city that I have always wanted to visit. Slight correction though, while Venice is sinking it does seem as if it will be with us beyond 2028 (see http://news.discovery.com/earth/venice-sinking-120326.html)."
Donna Minott, Jamaica
Alina, AirPano: Donna, thank you for correction and for writing to us. Stay tuned!
2012-09-01 09:31:58
5 from 5
"We sailed a yacht into Venice in 2010 and stayed in a beautiful little marina on the northern end. your fabulous camera work brings back the memories far better than any of our picture taking ever could. Thank you so much."
Ian Anderson, Australia
2012-08-31 15:19:59
5 from 5
"Thanks"
akbar moradi, Iran
2012-08-31 14:46:13
5 from 5
"ciao! I would love to visit venice... my plan was for the next year, but...unbelievably I just did it !!! thanks so much for such a wonderful trip!:-)"
Fereshteh joon, Iran
2012-08-28 21:04:45
5 from 5
"just wow amazing"
clarence shepard, USA
2012-08-28 07:06:06
1 from 5
"On the first photo, trickled a few tears from my eyes. I knew this city in 2011, it was as if I was flying over the city, the photos are beautiful, the perfect soundtrack. Congratulations, continue with this beautiful work."
Anderson Carvalho, Brazil
Alina, AirPano: Continue to be so sincere, Anderson! Thank you.
2012-08-25 21:05:55
5 from 5
"I visited Venice July 2012 and was trying to locate the main railway station across a church (?) but couldn't see it. But it's a beautiful picture which completed the missing sites of Venice I didn't see myself."
Adeleida Kaunang, Indonesia
2012-08-23 07:34:02
5 from 5
"Thanks for the memories. Visited 20 years ago. Memorable conversation - Me: What do you do for a night life in Venice? Waiter: Sir, in Venice we pray."
Bahrain Tahir, Malaysia
2012-08-21 14:50:39
5 from 5
"Thanks. We are just back from Venice and di not want to leave the place. We re-lived our Venice exp through this panoramic view. Thanks a ton."
Badri Srinivas, India
2012-08-21 12:42:32
5 from 5
"Lindo demais! Estou encantada com essas imagens!"
Elaine Cozendey, Brazil
2012-08-20 21:03:18
5 from 5
"Wonderful! Thank you so much!"
Jъlia Canassa, Brazil
2012-08-20 07:50:53
5 from 5
"Have had the blessing to have visited, almost like a revisit. Thank you."
Nina Van Leeuwen, USA
2012-08-17 16:10:12
5 from 5
"I have been there 25 years ago!!"
Ming Xin Dai, China
2012-08-13 16:31:19
5 from 5
"Je to super, ked clovek moze aj takymto sposobom spoznat krasne miesta na Zemi."
Judita Gverinova, Slovakia
2012-08-13 11:04:30
5 from 5
"It's great!! you made me to be there again, rgds"
Marie Mtz, Mexico
2012-08-13 03:11:16
4 from 5
"I had the great honor of urinating in the canal just past st marks . I was on sabbatical and found this brought back a flood of memories no pun intended that was43 years ago ---WHEN THE WORLD WAS A CALMER PLACE TO LIVE ."
ED MOSS, USA
2012-08-11 20:32:16
5 from 5
"Beautiful arial shots. My dream is to be there in person. Thank you for the push to go there."
Brendaa Livingston, USA
Alina, AirPano: Brenda, dreams come true, be ready for Venice!
2012-08-11 08:17:06
5 from 5
"This is such a wonderful experience. My Italian husband never went back to his homeland - afraid of flying. I love seeing it this way and have put a visit to Italy on my bucket list."
Dorene Fierro, Canada
Alina, AirPano: Dorene, watching our panoramas is not as scary, as flying. May be it is a way out to your husband?