The best panoramas by AirPano. Part 1
•
360° Aerial Panoramas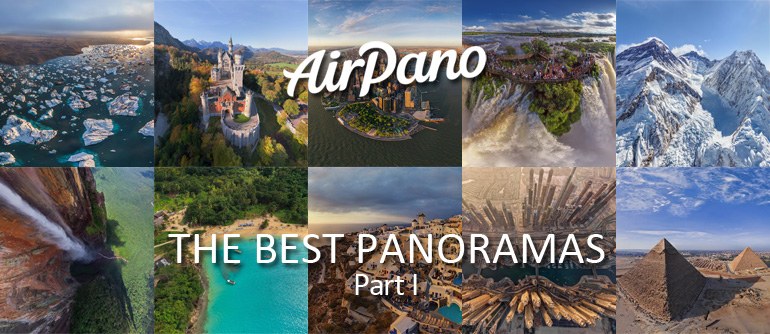 ---
We have selected the best panoramas created by AirPano during the last several years. Most of them are unique because they were shot for the first time in the history of panoramic photography. The Airpano website already features over 2,000 panoramas. To make navigating such a volume of materials easier, we decided to create a collection of the best AirPano panoramas, organizing them into several virtual tours. We tried to choose the most beautiful panoramas of the most unique and meaningful locations. Today, we would like introduce the first virtual tour from our collection of selected panoramas; you will see the majestic pyramids of Giza, Angel Falls — the highest waterfall in the world, Jökulsárlón — the glacial lagoon, and other amazing places of our planet.
AirPano was founded in 2006. At the same time we created a unique technique of photographing spherical panoramas from the air. Today, AirPano is the largest 360° panorama resource in the world, based on geographical coverage, number of aerial photographs, and artistic and technical quality of images shot from the bird's eye view.
Now, thanks to the panoramic photos published on our website, each visitor can go up in the air and see everything as if he were actually on site: inside a helicopter or even in the bucket of a hot air balloon.
You are invited to join us on this breathtaking journey!
---
If you are interested in any panorama from our selection, you can open a complete virtual tour of any place from the list mentioned below:
— Great Pyramids of Giza in Egypt;
— Iguasu Falls, Argentina-Brazil;
— Santorini (Thira), Oia, Greece;
— Jokulsarlon glacial lagoon, Iceland;
— Neuschwanstein Castle, Germany;
— Angel Waterfall of Venezuela - The World's Highest Waterfall;
4 December 2014
Comments
2015-01-06 09:28:53
5 from 5
"Lost in the beauty...."
Gong Zheng, China
2014-12-09 17:59:58
5 from 5
"THANK YOU VERY VERY VERY MUCH"
malik nawres, Algeria
2014-12-08 19:23:23
5 from 5
"Brilliant site,if you are a lover of landscapes,then this is the site for you,every image a masterpiece,"
Douglas Titchiner, United Kingdom
2014-12-08 02:58:12
5 from 5
"Beautiful job and selections. I look forward to each and every Panorama that's sent out. As a shut-in....and this may sound corny...When I receive your new Panorama Makes My Day.!"
Ed Nelson, USA
2014-12-05 18:32:24
5 from 5
"Excellent presentation."
Jaganmohanrao ponnada, India
2014-12-04 20:12:46
5 from 5
"Very hilarious presentation of the first volume of nice places !!!, congratulations"
Karel Hofmann, Czech Republic
2014-12-04 19:46:44
5 from 5
"Una parte , de lo MEJOR de AIRPANO RU"
German Porras, USA
2014-12-04 18:34:24
5 from 5
"This is a very nice combination of beatifull places.
Thank you very much"
Dirk van der Steen, Netherlands
2014-12-04 17:46:41
5 from 5
"Ci fate emozionare con questi viaggi, la mente vola libera e spensierata! COMPLIMENTI VIVISSIMI"
ROBERTO RUSCIANO, Italy
2014-12-04 17:38:54
5 from 5
" THANK YOU VERY MUCH FOR ALL THE PLEASURE YOU BRING US WITH YOUR WANDERFUL JOB!!!! .... AND CONGRATULATIONS FOR THE AWARDS YOU HAVE WON!!!! ...
... AND T H A N K ... YOU AGAIN !!! "
INES BARRIONUEVO, USA
2014-12-04 15:34:25
5 from 5
"Vi ringrazio infinitamente per i bellissimi viaggi che ci fate fare, vi ho presentato a tutti i miei amici e conoscenti. BRAVO SIMI E GRAZIEEEEEEEEE!!! #10084#10084#10084"
Rosalba De Marco, Italy