Grand tour of Manhattan, New York, USA
•
360° Aerial Panoramas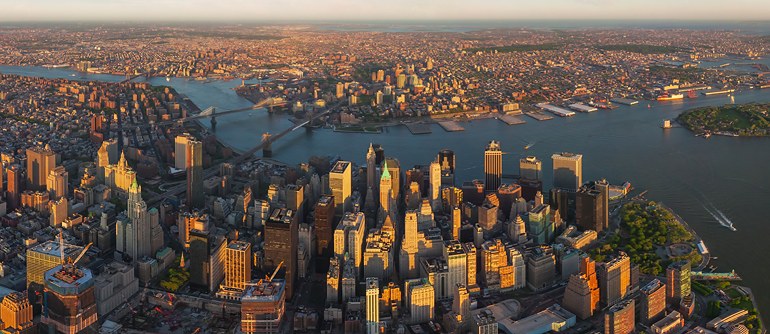 ---
Today we present our largest virtual tour «Grand tour of Manhattan, New York». There are 30 panoramas in the tour. Some of them are completely new and some have been shown in our earlier tours: «Sunset and Dusk Time View of Manhattan», «Day view of Manhattan» and «New York, I love you».
---
In 2006 I shot our very first spherical aerial panorama, from which the AirPano project started, in the beautiful place of the Colorado and the San Juan rivers confluence (USA):
The result was overwhelming – by looking at the large screen one had a total illusion of flying over the canyon. And so we decided to continue our experiments.
The next attempt was made in 2007 above the island of Manhattan. I remember this photo shoot by one funny detail: there were no headphones for passengers in the helicopter's cabin. I had to shout from the back seat (while trying to overcome the engine roar that was coming from the open door) to let the pilot know where to go. He didn't hear me anyway, so in order to change the shooting position I had to tap on his shoulder and then – after he looked at me – I had to point the direction with my finger where the thumb down meant moving lower. And guess how I showed him to go higher :) It was fun.
After that incident, when hiring a helicopter I always ask: Do you have passenger headphones in the cabin?
And pilots are always surprised: But of course! Is it possible not to have them?
Yes, it is possible, — I answer — In New York :)
Despite of all the difficulties, this photo shoot was accomplished, delivering world's first virtual photo tour above Manhattan.
There were many more flights after this one, and many like-minded people joined AirPano project in the process. As of today we shot around 700 spherical panoramas showing over 170 most interesting and beautiful places in all the continents of our planet including Antarctica and North Pole. 120 of them you can view on our website while the remaining materials are still in production. We also made virtual photo tours over the world's most beautiful cities.
In 2011 we returned to New York to once again photograph Manhattan: this time making it much better technically and artistically. Enjoy the large photographic grand tour of Manhattan now.
And now there are some interesting facts bout Manhattan.
New York is the most famous city of the USA, and Manhattan is the most famous part of New York. It all started 400 years ago when the most famous and profitable in human history real estate deal was made: the Native Americans sold this 'not so useful' piece of land to Europeans for 24 dollars.
Since that time the island has changed dramatically. For 24 dollars one can probably buy a ticket to the Empire State Building.


Present day Manhattan is the most populated island on Earth. The land itself costs about 40 billion US dollars, and the cost of the entire Manhattan, including its real estate, reaches over 3 trillion US dollars.
This remarkable part of New York City is best to be discovered on foot – not only because of the infamous New York traffic or cost of parking in New York. There is a joke in New York that only wasteful people can afford driving in New York, because the time one spends on finding a parking spot sometimes equals the time it takes to drive from one side of Manhattan to another.
New York is known to be a financial capital of the world, and the island of Manhattan is where all the banks, offices, largest insurance companies and corporations are located – literally one on top of another. Basically the rest of New York, and eventually, the rest of the United States, work for Manhattan, making sure that this gigantic «city inside of the city» continues its mission – processing the wealth of the whole world.
Besides a large number of museums, almost every building in Manhattan has a historical value. Old buildings harmoniously coexist with the best examples of the modern architecture. Most famous New York attractions are located in Manhattan, including Empire State Building mentioned above, Central Park and Times Square. There is also colorful China Town and bright Broadway – they are all located on this island. It is a shame not to bring a photo of Manhattan from your trip to New York!
We also made our modest Manhattan photo album. These panoramas were photographed in the summer of 2011.
Text by Oleg Gaponyuk
26 December 2012
Comments
2016-07-24 15:42:12
3 from 5
"JFYI there are no golf clubs in Central Park New York City. Your panorama shows American baseball fields just west of the Met. Museum of Art."
Susan Lynn, USA
Varvara, AirPano: Susan, thank you very much for your comment. We've corrected the mistake.
2015-08-12 14:59:45
5 from 5
"pleas come to iran iran is beautfull coutry
you can take photo panorma wanderfull
you can win in this dision"
masoud hamidi, Iran
2014-04-01 17:27:04
5 from 5
"very very.......very beautiful place..!"
awnar hamza, Algeria
2014-03-21 15:40:24
5 from 5
"yes right. super."
meral şen şen, Canada
2014-02-12 19:27:41
5 from 5
Ernesto Buenaventura, Colombia
2014-02-10 02:07:19
4 from 5
"very beautiful place..."
daryoosh langari, Iran
2014-01-31 03:16:00
5 from 5
"una pasada de fotos .solo te hace las ganas de estar ahi.por lo menos nos dais la oportunidad de conocer bonitos lugares .gracias por hacer algo tan bonito.a . que galicia tambien es una pasada.."
jose español villarino, Spain
2014-01-14 01:46:00
"Extraordinario, merece la pena admirar de este modo estos lugares, aunque se visiten con posterioridad.Gracias."
César Abarca Landete, Spain
2014-01-13 05:25:35
5 from 5
"GRACIAS."
ANGEL BAÑOS CARO, Spain
2014-01-11 07:21:33
5 from 5
"Its truly a Beautifull peace of work. It shows the work Man can accomplish. A city that doesn't sleep and full of Life. Thank you for the memories. I shall visit again one day soon.
I also would like to add that all the beautiful places in Portugal yet even Vietnam beat it with pictures… maybe we will see Lisbon some day or the Algarve."
Henry Matias, Canada
2013-12-18 19:53:42
5 from 5
"fantastic, de neimaginat, daca nu vezi.Este o realizare de varf.Chiar daca esti acolo, nu poti cuprinde totul.Un documentar imens, usor accesibil, permite delectarea, dar si studiul."
Petre Mateescu, Romania
2013-12-10 23:25:52
"Even though I live in the US now there are so many cities that I have not seen. New York, Manhattan is on my bucket list"
Randall Lakey, Canada
2013-11-09 00:04:22
"Beautiful...My dream."
jean weastler, Colombia
2013-10-16 17:10:16
"gilan area in iran is very beautiful than this pictures.what you have not pictures from iran?"
peyman karimi, Iran
2013-10-01 08:09:02
5 from 5
"I love N.Y. Beautiful works!. Congratulations.-"
John Malvaso, Argentina
2013-07-21 17:33:40
5 from 5
"very nice -"
hamed azimi, Iran
2013-06-12 00:58:24
"Thanks for the nice"
Ramin amirafzali, Iran
2013-05-12 21:05:42
"very nice but iran is very very wonderfull than america....."
farzin sarvari, Iran
2013-05-03 02:48:33
5 from 5
"Awesome visual experience, totally off the hook."
Gerald Kelder, Australia
2013-04-01 05:33:39
"Wonderfull city.Y love New York"
Nelson Bernardo, Brazil
2013-03-14 13:10:42
5 from 5
"very niceeee"
parisa khojaste, Iran
2013-03-08 16:38:39
5 from 5
"Thank you so much!! I heart NYC and I have been three times, only!! I am so longing to this most beautiful, livley, soulful place on earth. Your pics satisfy my hunger for the moment, I will be back soon !!!"
Sonja Stendera, Germany
Varvara, AirPano: Many thanks, Sonja! You're always welcome on AirPano!
2013-03-04 03:44:17
5 from 5
"I love NYC, riprese fotografiche fantastiche."
Julian Roberto Rocchetti, Italy
2013-03-04 00:08:43
5 from 5
"Just LOVE..."
Arman amadin, Iran
2013-03-01 08:49:04
5 from 5
"I am now a old man and never traveled outside the USA. This is truly a magic carpet showing me the world I would never have seen. What you have done it truly a miracle. I can't believe how perfect everything works. I have only spent an hour here and I know I will spend many more here in the future. Thank you, Thank you, Thank you."
Wallace Carlson, USA
Varvara, AirPano: Dear Wallace, thank you for your kind words! We'll be glad to see your comments again!
2013-02-20 22:35:46
5 from 5
"Wow! Truly stunning - thank you for sharing. x"
Lisa Harmsworth, United Kingdom
2013-02-09 06:58:01
5 from 5
"Simply awesome :)!"
Maria Castaneda, Colombia
2013-02-07 04:52:39
5 from 5
"The only thing I can say, is that this is outstanding. The views that we get on this site, is like being there, only we save the airfare, and hotel. No, I must say it is even better than being there!!!"
Joe koncur, USA
2013-02-04 05:02:05
"Wonderfully!!!!!.God created man in his own."
Mirta Campi, Argentina
2013-02-03 20:52:17
5 from 5
"Wonderful pix!I feel like I am there!
I loved it when I was there in 2000,
just 11 months before 911,and,being beneath the Twin towers?we decided to go up some other visit.
how ironic!Pat in U.K."
patricia davies, United Kingdom
2013-02-03 20:50:38
5 from 5
"very beautiful city.thank you"
ibrahim mohamadi, Iran
2013-02-01 12:47:42
"very good"
mohamad mezergi, Iran
2013-01-27 20:22:57
5 from 5
"Wonderful place... I would like to visit it one day. :)"
Ivan Asić, Bosnia and Herzegovina
2013-01-25 00:38:38
5 from 5
"aaaaawwwwsome!"
Roland Viotti, Spain
2013-01-24 22:42:31
5 from 5
"Quite an incredible accomplishment. Congratulations for showing us New York and Manhattan - I've enjoyed the photographs and information very much indeed! Thank you."
Carol Dreyer, South Africa
2013-01-24 21:44:39
5 from 5
Luciano Tomalino, Italy
2013-01-23 13:05:27
5 from 5
"Ces photos sont vraiment très belles et la prise à 360°donne un bel effet."
Jean-Luc Christmann, Benin
2013-01-21 14:49:31
5 from 5
"Beautiful,awesome NEW YORK city!
congrats, great job!"
MARIA FOTOPOULOU, Greece
2013-01-20 11:23:27
"I love New York it really is very beautiful"
jessica zheng, China
2013-01-18 03:43:56
5 from 5
"The photography, the video, the music, pure artistry. The panorama from space, set to music, simply brilliant. I appreciate seeing so many positive responses from all around the world. I'll be back again and again. Thank You. Arizona."
Randy Jones, USA
2013-01-17 20:28:47
"Thx, this is the best thing i ever see. Better then TV or Movie. Thx."
Roger Ischi, Switzerland
2013-01-17 05:57:36
5 from 5
"I have traveled around the world with your photography great job"
Hampton Gould, USA
2013-01-17 01:10:16
4 from 5
"Not bad for a 360 view..!Not bad for a city..!
Just kiding...! Who doesn't love NY..? Splendid..!
J'adore NY!
Vakis, Thessaloniki, Macedonia, Greece."
Akrivos Stergiou, Greece
2013-01-16 11:22:58
5 from 5
"Fantastic, just fantastic. Thanks."
Marcus Almgren, Norway
2013-01-16 02:58:29
5 from 5
"J'étais aussi à NYC 8 j en Février 2007, bien que montée à l'Empire State et la Statue de la Liberté, je n'avais pas vu la ville sous cet angle SPLENDIDE !"
Josette CATILLON, France
2013-01-16 01:37:33
5 from 5
"I want to thank and congratulate you! Your photographs are really breath taking and your creativity is above everything!"
Fernanda Puente, Mexico
2013-01-16 01:35:34
5 from 5
"wonderful, like a bird in flight
ïðåêðàñíî, êàêî ïòèöà âî ëåò"
Dimche Ackov, Macedonia
2013-01-15 21:43:50
5 from 5
"Enjoyed every bit of it. More beautiful than reality"
Eirik N, Norway
2013-01-13 17:30:51
"hermoso trabajo para nosotros que no hemos podido verlo en persona"
Ramon Burgos, Dominican Republic
2013-01-13 17:09:55
"mi comentario es que es una maravilla la oportunidad de disfrutar un viaje increíble ,conocer cercanamente gracias a ustedes."
jessica carrillo, Chile