Panorama of Angel waterfall on homepage of Bing search engine
05-03-2014

As a result of our partnership with Microsoft, Bing search engine got the opportunity to show spherical panoramas by AirPano on the Bing homepage. Every day on Bing page appears new photo, but now there is also possible to demonstrate spherical panoramas.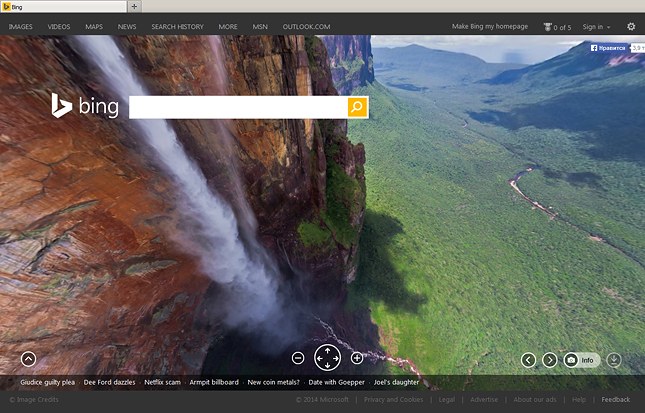 Results of the photocontest "Golden Turtle"
03-03-2014

On 28th Februaty was a ceremony of announcement of results of the 8th photocontest "Golden Turtle". Photo "Awakening of the volcano", which was taken by Dmitry Moiseenko for AirPano project, is one of the laureates in the category "Landscape". We also congratulate Dmitry Moiseenko on the fact that another his photo "As yet... ugly penguin" is a laureate in the category "Portrait of an animal". Photo "Bryce Canyon" by Mike Reyfman, who made this photo also for AirPano project, was in the final of the contest. The best photos of the competition are in the exhibition in St. Petersburg, Russia. Exhibition presents 160 of the best photos selected from 15,000 submitted to the contest from 59 countries. The exhibition will be in St. Petersburg from 1st March till 18th May. This exhibition will be in Moscow from 27th June till 20th July.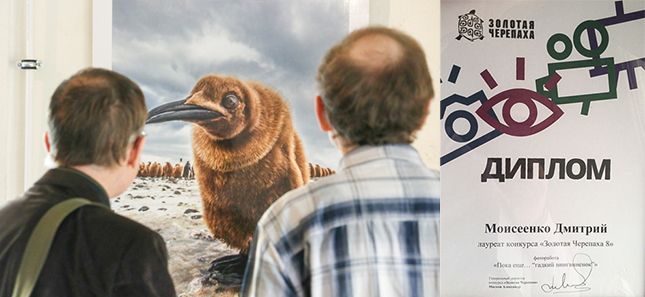 Master class in Moscow
10-02-2014

On Saturday, 8th February, AirPano team held a master class "Spherical panoramas. Foundation of shooting, stitching and retouching". Dmitry Moiseenko and Ivan Roslyakov told about the basics of shooting spherical panoramas and panoramas preparation for the demonstration. There is a video of this master class in Russian, on YouTube.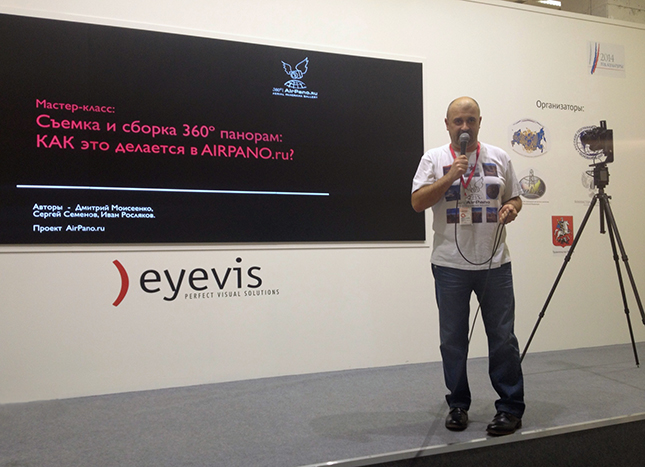 Our panorama in the Moscow Sretensky theological seminary
22-01-2014

There is Sretensky theological seminary in Moscow — an institution of Russian Orthodox Church, that studies and prepares Orthodox priests. It is located at the Sretensky Monastery. Our panorama «Church of the Intercession of the Holy Virgin on the Nerl River, Russia» is printed in very big size (shorter side is two meters long). This panorama decorates one of the walls at the classroom of «Holy Russia».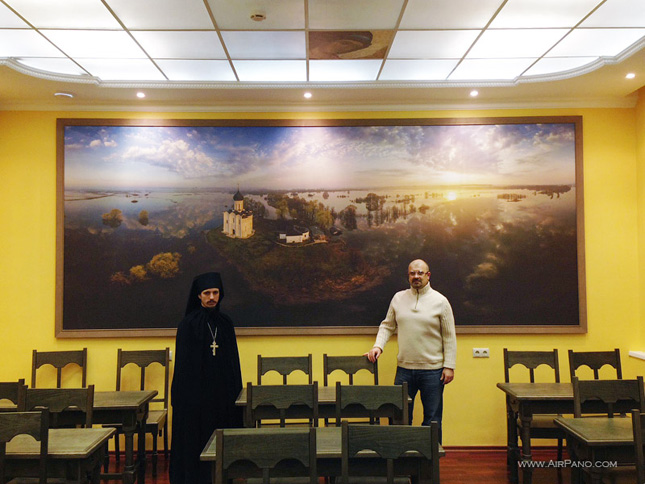 «100 Wonders of the World» exhibition
21-01-2014

There is an exhibition of the international photofestival «100 Wonders of the World» in St.Petersburg, Russia. There are photos of AirPano photographers Sergey Semenov and Dmitry Moiseenko. The exhibition is open from 1th January till 2nd March.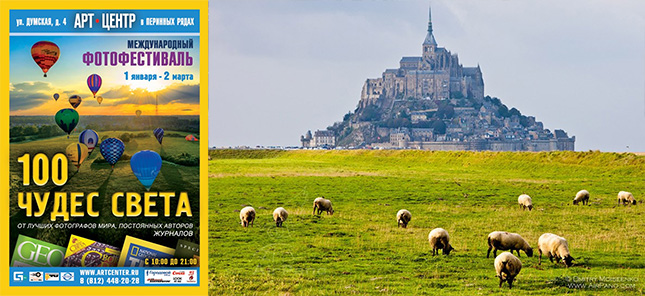 AirPano participates in the exhibition of landscape photography «Primordial Russia»
20-01-2014

There will be an exhibition «Primordial Russia» in the Central House of Artists, Moscow from 25th January till 23th February. There will be shown more than 200 unique photos. There is no human, no industrial landscapes in this exhibition — there is only nature, animal world and unrepeatable landscapes of all Russian regions. There will be 13 bird's eye view photos by AirPano, including photos from lake Baikal and Kamchatka. Our photos, which will be in the exhibition, you can see in the gallery.

Succes at the The Best of Russia 2013 competition
03-01-2014

In the beginning of January the results of the one of the most important Russian photocompetitions — The Best of Russia 2013 — were announced. This year 2 photos of AirPano project are in the list of winners in «Architecture» category. In April 2014, in Moscow, in the WINZAVOD Centre for Contemporery Art will open an exhibition with photos, which won in the competition.

Publication in the Metro
17-12-2013

On 17th December the Metro newspaper published an article about our virtual tour over the Moscow, Russia. «Grand tour of Moscow, Russia» includes 107 aerial panoramas. FYI: the Metro newspaper is the most read daily newspaper in Russia.
Grand tour of Moscow, Russia
16-12-2013

On Monday, 16th of December, we published virtual tour, which have been shooting over the most famous sights of Moscow. Also we created a brief summary «Moscow, the best», which contains 22 panoramas of the most interesting places of the city. For today «Grand tour of Moscow, Russia» is our largest project, it includes 107 aerial panoramas. There was no similar shooting in the history of Moscow.
«Russia-1» TV channel published a video reportage about the «Grand tour of Moscow».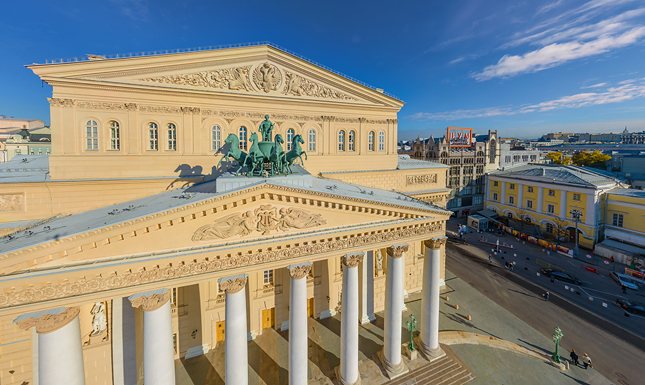 The presentation of prize for the winning in Epson International Pano Awards 2013
06-12-2013

In a warm and friendly atmosphere our photographer Dmitry Moiseenko was awarded for winning the Epson International Pano Awards 2013. Irina Gorshonkova, representative Epson office in Russia, gave projector to Dmitry Moiseenko. We have won the prizes for the total amount of 8 000 $, but most of them are still on the way.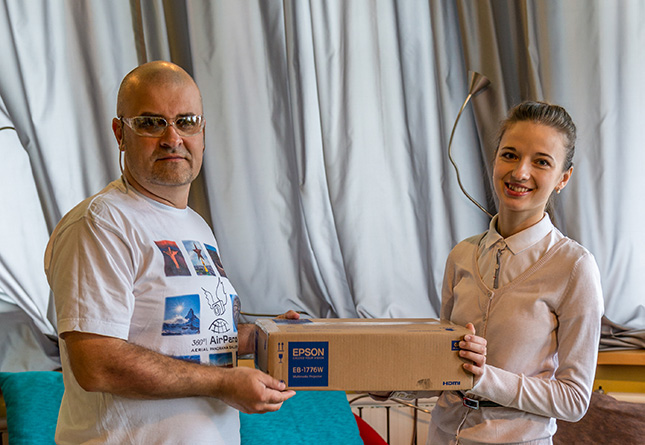 Panoramic calendar with AirPano photos
01-12-2013

GEO published large panoramic calendar «Der Blick ins Weite» for 2014 («Gazing into the Distance» in free translation from German). This calendar contains only photos taken by AirPano (authors of the photos are O. Gaponyuk, D. Moiseenko, S. Rumyantsev, S. Semenov). When author's copies came from a custom house, we found out that 10 calendars weight nothing less than 70 kilograms. German puctuality is amazing: calendar complect includes set of details for fastening on a wall and even a rope.
Anyone can buy the calendar here:
http://shop.geo.de/geo-panorama-kalender-2014-der-blick-ins-weite.html#3
http://www.amazon.de/GEO-Panorama-Der-Blick-Weite-2014/dp/B00AYVPXJ8
http://www.teneues.com/shop-de/kalender/marken/mohn-media/geo-kalender-aussergewoehnliche-fotografie-aus-aller-welt/geo-panorama-der-blick-ins-weite-2014.html
Note: calendar is printed in German.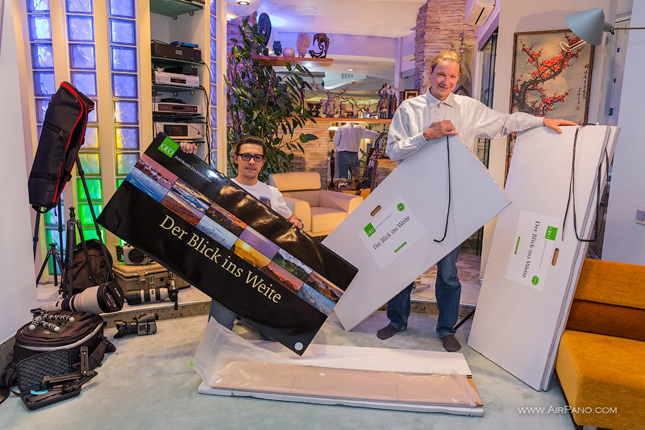 Success at the International Panoramic Photo Competition
14-09-2013

4th Epson International Pano Awards 2013 http://www.thepanoawards.com/ ended with impressive results for AirPano team. Dmitry Moiseenko was first in "VR / 360 Photo" category, he also won 1st and 3rd places in "Architecture" category for professional photographers.
AirPano team members took all three awards in "360 Pano" category:
1 - Dmitry Moiseenko
2 - Dmitry Moiseenko
3 - Ivan Roslyakov
Top 10 of the Best of Show contains 7 photographs from AirPano: 1st, 2nd, 3rd, 4th, 5th, 7th and 10th places. Moreover, Best 50 Spherical Panoramas of 2013 include 24 panoramic pictures taken by AirPano team! You can view the top VR/360 video slideshow presentation here.
It is worth mentioning that Sergey Semenov took the first prize of the competition in 2012, and Oleg Gaponyuk was named the panoramic photographer of the year in 2011.

Video reportage about AirPano on RUSSIA TV
10-09-2013

At the end of August VGTRK (RUSSIA TV channel) crew filmed a story about AirPano shooting aerial spherical panoramas of Kremlin. On Saturday, September 7th the story was featured in "Saturday News" on Russia-1 channel.
Also on September 7th "RIA Novosty" website published an article and a video story about AirPano project and the virtual tour above Kremlin dedicated to Moscow City Day.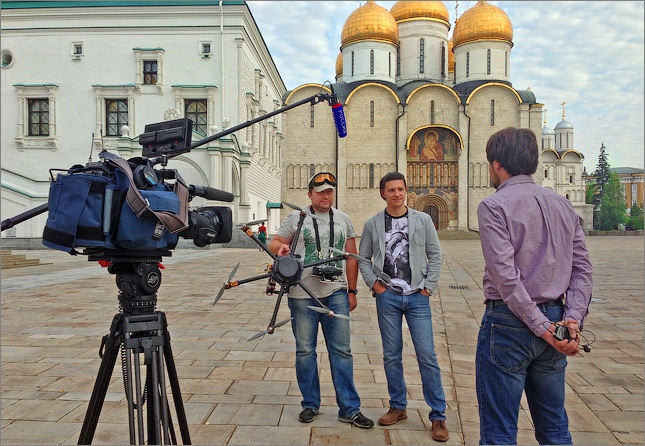 Antelope migration in Kenya from a bird's eye view
15-08-2013

In August 2013 our photography team consisting of Sergei Semenov and Stanislav Sedov went to Africa to shoot crossing - the antelope migration. The most dramatic moment of migration is river crossing by thousands of animals. This photo expedition was a challenging one for AirPano team...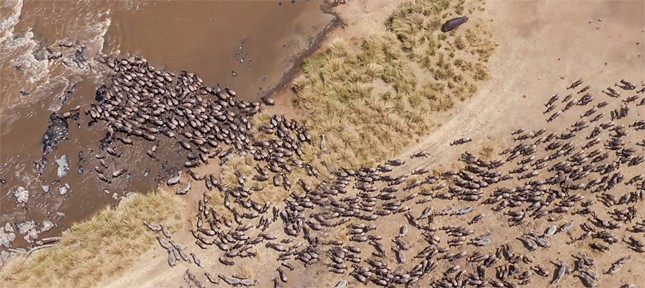 Read more ››
"Echo of Moscow" Radio on AirPano
02-07-2013

"EchoNet", a daily show on a biggest Moscow radio station focused on interesting and useful web resources, talked about our project in June 2013. "AirPano (traveling online)" article is available on their website.
Show archive ››