The presentation of prize for the winning in Epson International Pano Awards 2013
06-12-2013

In a warm and friendly atmosphere our photographer Dmitry Moiseenko was awarded for winning the Epson International Pano Awards 2013. , representative Epson office in Russia, gave projector to Dmitry Moiseenko.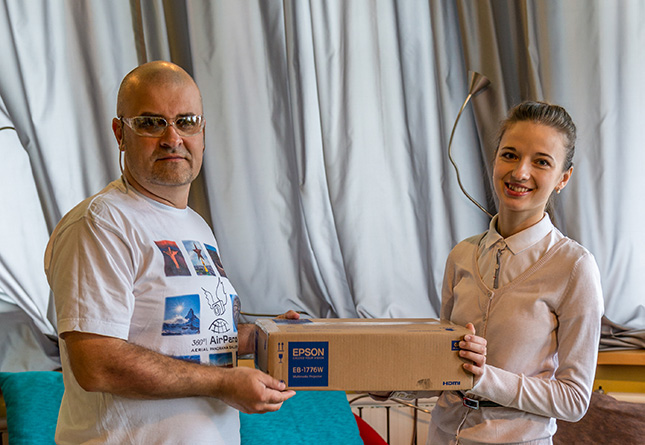 Panoramic calendar with AirPano photos
01-12-2013

GEO published large panoramic calendar «Der Blick ins Weite» for 2014 («Gazing into the Distance» in free translation from German). This calendar contains only photos taken by AirPano (authors of the photos are O. Gaponyuk, D. Moiseenko, S. Rumyantsev, S. Semenov). When author's copies came from a custom house, we found out that 10 calendars weight nothing less than 70 kilograms. German puctuality is amazing: calendar complect includes set of details for fastening on a wall and even a rope.
Anyone can buy the calendar here:
http://shop.geo.de/geo-panorama-kalender-2014-der-blick-ins-weite.html#3
http://www.amazon.de/GEO-Panorama-Der-Blick-Weite-2014/dp/B00AYVPXJ8
http://www.teneues.com/shop-de/kalender/marken/mohn-media/geo-kalender-aussergewoehnliche-fotografie-aus-aller-welt/geo-panorama-der-blick-ins-weite-2014.html
Note: calendar is printed in German.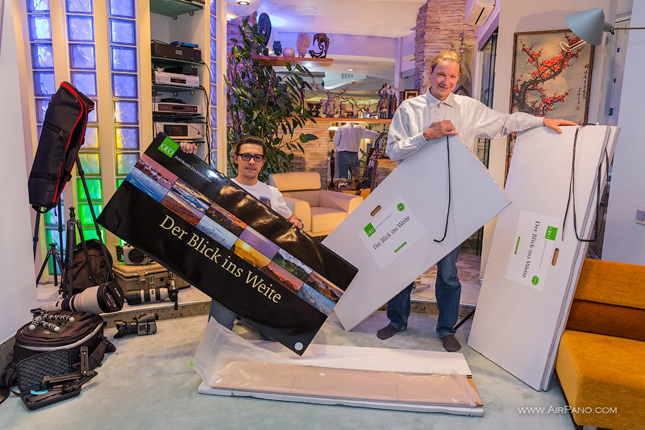 Success at the International Panoramic Photo Competition
14-09-2013

4th Epson International Pano Awards 2013 http://www.thepanoawards.com/ ended with impressive results for AirPano team. Dmitry Moiseenko was first in "VR / 360 Photo" category, he also won 1st and 3rd places in "Architecture" category for professional photographers.
AirPano team members took all three awards in "360 Pano" category:
1 - Dmitry Moiseenko
2 - Dmitry Moiseenko
3 - Ivan Roslyakov
Top 10 of the Best of Show contains 7 photographs from AirPano: 1st, 2nd, 3rd, 4th, 5th, 7th and 10th places. Moreover, Best 50 Spherical Panoramas of 2013 include 24 panoramic pictures taken by AirPano team!
It is worth mentioning that Sergey Semenov took the first prize of the competition in 2012, and Oleg Gaponyuk was named the panoramic photographer of the year in 2011.

Video reportage about AirPano on RUSSIA TV
10-09-2013

At the end of August VGTRK (RUSSIA TV channel) crew filmed a story about AirPano shooting aerial spherical panoramas of Kremlin. On Saturday, September 7th the story was featured in "Saturday News" on Russia-1 channel.
Also on September 7th "RIA Novosty" website published an article and a video story about AirPano project and the virtual tour above Kremlin dedicated to Moscow City Day.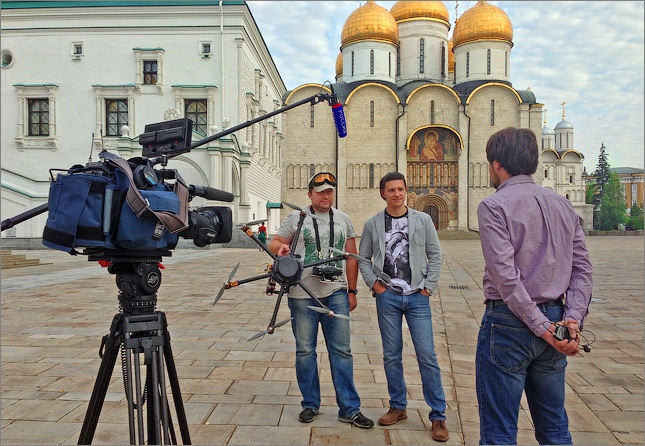 Antelope migration in Kenya from a bird's eye view
15-08-2013

In August 2013 our photography team consisting of Sergei Semenov and Stanislav Sedov went to Africa to shoot crossing - the antelope migration. The most dramatic moment of migration is river crossing by thousands of animals. This photo expedition was a challenging one for AirPano team...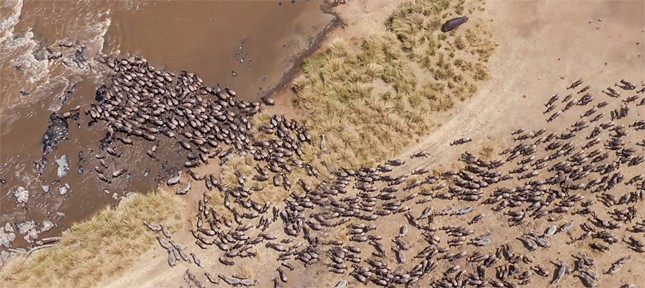 Read more ››
"Echo of Moscow" Radio on AirPano
02-07-2013

"EchoNet", a daily show on a biggest Moscow radio station focused on interesting and useful web resources, talked about our project in June 2013. "AirPano (traveling online)" article is available on their website.
Mike Reyfman - Winner in Landscapes Category in Nature's Best Photography Windland Smith Rice International Awards 2012
17-06-2013

This year display of extraordinary award-winning images of Nature's Best Photography Windland Smith Rice International Awards 2012 opens at the Smithsonian's National Museum of Natural History.
Our colleague Mike Reyfman is a winner in a landscapes category with the work "Seljalandsfoss Waterfall, Seljalands, Iceland". The annual Windland Smith Rice International Awards program become one of the most highly-respected and visually compelling nature photography competitions in the world. Approximately 25,000 entries are received and judged this year in the Awards competition.
Here you can see all winning works.

President of Russia V. V. Putin handed AirPano the Grant Certificate from the RGS
30-04-2013

On 30th of April President of Russia V. V. Putin handed Sergei Semenov, the representative of AirPano team, the Grant Certificate from the Russian Geographic Society (RGS)...

Read more ››
"International Panorama" article about AirPano in NG Russia
03-04-2013

In April edition of the National Geographic Russia Magazine (N4, 2013), the article "International Panorama" about AirPano project was published.

Publication in Digital SLR Photography
28-03-2013

There was a publication about AirPano project in the March issue of Digital SLR Photography magazine.

Half of million visits to our site yesterday
12-01-2013

11th of January 2013 Google Analitycs counter showed 512 283 visits to our website. It's the first time when we have the half of million visits for one day.

Mount Everest has been photographed from record height
11-01-2013

Our photographer Ivan Roslyakov went up to 7100 meters (23294 feet) in a helicopter. This is an absolute record for rescue helicopters in Nepal. In order to make the flight, a pilot even sacrificed Ivan's oxygen tank. Despite the life-threatening conditions, the photographer managed to shoot several aerial panoramas of Mount Everest from unique angles.

7 million views in one year!
10-12-2012


To everyone's surprise, a humorous panoramic photo shot by Sergei Semyonov in front of a window of a 37 floor Millennium Hotel in New York (7 million views) left behind our most popular and unique panorama shots in the skies above the pyramids of Egypt (3 million views) and Taj Mahal (2 million views)...
Read more ››
AirPano - the laureate of the competition "Runet Award 2012"
22-11-2012

The laureates of people choice award of Runet 2012 were announced on the 21st of November during their official award ceremony. The projects AirPano, Yarmarka Masterov, This is Horosho and Warface were awarded 4 kilogram statues covered with gold. Thank you so much to everyone who was voting for us during the November 2012!
Video from the awards ceremony:
Special edition of National Geographic Russia
16-10-2012

Mike Reyfman's panorama of Bryce Canyon, made under AirPano project, was published on exclusive insert of National Geographic Russia special issue - Best Photos of 2012. Our congrats!

Read more ››
Show archive ››