AirPano Travel Book on iPhone
23-11-2014

The AirPano Travel Book application is now available on the iPhone! The first version of the app was released in the summer of 2014 and was suitable only for the iPad. Now, owners of iPhones can download this great application too. The AirPano Travel Book is #1 in the Travel category by number of downloads. Also, the application has been listed amongst the best apps in the AppStore. You can download the app here.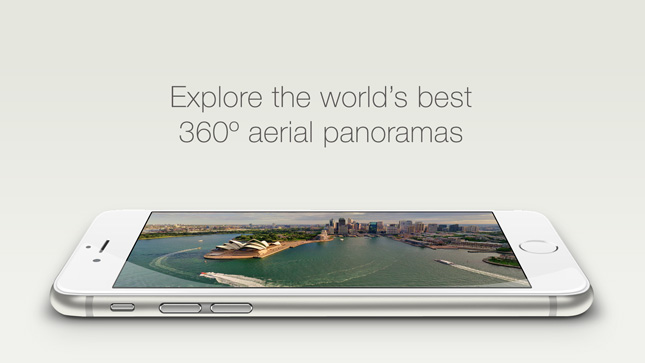 Trierenberg Super Circuit
15-10-2014

AirPano Team did a great job at one of the biggest contest of Europe Trierenberg Super Circuit. Dmitry Moiseenko and Sergey Semenov took 4 gold medals in categories: "Landscape — world travel", "Panorama" and "Architecture and sights".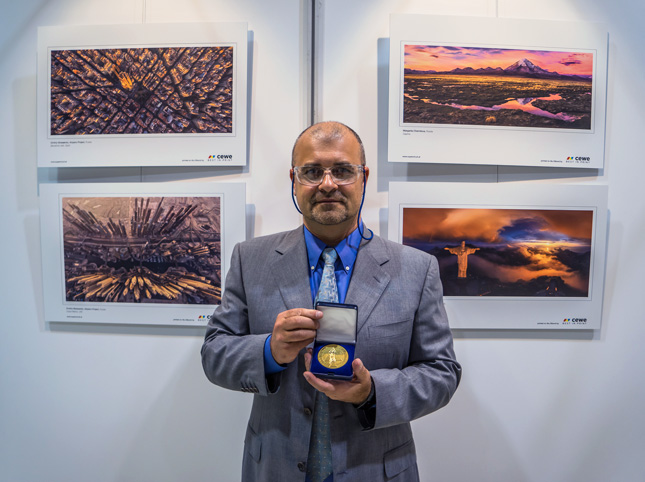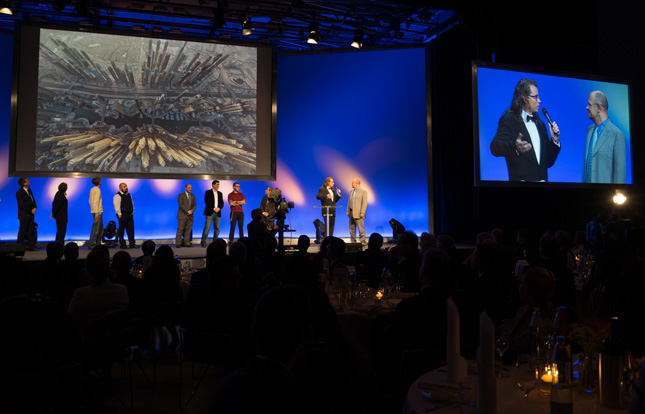 AirPano photos in the Welt der Wunder
17-09-2014

In September edition of the Welt der Wunder magazine AirPano photos were published. Spherical panoramas in the form of planets of 8 famous cities of the world were published in the article "Die welt von oben" ("The world from above").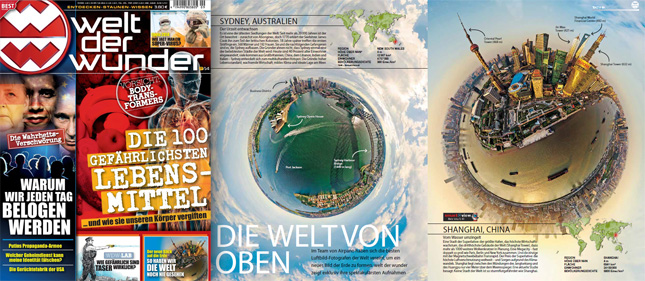 Epson International Pano Awards 2014
10-09-2014

In 2014 AirPano Team again did a great job at the Epson International Pano Awards. Dmitry Moiseenko took the first place in "VR / 360 Photo" category. There are 5 top places in every category. In addition to the main prize Stas Sedov and Dmitry Moiseenko took 4th and 5th awards in "VR / 360 Photo" category. A large number of works of our project also hit the Top 50.

AirPano Travel Book is the best of july in AppStore
19-08-2014

Our App 'AirPano Travel Book' is being featured as Best of July on the App Store in UK and some other countries. Check it out here.

AirPano Travel Book has received the FWA Mobile Of The Day Award
18-08-2014

FWA is an industry recognised award program, established in 2000, showcasing projects which use cutting edge technology, together with inspirational ideas, that lead the way for future generations. We are pleased to announce that AirPano Travel Book has received the FWA Mobile Of The Day (MOTD) Award for 18th August 2014.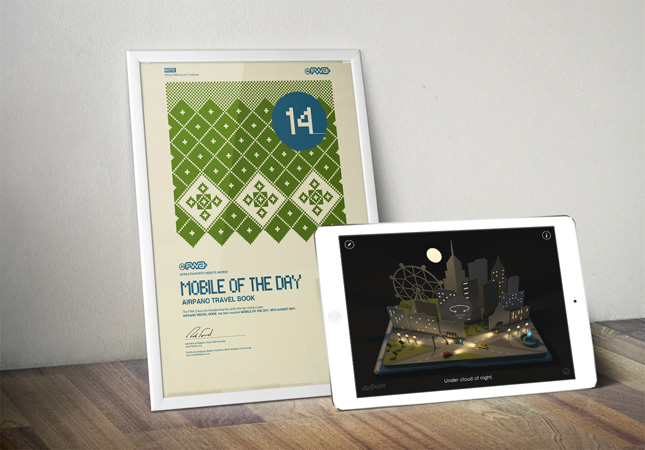 Success of AirPano Travel Book
09-07-2014

We have released new iPad application AirPano Travel Book in June 2014. It was a pleasant surprise, that application has got into the list of best new apps in AppStore immediately after the release. Moreover, Apple placed banners of our iPad application in AppStore in 118 countries of the world. Apple also posted about AirPano Travel Book in Twitter.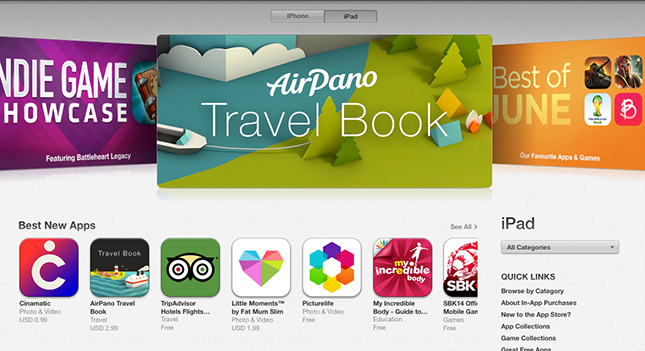 Festival of Wild Nature "Golden Turtle"
30-06-2014

Exhibition of photocontest "Golden Turtle" moved from St.Petersburg to Moscow. This year 3 photos by Dmitry Moiseenko and 1 photo by Mike Reyfman became winners and finalists of the contest. Exhibition presents 200 of the best photos of participants from 77 countries, including photos by AirPano project. Festival of Wild Nature "Golden Turtle" will be in the Central House of Artists from 28th June till 20th July.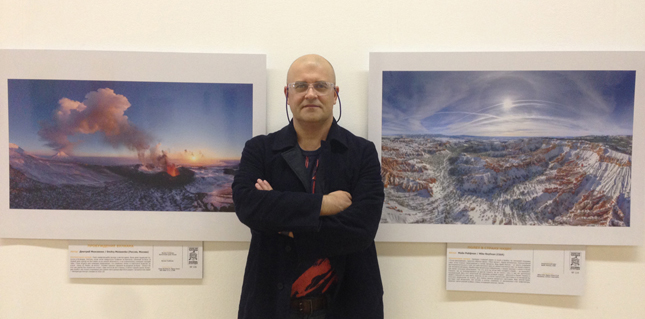 New iPad application AirPano Travel Book
26-06-2014

AirPano Project presents to your attention iPad application AirPano Travel Book. It contains the best spherical photo panoramas, created by our team in recent years. You can get more information about AirPano Travel Book here.

Virtual tours by AirPano on website of TV channel "My Planet"
24-06-2014

Recently AirPano begins cooperation with TV channel "My Planet". Worth noting, that "My Planet" is the main Russian educational channel about travel, science and history. Now you can see our virtual tours and read our articles on Russian on their website.

Video tutorials by AirPano and Nikon
23-06-2014

Photographers of AirPano project teach to make a beautiful photo, shoot panoramas, landscapes, city scenes and portraits. There are also video tutorials about usage tripod, photo filters, flash, about necessary photo accessories and about shooting in difficult weather conditions. Sergey Semenov, Sergey Rumyantsev and Dmitry Moiseenko give useful tips on shooting and demonstrate their use. Video tutorials are available on Russian here.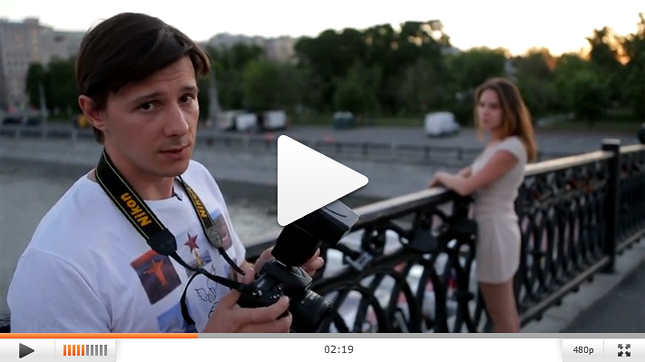 AirPano on CubeArt exhibition
11-06-2014

AirPano took part in CubeArt exhibition in Moscow. The exhibition will feature a unique kind of modern art made by CubeWorksStudio and panoramas made by AirPano. Exhibition will be in the Center of Design "ArtPlay" from 30th May till 30th July.

AirPano took part in the Long Night of Museums 2014
13-05-2014

There will be the 8th "Long Night of Museums" in Moscow on saturday, 17th May. Panoramas of AirPano project will be broadcast on the wall of Center of Design "Artplay" from 11 p.m.

Panoramas of AirPano project in Russian airports
12-05-2014

Videos based on spherical panoramas by Airpano are being shown in the largest airports of Russia. Project started in Sochi, Irkutsk and Chelyabinsk on the 1th May. Full launch of the project in all Russian airports is planned for 19th May.
AirPano application for Samsung Smart TV
08-05-2014

There is an application with AirPano panoramas in the Russian Samsung Apps store. Now it is possible to watch our panoramas via Samsung Smart TV. There is a function in the application to use AirPano panoramas as a screensaver for Samsung Smart TV. Application is available in the Russian Samsung Apps store for free.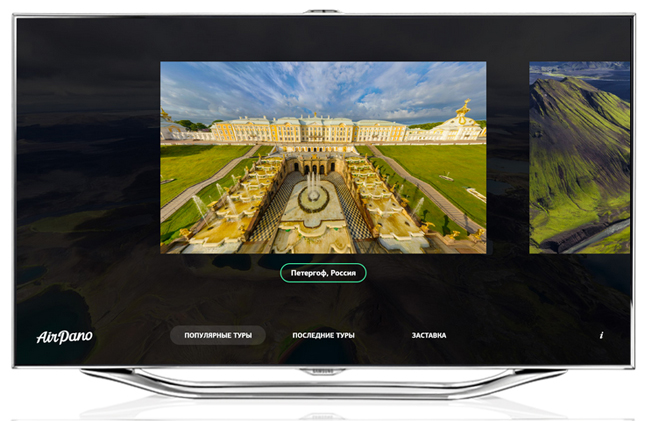 Show archive ››