Victoria Falls, Zambia and Zimbabwe border
•
360° Aerial Panoramas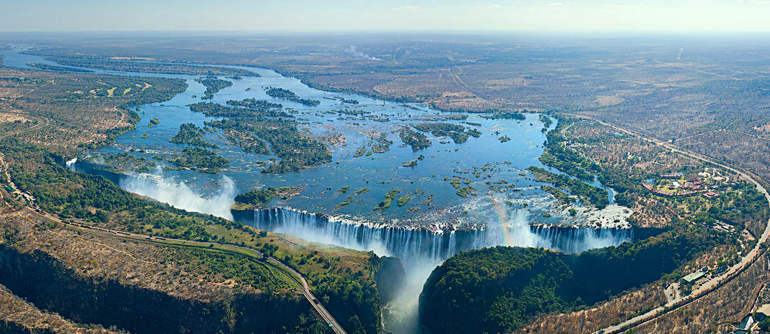 ---

"Victoria" — is one of the most spectacular attractions of Africa and one of the most unusual waterfalls in the world. It is created by the Zambezi River that suddenly plummets into a narrow, 100-meters deep chasm. At the same time, Victoria — is the only waterfall in the world that is over one kilometer wide and over one hundred meters deep.

Its roar can be heard from 40 kilometers away, while the spray and mist from the falling water rises up to 400 meters and is visible from the distance of 50 kilometers. Even the rainbows are incredible here — they are of the "moon" kind: produced by the light reflected off the surface of the Moon.
The falls were discovered in 1855 by David Livingstone, the British doctor and a missionary, who named them in honor of Queen Victoria. Locals called this Nature's wonder "Mosi-oa-Tunya" ("The Smoke Which Thunders") and were afraid to even get close to it. Brave Livingstone was the first European who could cross the entire Dark Continent from the South to the North. His expedition, aimed at bringing Christianity to Africa, was accompanied by 300 warriors from one of the tribes, but only two of them dared to get close to the waterfall.
However, the traveler was not too happy about his discovery. For Livingstone, this wall of water was just an obstacle that prevented the Christians from reaching the tribes in the depths of the continent.
For a long time the waterfall remained practically without any visitors, until the construction of the railroad in 1905. Nowadays, this place is named a World Heritage Site by UNESCO. Locals from both Zambia and Zimbabwe have lost their fears of the "Smoke That Thunders" and they have successfully developed tourist business on both sides of the river.

Curiously, during the dry season that lasts approximately from September to December, water level in Zambezi river falls, and one can walk through the most part of the waterfall, jumping between the streams that are running down. However, at all other times, Victoria is a roaring machine, the power of which leaves an unforgettable impression.
One of the peculiar ways of entertainment at Victoria, hardly known to the mainstream tourists — is a natural pool, about ten meters wide, located right next to the cliff, next to the Livingstone's island. Just a narrow strip separates it from the deep precipice. No wonder that his place was called "Devil's Pool".
After getting into this pool the swimmer can feel how tons and tons of swirling water plummet nearby. This pool is closed during the high-water season, as the swimmers can be dragged by the current into the precipice, so the tours to this pool only start in autumn.
Photos taken from http://exfun.ru
Victoria is not the tallest waterfall in the world (how could its 100-meter height compare with a 979-meter tall Angel in Venezuela). However, bungee jumping from "Victoria Falls" bridge is a very popular activity here. Anyone wishing to try bungee jumping is tied by the elastic cords, and then he or she plummets downwards, experiencing the thrill of the free-falling for just a few seconds. The cord stretches near the water, bounces back and about a dozen of times, and afterwards the jumper is brought up.
However, the safest way to admire the waterfall would be from the height of the bird's flight, which we offer you here.
Photography by Dmitriy Moiseenko
26 April 2010
Comments
2017-06-21 21:36:45
2 from 5
"Geat Idea to see the world."
sadayappa durairaj, USA
2016-09-20 14:46:54
5 from 5
"This is very nice and I am planing to visit the big in December with my wife."
Ronald Chikwasa, Zambia
2016-08-03 16:11:26
5 from 5
"I stay in Zambia and have visited the Victoria Falls several but I've never had such an awesome view with so much detail as this one. This is beyond great."
Martins Shumba, Zambia
2016-05-18 09:00:11
5 from 5
"Wow!!!
Amazing :"
Akash Yadav, India
2015-07-20 11:28:02
5 from 5
"amazing"
bob smith, Australia
2015-03-06 07:37:42
4 from 5
"very nice to watch the video and really enjoyit."
R RAVINDRAN RAVINDRAN, India
2014-12-22 13:36:58
5 from 5
"Absolutely stunning view of the area I have visited more than 50 times but never knew it was this mind blowing really! The view on here is terrific makes me wanna go back there tomorrow!!!!"
Rold baloyi, Zimbabwe
2014-12-20 06:02:08
5 from 5
"Thank you for sharing this incredible photography of God's wondrous earth! The accompanying music was also beautiful and so relaxing. What is that..artist and the piece that plays during the awesome tour of Victoria falls? Can't wait to view the rest! Thank you for sharing and merry Christmas!"
Sally Conner, USA
2014-11-12 14:13:42
"ITS DAAM GOOD"
SOURISH MOGRE SAVAR, India
2014-10-10 12:00:00
5 from 5
"it was impressive.thanks alot."
fatemeh doosti, Iran
2014-07-10 14:41:15
5 from 5
"This is great we live in Livingstone and run a tourism based company "Elephant Oasis African Bush Dinners" and this a great opportunity for people to understand the beauty of the Victoria Falls and get people excited about coming to see it in person. Well done Airpano! excellant."
Chantal Vine-Jordan, Zambia
2014-06-28 01:19:59
5 from 5
Albert Martin, USA
2014-04-27 22:12:46
5 from 5
"breathtaking scene! simply unforgettable!!"
sujay basu, India
2014-03-31 05:40:30
5 from 5
"Absolutely Awesome. I am a disabled Veteran and have seen some of these places in person but the 3-d tour is AWESOME, How do I download it for my I-pad?"
Marvin Hardy, USA
2014-03-19 21:07:59
5 from 5
"What a waterfall discovered!!!
I like it so much."
Shishir Mehadi, Bangladesh
2014-02-02 17:38:38
4 from 5
"save money then go there without hesitation!"
QIyv Chen, China
2014-01-24 14:13:51
5 from 5
"I was there one week ago, and this is an indescribable place! Incredibly large, incredibly beautiful and powerful."
Katherine Griggs, USA
2013-12-21 14:40:27
5 from 5
"Wow!Beautiful World & Thanks for wonderful photography. My love towards Water Falls , Mountains & forests remains in my heart where ever I visit. Visited Niagara & Grand Canyons amazing & happy to see them , next is this beautiful Water Fall Victoria."
Sumedha Dharmasena, United Arab Emirates
2013-12-17 06:14:10
5 from 5
"Almost seen the world. But this is different. Superb."
Khozem basrsi Basrai, India
2013-12-02 18:48:14
"fantastico, maravilhoso"
jose montenegro, Portugal
2013-11-24 15:14:56
5 from 5
"Born and raised in the area desperate to go back. Thank you for this wonderful view of this magnificent place."
amanda van der bank, United Kingdom
2013-11-21 20:29:05
5 from 5
"I am looking to niagara falls for the first time which chang the picture in my mind about zambia which was zambia is african backwardness country but now my dream that some day I can visit and injoy very very lovely country thank you friends"
salah kharboutli, Syrian Arab Republic
2013-11-06 13:59:28
5 from 5
"We lived in Victoria Falls Village for many years and to see it again in this form brings back many very happy memories,wonder were all the old friends landed up in the world? Love to hear from someone."
Graham and Eve Ingles, Australia
2013-11-01 21:27:38
5 from 5
"Splendide!!! car les vues d'ensemble permettent de mieux comprendre le phénomene"
peyre nicole, France
2013-10-17 07:55:13
"I grew up in Wankie, 70 miles south of Vic Falls, and we used to travel up there pretty often; in fact so often you didn't even bother to look sometimes, because all you wanted to do was head for the Vic Falls Hotel and a cold Lion Lager. Nice to see it all again though."
Peter Brown, Australia
2013-09-19 13:34:10
5 from 5
"very very good..wow.."
jafari Pouya, Iran
2013-09-16 08:35:23
5 from 5
"wonderful world we live in thanks muchas gracias estan de maravilla!"
arcadio varela, USA
2013-09-05 16:36:12
"非常漂亮的瀑布,很喜欢,真的是很奇特的风景,在一望无际的平原上,她弯弯曲曲的流淌"
杨 杜军, China
2013-09-01 11:38:43
5 from 5
"It is really nice
thank you very much"
abbas niknejad, Iran
2013-08-28 22:11:16
5 from 5
"magestic creation of the Allmighty WOW"
maymoona khan khan, South Africa
2013-08-19 15:39:11
""wah! fantastick,its amazing,"
Lundup Landon, China
2013-08-04 14:22:50
5 from 5
"too wonderful for comment..."
Lucia Vulpescu, Romania
2013-06-26 18:41:30
5 from 5
"Impresionante!!, efectivamente se siente como si uno hubiera estado allí. Felicitaciones por el trabajo extraordinario a quien hizo posible admirar estas maravillas."
Maria Mora, Ecuador
2013-06-08 00:29:56
5 from 5
"Beautiful,thank you to let us share these nice pictures ! God bless you
jeanne naef, Guadeloupe"
jeanne naef, Guadeloupe
2013-06-07 06:39:44
5 from 5
"Increíblemente hermoso y además didáctico, sin dudas el "mejor" en su especie."
Ulán Arias A, Costa Rica
2013-06-05 00:03:39
5 from 5
"DE A VER NACIDO 15 AÑOS ANTES,QUE PENA QUEDARSE,ESTAS MARAVILLA"
silvestre alvarez, Egypt
2013-06-04 19:12:17
"De lo mas importante que e visto Fenomenales panoramicas"
VALENTI FAINE ROS, Spain
2013-06-01 07:01:25
5 from 5
"Thank you for taking us to such great places....."
Homa Rokni, Iran
2013-05-23 18:56:29
5 from 5
"wow."
xxxxxxxxxxxx yyyyyyyyyyyyyyyyy, Belgium
2013-05-23 00:07:07
5 from 5
"Que de souvenirs janvier 2008, merci aussi à Onair Helicopters en Zambie pour nous avoir fait survoler les chutes. Merci à vous pour ces photos."
PERONNEAU michel, France
2013-05-11 05:54:27
"WONDERFUL!!!"
Taís Pereira, Brazil
2013-05-11 00:00:12
5 from 5
"Wonderful photography! I grew up in Zambia and last visited in 1997 at the end of the dry season. We were able to walk along the edge of the falls from the Zambian side to Livingstone Island. Your panorama brings back the experience of a lifetime. Also, great views of the Victoria Falls bridge and the many downstream gorges where whitewater rafting is done."
Alan Chattaway, Canada
2013-05-03 18:03:19
"your photos is very good!"
chen yang, China
2013-04-21 20:49:58
5 from 5
"merci de me permettre de revoir ce superbe coin de notre planète, tant de souvenirs , juste extraordinaire, merci à tous"
chantal lambert, France
2013-04-16 04:32:44
5 from 5
"I visited Victoria falls in the summer of 1997 with my family. The scenery is better to be imagine than to describe. It was really breath taking especially the Zambian border side of it where you can actually come face to face with the falls . Yes it is one of the seven wonders of the world.p"
Gloria Smith, United Kingdom
2013-04-12 00:31:41
5 from 5
"Absolutely Fantastic!!"
heather bradley, Canada
2013-04-11 20:09:05
5 from 5
"a must watch for all geography and history teachers and parents should expose their children to things like this and not half the ROT that is there on the net.
Let us start to learn to appreciate the beauty of our world and try to save it for our future generations also."
Revaz Martin, India
2013-04-02 00:25:07
5 from 5
"I now want to go to Zambia-Zimbabwe to see another of God's creation"
Loyle Herdsman, Jamaica
2013-03-27 01:18:28
5 from 5
"Victoria Falls town is in Zimbabwe and the falls themselves are shared by the two countries.To truly appreciate the falls, they MUST be viewed from both sides where they can be seen from different perspectives especially the Knife Edge Bridge on the Zambian side."
Samuel Shankang, Zambia
2013-03-26 22:05:36
5 from 5
"Really great shot - beautiful photo.
In the 1989/1990 years I spent on the contract
in NCZ Kafue in the Zambia and I had opportunity
to tour Kariba Dam and Victoria Falls.
The greeting from the Poland."
Bogdan Polit, Poland