Virtual Tour of Dubai City, UAE
•
360° Aerial Panoramas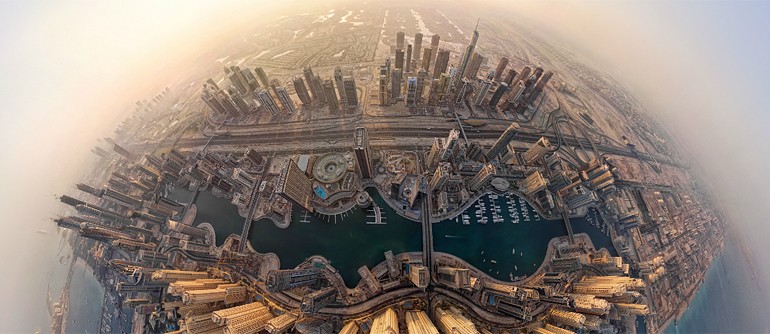 ---
The origins of Dubai trace back to the VII century, however few people associate the largest city of the United Arab Emirates with ancient times. Dubai is best described as "the City of the Future": nowhere else on the planet you will find so many incredible architectural constructions that are ultra-modern and even ahead of our times.
Here is just a short list of Dubai's attractions: Burj Khalifa skyscraper that looks like stalagmite or a desert flower with thin petals; Seven-star Burj Al Arab hotel, shaped like a sail, rises on a special artificial island (hotel room prices at Burj Al Arab start from one thousand dollars per night!); 150-meter musical fountain that lifts 83 thousand liters of water up in the air while performing Arabic and international musical hits. Breathtaking group of artificial islands: Palm islands (a gigantic tree built off the coast of the Persian Gulf) and World Islands, shaped as the Earth's continents.
All this is just a beginning! Besides its attractions, Dubai is known as a shopper's heaven. The largest shopping and entertainment center in the Middle East — "Dubai Mall" — also features one of the world's largest aquariums. "Dubai Marina" is the largest and the most exclusive yacht harbor in the world.
Note: all interesting things in Dubai either hold a world-record title in size or are pioneers in its areas. Sometimes, both things are true. For example, Ski Dubai, the indoors ski resort is not only the largest in the region, but the first one in the entire Middle East where one could enjoy skiing. One can enjoy skiing in the midst of 30 degree heat in the center of the desert — isn't it impressive? This is exactly what Dubai intends to do: to surprise, impress and bewilder with its novel ideas.
Even the weather in Dubai participates in this race for the "best of the best" title. Due to its average temperature of 35,5ºC, Dubai is one of the hottest cities in the world. Finally, beaches of Dubai have made this emirate one of the most popular resorts in the world.
Turning back to its history, a long time ago Dubai started out as exporter of pearls, but at the end of XX century it couldn't afford to act on such a small scale. Nowadays the Emirate holds a leading position in gold jewelry manufacturing, and gold prices in Dubai are such that very few can resist the temptation of bringing home half of a suitcase filled with jewelry made of this precious metal...
The United Arab Emirates is one of the most amazing countries in the world. Millions of tourists come there to see its places if interest, however, almost all of them are man-made.
The Emirates can't boast of either impressive mountain relief like the Alps do, or of water zest which is fiords located in Norway or of great forests with the richest flora and fauna of Amazonia...The desert, sea coast and oil, perhaps, are the only wealth of the UAE. That kind of wealth is quite enough in the neighbor country of the region. But exactly the Emirates are famous for their landscapes. Why so?
The answer is evident: the landscapes have been created artificially in order to overtake and surpass as well as to eclipse and impress as much as ever possible. The aim has been achieved. And the most outstanding project in that sphere is the artificial islands of the Emirates.
The construction of the biggest in the world archipelago named Palm Islands began in Dubai Emirate in 2001. Millions of tons of both sand and stones were being put by the workers imitating a palm which is the most honored and popular tree of the East. As a result, close to the Emirate's coast "three palm trees" grew: the Jebel Ali, the Deira and the Jumeira.
The Jumeira is surrounded by a crescent which is both Islamic symbol and simultaneously a breakwater. The island's size is 5 by 5 meters; the total size is comparable with eight hundred football fields. The island joins the mainland with the 300-meters bridge and the crescent and a palm top are connected with an underwater tunnel. And there is a monorail on the bridge — the first one in the Middle East.
On the Palm Islands there is a super luxurious hotel Atlantis as well as other chic hotels; most mansions and apartments have already been acquired by the richest people of the planet or are still waiting for their turn to be bought. And the rest world population can admire this beauty for free, for example, from the bird's-eye view that allows understand its size and forms.
Not far from it there is another largest artificial archipelago — the World. The idea of its creation appeared two years later. By that time Dubai had become very popular among the tourists all over the world and there was an extremely beach shortage. At the same time, in the UAE they can't just put sand into water; sand should be of any unusual form.
As Arabian sheikhs have the habit to implement grandiose plans and, therefore, they decided to create... all the Earth continents at the coasts of Dubai. But right in the process of this idea's realization it became clear that it would be hard to sell such huge territories. That is why the continents were divided into number of islands in order anyone could buy the Island of France or any state of America which is also surrounded from all sides by water. Besides, the World includes not only continents or countries but also cities or such sphere like fashion: there is the Island of St. Petersburg or the Fashion Island (Isla Moda).
Finally, now the island sizes vary from 14 to 83 thousand square meters, the width of the straits may be from 50 to 100 meters and their depth — from 8 to 16 meters.
It wasn't also easy to find a place for the future project of artificial islands. By that time the coast line had already been occupied by the Palm Islands. They had to put sand and make islands 4 km far from the coast. And they are really islands, not like the Palms: the World doesn't join the continent with a bridge. All 300 islands are available only by sea or air transports, regular ferries and private yachts or boats. The getting time will not be more than twenty minutes.
Nowadays, more than half of the World's ready objects have already been sold. The construction works still have been going on. The highest price for an island reaches 38 billion dollars. It can vary depending on location, size and distance to other islands.
Brad Pitt and Angelina Jolie are among the most famous buyers: they chosen Ethiopia. And one of the islands in Antarctica estimated at 7 million dollars became a gift of a sheikh to Michael Schumacher...
In short, Dubai is a paradise city, a page from a science fiction book, a true picture of how even the most bizarre and ambitious ideas may be implemented into reality. We hope that the panoramas and photos of Dubai will transmit the incredible greatness of the unique and the most famous city of the United Arab Emirates.
Photo by Dmitry Moiseenko
19 December 2011
Comments
2012-04-05 15:03:52
5 from 5
tarun bhatia, India
2012-04-04 23:41:23
"very nice !!!!!"
dkhili oussama, Tunisia
2012-04-01 22:46:12
4 from 5
milan mori, India
2012-03-31 06:00:25
5 from 5
"Os Homens e as Mulheres do Mundo, em Paz e com total Liberdade, com Instruçao e Coragem Podem fazer coisas Maravilhosas, grandes Projectos onde Todos Sem excepçao possam Viver com Dignidade."
Francisco Vaz Branco, Portugal
Varvara, AirPano: Unfortunately, we can't understand what you wrote. Send your message in English, please.
2012-03-30 22:57:05
4 from 5
"pscydellic"
Aldrin R, India
2012-03-30 16:11:44
5 from 5
"stupandus. &incredible. iam at loss of words.jayaraman"
jayaraman. sivaramakrishnan
Varvara, AirPano: Thanks a lot!
2012-03-30 16:05:31
5 from 5
"Awesome good work"
Sreenivaas N, India
2012-03-30 15:58:05
"太棒了!太难以置信了!AMAZING!!!"
BING LIAN, China
2012-03-27 00:50:22
5 from 5
"Lindo, Maravilhoso. Parabéns aos criadores deste Site. Deus os abençoe por nos mostrarem a Criação de Dele e a sabedoria que Ele deu aos homens."
Osni Dias Araujo, Brazil
2012-03-26 00:10:17
5 from 5
"Nagyon szép! 1 x űen csodálatos!!"
Tóth Imre, Hungary
2012-03-25 16:04:43
5 from 5
"so nice thanx a lot"
ziryab Aths, United Arab Emirates
2012-03-25 12:33:00
5 from 5
"Really perfect! Well done!"
Paul D, China
2012-03-25 00:44:46
5 from 5
"U N B E L E I V A B L E... A M A Z I N G .. FOR THE WELL IDEAS AND GOOD WORKS AND THANKS A LOT FOR AIRPANO !"
Samra Rachel, France
2012-03-23 11:37:15
5 from 5
"AWESTRUCK
Really Wonderful.
The Hard Work and the effort put in to create a place like this and Most of all covering and getting it noticed to the person far away from that location is above appreciation, Hat off to the total team work and keep going
All the Best"
Kamal N, India
Varvara, AirPano: We are grateful for your interest in this panorama. We are glad you enjoyed it. Regards!
2012-03-22 10:24:54
5 from 5
"excellent site! job well done! your site justifies the beauty of Dubai"
Albert C, United Arab Emirates
Varvara, AirPano: We appreciate your opinion.
2012-03-21 08:28:32
3 from 5
"Great...............I love it..........."
Jay Krishnan, India
2012-03-19 14:26:39
5 from 5
"simply amazing.g.prabhakaran.india,chennai."
govindaraj prabhakaran, India
2012-03-16 21:49:18
5 from 5
"çok güzel....
@b h, Saudi Arabia:türkçe müzik zoruna mı gitti arkadaşım..."
mehmet ACAR, Turkey
2012-03-15 13:21:43
4 from 5
"Amazing!"
Ibrahim Hameed, India
2012-03-11 22:48:42
5 from 5
"Wonderful job done. Palm Jumeirah is close to my heart. Only a few months ago, I visited this beautiful place. The Atlantis hotel, its surroundings, its parking space, the pools, the long road by the sea - all these come back fresh into my mind seeing your panoramic view. The write-up is also informative. Everyone who loves travelling will find this a very useful addition to tourism information. Wishing your team success with addition of many more beautiful places."
Subrahmanyam Narayanan Kumar, India
Varvara, AirPano: We are grateful for your good wishes! We are glad you found this pano well done. Good luck!
2012-03-11 15:32:19
4 from 5
"awesome"
Savad Ashraf, India
2012-03-10 18:02:31
"I Like it but I like second music more than show"
msutafa alesaeed, Saudi Arabia
2012-03-08 18:56:08
5 from 5
"A very good idea!
As a romanian travel guide I visited Dubai(and I like it so much!), but the images are really breath taking!
Congratulations!"
Toma-Dan CRETU, Romania
2012-03-08 08:42:38
5 from 5
"so nice!!I like it !"
Wang kai, China
2012-03-07 12:23:27
5 from 5
"Awesome, excellent - both the construction and the effort to cover it in this panoramic view."
Sujitha Narashiman, India
2012-03-07 12:06:55
5 from 5
"Fantastic High tech Job.Highly informative with excellent background music. Appreciation is very high, for the places visited .I had been to Dubai and now I am appreciating much better with lot of Ariel views.Congrats"
Rao T.K, India
Varvara, AirPano: Many thanks!
2012-03-06 10:50:51
4 from 5
"Excelent work & Idea..., i was really enjoyed a lot.."
sumanth kumar, India
Varvara, AirPano: That's great! come to visit us again.
2012-03-06 04:13:24
5 from 5
"Excellent!!!"
Elven Lin, USA
2012-03-05 23:30:22
5 from 5
"Awesome, awesome, awesome!
Walked by the future beach in 2010."
Les Setzer, Canada
2012-03-05 15:26:33
"This is really fantastic job you have done.
Please just tell me what is this music in this panorama photo?"
hosein alipour, Iran
Varvara, AirPano: Many thanks for a high appraisal of our work. The information you are interested in is Abdulla Qurbonov "Gozal Yorim". It's easy to know by moving you mouse cursor to the Sound Button on the screen (it's the 3-d icon from the left).
2012-03-05 10:54:07
"amazing WORK EXCELLENT,Thank you for the informative message!"
Naseem Akhtar, United Arab Emirates
2012-03-05 09:48:05
5 from 5
"Thank YOU Mohamed,
I am more convinced now why I should come back...to see YOU and the FAMILY ....and
then...DUBAI"
JACQUES/HAGOP BOYADJIAN, Australia
2012-03-05 09:00:55
5 from 5
"I love it."
Ahmed Al Sayed, United Arab Emirates
2012-03-05 00:04:44
"Wow'AMAZING!!!
I love Dubai......"
waqas javed, Pakistan
2012-03-04 20:00:32
5 from 5
"very nice,amazing!"
Mohammed Zafaruddin, United Arab Emirates
2012-03-04 17:45:51
5 from 5
"Amazing photos, amazing WORK! thx for sharing this with us. I need your help, where can i download the music Dubai dream?"
Moni J, Poland
2012-03-04 12:18:10
5 from 5
"Wow! A very good beginning to a very beautiful end. Where we'll see a map of Dubai to find anything we want. Just Zoom out from where you are and Zoom in to where you want to go. Fantastic!"
Jahanzeb Aamir, United Arab Emirates
Varvara, AirPano: Thank you!
2012-03-04 11:04:51
4 from 5
"coolness! very nice virtual experience of Dubai."
Jiggy B, United Arab Emirates
2012-03-04 10:58:46
5 from 5
"Dubai is an amazing city!! Dubai and its Ruler has proved to the world that the word impossible is not there in their dictionary!"
Sumender Reddy, India
2012-03-04 10:40:32
4 from 5
"coolness! very nice virtual experience of Dubai."
Jiggy B, United Arab Emirates
2012-03-04 08:30:51
5 from 5
"It's awesome----mind blowing...particularly for those who are unable to visit this beautifull emirate which explicitly portrays H.H.Sheikh Mohammed Bin Rashid Al Maktoum's vision and self confidence.I sincerely wish HIM a very long life to fulfill his dreams.!!"
Chandrakant Farswani, United Arab Emirates
2012-03-04 07:59:47
5 from 5
"Amazing! Even the low resolution is very clear. Expertly done. Thanks for sharing."
Tex Bacalian, Philippines
Varvara, AirPano: We are pleased you enjoyed it.
2012-03-03 05:03:50
4 from 5
"EXCELLENT .... WORK DONE ... KEEPIT GOING"
DinShaw Sahukar, India
2012-03-02 18:40:39
5 from 5
"MARVELOUS, BRAVO, KEEP GOING"
SAMYA SALIM, Kenya
2012-03-02 17:15:18
5 from 5
"It's very good to see. Thanks"
Brijesh kumar, India
2012-03-01 16:41:18
5 from 5
"WOW! Wonderful. Nice pictures"
Amitabh Bachhan, India
2012-03-01 11:40:49
4 from 5
"Nice...."
Mano M K, India
2012-03-01 07:14:07
5 from 5
"fabulous"
Mallo MO, France
2012-02-29 19:57:20
5 from 5
"me encantan , sigue y gracias"
framcisco mariscal, Spain
2012-02-28 04:29:38
4 from 5
"the music have nothing to do with Dubai or Arabs
one is Indian and the other is Turkish"
b h, Saudi Arabia