Virtual Tour of Dubai City, UAE
•
360° Aerial Panoramas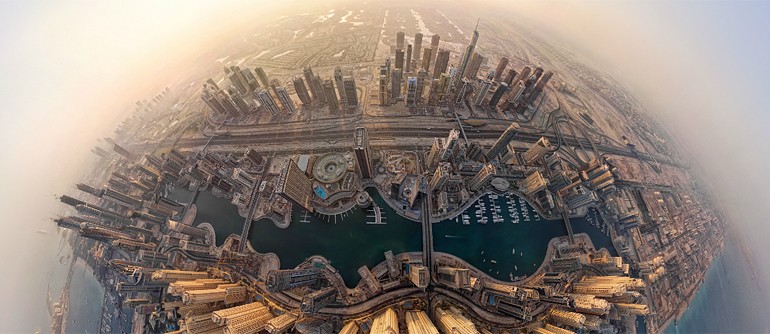 ---
The origins of Dubai trace back to the VII century, however few people associate the largest city of the United Arab Emirates with ancient times. Dubai is best described as "the City of the Future": nowhere else on the planet you will find so many incredible architectural constructions that are ultra-modern and even ahead of our times.
Here is just a short list of Dubai's attractions: Burj Khalifa skyscraper that looks like stalagmite or a desert flower with thin petals; Seven-star Burj Al Arab hotel, shaped like a sail, rises on a special artificial island (hotel room prices at Burj Al Arab start from one thousand dollars per night!); 150-meter musical fountain that lifts 83 thousand liters of water up in the air while performing Arabic and international musical hits. Breathtaking group of artificial islands: Palm islands (a gigantic tree built off the coast of the Persian Gulf) and World Islands, shaped as the Earth's continents.
All this is just a beginning! Besides its attractions, Dubai is known as a shopper's heaven. The largest shopping and entertainment center in the Middle East — "Dubai Mall" — also features one of the world's largest aquariums. "Dubai Marina" is the largest and the most exclusive yacht harbor in the world.
Note: all interesting things in Dubai either hold a world-record title in size or are pioneers in its areas. Sometimes, both things are true. For example, Ski Dubai, the indoors ski resort is not only the largest in the region, but the first one in the entire Middle East where one could enjoy skiing. One can enjoy skiing in the midst of 30 degree heat in the center of the desert — isn't it impressive? This is exactly what Dubai intends to do: to surprise, impress and bewilder with its novel ideas.
Even the weather in Dubai participates in this race for the "best of the best" title. Due to its average temperature of 35,5ºC, Dubai is one of the hottest cities in the world. Finally, beaches of Dubai have made this emirate one of the most popular resorts in the world.
Turning back to its history, a long time ago Dubai started out as exporter of pearls, but at the end of XX century it couldn't afford to act on such a small scale. Nowadays the Emirate holds a leading position in gold jewelry manufacturing, and gold prices in Dubai are such that very few can resist the temptation of bringing home half of a suitcase filled with jewelry made of this precious metal...
The United Arab Emirates is one of the most amazing countries in the world. Millions of tourists come there to see its places if interest, however, almost all of them are man-made.
The Emirates can't boast of either impressive mountain relief like the Alps do, or of water zest which is fiords located in Norway or of great forests with the richest flora and fauna of Amazonia...The desert, sea coast and oil, perhaps, are the only wealth of the UAE. That kind of wealth is quite enough in the neighbor country of the region. But exactly the Emirates are famous for their landscapes. Why so?
The answer is evident: the landscapes have been created artificially in order to overtake and surpass as well as to eclipse and impress as much as ever possible. The aim has been achieved. And the most outstanding project in that sphere is the artificial islands of the Emirates.
The construction of the biggest in the world archipelago named Palm Islands began in Dubai Emirate in 2001. Millions of tons of both sand and stones were being put by the workers imitating a palm which is the most honored and popular tree of the East. As a result, close to the Emirate's coast "three palm trees" grew: the Jebel Ali, the Deira and the Jumeira.
The Jumeira is surrounded by a crescent which is both Islamic symbol and simultaneously a breakwater. The island's size is 5 by 5 meters; the total size is comparable with eight hundred football fields. The island joins the mainland with the 300-meters bridge and the crescent and a palm top are connected with an underwater tunnel. And there is a monorail on the bridge — the first one in the Middle East.
On the Palm Islands there is a super luxurious hotel Atlantis as well as other chic hotels; most mansions and apartments have already been acquired by the richest people of the planet or are still waiting for their turn to be bought. And the rest world population can admire this beauty for free, for example, from the bird's-eye view that allows understand its size and forms.
Not far from it there is another largest artificial archipelago — the World. The idea of its creation appeared two years later. By that time Dubai had become very popular among the tourists all over the world and there was an extremely beach shortage. At the same time, in the UAE they can't just put sand into water; sand should be of any unusual form.
As Arabian sheikhs have the habit to implement grandiose plans and, therefore, they decided to create... all the Earth continents at the coasts of Dubai. But right in the process of this idea's realization it became clear that it would be hard to sell such huge territories. That is why the continents were divided into number of islands in order anyone could buy the Island of France or any state of America which is also surrounded from all sides by water. Besides, the World includes not only continents or countries but also cities or such sphere like fashion: there is the Island of St. Petersburg or the Fashion Island (Isla Moda).
Finally, now the island sizes vary from 14 to 83 thousand square meters, the width of the straits may be from 50 to 100 meters and their depth — from 8 to 16 meters.
It wasn't also easy to find a place for the future project of artificial islands. By that time the coast line had already been occupied by the Palm Islands. They had to put sand and make islands 4 km far from the coast. And they are really islands, not like the Palms: the World doesn't join the continent with a bridge. All 300 islands are available only by sea or air transports, regular ferries and private yachts or boats. The getting time will not be more than twenty minutes.
Nowadays, more than half of the World's ready objects have already been sold. The construction works still have been going on. The highest price for an island reaches 38 billion dollars. It can vary depending on location, size and distance to other islands.
Brad Pitt and Angelina Jolie are among the most famous buyers: they chosen Ethiopia. And one of the islands in Antarctica estimated at 7 million dollars became a gift of a sheikh to Michael Schumacher...
In short, Dubai is a paradise city, a page from a science fiction book, a true picture of how even the most bizarre and ambitious ideas may be implemented into reality. We hope that the panoramas and photos of Dubai will transmit the incredible greatness of the unique and the most famous city of the United Arab Emirates.
Photo by Dmitry Moiseenko
19 December 2011
Comments
2012-06-27 12:09:48
"Most of the money used to build these building did come from iran, these lazy Arabs could not lift a finger, let alone make it this far. And these same lazay arabs blackmail google to call Persian gulf, fucking arabic gulf.shame on google. it has been sold cheap."
John A, Bahrain
2012-06-27 11:17:33
5 from 5
"Amazing work!!!!!!

I really want to the song played at background please can any one help i love this song"
Hamed Hussain, India
2012-06-26 12:54:54
"Excellent work but why do you put Turkish music. Gulf music would give a much better atmosphere"
Majid Rassam, New Zealand
2012-06-26 12:42:20
5 from 5
"You all as a Team have done a Marvelous works, which did help Me think & thank My God Almighty for creating the World so beautifully. No words can xpress my appreciation."
Catherine Malathi, India
2012-06-25 09:23:38
5 from 5
"We will sail out of Dubai in April, 2013. What a wonderful way to get a preview."
Tommie Colmerauer, USA
2012-06-24 08:34:21
4 from 5
"My husband and I will shortly be going to Dubai. This was a lovely way to acquaint myself with the city."
Barbara Burnett, USA
2012-06-21 13:39:59
5 from 5
"Your top quality photography, your idea to exhibit your work, asking our help to get permissions to deliver more fascinating videos, is undoubtedly a gift to global society. I can perceive and feel the invisible characters of your team as MOST BEAUTIFUL than any of your Panorams."
PULAPARTHI SATYANARAYANA, India
Varvara, AirPano: Thank you! You are, undoubtedly, very kind to us. Good luck!
2012-06-20 11:39:00
5 from 5
"Nyc Place, I realy lyk this place, AMAIZING!"
Shweta D. D., India
2012-06-18 12:39:49
4 from 5
"SUPERB........"
minela baldovin, Romania
2012-06-17 06:53:09
5 from 5
"Simply fantastic! Wow! Is to let anyone with an open mouth ... I loved it."
Lea Osorio, El Salvador
2012-06-16 23:15:45
5 from 5
"Hello My Friend
All are very nice and number one .
Thanks"
cyrus Akbari, Canada
2012-06-16 21:19:19
4 from 5
"Beautiful!!
to be even more complete, I give an idea:
passing the mouse trought the buildings, plains and monuments one could read the names them...?
What do you think?
Elizabeth Fiorini - Brasil"
Elizabeth Fiorini, Brazil
2012-06-16 18:16:53
"This is an amazing project and would like to congratulate everyone involved in it. Besides the technical aspects the choice of places and the musics picked in the backgrounds fits the characters of the panoramas and creates a perfect combination . Thnx again for this amazing experience""
ashok kadam, India
2012-06-14 16:23:16
5 from 5
"This is amazing!!!!!"
Lilly Ramgarib, Trinidad and Tobago
2012-06-12 21:10:29
5 from 5
"Marvelous Work : Giving Wings to Human Beings !!!"
Mani Singh, India
2012-06-12 10:39:40
5 from 5
"why not,,,about Bhutan?"
rin pelmo, Bhutan
2012-06-11 21:06:16
5 from 5
"AMAZING"
Dewang Patel, India
2012-06-11 20:14:28
5 from 5
"JUST GREAT:;WELL DONE ::: BE BLESSED"
AVAZ MOHAMMED, Trinidad and Tobago
2012-06-08 19:33:40
5 from 5
"Very good quality audio and video with informative coverage. Well done"
S.M.Hasan Hasan, Pakistan
2012-06-05 15:12:39
5 from 5
"AMAZING CITY. GOD BLESS DUBAI AND THE EMIRATES AND KEEP THE RULERS IN VERY GOOD HEALTH."
ghada Naifeh, Lebanon
2012-06-04 01:56:53
5 from 5
"tanx"
fazel abdollahi moshaei, Iran
2012-05-30 01:04:53
5 from 5
"Simply memorable MARVEL"
ramakrishnasastry GARIKAPATI, India
2012-05-29 14:18:43
5 from 5
"This is an amazing project and would like to congratulate everyone involved in it. Besides the technical aspects the choice of places and the musics picked in the backgrounds fits the characters of the panoramas and creates a perfect combination .
Thnx again for this amazing experience"
Emre Burnaz, Turkey
Varvara, AirPano: Thanks a lot for a high appraisal of your project.
2012-05-16 00:48:48
5 from 5
"Amazing Guys..i am dubai since 1989 and seen the growth but never realized till i looked thru the panorama created by Airpano.a great job indeed in presenting the aerial view of dubai.keep it up guys.i wish you most and more.God Bless."
Prakash Lalwani, United Arab Emirates
2012-05-13 01:55:20
5 from 5
"I'm happy and proud that i was a part of the crew that create this project,with the vessel James Cook.
A hopper dredger from the Jan de Nul company in Belgium."
Yves Bogaert, Belgium
2012-05-10 00:55:58
5 from 5
saman lakani, Iran
2012-05-08 21:12:42
"Amazing,"
Kassim Al Boughbaghi, USA
2012-05-08 16:03:32
3 from 5
"Beautiful panorama view.
I Wish this Panoram view from Doubaï Arabic country should be mixet with Arabic best music .
I rated 5 for the picture & 3 for the music.
AbouYoussef"
Malo Aboude, Canada
Varvara, AirPano: Dear AbouYoussef, thank you for the message left. We'd be grateful if you sent us slow Arabic music.
2012-05-07 07:25:29
5 from 5
"I like it very much
it was so intresting"
phani Rohith, India
2012-05-06 14:25:17
2 from 5
"This is very very beautiful very amazing! I love this website"
ali moulali, India
2012-05-06 00:47:41
5 from 5
"You have got a very smart people in your country to make so wonderfully nice things, congratulation."
Jaroslava Netousek, Czech Republic
2012-05-05 21:37:37
5 from 5
"very nice!
would someone be so kind as to tell me what kind of technology it is made of? thanks and have a nice day"
Daniel Yoman, Hungary
Varvara, AirPano: Dear Daniel, please read FAQ. You will find there the answer to your question http://www.airpano.com/FAQ.php?set_language=2
2012-05-05 07:29:08
5 from 5
"Excelente.! Gracias."
Pablo Mancuso, Argentina
2012-05-02 11:29:07
5 from 5
"fantastic, Really good one !!"
Ramakant Kadam, United Arab Emirates
2012-04-30 16:46:47
5 from 5
"SPENT A WEEK IN DUBAI......FASCINATING!"
SHIRLEY AND ALBERT LAMBINON, USA
2012-04-30 04:46:08
5 from 5
"We stayed at the EL Arab ,the sail,Hotel and saw so many wonderful things it's hard to remember them all,needless to say we loved our visit.
Gerry & Jacki Mongeluzo"
GERRY MONGELUZO, USA
2012-04-29 20:57:13
"beautiful! Please, tell me what is this soudtrack in this panorama photo in low resolution? Thank you!"
Pablo Arregui, Argentina
Varvara, AirPano: Dear Pablo, the answer to your question is here http://www.airpano.com/FAQ.php
2012-04-27 18:22:02
5 from 5
"Amazing - Exallent"
Vijay Ramagiri, India
2012-04-27 17:00:25
5 from 5
"LINDO ,quem sebe um dia eu compre uma ilha dessas."
RONALDO CHAVEIRO, Brazil
2012-04-27 13:10:15
5 from 5
"Thanks for the govt of UAE for their ideas putting into reality..."
Rakesh Kumar, India
2012-04-27 09:36:37
5 from 5
"These Panoramic Views are awesome, it's really great and thanks for sharing us your talent as a Photojournalist. Keep it rock, the people around the world we're happy to see all your works. God bless all of your team."
ANDREW GALANG, Philippines
Varvara, AirPano: We are glad you liked this pano. Many thanks for your good wishes.
2012-04-25 15:41:36
"this is very good"
ashok kumar, India
2012-04-19 13:00:24
4 from 5
"it's funtastic photography as well as back ground music and eager to see so wonder place.
Thanks & Regards,
Zia Ahmed"
zia ahmed, India
Varvara, AirPano: Thank you! We hope, you'll visit us again soon.
2012-04-16 11:05:19
"Really the leaders of UAE are the best and real leaders. I hope that always continue and go ahead achieve advanced development."
Ahmed Tigani, South Africa
2012-04-16 01:58:18
5 from 5
"How amazing!"
Hany Mosaad Aly, Saudi Arabia
2012-04-14 14:40:47
5 from 5
"Amazing skilled photography to feel as if I am flying above the sky high structures. thanks on behalf many people like me."
Kalavakuri Abraham, India
2012-04-12 15:18:01
5 from 5
"Woh!!!!Its Superb,You guys are doing very good job,Keep up the good work. Thanks to Airpano for bringing up the things which we never see live."
Sunitha VG, India
Varvara, AirPano: Many thanks for the warm words, Sunitha.
2012-04-10 03:21:09
5 from 5
"Amazing!
and in response to John Lee's comment - That's not all of Dubai, only part of it; there are trees in other areas!"
Gloria G., Canada
2012-04-08 20:31:16
3 from 5
"This is incredible that not a single tree in the whole city. Without trees this city will be one of the worst air pollution city (country) in the world."
John Lee, USA
Varvara, AirPano: Thank you. We appreciate your opinion.
2012-04-06 10:50:23
4 from 5
"gud awesome i like it very much"
mishran ev palakkad, kerala , india, India