Virtual Tour of Dubai City, UAE
•
360° Aerial Panoramas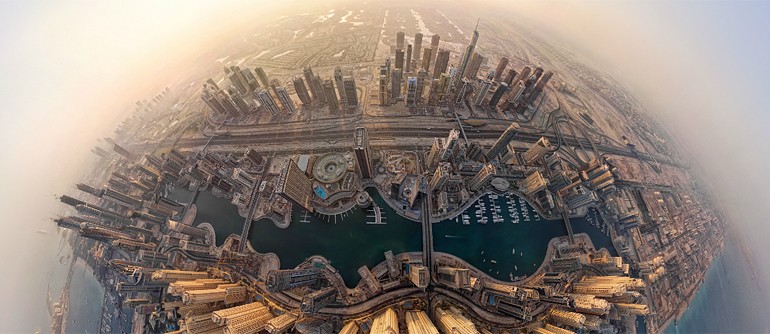 ---
The origins of Dubai trace back to the VII century, however few people associate the largest city of the United Arab Emirates with ancient times. Dubai is best described as "the City of the Future": nowhere else on the planet you will find so many incredible architectural constructions that are ultra-modern and even ahead of our times.
Here is just a short list of Dubai's attractions: Burj Khalifa skyscraper that looks like stalagmite or a desert flower with thin petals; Seven-star Burj Al Arab hotel, shaped like a sail, rises on a special artificial island (hotel room prices at Burj Al Arab start from one thousand dollars per night!); 150-meter musical fountain that lifts 83 thousand liters of water up in the air while performing Arabic and international musical hits. Breathtaking group of artificial islands: Palm islands (a gigantic tree built off the coast of the Persian Gulf) and World Islands, shaped as the Earth's continents.
All this is just a beginning! Besides its attractions, Dubai is known as a shopper's heaven. The largest shopping and entertainment center in the Middle East — "Dubai Mall" — also features one of the world's largest aquariums. "Dubai Marina" is the largest and the most exclusive yacht harbor in the world.
Note: all interesting things in Dubai either hold a world-record title in size or are pioneers in its areas. Sometimes, both things are true. For example, Ski Dubai, the indoors ski resort is not only the largest in the region, but the first one in the entire Middle East where one could enjoy skiing. One can enjoy skiing in the midst of 30 degree heat in the center of the desert — isn't it impressive? This is exactly what Dubai intends to do: to surprise, impress and bewilder with its novel ideas.
Even the weather in Dubai participates in this race for the "best of the best" title. Due to its average temperature of 35,5ºC, Dubai is one of the hottest cities in the world. Finally, beaches of Dubai have made this emirate one of the most popular resorts in the world.
Turning back to its history, a long time ago Dubai started out as exporter of pearls, but at the end of XX century it couldn't afford to act on such a small scale. Nowadays the Emirate holds a leading position in gold jewelry manufacturing, and gold prices in Dubai are such that very few can resist the temptation of bringing home half of a suitcase filled with jewelry made of this precious metal...
The United Arab Emirates is one of the most amazing countries in the world. Millions of tourists come there to see its places if interest, however, almost all of them are man-made.
The Emirates can't boast of either impressive mountain relief like the Alps do, or of water zest which is fiords located in Norway or of great forests with the richest flora and fauna of Amazonia...The desert, sea coast and oil, perhaps, are the only wealth of the UAE. That kind of wealth is quite enough in the neighbor country of the region. But exactly the Emirates are famous for their landscapes. Why so?
The answer is evident: the landscapes have been created artificially in order to overtake and surpass as well as to eclipse and impress as much as ever possible. The aim has been achieved. And the most outstanding project in that sphere is the artificial islands of the Emirates.
The construction of the biggest in the world archipelago named Palm Islands began in Dubai Emirate in 2001. Millions of tons of both sand and stones were being put by the workers imitating a palm which is the most honored and popular tree of the East. As a result, close to the Emirate's coast "three palm trees" grew: the Jebel Ali, the Deira and the Jumeira.
The Jumeira is surrounded by a crescent which is both Islamic symbol and simultaneously a breakwater. The island's size is 5 by 5 meters; the total size is comparable with eight hundred football fields. The island joins the mainland with the 300-meters bridge and the crescent and a palm top are connected with an underwater tunnel. And there is a monorail on the bridge — the first one in the Middle East.
On the Palm Islands there is a super luxurious hotel Atlantis as well as other chic hotels; most mansions and apartments have already been acquired by the richest people of the planet or are still waiting for their turn to be bought. And the rest world population can admire this beauty for free, for example, from the bird's-eye view that allows understand its size and forms.
Not far from it there is another largest artificial archipelago — the World. The idea of its creation appeared two years later. By that time Dubai had become very popular among the tourists all over the world and there was an extremely beach shortage. At the same time, in the UAE they can't just put sand into water; sand should be of any unusual form.
As Arabian sheikhs have the habit to implement grandiose plans and, therefore, they decided to create... all the Earth continents at the coasts of Dubai. But right in the process of this idea's realization it became clear that it would be hard to sell such huge territories. That is why the continents were divided into number of islands in order anyone could buy the Island of France or any state of America which is also surrounded from all sides by water. Besides, the World includes not only continents or countries but also cities or such sphere like fashion: there is the Island of St. Petersburg or the Fashion Island (Isla Moda).
Finally, now the island sizes vary from 14 to 83 thousand square meters, the width of the straits may be from 50 to 100 meters and their depth — from 8 to 16 meters.
It wasn't also easy to find a place for the future project of artificial islands. By that time the coast line had already been occupied by the Palm Islands. They had to put sand and make islands 4 km far from the coast. And they are really islands, not like the Palms: the World doesn't join the continent with a bridge. All 300 islands are available only by sea or air transports, regular ferries and private yachts or boats. The getting time will not be more than twenty minutes.
Nowadays, more than half of the World's ready objects have already been sold. The construction works still have been going on. The highest price for an island reaches 38 billion dollars. It can vary depending on location, size and distance to other islands.
Brad Pitt and Angelina Jolie are among the most famous buyers: they chosen Ethiopia. And one of the islands in Antarctica estimated at 7 million dollars became a gift of a sheikh to Michael Schumacher...
In short, Dubai is a paradise city, a page from a science fiction book, a true picture of how even the most bizarre and ambitious ideas may be implemented into reality. We hope that the panoramas and photos of Dubai will transmit the incredible greatness of the unique and the most famous city of the United Arab Emirates.
Photo by Dmitry Moiseenko
19 December 2011
Comments
2012-09-01 11:09:08
3 from 5
"thanks.you are best
thanks so much"
Ali uneci, Iran
2012-09-01 09:16:08
5 from 5
"fantastic panorama view"
mina farzaneh, Iran
2012-08-22 13:39:46
5 from 5
"marvellous"
Frank De Clercq
2012-08-21 03:35:59
5 from 5
"Thank you so much. It's wonderful."
anne mai, Hong Kong
2012-08-19 21:35:39
5 from 5
"I'm so interested in seeing all of Dubai. Have not
had time to pursue places as yet - but plan too!!
An incredible e-mail."
Beverly Pearsall, USA
2012-08-11 12:06:56
5 from 5
"you made a fantastic viewing of Dubai city, i give you a rating of 5.My first time in UAE way back in 1976 October involved in constructing Sharjah Intercontinental Hotel Now is Holiday Inn Hotel.My second time in 1999 assigned in Ruwais city for the construction of Ethelyne Plant, just imagine what a big differences for a short period of 36 years Dubai become the legend of developing city in the Middle East ahead of time . I salute with high respect to His Excellency The Ruler of Dubai of his excellent planning, management, implimentation of his creation , genius Planner and above all we give thanks to all Rulers of the seven Emirates.God Bless"
rogelio bolivar, Philippines
2012-08-08 07:51:28
5 from 5
""Fantastic job,keepit up and thanks for this effort"
I am also proud for being a member of Engineeing group during construction of Palm Jumeirah Dubai from 2004-2009."
Mirza Riasat Baig, United Arab Emirates
2012-08-04 19:52:10
5 from 5
"Excellent!!! Thanks for showing what wonderful our planet is!!"
Stella Telis, Uruguay
2012-08-04 02:30:46
5 from 5
"You guys are doing outstanding work , i really appreciate your hard-work."
Ramesh Guled, India
2012-08-04 01:53:33
5 from 5
"Really enjoyed your outstanding work."
Mike Christnacht, USA
2012-08-03 16:44:04
5 from 5
"TRANSLATION to the Portuguese comment:
The men and women of the world, in peace and with total freedom, with education and courage can do wonderful things, large projects where everyone Without exception can live with dignity."
M M, Perth, Australia
2012-08-03 08:17:10
4 from 5
"Thanks all talented photographers have been giving us amazing pictures.
Best regards
Mr.HUNG PHAN (PSA)
Mrs. TAM PHAN (PSA)"
HUNG PHAN, USA
2012-08-01 20:20:01
5 from 5
"AWESOME.
INFORMATIVE.SEVEN 7*Star,Panorama Rate.
When Practical,We All Will Love 2 Tour Our Real Awesome & Wonderful World-with Great Appreciations.Rajveer."
RAJVEER Chandarana, United Kingdom
2012-07-31 19:27:16
"salam"
reza goli, Iran
2012-07-31 12:52:49
4 from 5
"love this site, we lived ai u.a.e for 12 years , Dubai to alain was, a one track camel walk, largest building the trade centre, when it loomed out of the dust we knew we were nearly in Dubai"
stephanie duncan, Australia
2012-07-31 12:48:43
4 from 5
"Amazing"
ismail ali, India
2012-07-31 10:40:23
"fantastic work wel done"
ABDUL LATHEEF SAMSUDEEN, Sri Lanka
2012-07-31 07:01:02
5 from 5
"Fantastic - but I would have loved to see some of the old part of Dubai again"
ingrid schultz, USA
2012-07-30 08:59:39
4 from 5
"Superb.."
Vinoth Kumar, India
2012-07-27 23:11:29
5 from 5
"Enhorabuena al Emir gobernante de los emiratos arabes unidos, tiene visión para el futuro de su pueblo."
jesús iglesias sainz, Spain
2012-07-26 08:52:12
5 from 5
"Love u...."
Farrukh Alvi, Pakistan
2012-07-25 08:20:19
5 from 5
"...i'm still in AWE!!!...not to mention OVERWHELM!!!...an absolute tremendous workmanship...hope i will be able to make a trip to DUBAI!!!...i thank you immensely for giving me the opportunity to see your country!!!..."
R.D. Weedin, Guam
2012-07-25 06:24:57
5 from 5
"ohhh trickshot"
wesane 9, Japan
2012-07-25 05:03:58
5 from 5
"Great site."
Glenda Findley, USA
2012-07-23 11:59:33
5 from 5
"so beautiful,but how go to the street?"
nancy Ma, China
2012-07-22 02:43:47
5 from 5
"tnx for posting....send me more...."
Wuelma Reas, Philippines
2012-07-20 21:08:43
5 from 5
"You are to be congratulated for such a magnificent creation as this. I could not believe my eyes as I viewed your website. As a photographer I can only imagine the inner beauty of such a creative group of persons whose dream has culminated into such a place as this. I only wish it were possible for us to witness it in person."
Gregory & Diane Weldon, USA
Varvara, AirPano: We are very grateful for your comments as well as for your appraisal.
2012-07-18 06:48:30
5 from 5
"BEAUTIFUL...AMAZING..INCREDIBLE...BREATHTAKING...
UNREAL & WOW...
THANK YOU."
Debra Jenkins, United Arab Emirates
2012-07-17 17:24:13
5 from 5
"Exeptional photography and presentation. I would not call it 'Dubai City' since unfortunately it only shows a fraction of Dubai . May I suggeest instead of showing so many impressions of the World and the Palm it would be fantastic if you would be able to add the exiciting areas and views around Burj Al Arab and especially Burj Khalifa and additionally the original old part of Dubai around the Dubai Creek. Then people would be blown away by the beauty and diversity of architectural masterpieces and the original historic Dubai. Thank you for this incredible positive experience of beautiful impressions around our beautiful world."
Anita Du Preez, United Arab Emirates
Varvara, AirPano: Hello, Anita. Many thanks for your opinion. Regarding your suggestion, unfortunately, it is forbidden to fly over Burj Al Arab and especially Burj Khalifa. Regards.
2012-07-17 09:11:40
3 from 5
"Fantastic.."
Muhammed Sadique, United Arab Emirates
2012-07-16 12:15:50
5 from 5
"excellent"
srinu vasu, India
2012-07-16 08:02:34
5 from 5
"Best constriction ever seen"
Nitin Ghadi, India
2012-07-13 10:13:44
5 from 5
"Realy So Good only just Amazing."
Maheshwar Dwivedi, India
2012-07-13 05:12:42
5 from 5
晋皇 王, China
2012-07-12 22:59:36
5 from 5
"Speechless.."
Anshul Jain, India
2012-07-12 19:34:41
5 from 5
""Its beyond awesome!!""
Nikhil Y, India
2012-07-12 18:41:09
5 from 5
"Superb,,,,,,,,,,,,,,"
Rasheed ali, India
2012-07-11 09:59:12
5 from 5
"Great job highly appreciated keep it up."
Muhammad Maqsood Qureshi, United Arab Emirates
2012-07-10 21:12:36
5 from 5
"Awesome..........such an experience watching these Panoramas. Gr8 Job! and excellent effort to show us some of the best locations in the world ....Way to go!!!"
Lakshmi Suresh, India
2012-07-10 13:31:02
4 from 5
"I had an office in UAE under auspice of Bin Dhahi -the best safest and enjoyable time of my life.No need to lock your car, hotel room, no radicals, midnight safe as lunch time, cooperation of government unbelievable, my ideal instantly realized (Im an architect) Working people (mostly Pakis) are totally different from those in Pakistan, no taxes, free health, tolerance to everything. I would change/vote in Australia for UAE any time despite I don't particularly like Islam."
Radovan von Winterberg PhD, Australia
2012-07-09 17:47:44
5 from 5
"fantastic!!... I had been to Dubai in Jan, 2008, but could not see the place properly because of illness. Dubai is my favorite e city,I always get a buzz whenever I hear about it."
ahmed burhani, Pakistan
2012-07-09 10:31:32
5 from 5
"Wonderful Sight.Excellent work."
Mohit Pant, India
2012-07-06 09:25:39
4 from 5
"Wonderful work. Really appreciated."
Sebastian Francis, India
2012-07-04 19:40:13
5 from 5
kyung kim, USA
2012-07-04 10:49:39
5 from 5
"Highly informative with excellent background music. Appreciation is very high, for the places visited .I had been to Dubai only last month and now I am appreciating from my heart with lot of Ariel views of that fairyland. My next visit would be more revealing after seeing this. Commendable High tech Job.Congrats""
Bilal Ahmad Siddiqui, India
2012-07-03 04:53:46
5 from 5
"This is the most awesome site, thanks."
sandra thibault, USA
2012-07-02 23:48:12
5 from 5
"Dubai is beatiful Mashaallah. Superb photography."
Ibraheem Mushtaq, United Kingdom
2012-07-02 10:05:22
4 from 5
"Excellent, one of the best modern architects."
Moinuddin Syed, Canada
2012-07-01 03:49:32
5 from 5
"The panorama was exquisite. Thank you for sharing your work. Will you ever do Italy and especially Venice? 5* for this segment. Mary-Suzanne kelly"
Mary-Suzanne Kelly, Canada
2012-06-27 14:07:15
5 from 5
"非常不错。"
小泽 梁, China