Virtual Tour of Dubai City, UAE
•
360° Aerial Panoramas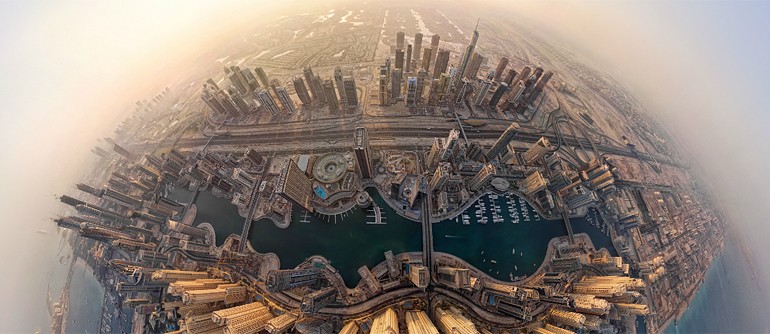 ---
The origins of Dubai trace back to the VII century, however few people associate the largest city of the United Arab Emirates with ancient times. Dubai is best described as "the City of the Future": nowhere else on the planet you will find so many incredible architectural constructions that are ultra-modern and even ahead of our times.
Here is just a short list of Dubai's attractions: Burj Khalifa skyscraper that looks like stalagmite or a desert flower with thin petals; Seven-star Burj Al Arab hotel, shaped like a sail, rises on a special artificial island (hotel room prices at Burj Al Arab start from one thousand dollars per night!); 150-meter musical fountain that lifts 83 thousand liters of water up in the air while performing Arabic and international musical hits. Breathtaking group of artificial islands: Palm islands (a gigantic tree built off the coast of the Persian Gulf) and World Islands, shaped as the Earth's continents.
All this is just a beginning! Besides its attractions, Dubai is known as a shopper's heaven. The largest shopping and entertainment center in the Middle East — "Dubai Mall" — also features one of the world's largest aquariums. "Dubai Marina" is the largest and the most exclusive yacht harbor in the world.
Note: all interesting things in Dubai either hold a world-record title in size or are pioneers in its areas. Sometimes, both things are true. For example, Ski Dubai, the indoors ski resort is not only the largest in the region, but the first one in the entire Middle East where one could enjoy skiing. One can enjoy skiing in the midst of 30 degree heat in the center of the desert — isn't it impressive? This is exactly what Dubai intends to do: to surprise, impress and bewilder with its novel ideas.
Even the weather in Dubai participates in this race for the "best of the best" title. Due to its average temperature of 35,5ºC, Dubai is one of the hottest cities in the world. Finally, beaches of Dubai have made this emirate one of the most popular resorts in the world.
Turning back to its history, a long time ago Dubai started out as exporter of pearls, but at the end of XX century it couldn't afford to act on such a small scale. Nowadays the Emirate holds a leading position in gold jewelry manufacturing, and gold prices in Dubai are such that very few can resist the temptation of bringing home half of a suitcase filled with jewelry made of this precious metal...
The United Arab Emirates is one of the most amazing countries in the world. Millions of tourists come there to see its places if interest, however, almost all of them are man-made.
The Emirates can't boast of either impressive mountain relief like the Alps do, or of water zest which is fiords located in Norway or of great forests with the richest flora and fauna of Amazonia...The desert, sea coast and oil, perhaps, are the only wealth of the UAE. That kind of wealth is quite enough in the neighbor country of the region. But exactly the Emirates are famous for their landscapes. Why so?
The answer is evident: the landscapes have been created artificially in order to overtake and surpass as well as to eclipse and impress as much as ever possible. The aim has been achieved. And the most outstanding project in that sphere is the artificial islands of the Emirates.
The construction of the biggest in the world archipelago named Palm Islands began in Dubai Emirate in 2001. Millions of tons of both sand and stones were being put by the workers imitating a palm which is the most honored and popular tree of the East. As a result, close to the Emirate's coast "three palm trees" grew: the Jebel Ali, the Deira and the Jumeira.
The Jumeira is surrounded by a crescent which is both Islamic symbol and simultaneously a breakwater. The island's size is 5 by 5 meters; the total size is comparable with eight hundred football fields. The island joins the mainland with the 300-meters bridge and the crescent and a palm top are connected with an underwater tunnel. And there is a monorail on the bridge — the first one in the Middle East.
On the Palm Islands there is a super luxurious hotel Atlantis as well as other chic hotels; most mansions and apartments have already been acquired by the richest people of the planet or are still waiting for their turn to be bought. And the rest world population can admire this beauty for free, for example, from the bird's-eye view that allows understand its size and forms.
Not far from it there is another largest artificial archipelago — the World. The idea of its creation appeared two years later. By that time Dubai had become very popular among the tourists all over the world and there was an extremely beach shortage. At the same time, in the UAE they can't just put sand into water; sand should be of any unusual form.
As Arabian sheikhs have the habit to implement grandiose plans and, therefore, they decided to create... all the Earth continents at the coasts of Dubai. But right in the process of this idea's realization it became clear that it would be hard to sell such huge territories. That is why the continents were divided into number of islands in order anyone could buy the Island of France or any state of America which is also surrounded from all sides by water. Besides, the World includes not only continents or countries but also cities or such sphere like fashion: there is the Island of St. Petersburg or the Fashion Island (Isla Moda).
Finally, now the island sizes vary from 14 to 83 thousand square meters, the width of the straits may be from 50 to 100 meters and their depth — from 8 to 16 meters.
It wasn't also easy to find a place for the future project of artificial islands. By that time the coast line had already been occupied by the Palm Islands. They had to put sand and make islands 4 km far from the coast. And they are really islands, not like the Palms: the World doesn't join the continent with a bridge. All 300 islands are available only by sea or air transports, regular ferries and private yachts or boats. The getting time will not be more than twenty minutes.
Nowadays, more than half of the World's ready objects have already been sold. The construction works still have been going on. The highest price for an island reaches 38 billion dollars. It can vary depending on location, size and distance to other islands.
Brad Pitt and Angelina Jolie are among the most famous buyers: they chosen Ethiopia. And one of the islands in Antarctica estimated at 7 million dollars became a gift of a sheikh to Michael Schumacher...
In short, Dubai is a paradise city, a page from a science fiction book, a true picture of how even the most bizarre and ambitious ideas may be implemented into reality. We hope that the panoramas and photos of Dubai will transmit the incredible greatness of the unique and the most famous city of the United Arab Emirates.
Photo by Dmitry Moiseenko
19 December 2011
Comments
2013-05-19 16:40:49
"i want to know the dredger conpany who madeup this wonderfull island.If they are not working in any where they have an oportunity to work in Bangladesh coastal area. we are searching a big dredger company who can dredge 30000 cum from a depth of 16 meter.
if the dredger company want to work please send an e-mail mentioning mode of contract,rate, the covenity we have to provide,.We have no objection to make a joint venture in need."
MdAli Akbar, Bangladesh
2013-05-12 11:42:29
5 from 5
"Why can't we respect and recognize Mother Nature too as universal culture of mankind ...Thank you"
Ahmad Ayyash, USA
2013-05-09 12:38:58
5 from 5
"I really like the websit"
Anthony Crew, United Kingdom
2013-05-02 19:23:23
5 from 5
"amazing super structure"
varun prakash, India
2013-05-02 05:50:20
"Conocer Dubai es ingresar al futuro. Todo deslumbra por ser grandioso, moderno, y sobre todo futurista."
shirley dadone, Argentina
2013-04-19 11:01:02
3 from 5
RAVI PATEL, India
2013-04-06 06:56:54
5 from 5
"사진촬영기술 과 정성이 최상급 입니다. 두바이의 여행기억이
새롭게 정리되여 감사드립니다. Thank's Too Much!!!"
Lim Joonsang, Korea
2013-03-23 00:20:34
5 from 5
"we both Dubai City n Me are elegant but in same problem ie financial crises n hope that will overcome very soon.
Best of luck for me n Dubai!"
lavesh pyakurel, Nepal
2013-03-19 19:43:22
"i like photografy"
imran pervaiz, Pakistan
2013-03-01 09:03:14
3 from 5
"good. updation required regularly"
suseelan padmanabhan, India
2013-02-18 19:06:53
5 from 5
"Ich bin begeister von den Aufnamen.Habe noch nie so was schoenes gesehen"
Peter Schulz, Germany
2013-02-18 13:25:38
5 from 5
"Las fotografías virtuales 3D impulsa una cultura para conocer el mundo, y nos estimula para visitar estas ciudades hermosas del futuro como el caso de Dubai.
En mi país Ecuador tenemos muchos sitios turísticos, favor ver a través de internet. Saludos
Rafael Valdez R."
Rafael Valdez Requena, Ecuador
2013-02-08 18:14:56
5 from 5
"Amazing photography of an incredible city"
Bruce McDonald, Zimbabwe
2013-02-08 16:37:12
5 from 5
"Amazing photography of an incredible city"
Bruce McDonald, Zimbabwe
2013-02-04 21:15:46
5 from 5
Sunil PARIKH, India
2013-02-03 22:25:03
4 from 5
"This is great website your airpano and i like your photography and video very very thanku for make this site."
durani mulla, India
2013-01-20 19:03:05
5 from 5
"very beautiful!"
nilofar amiry, Iran
2013-01-16 14:37:04
5 from 5
"thats fantastic"
marziyeh rezaie, Iran
2013-01-16 02:46:06
"IS VERY NICE TOO."
IVANA GREGÓRIO DE SOUZA, Brazil
2013-01-15 11:17:24
5 from 5
"very beautiful. please get some panorama pictures from my dear country Iran."
saeed askari, Iran
2013-01-14 09:58:44
5 from 5
"I have been in Dubai from last 5 days, my first visit to this amazing city of the world.I am impressed with every thing, love it and like to come and visit more often.
Your presentation is so exciting and I was looking for something like this to share with my family and friends, beautifully done now my collection of over 400 pictures taken by me is complete with your virtual Tour of Dubai City.
Thank you with best regards,
Syed Ahmed
Toronto Canada"
Syed Ahmed, Canada
2013-01-11 15:56:26
5 from 5
"thank you for this pictures and vieo you make wounderful job. congratulations!"
luis faber mora, Colombia
2013-01-09 05:06:49
5 from 5
"am fost in dubai de cincizeci de ori cu afaceri incepand cu anul 1997 am vazut cum s a construit acest oras iubesc aceste locuri de fiecare data merg cu multa placere"
tanase ioan, Romania
2013-01-02 17:39:07
"thanks for airpano. I really like this website."
sriram godavarthy, India
2013-01-02 17:33:30
5 from 5
"awesome pics"
sriram godavarthy, India
2012-12-18 13:40:06
4 from 5
"This site is awesome but it would be completely awesome if you could include Metro Manila of the Philippines. because its more fun in the Philippines."
ernie gabo, Philippines
2012-12-16 16:35:13
5 from 5
"Speechless!!keep it up!!"
Mohammed Rahman, Bangladesh
2012-11-29 20:48:18
"good contriy"
filmon brhane, Ethiopia
2012-11-25 23:21:59
4 from 5
"My son Stephen and his wife Sandra live and work in Dubai and I have been there a few times and seeing this wonderful view brought back happy memories of the whole area. Quite spectacular view"
Richard Leslie, Canada
2012-11-21 20:38:24
5 from 5
"It's really good one. free sightsee"
Dipak Jadhav, India
2012-11-21 20:34:51
"It's really good one."
Dipak Jadhav, India
2012-11-13 12:57:01
5 from 5
"Spectacular site and the most unbelievable concept ever! Would like to go soonest. Take Care and keep cool. Best wishes from CAPE TOWN, SOUTH AFRICA."
Zainab Harris, South Africa
2012-11-10 01:44:06
5 from 5
"Lived in Dubai for 6 years. am amazed about all the changes. ."
Hans Georg Wurche, United Arab Emirates
2012-10-30 10:02:17
3 from 5
PESAR BAMI, Iran
2012-10-23 17:13:02
5 from 5
DISARTH GUJARATI, India
2012-10-20 16:46:17
5 from 5
"No words to say its very beautiful,iam very amazed and very impressed,thank you very much to bring the world in front of me.Your team shoul get award for this.All the very best"
Karthik gilchrist, India
2012-10-19 00:52:18
5 from 5
"Hi Thanks for images.I will happy if get some panorama pictures from Iran and publish them"
Ali salimi, Iran
2012-10-18 13:25:35
1 from 5
"very very gooood."
osama rigi, Iran
2012-10-15 06:06:28
5 from 5
"Simply Fantastic;no words to tell.
Thank you camara man,god bless you,to show us gods creation so beautiful,in my life I can go & see all the places or not.
once again thank you for your Creativity"."
JYOTHI SINGH, Kuwait
2012-10-15 02:17:56
"espectacular por la imagenes, y espectacular por el poder economico de un pais que se ha superado por la venta mundial del petroleo. sin embargo las riquezas de la tierra, deberian haberse distribuido en forma equitativa, y ver progreso en aquellos lugares donde las personas buscan un carton, una lata de zinc, para poder construir sus pobres casas. esto no es justo para cualquier religion que ose decir ser la mejor."
olman roberto castro padilla, Costa Rica
2012-10-04 19:48:27
"nise"
REZA s, Iran
2012-10-04 03:14:11
5 from 5
"I am amazed with your work! Thank you very much for bringing the world to me. Please, continue filming new places."
Christina Claunch, USA
2012-10-03 10:16:53
5 from 5
"this site perfect."
alireza babaii, Iran
2012-09-28 22:25:52
5 from 5
"hey! airpano team , i am really impressed with your great website. But i want you to snap in pakistan big cities like Islamabad and Karachi, i am really thankful if you do this."
Musaver Khan, Pakistan
2012-09-28 12:45:26
5 from 5
"its really so good"
Harhsada Chaure, India
2012-09-17 19:01:39
5 from 5
"Good achievement, good job.. . weldone."
Shahid Mansoor, Pakistan
2012-09-06 18:46:06
5 from 5
"Amazing!!!! absolutely superb!!!!!!"
Ronald Lemmy, Spain
2012-09-06 15:20:34
5 from 5
"Excellent!"
Reza Shokrollahi, Iran
2012-09-05 03:44:23
5 from 5
"Espetacular!"
Michelle Resendes, Brazil
2012-09-03 18:31:36
5 from 5
"Excellent!"
Deepak Nathoo, South Africa