Virtual Tour of Toronto, Canada
•
360° Aerial Panoramas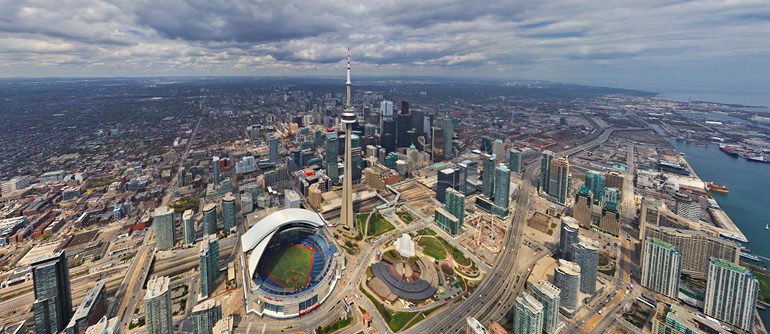 ---
Toronto is the biggest Canadian city and 5th largest city in North America after Mexico City, New York, Los Angeles and Chicago. In 1998 the rapidly growing Toronto and six other communities are merged to form a new Mega-city, else known as GTA (Greater Toronto Area).
With a population of 2.48 million people (5.5 million in the GTA — Greater Toronto Area) is heralded as one of the most multicultural cities in the world and is ranked as the safest large metropolitan area in North America. Over 140 languages and dialects are spoken here, and just over 30 per cent of Toronto residents speak a language other than English or French at home.
Toronto is not the capital of Canada but it is cultural, entertainment, and financial capital of the nation. It is located in Southern Ontario on the northwestern shore of Lake Ontario. A relatively modern city, Toronto's history dates back to the late-18th century, when its land was first purchased by the British monarchy from the Mississaugas of the New Credit. The settlement was later established as the Town of York and proclaimed as the new capital of Upper Canada by its lieutenant-governor, John Graves Simcoe. In 1834, York was incorporated as a city and renamed to its present name.
One o the biggest attractions of the city is the CN Tower standing 553.33 metres (1,815.4 ft) tall, it was completed in 1976, becoming the world's tallest free-standing structure and world's tallest tower at the time. It held both records for 34 years until the completion of Burj Khalifa and Canton Tower. It remains the tallest free-standing structure in the Western Hemisphere, a signature icon of Toronto's skyline, and a symbol of Canada, attracting more than two million international visitors annually.
Another record was created by Yonge Street as "the World's Longest Street" 1,896 km (1,178 mi). Indeed, the Guinness Book of World Records published Yonge Street's status as the true record until 1999. Some people think that Yonge Street still remains the longest street in the world, some people think the claim is false because they say the HW11 is not part of the Yonge Street.
Walking on the streets of Toronto making almost impossible to believe that city has another town (PATH) hidden under the ground. According to Guinness World Records, PATH is the largest underground shopping complex with 28 km (17 miles) of shopping arcades. It has 371,600 sq. metres (4 million sq. ft) of retail space. In fact, the retail space connected to PATH rivals the West Edmonton Mall in size. The approximate 1,200 shops and services, such as photocopy shops and shoe repairs, found in PATH, employ about 5,000 people. Once a year, businesses in PATH host the world's largest underground sidewalk sale.
The Niagara Falls located about two hours away from downtown core but still considered to be one of the biggest Toronto's attractions. The waterfall has highest flow rate of any waterfall in the world and has a vertical drop of more than 165 feet (50 m).
Photo by Dmitry Moiseenko
9 February 2012
Comments
2017-05-01 17:03:15
4 from 5
".......ļoti iespaidīgi......"
einars nebednieks, Latvia
2016-09-07 13:17:48
5 from 5
"it was very fantastic"
slavica novkovic, Canada
2015-04-16 12:40:27
5 from 5
"it was very fantastic TNQ a lot"
ali seyyedi, Iran
2014-04-01 14:25:30
5 from 5
amir hasani, Iran
2014-02-02 06:01:23
"I have never visited Toronto, from the Virtual Tour, I'm very much looking forward to the visit.
Beautiful, beautiful and more beautiful.

Deloria Kelley, USA."
Deloria Kelley, USA
2014-01-26 04:36:40
"Its a fantastic view WOW. I am from Sri Lanka why dont you do one on Colombo the Sri Lanka Capital and the rest of the country its one of the most beautiful countries in the world for scenic beauty"
mohamed ghouse, Sri Lanka
2014-01-20 16:59:58
5 from 5
"This is truly a beautiful way to 'visit' a city or country. I lived and worked in Toronto for 14 yrs and loved it very much. I visited Niagara Falls many times. I moved from London, GB and think Canada is the best country in the world. I now live in Florida where the weather is the very best."
Edony Lamont, USA
2014-01-17 21:57:01
4 from 5
"bello paisaje que ilustra el avance de su estado. les felicito y agradezco el poder a traves de este medio formarme una idea de su pais. deberian rifar una estadia."
bartolome prada, Colombia
2014-01-17 19:04:51
"exelentes tomas , muy buenas"
alix javier perez centeno, Honduras
2013-12-31 21:25:29
5 from 5
"It was picturesque thank you so ..."
Rozhan _canada Mousavi, Canada
2013-09-08 17:39:55
"toronto city is very best city i live in canada"
shalikh waheed, Canada
2013-09-02 16:47:13
3 from 5
"tank you very mach"
malek salimi, Iran
2013-05-15 16:11:45
5 from 5
vladas stasiukaitis, Lithuania
2013-05-05 04:11:41
5 from 5
"Very well done.
I have lived in the Toronto area for fifty six years, coming from the U.K. oroginally.
However, I must say that I am a little disappointed to see nothing from the British Isles- England, Scotland, Wales, Northern Ireland and the Republic of Ireland, plus the huindreds of islands around their shores."
William Wright, Canada
2013-03-09 19:44:00
"i love toronto very much which i cant say.thanks."
Md Khaled, Bangladesh
2013-02-27 06:36:48
5 from 5
"Great visit to many countries that I had the chance to visit. Excellent work keep it up."
Aldore McIntyre, Canada
2013-02-13 06:27:19
5 from 5
"MUY BELLO
Es un lugar que no conoceré...... en esta vida, no se si en otra
felicidades por el video

CONCEPCIÓN SÁNCHEZ QUINTANAR"
Concepciòn Sánchez Quintanar, Mexico
2013-02-11 02:56:58
5 from 5
GRANT CLARK, Canada
2013-02-11 02:19:05
"THIS IS A EXCELENT ARTICLE"
GRANT CLARK, Canada
2013-01-13 23:10:59
"very nice"
farzad09372202271 fathi, Brazil
2013-01-04 23:41:33
4 from 5
"Thank you for your interesting site with spectacular pictures but I wish you had some photos from beautiful Iran."
Damoon Ghofrani, Iran
2012-12-07 09:36:01
5 from 5
"I love all of your presentations. This is one of my very favorites. Love your music choices. Thanks for allowing me to put this on my site, it is an honor."
Bobby Black, USA
2012-11-20 18:52:01
5 from 5
"Magnífico, faltam palavras para descrever e dizer do que o planeta Terra é bonito."
claudio baptista, Brazil
2012-11-12 19:52:05
5 from 5
"It is really awful specially the background music."
Zubair Siddiqui, Canada
2012-11-05 10:00:14
5 from 5
"This site is just Wow, Awesome. I am PR of Canada. I am a spiritual Master. Thanks."
Maulik Soni, USA
2012-11-01 22:21:17
5 from 5
"Answer to Sham Dande from India.
The heighest tides in Canada are NOT in the lake, they are in the Bay of Fundy, East Coast, Atlantic Ocean."
John Miklasz, Canada
2012-10-11 03:01:34
5 from 5
"Muy bonito video,estube en Toronto y me gusto mucho.Me gustaria ver Vancouver."
Argentina Alvarez, Spain
2012-10-05 16:32:47
5 from 5
"its so mesmerizing and too awesome
just beautiful"
bhargavi rohil, India
2012-09-29 02:38:28
5 from 5
"As a man see the earth from the sky,like to say,it,s a very beautiful and fantastic job,Thanks and best wishes."
cyrus yousefi, Canada
2012-09-27 13:35:05
4 from 5
"it`s very nice"
yasin amiri, Iran
2012-09-23 20:19:52
5 from 5
"Wonderful views.
Greetings from Spain (Ferrol-Galicia)"
Enrique Vizoso Amor, Spain
2012-09-16 03:29:10
5 from 5
saed saedi, Iran
2012-09-01 20:10:04
5 from 5
"this site is extra
very good
thank you"
hamid lovely, Iran
2012-08-31 15:04:46
"very,very good."
meisam hadi, Iran
2012-08-26 22:44:27
"I would like to visit canada someday.
I wonder what the tax system is like over there."
martin gray
2012-08-17 08:19:55
5 from 5
"Toranto is so beautiful
so that i wish to visit this country & Toranto
i wish to visit the lake which is known for highest tides"
sham dande, India
2012-08-05 14:30:11
5 from 5
"I'd love to see the Tar sands photographed in this way! Did i see your helicopters over Vancouver recently?"
Mike Grant, Canada
2012-08-01 07:23:52
"Muito obrigada por este precioso momento,de me emocionar apreciando uma imagem tão linda de um país tão maravilhoso que é o Canada. Gostaria muito de conhecer Toronto, andar por estas ruas... Eu viajei... Parabéns pelo belo trabalho."
Léa Vieira Vieira, Brazil
2012-07-29 13:52:29
5 from 5
"Super cool view of the city from the "CN TOWER""
Rohit Sharma, India
2012-07-26 08:48:53
5 from 5
"your work is so good, i love all pictures,
you are brilliant. and i love Toronto Canada"
Farrukh Alvi, Pakistan
2012-07-24 12:22:39
5 from 5
"I would love to see my birthplace Scotland
lots of beautiful places there
Thanks for this site it is great"
margaretorr orr, Canada
Varvara, AirPano: We understand your wish, but lets think together. Every day more than 100000 people open our site. Would they like to see your birthplace? :) Would you like to see all their birthplaces?

That is the reason why we don't make panoramas of somebody's birthplaces, we shoot panoramas of the most significant and beautiful places of our planet.
2012-07-24 03:33:55
3 from 5
"Now if only Toronto was the capital of Canada."
Robert Lambe, Canada
2012-07-19 01:18:49
5 from 5
"Lived here for a few years and now can only visit it. I always loved Toronto, but never realized how truly beautiful it was. An arial perspective makes a huge difference. Thanks. I have spent hours today "visiting" many part of the world via your website."
Nikki Macarthur, Canada
2012-07-17 00:12:23
5 from 5
"AS I SAID IN MY EMAIL TO AIRPANO, MANY THANKS FOR TORONTO
YOU SHOULD PUT IT ON THE MASTER LIST."
beverley bodnar, Canada
2012-07-16 10:45:12
5 from 5
"EDUCATIVE AND EXCELLENT"
HANUMANTHARAO VADAPALLI, India
2012-07-15 05:02:36
"QUE BELLEZA ESTO ES IMPACTANTE ,ESTOY SIN PALABRAS DE LO BELLO ,LO NATURAL Y LO Q REALMENTE SE OBSERVA ES IMPRESIONANTE LOS FELICITO
CAMILO DELGADO"
camilo delgado
2012-06-30 17:43:51
4 from 5
"What an excellent service you provide to everyone that visits your site! Truly amazing work, guys. I used to live in Toronto, but haven't been back since '05. This was an amazing feeling- to see all the buildings and roads I know and love. Thank you!"
Sid Khemani, United Arab Emirates
2012-06-29 01:10:39
"My City, My Place, and Yours to Discover. Thanks for the awesome airpano."
Ann Stevens, Canada
2012-06-24 04:13:21
5 from 5
"Superb!!!
I am from Toronto, live in Shanghai, toured Machu Pichu, and now heading to Russia for a trip between St. Petersburg and Moscow.... spending hours on your site... everything is so beautiful, so helpful... Congratulations on your creativity and boldness .... when will you capture the sights in Shanghai?"
Marie-Lucie Spoke, China
2012-06-05 06:45:32
5 from 5
"TOTALLY AWESOME HAVE LIVED IN TORONTO ALL MY LIFE & WAS BORN IN THE NEIGHBORHOOD "CABBAGETOWN" AS ALL MY MOM'S FAMILY WERE STARTING AROUND 1864 &UPWARDS ILOVE MY CITY & THE PANORAMIC VIEW IS GREAT ITS LIKE A BIRDS EYE VIEW FOR ALL CONGRATS WILL BE SENDING THIS TO FRIENDS & FAMILY"
EILEEN MCBRIDE