Niagara Falls, Canada-USA
•
360° Aerial Panoramas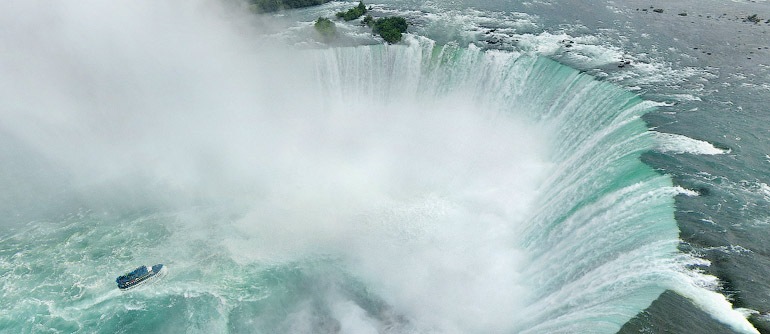 ---
By now we have photographed the majority of famous waterfalls of the world: Angel Falls in Venezuela, Victoria Falls, located on the border of Zambia and Zimbabwe, as well as Iguazu Falls in Brazil and Argentina. Today we'll bring you our virtual tour over Niagara Falls.
We have already made an attempt to shoot Niagara Falls from a regular helicopter but we failed. Unfortunately, our pilot refused to fly to the waterfall closer than a few kilometers despite of our approved flight plan. And now, thanks to our colleague Nick Ivanov from Canada, we have a chance to show you Niagara Falls from a close range.
Here are a few facts about Niagara Falls.
---
At the place where North American Niagara River separates two of the Great Lakes, Erie and Ontario, nature created a magnificent cascade of waterfalls. Each waterfall has its own name: the Horseshoe Falls, the American Falls, and the Bridal Veil Falls. However all of them are known under one name — Niagara Falls. This is the most important landmark of the USA and Canada at the same time, as it separates one country from another.
Great Lakes of North America, Niagara River, and its waterfalls are results of shifting of an ice shield that moved down from the Eastern Canada territory over ten thousand years ago. The glacier crashed everything on its way, deepening and widening riverbeds, and creating or eliminating lakes.
Interestingly enough, the geological characteristics of the area are such that the layers of soil are still moving, even if their movement is not as dramatic any more. During past centuries Niagara Falls have moved eleven kilometers south. According to scientists, the waterfall has been moving with the average speed of one, one and a half meters per year during last 560 years. Today special engineering efforts managed to slow the shifting a little bit.
Photo: Evgueni Strok
On the international scale Niagara Falls is not that high — just 53 meters. Here are few numbers for comparison: Angel Falls in Venezuela drops its water from 807 meters, and Victoria Falls in Zambia and Zimbabwe is 108 meters high. However the width of Niagara Falls is 792 meters. This fact places it together with the widest waterfalls in the world (comparing with Angel and Victoria — 107 and 1800 meters respectively).
These numbers demonstrate how different a waterfall can be. Every one of them is unique. It is also true for the waterfalls that form the Niagara Falls complex.
A small island called Luna separates the American Falls and the Bridal Veil Falls (that truly looks like a bridal wear). Their combined width is about 335 meters. At the same time, there is a giant pile of large sharp rocks at the foot of the American Falls, which makes a visible part of the waterfall 21 meter high.
Being separated by Goat Island, which was formed relatively late (the Niagara River was split into two channels about five hundred years ago), the Horseshoe Falls stands apart from the two. The speed and power of the American Falls are considerably less than those of the Horseshoe Falls, because Goat Island slows down masses of water; and in case of Horseshoe Falls, nothing stands on its way.
Named after deceased herd of artiodactyls, Goat Island is a popular tourist destination as it offers an opportunity to enjoy a spectacular view and also to take pictures of Niagara Falls. Little bridges connect the island with the US mainland and neighboring Luna Island. The Cavern of The Winds, another Niagara attraction, is also located here. From inside the cavern, one can admire the waterfall up close and also feel the power and presence of the big water. And when we say "power" we really mean it — drops of water shower you from head to toe! This is why each tourist receives a raincoat and waterproof footwear at the entrance to the cavern.
Niagara Falls attracts not only millions of tourists, but also those who want to experience extreme sensations. In 1829 Sam Patch became famous as a first man, who jumped from the Horseshoe Falls and survived. Another so-called record was set in 1901 by a 63-year-old Annie Taylor, who went over the waterfall in a barrel. The event of 1960 is rightfully called "The Miracle of Niagara", as a 7-year-old boy accidentally fell down the Horseshoe Falls and survived. Unfortunately, raging waters of Niagara Falls also took many human lives...
Location and position of Niagara Falls doesn't allow a group view of all the waterfalls from one spot. Some people believe that the most spectacular view opens from the Canadian shore; those who travel to Niagara Falls on American side are also satisfied with the picture. And now you have an opportunity to enjoy the magnificent panorama of all waterfalls from the widest possible angle — a bird's eye view — without a risk of getting wet or falling down the stream.
15 November 2013
Comments
2016-03-29 12:34:38
5 from 5
"Hello,I am,now 69 years hold, and I was in Niagara Falls with 9. Funny that I remenber very well my visit. But one thing is missing here: the view from inside where we could see the water folling ahead of us. Women wear yellow boots, hat and raincoat and man wear in blak. I just love it. F#225tima Valadares"
F#225tima Valadares, Portugal
2015-04-12 23:16:36
"Greetings from Colorado! I'm bored to tears at work so I decided to browse your blog on my iphone during lunch break. I really like the knowledge you present here and can't wait to take a look when I get home. I'm amazed at how fast your blog loaded on my mobile .. I'm not even using WIFI, just 3G .. Anyhow, wonderful blog!"
Rafael Luttrell, Germany
2015-03-30 19:24:06
"Que preciosos lugares. Todas mis felicitaciones a este colectivo, a los responsables de estas fotograf#237as tan n#237tidas y tan bien logradas. Tengan muchos #233xitos en su trabajoy gracias por regalarnos estas vistas tan bellas!."
Delmis Sanjuan, Cuba
2015-03-07 23:04:20
5 from 5
"Beautiful presentations that let me visit places that I'll never get to go to... Thanks."
Jean Fortin, Canada
2015-02-07 19:20:48
"sem ofensas, as constru#231#245es ao redor das cataratas
descaracterizam totalmente o visual!!! Sorry!!!"
fabio.henrique1701@bol.com.br Dantas, Brazil
2015-01-28 20:27:53
"MARVELLOUS,WONDERFUL PROGRAMS.....TANKS"
FIDENCIO PEREA, Mexico
2015-01-25 19:44:26
5 from 5
"Now you know why so many lovers have been choosing this destination for their wedding trip so did my parents,... 62 years ago!"
Jean Claude, Canada
2014-12-06 11:57:26
"excellent pics by team Airpano"
prateek doshi, India
2014-11-10 02:43:01
5 from 5
"Breathtaking views of many places all over the world. I will watch many more times."
Carolyn Melton, USA
2014-10-31 23:33:22
5 from 5
"My maternal grandparents lived in Niagara Falls, N.Y. Over 60 years Ive visited often, Summer and Winter. Never have I seen the whole view. Amazing. Thank you."
Mary Sudy, USA
2014-09-17 19:14:12
3 from 5
"It was ok but the American side sucks iguazu falls is better"
Leno Capatureo, Argentina
2014-09-03 18:16:50
4 from 5
"Video is beautiful, and the pictures too. I love this."
manickam ramanathan, India
2014-08-20 16:55:30
"Pl modify your ratting no.s,
I want to give no 9 as I have seen it for 3 days in full sunshine and 2 night in full moon.
Great."
KIRIT BHAGAT, India
2014-07-01 11:43:58
"molto bello . grazie a carissimi saluti
alberto bnacci"
alberto bonacci, Italy
2014-06-16 21:59:49
5 from 5
"By the grace of GOD I get an opportunity to visit Niagara Falls on 06-07-2014 to 06-09-2014. But now I see this panorama. Such a great work in this panorama.. I get more interest in get your mails. What I'm seeing in Niagara in my vision, all things are in your panorama with out missing. This is remain me that gold days. Thanks."
selva rajan, India
2014-05-25 04:10:07
3 from 5
"Es un trabajo digno de profesionales,ademas de las bellezas naturales con que cuenta nuestro planeta, todos debemos preocuparnos por conservarlas"
Rene Fermin, Venezuela
2014-05-18 06:21:36
1 from 5
"thanks to god"
shvan nafi, Iraq
2014-04-26 21:10:34
5 from 5
"Just magnificent! The power, creation and beauty of nature last for ever!!"
Bode Osunsanmi, USA
2014-04-05 23:42:12
5 from 5
"I am 72 have lived 12 miles from Niagara Falls, I see it every couple of weeks and still marvel at the majesty of it. Thank you for showing the beauty of it to the rest of the world. Fantastic photography!"
Brenda Doiron, Canada
2014-03-17 17:00:10
"wow!!!
amazing."
negar m, Iran
2014-03-09 03:20:23
"I am a guide at Niagara Falls and I can say that these images are among the best I have ever seen!"
Joel Dombrowski, USA
2014-03-07 05:08:55
5 from 5
"I love your panorama, but wondered how come I do not get them any more? Pls continue to send them to me."
Angie Leow, Australia
2014-03-05 07:25:14
4 from 5
"EXCLENT PHOTGRAPHY."
AJAY GADANI, USA
2014-02-18 22:19:46
1 from 5
"Sublime!"
Subhasish Banik, Bangladesh
2014-01-28 21:20:56
5 from 5
"zelo čudovito.."
JOE GATES, Slovenia
2014-01-18 14:46:16
5 from 5
"What a beautiful show! Congratulations to you for this magnificent result."
ALAIN VIAUD, France
2014-01-16 04:07:02
5 from 5
"Beautiful pictures ,greate place to visit....
Thank You Krystyna"
Krystyna Guzinska, USA
2014-01-15 18:02:40
5 from 5
GIANNIS VOLIOTIS, Greece
2014-01-13 16:47:28
5 from 5
enrique montaner, Spain
2014-01-13 15:38:05
5 from 5
"Maravilloso espectaculo de la naturaleza acompañando las imagenes con una musica preciosa,un gran trabajo y una gran labor la que realizan y gracias por compartir esta maravilla"
Rafa Rodriguez, Spain
2014-01-07 07:44:37
4 from 5
"The Niagara Falls are beautiful to see in any season. I have been lucky to see them in winter and summer. They rate second only to Iguassu Falls on the Spectacular Range. The background music is a perfect choice!"
Kathryn Byrne, Australia
2014-01-05 22:57:31
4 from 5
"it is great,please put a picture from Tabriz"
mehdi hadi, Iran
2013-12-29 15:16:13
5 from 5
"It is very great!"
mingliang wang, China
2013-12-09 07:04:06
"A line drawn from American Falls through Horseshoe falls would point roughly Southwest. Your photo labeled "Sunset" therefore must in fact be a sunrise."
Edward Drum, USA
2013-12-02 17:43:55
5 from 5
"Hi - very beautiful pictures. Really enjoyed it. Higher your site. Iranian people are like art."
reza hassani, Iran
2013-12-01 02:51:34
5 from 5
"Quienes sean los responsables de estas filmaciones merecen todos los elogios, no solo por el trabajo espectacular bien hecho, sino y más por ser generosos de compartirlo con los demás. Gracias."
Angel Lopez, Spain
2013-11-30 17:15:25
5 from 5
"WONDERFULL"
ABY AUGUSTINE, India
2013-11-25 23:26:21
5 from 5
"Breathtaking view! Very good job AirPano !"
Don Kroko, Poland
2013-11-25 00:08:26
5 from 5
"I'm impressed!!!!! great job greet and wish you many successes"
Piotr Kalinowski, Poland
2013-11-24 03:23:54
5 from 5
"It is beautiful.I was there twice, a few years ago and now.Thanks"
Vuki Omerdic, Serbia and Montenegro
2013-11-21 05:21:40
5 from 5
"Amazing view! Absolutely stunning picture! Thank you so much."
Bingfu Zhu, Australia
2013-11-19 19:00:44
5 from 5
"Excellent Workkk!!! So wonderful!!! bellisisisisisimoooo!!!"
Claudia Aponte, Peru
2013-11-19 01:13:08
5 from 5
"You brought one of my "dreams" come true....as a child it was always my hope that I would see this spectacular view of Niagara Falls..Your panorama has fulfilled that dream with that childhood hope. It has captured everything that I have hoped for...thank you .. it was worth the 80 some years that I had hoped for.."
Doris Mason, USA
2013-11-17 23:17:13
5 from 5
"maravillosas fotografias, y videos, las guardare con mucho cariño.un saludo"
ELENA RUDILLA, Andorra
2013-11-17 08:01:20
5 from 5
"*****CONGRATULATIONS, EXCELLENT WORK!!! a picture with out equal!!! (... It would appear that I'm in the helicopter, THANK YOU VERY MUCH!!!)"
Ines BARRIONUEVO, USA
2013-11-17 02:55:15
5 from 5
"It is good to review this beautifull landscape.
Thank you very mutch for such beness.
Work well done"
Helio Martins, Portugal
2013-11-16 18:20:08
5 from 5
"Hello,thank you for the excellent presentation of beautiful pictures of Niagara Falls, your team again did a great job, thanks again."
Karel Hofmann, Czech Republic
2013-11-16 05:57:15
5 from 5
"Really wonderful.Thank you very much for creation&keeping for public."
dhanakoti rao, India
2013-11-16 01:14:08
5 from 5
"very very nice tanks airpano. i love ...."
aliakbar izanloo, Iran
2013-11-16 00:00:17
5 from 5
"AMASING. GO ON."
Aristeidis Bezerianos, Greece