Changes of the planet after a solar eclipse
•
360° Aerial Panoramas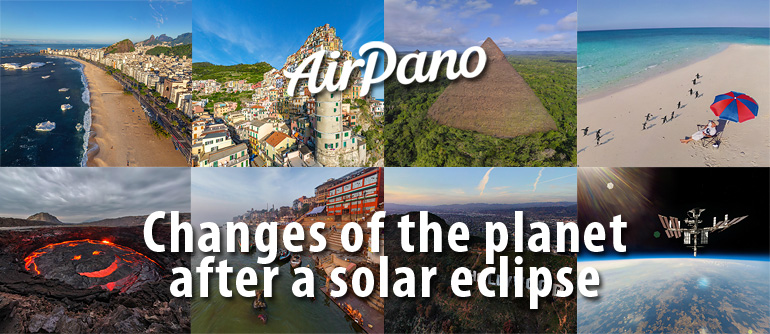 ---
As we know, a total solar eclipse occurred on Earth on March 20, 2015. After that we have received a lot of messages about strange phenomena noticed by different people from all over the world. They were asking to take photos of these natural phenomena and show them to visitors of our web-site.
Within 10 days AirPano team had to fulfill almost a complete journey around the world to show the changes of our planet as soon as possible. We managed to reach the shores of Rio-de-Janeiro, visit the Indian city Varanasi and the beaches of the Great Barrier Reef in Australia. When we reached the Ligurian Shore we were stunned by finding the tower of Babel. What we saw moved us to the depths of our beings. So today we want to share the results of our tough work with you.
But more than that! Today we have also decided to release our first panorama shooted from space. An attentive reader will notice that we have already photographed in stratosphere, so this time we have risen much higher!
1 April 2015
Comments
2016-06-26 07:56:12
"Is the spacestation pano photoshopped also?"
Jordan Folster, Canada
2015-09-03 21:59:28
5 from 5
"During a solar eclipse,the Moon is in between the Earth and the Sun.The effects of an eclipse can be felt for days,Sometimes terrible natural disasters like Tsunamis,Hurricanes and earthquakes occur.The ancients knew of this and considered it an ominous course changer.Many religions offer special prayers during eclipse.In our personal lives eclipses create cycles within cycles.
Weather variation,changes in sea levels and effects on humans and animals all occur if we want to observe with an open mind and eyes.Thank you for a great show!!!!!"
Naznine Qureshi, USA
2015-07-07 04:15:25
5 from 5
"I never rate a 5
Ever
but today I found airpano
wonderful ................absolutely wonderful"
Jumptup Smiley, United Kingdom
2015-04-13 16:18:31
5 from 5
"Amazing,, a view towards a imaginary world."
Abhas Suman, India
2015-04-11 06:52:31
"very good airpano
Babak morz"
Babak Morz, Iran
2015-04-09 07:36:22
1 from 5
"This picture or airpano of the pyramids is fake
the pyramids are in the desert not in a forest"
Ali Mohamed, USA
Varvara, AirPano: Dear Mohamed, didn't you notice anything unusual on the other 7 panoramas? :)

2015-04-07 22:37:49
5 from 5
"This is incredable. I LOVE this."
Edward Boutin, USA
2015-04-05 07:17:13
4 from 5
"thanks"
hosein ali, Iran
2015-04-03 20:09:12
"I was rather alarmed when I saw the changes in our planet...wondering why these weren't all over the news? Just number me one of the April fools."
Jeanie Greer, USA
2015-04-03 13:22:29
5 from 5
"Nice one for April 1st. ::::"
Fren Bill, India
2015-04-03 12:55:38
5 from 5
"Just wanted to know one thing.How did you all manage to see greenery around the Pyramids of Giza? It's a barren desert. I've seen it. Do let me know this. Thanks."
Fren Bill, India
AirPano: Dear Fren, do you know what day is 1st of April? It's an answer to your question.

2015-03-31 20:04:18
5 from 5
"Spectacular!!!
For me the best site in the net.
Congratulations to all team.
Hugs from Portugal
Luis"
luis fonseca, Portugal
2015-03-31 19:32:27
5 from 5
"Perfect presentation, congratulations to all"
Karel Hofmann, Czech Republic
2015-03-31 19:17:36
5 from 5
"Ha,ha,very funny.
Good photoshop work!"
Martin Hrdlicka, Czech Republic
2015-03-31 18:45:54
5 from 5
"Big changes, indeed!! :D"
Fernando Rapetti, Argentina
2015-03-31 18:44:22
5 from 5
"Spectacular and most entertaining. WOW"
james fabian, USA
2015-03-31 18:43:40
4 from 5
"I am surprised to see small icebergsfloats near the Beach. Also unusual is the fish in Varanasi and a bear in the viscidity. V.P"
V.P. Veluswamy, USA
2015-03-31 18:30:01
5 from 5
"Awesome!"
S.M. Naufer, Sri Lanka
2015-03-31 17:55:32
5 from 5
"I am perpetually in love with airpano.rus !
I must have recommended the website to at least 25 friends and relatives of mine..!
By now, i must have spent about 40 hrs with your wonderful website...Its a marvellous gift indeed..."
Dr Arvind Gopal Kulkarni, India
2015-03-31 17:42:27
5 from 5
"Always the best !
êðàñèâûé è îòëè÷íûé !!"
Narendra Pradhan, India