Angel Waterfall of Venezuela - The World's Highest Waterfall
•
360° Aerial Panoramas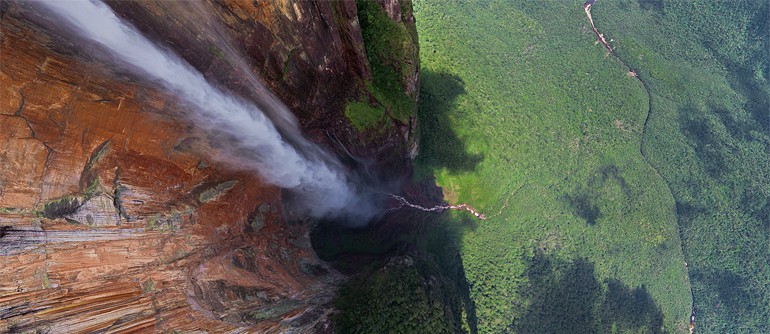 ---
In March of 2011, Dima Moiseenko flew to Venezuela to shoot Angel Falls, the world's highest waterfall. Due to extremely unstable weather conditions that covered the region, a long distance and technical difficulties the photo session lasted for two days. However, all of these difficulties were overcome. Dima managed to shoot Angel Falls and two other waterfalls that flow from the Tepui. He also managed to shoot some spherical panoramas while flying over the gold mines.
First part of the photo shoot (near the waterfall) can be seen here
Now we invite you to a virtual tour: Angel Waterfall of Venezuela — The World's Highest Waterfall
---
During last several years we have shot aerial panoramas of the world's most famous and exotic waterfalls: Iguazu Falls in Brazil/Argentina; Victoria Falls in Zambia/Zimbabwe; Black Waterfall in Iceland...
Naturally, when I came across discounted tickets to Margarita Island (the Mecca of windsurfers and kite boarders) in Venezuela, Salto Angel (Angel Falls) seemed an easy target. It is a well-known fact that Angel Falls is the highest in the world!
The highest point of the falls reaches 979 meters, with water falling from a height of 807 meters. The height of the falls is so great that by the time it reaches the ground it becomes tiny particles that turns into fog.
It should also be mentioned that Venezuela is a unique country. In addition to having Hugo Chavez and the unusually cheap price of gasoline (it only cost 100 rubles to fill up a Jeep), it is also home to the Tepui Mountain formation.
Tepui (or Tepuy) is a strange-looking mountain with a flat top called a "table-top" (because it is flat like a table). These unique geological formations are found mostly in the Venezuelan Guiana Highland in South America.
The word 'Tepui' comes from the language of the Pemon Indians. Tepui means 'house of the gods'. The Tepui formations are completely isolated from each other. The Tepui towers over the jungle making it a home to unique plants and animals.
According to the article in Wikipedia the Angel waterfall was discovered when American aviator Jimmie Angel flew over Tepuy on 16 November 1933 on a flight while he was searching for a valuable ore bed.
Returning on 9 October 1937, Angel tried to land his Metal Aircraft Corporation Flamingo monoplane El Río Caroní; atop Auyan-tepui, but the plane was damaged when the wheels sank into the marshy ground, and he and his three companions, including his wife Marie, were forced to descend the tepui on foot. It took them 11 days to make their way back to civilization,via the gradually sloping backside but news of their adventure spread, and the waterfall was named Angel Falls in his honor.
Here you can also find some of the highest waterfalls in the world. Imagine kilometers-high mountains with steep vertical walls and flat tops in the middle of dense jungles. On these, water accumulates after even a slight amount of rainfall, eventually coming down in numerous waterfalls.
Angel Falls is just one of the waterfalls but it's the highest one since it is almost a kilometer tall. This attribute gives Angel the status of being "the highest waterfall in the world." Other affluent rivers descent from the same Auyantepui mountain, but they are "only" 200 — 300 meters high.
Since mountain waterfalls are fed by rain, travel time needs to be planned carefully. During the dry season, Angel is just a trickle of water. In the rainy season, it is a full-fledged waterfall. However, the weather is so unpredictable that it is possible to not see it in all of its glory, even in as much time as a month...
Although the current season turned out to be dry, our informers reported a recent heavy rainfall. This would yield a full-fledge waterfall — we had to hurry up!
While in Moscow, I researched that there was no helicopter service near the waterfall at the Canaima National Park. Small airplanes that successfully served tourists in this area wouldn't have worked for us. With this in mind, I started searching for transportation on the first day of my arrival to the island of Margarita. Angel Falls is located in the jungles of Venezuela, so anyone can only get there by air or river.
After 3 days of searching, I called a company that services the gold mines with a Bell-206 helicopter. The company is located 100 kilometers from the waterfall. It very well could fly "dear Russian guests" to the coveted Angel Waterfall in the first part of the day.
It took two planes, the Orinoco River crossing, and 8-hours long jeep ride to get from Margarita Island to the company office... But we are ready to go through all difficulties. So soon enough I found myself standing next to the yellow helicopter ready to take off.
The first day we took off at 7 am and arrived at the foot of Angel Falls at 8:15 am. The helicopter landed near the camp, from which a hiking trail led tourists to the waterfall. Our informers did not disappoint us: there was a full-fledged waterfall coming down from the mountain top. Even at a considerable distance, Angel made a strong impression on us. After falling from a kilometer-high distance water is broken in the particles at the foot of the falls. It leaves you standing in a cloud of "water fog" wondering where is this river coming from... It was down there, under a shower of a million tiny water droplets, at where it seemed that nowhere else could one feel the grandeur of the surrounding nature.
So, the final preparations for the flight were made, we removed the doors and the helicopter was ready for takeoff. Although the sky above the waterfall was clear, it was heavy overcast above Mount Auyantepui (from which flows Angel).
I decided that we should just fly to the mountaintop and wait there. We barely found a landing site among the "forest" of rock formations covering the top of the mesa.
It is only from a distance Tepui seem smooth, but in fact it has multi-metered crevices and steep walls ranging from a height of ten floors. It slightly limits your ability to move around the "table" surface. Within an hour blue gaps would open up in the clouds, only to close again. Unfortunately, they happened far away from the waterfall.
Suddenly, within about five minutes, an ascending cloud engulfed us, and we were in dense fog. Within hours, the fog was so thick that the pilot not only refused to do the photo-shoot, but also did not even consider taking off. This kilometer-high cliff and the clouds emerging from down below would excite us at any other time. But now, unfortunately, we were seriously stuck on top of the mountain. The pilot's words didn't encourage us either: he mentioned that fogs like this could last more than a day.
However, we were lucky. By lunch time, the fog started to thin out, so we took off. The pilot found a gap in the fog and we quickly and joyfully flew down to the camp. Throughout the descent I felt something surreal — we were flying through a tunnel of fog that formed around us. I managed to get one shot before the top of the mountain completely disappeared from our sight.
When we reached the ground and started to hang the helicopter doors back in place, the waterfall, as if it were laughing at us, suddenly appeared in all of its beauty. The dense wall of fog had completely dissipated in ten minutes!
Although the high clouds over Auyantepui persisted, I decided to shoot spherical panoramas with the available light. As a result, I was able to capture all the targeted locations during the first day (but with remnants of clouds and fog, and no sunlight).
In the evening, I put together previews of these panoramas on my laptop: unfortunately it didn't give me satisfaction.
I decided to fly back to Angel on the second day. This time we flew out from a village of gold miners simply called "88 km". One hour ride to the waterfall. The sky was overcast. What was the weather like at the waterfall? It is over 90 kilometers away. No one knew.
When we landed at the base camp at 8 o'clock in the morning, the waterfall was not visible at all. Even Auyantepui mountain walls were completely covered with constantly growing fog.
At 10 o'clock, about half of the waterfall became visible. By 11 o'clock, the top started to appear. I decided to go ahead and take off to shoot the cloud in the middle of the waterfall.
I set my second camera with a telephoto lens on a tripod to capture the helicopter with Angel Falls in the background. The camera was programmed to automatically capture the waterfall (shooting in 5 second intervals) with my helicopter in sight.
The sky above us was grey. As we took off and began to ascent, the top of the waterfall disappeared once again in the fog... Never the less, I shot one spherical panorama... On the second lap around, I felt like there was something wrong with the camera. It turned out that my shutter was malfunctioning. We had to go down, change the camera, and once again... wait.
The sky suddenly became clear and by 12:30 it was almost completely blue, but... as 'Murphy's law' would have it, both Angel waterfall and the top of Auyantepui were still invisible.
So, for the sake of not wasting time, I decided to capture the nearby waterfalls. We circled around a magnificent 300-meter high waterfall with a scary name "Dragon". Then we moved to "Salto Cortina" with two cascades of 200-meters each. Still Dragon waterfall was my favorite — located in a very beautiful place and surrounded by the cliffs on three sides, it made one of the best panoramic views.
At the end of shooting the Dragon Waterfall, I saw that the cloud above Angel had lifted. We then immediately flew back. Within just a few minutes the fog was completely gone, and I started shooting Angel Falls from above.
It was one o'clock in the afternoon, only the very top was in the sun and the bottom of the falls was covered in shade. It lasted 15 minutes. I managed to get a helicopter to fly 800 meters from the mountaintop along the falls down to the ground and shoot about a dozen spherical panoramas. It was particularly difficult to shoot at the bottom of the falls. Water vapor completely enveloped the helicopter, so much so that I had to clean the lens after shooting each panorama. While shooting my next spherical photo, I saw that a low cloud at the top of the waterfall was only slowly moving in; however, I made it. On the ground, in the camp, while our pilot fixed the removed doors, I looked back only to see that the cloud had completely covered the waterfall... This is how nature treats us: she gives us 15 minutes in 2 days!
On our way back we spotted surreal red and green colors down on the ground. It turned to be the gold mines!
After a bit of quarreling, the pilot agreed to hover over the mines with a removed door for a small tip. But he warned us that if locals see a man with the camera, they might start shooting. The prospect of running into an angry gold-digger was not the 'gold at the end of the rainbow' so to speak. At the same time I remembered how the pilot exaggerated about spending the night in the fog at the top of the mountain, and decided to risk it.
The most popular association people make with the gold mines is the city of El Dorado. According to the legend, the Spanish explorers of South America encountered many people that wore gold jewelry and used gold products in their daily lives. There arose a myth of a gold city, which according to the legend, was located somewhere on the border of modern Columbia and Venezuela. This story of El Dorado drew the Spaniards deep into the heart of the continent. Although El Dorado has never been found, variations of the legend can still be heard across the land of Venezuela.
Only upon our return home, we found out we were circling over one of the major gold mines. They have open-pit gold mining here, which explains its bright red clay. Gold miners live in the village, located directly at the borders of the mine. It's called Ciudad Dorada. Sounds very much like El Dorado, doesn't it?
And although I did not see the Golden City, I am glad that the flight over the mines went well. Perhaps the miners were tired of working at the 40-degree heat and the humidity of the jungle, or the rain scared them off (the rain that came with a rainbow). Or perhaps our pilot did his job well to earn the tip. But no one even paid attention to us, so we finished our photo shoot in one piece.
On our way back, I finally had that feeling of satisfaction from my finished work. Everything went well. The mission to shoot Angel Falls, the highest waterfall in the world, as well as its beautiful surroundings, was now a success.
Photo and text by Dmitry Moiseenko
12 November 2011
Comments
2017-05-16 19:16:53
4 from 5
"thank you for givig me info"
loa moore, USA
2017-03-22 10:17:58
1 from 5
"Very wonderful fall that is great gift for earth by god ,,,,,,out of thoughts"
Prem vaishnav, India
2016-04-09 10:57:59
5 from 5
"Excellent blog, awesome pictures and 3D shoot"
Nakul Chakoo, USA
2015-09-10 23:43:16
"EVER I LIKE SAME LIKE THIS amazing PLACE"
arm juslan, Sri Lanka
2015-06-05 14:03:47
5 from 5
"CHEVERE"
JOSUE DUGARTE, Venezuela
2015-04-03 00:33:58
4 from 5
"El Salto Angel no solo es una maravilla de Venezuela, est#225 declarada como una de la maravillas del mundo. Es una maravilla de todo lo que DIIS le ha dado nuestra tierra. No debemos permitir ning#250n tipo de avecinamiento a #233l, es un PECADO MORTAL haber hecho un lugar tur#237stico cerca. Debemos protegerlo y conformarnos con este bell#237simo reportaje pero no permitir que ninguno se acerque ni mucho menos realizar ning#250n tipo de construcci#243n es un PECADO que el hombre destruya una obra del Se#241or como esta."
cynthia ofelia oviedo cardona, Venezuela
2015-01-27 00:46:51
5 from 5
"kudrat ka nayab karishma!!!

I'm very thankful to you that posted such beautiful pics of nature and detail of the waterfall."
abhishake sharma, India
2014-12-25 20:53:48
"excelentt and maximum information given with photographs"
krishna kumar lingampalli, India
2014-11-14 19:21:24
5 from 5
"This is not earth,but heaven.......I have not words to explain......."
Suchithra harindran Nair, India
2014-10-22 07:49:16
"gracias"
gustavo vegas, Venezuela
2014-09-23 18:54:08
"the most beautiful pic i like this and i will never see otherwise it was totally enjoyed and will be visited again and again. thank you that did this"
nagendra gundlapalli, India
2014-09-22 12:50:42
4 from 5
"Very Nice. I've been there a couple of times. Best place I've ever seen and I've seen a bunch. Is there a hotel at the top of the falls ? Is it on orchid island ?How do you get to the top of the falls without taking the long walk up there ? Thanks Marc"
marc langenhahn, USA
2014-07-23 20:25:55
5 from 5
"simply super, cool pics"
shameet kulkarni, India
2014-07-19 14:55:51
5 from 5
"its just amaging as its name "ANGEL FALL" just lop it........."
Angel Puri, Nepal
2014-06-25 12:40:26
5 from 5
"I really like this angels falls as I have studied about it earlier"
Mariam Bakht, Pakistan
2014-06-18 07:03:07
5 from 5
"are there any public viewing points for someone who does not have aircraft?, because we are thinking to go there soon.

Also, are the gold mines legal? they look like a giant environment problem of permanent destruction"
Gary Heiser, USA
2014-06-10 06:51:15
5 from 5
"oh,wow what a seen by god. it's just amazing, fabuluas"
soumi das, India
2014-05-15 21:34:29
5 from 5
"Vivid representation with excellent description enough to tempt anyone to enjoy the beauty of nature and to know the mystery of nature. Thank you for acknowledging this wonderful wonder. Wish I will be there once in my life."
rina jha, India
2014-05-09 02:36:22
5 from 5
"I must say, a very nice piece of work! Amazing photographs. I wish I were with you. I just hope one day, I get to visit these falls."
Abhishek Shenoy K, India
2014-05-05 18:31:25
5 from 5
"VISITED VENEZUELA IN 2001.STAYED IN A HILLSIDE HOTEL IN EL MORROW.RENTED A VEHICLE AND DROVE TO EL TIGRE AND CIUDAD BOLIVAR STAYED OVERNIGHT IN A MOTEL NEAR THE ANGASTORA BRIDGE,SET OUT THE NEXT A.M.FOR CANAIMA AND A TRIP UP RIVER TO THE FALLS,HAD TO TURN BACK MIDWAY BETWEEN BRIDGE AND CANAIMA,REASON BEYOND OUR CONTROL.YOUR PHOTOS MADE MY TRIP,FOR MY AGE IS NOT IN MY FAVOUR TO RETURN.THANK YOU SO MUCH,YOUR A REAL PROFESSIONAL."
WILLARD CAWLEY, Canada
2014-04-23 18:10:34
5 from 5
"It felt like i was actually there amidst the magnificent and beautiful creation of nature. Thank you."
Arnab Chatterjee, India
2014-04-20 09:47:26
4 from 5
"Excelente calidad de fotografia ! Por favor mas nunca aterricen el elicoptero sobre el tepui ! Por que se muere cada vez que lo tocan ! Lo pido en nombre de mis ancestros los indigenas Pemon ! Observen sin dañar ....gracias"
Norma Rojas, Venezuela
2014-04-01 18:20:14
5 from 5
"very nice thank you"
amir hasani, Iran
2014-03-28 08:13:49
5 from 5
"For a moment i felt i was there . Thank you for the experience. wonderful !!"
Ayush Wazir, India
2014-03-24 21:08:34
5 from 5
"this website is amazing because it shows lovely views and the images are soooooooooooooooooooooooooo amazing and the scenery is beautiful."
katie craske, United Kingdom
2014-03-17 07:41:04
"very beautiful"
angel upreti, Nepal
2014-03-11 06:52:03
5 from 5
"its awesome place .. heaven in the earth,abosutly great and beautiful. I would love to be there some day. GOD IS GREAT, Thanks for sharing"
Riyani Herlina, Indonesia
2014-03-10 14:27:43
5 from 5
"suka sekali aerial panoramanya, seperti benar-benar melayang di sana...
kami bisa ikut menikmati indahnya dunia melalui karyamu, terima kasih"
kit wibowo, Indonesia
2014-02-14 23:36:45
"WONDROUS CREATIONS REVEALS JEHOVAH'S GLORY"
DAMIAN SALVADOR, Netherlands
2014-02-08 14:16:48
1 from 5
"Wow its abosutly great and beautiful. I would love to be there some day. GOD IS GREAT"
Osamudiamhen Adoghe, Nigeria
2014-01-31 15:35:14
"The pictures were so wonderfull beautiful and the writings was awesome. Thank you so much for sharing."
Tuciman Semijo, Malaysia
2014-01-30 23:03:50
5 from 5
"So beautiful!!!!!!"
jazmin granados, USA
2014-01-21 20:43:11
4 from 5
"Just a little correction: The real name (indigenous name) of "Angel Falls" is: "KEREPAKUPAI VENA"....is not "Churun Meru". "Churun Meru" is the name of other waterfall in the Auyantepui.

Cheers."
Daniel Moreno, Venezuela
2014-01-16 20:03:25
"its such a relaxing place"
cristal magana, USA
2014-01-16 00:19:17
5 from 5
"Que lindo y hermoso es mi pais, dios permita que sus paisajes se conserven siempre tan hermosos."
Judith Coromoto Zacarías España, Venezuela
2014-01-09 17:15:33
"Bonjour,

Je vous remercie pour ces sublime photographies.

J'ai eu la chance de m'y rendre et de me baigner au pied de ces magnifiques chutes d'eau !!!
Ce pays est superbe et vaut la peine de le découvrir."
Dionisi Denyse Augé, France
2014-01-06 23:26:13
5 from 5
"Excellent photography and very beautiful such amazing angels fall"
Ashish Pawara, India
2014-01-06 12:23:40
4 from 5
"its awesome"
vini kumar, India
2014-01-03 21:45:47
5 from 5
"this is what is called heaven in the earth.
and the way this article is published makes it something beyond heaven"
Dr Rahul Tiwari, India
2013-12-30 12:23:30
5 from 5
"Its beautifully awesome, and, other, words."
Lavinia Zecc, Kenya
2013-12-24 22:02:09
4 from 5
"amazing, want to see it with my own eyes"
anu dilz, Sri Lanka
2013-12-20 21:59:32
5 from 5
"One word: Magnificent"
PAPY Mougeot, France
2013-12-17 00:45:42
5 from 5
"These are the most amazing views of nature my eyes have ever seen I think and know this website has don a wonderful job in bringing this part of the World for people to see how beautiful this Planet really is ,I am so glad of finding this website thank you for sharing this with us. It was a wonderful job and keep up this great work. By Tony Oliveras"
Tony Oliveras, USA
2013-12-16 01:51:46
5 from 5
"Woow really extraordinary and I hope to go there someday. My planet it's very Beautiful ..."
fakihatin jannah, Indonesia
2013-11-21 11:36:28
"these photos makes me happy"
anilkumar petluri, India
2013-11-18 18:58:59
5 from 5
"Good very good"
Mohammad Reza Faridani, Iran
2013-11-15 00:45:55
5 from 5
"Visited Angel Falls in 1999. Still one of my greatest memories.
Great to see this pics. I want to go again!"
Rob Feenstra, Netherlands
2013-11-14 12:08:03
5 from 5
"Saw your site while searching how to get to AngelFalls in Jan 2014. I can hardly wait to see and feel the spray.
Thanks for sharing your fantastic photography."
Marti Campbell, USA
2013-11-12 16:08:27
1 from 5
ali vahid, Iran
2013-10-22 02:19:30
"hola maestra soy mama de Diana Fernanda Morales ,,le habia enviado la tarea en español,,,espero le sirva esto le todo referente al pais de Venezuela, saludos y al mismo tiempo avisarle que no podra ir ni dia jueves ni viernes saldremos."
Morales Diana Fernanda, Mexico