Angel Waterfall of Venezuela - The World's Highest Waterfall
•
360° Aerial Panoramas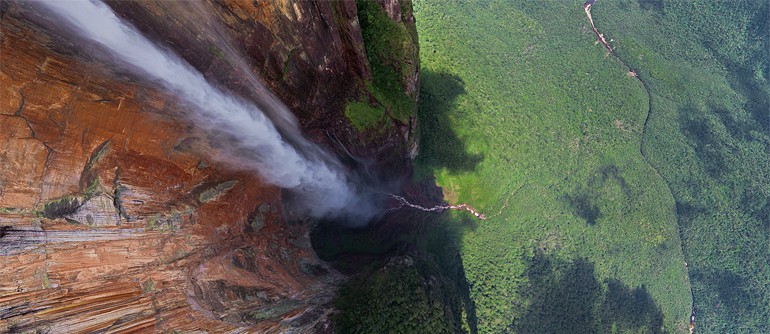 ---
In March of 2011, Dima Moiseenko flew to Venezuela to shoot Angel Falls, the world's highest waterfall. Due to extremely unstable weather conditions that covered the region, a long distance and technical difficulties the photo session lasted for two days. However, all of these difficulties were overcome. Dima managed to shoot Angel Falls and two other waterfalls that flow from the Tepui. He also managed to shoot some spherical panoramas while flying over the gold mines.
First part of the photo shoot (near the waterfall) can be seen here
Now we invite you to a virtual tour: Angel Waterfall of Venezuela — The World's Highest Waterfall
---
During last several years we have shot aerial panoramas of the world's most famous and exotic waterfalls: Iguazu Falls in Brazil/Argentina; Victoria Falls in Zambia/Zimbabwe; Black Waterfall in Iceland...
Naturally, when I came across discounted tickets to Margarita Island (the Mecca of windsurfers and kite boarders) in Venezuela, Salto Angel (Angel Falls) seemed an easy target. It is a well-known fact that Angel Falls is the highest in the world!
The highest point of the falls reaches 979 meters, with water falling from a height of 807 meters. The height of the falls is so great that by the time it reaches the ground it becomes tiny particles that turns into fog.
It should also be mentioned that Venezuela is a unique country. In addition to having Hugo Chavez and the unusually cheap price of gasoline (it only cost 100 rubles to fill up a Jeep), it is also home to the Tepui Mountain formation.
Tepui (or Tepuy) is a strange-looking mountain with a flat top called a "table-top" (because it is flat like a table). These unique geological formations are found mostly in the Venezuelan Guiana Highland in South America.
The word 'Tepui' comes from the language of the Pemon Indians. Tepui means 'house of the gods'. The Tepui formations are completely isolated from each other. The Tepui towers over the jungle making it a home to unique plants and animals.
According to the article in Wikipedia the Angel waterfall was discovered when American aviator Jimmie Angel flew over Tepuy on 16 November 1933 on a flight while he was searching for a valuable ore bed.
Returning on 9 October 1937, Angel tried to land his Metal Aircraft Corporation Flamingo monoplane El Río Caroní; atop Auyan-tepui, but the plane was damaged when the wheels sank into the marshy ground, and he and his three companions, including his wife Marie, were forced to descend the tepui on foot. It took them 11 days to make their way back to civilization,via the gradually sloping backside but news of their adventure spread, and the waterfall was named Angel Falls in his honor.
Here you can also find some of the highest waterfalls in the world. Imagine kilometers-high mountains with steep vertical walls and flat tops in the middle of dense jungles. On these, water accumulates after even a slight amount of rainfall, eventually coming down in numerous waterfalls.
Angel Falls is just one of the waterfalls but it's the highest one since it is almost a kilometer tall. This attribute gives Angel the status of being "the highest waterfall in the world." Other affluent rivers descent from the same Auyantepui mountain, but they are "only" 200 — 300 meters high.
Since mountain waterfalls are fed by rain, travel time needs to be planned carefully. During the dry season, Angel is just a trickle of water. In the rainy season, it is a full-fledged waterfall. However, the weather is so unpredictable that it is possible to not see it in all of its glory, even in as much time as a month...
Although the current season turned out to be dry, our informers reported a recent heavy rainfall. This would yield a full-fledge waterfall — we had to hurry up!
While in Moscow, I researched that there was no helicopter service near the waterfall at the Canaima National Park. Small airplanes that successfully served tourists in this area wouldn't have worked for us. With this in mind, I started searching for transportation on the first day of my arrival to the island of Margarita. Angel Falls is located in the jungles of Venezuela, so anyone can only get there by air or river.
After 3 days of searching, I called a company that services the gold mines with a Bell-206 helicopter. The company is located 100 kilometers from the waterfall. It very well could fly "dear Russian guests" to the coveted Angel Waterfall in the first part of the day.
It took two planes, the Orinoco River crossing, and 8-hours long jeep ride to get from Margarita Island to the company office... But we are ready to go through all difficulties. So soon enough I found myself standing next to the yellow helicopter ready to take off.
The first day we took off at 7 am and arrived at the foot of Angel Falls at 8:15 am. The helicopter landed near the camp, from which a hiking trail led tourists to the waterfall. Our informers did not disappoint us: there was a full-fledged waterfall coming down from the mountain top. Even at a considerable distance, Angel made a strong impression on us. After falling from a kilometer-high distance water is broken in the particles at the foot of the falls. It leaves you standing in a cloud of "water fog" wondering where is this river coming from... It was down there, under a shower of a million tiny water droplets, at where it seemed that nowhere else could one feel the grandeur of the surrounding nature.
So, the final preparations for the flight were made, we removed the doors and the helicopter was ready for takeoff. Although the sky above the waterfall was clear, it was heavy overcast above Mount Auyantepui (from which flows Angel).
I decided that we should just fly to the mountaintop and wait there. We barely found a landing site among the "forest" of rock formations covering the top of the mesa.
It is only from a distance Tepui seem smooth, but in fact it has multi-metered crevices and steep walls ranging from a height of ten floors. It slightly limits your ability to move around the "table" surface. Within an hour blue gaps would open up in the clouds, only to close again. Unfortunately, they happened far away from the waterfall.
Suddenly, within about five minutes, an ascending cloud engulfed us, and we were in dense fog. Within hours, the fog was so thick that the pilot not only refused to do the photo-shoot, but also did not even consider taking off. This kilometer-high cliff and the clouds emerging from down below would excite us at any other time. But now, unfortunately, we were seriously stuck on top of the mountain. The pilot's words didn't encourage us either: he mentioned that fogs like this could last more than a day.
However, we were lucky. By lunch time, the fog started to thin out, so we took off. The pilot found a gap in the fog and we quickly and joyfully flew down to the camp. Throughout the descent I felt something surreal — we were flying through a tunnel of fog that formed around us. I managed to get one shot before the top of the mountain completely disappeared from our sight.
When we reached the ground and started to hang the helicopter doors back in place, the waterfall, as if it were laughing at us, suddenly appeared in all of its beauty. The dense wall of fog had completely dissipated in ten minutes!
Although the high clouds over Auyantepui persisted, I decided to shoot spherical panoramas with the available light. As a result, I was able to capture all the targeted locations during the first day (but with remnants of clouds and fog, and no sunlight).
In the evening, I put together previews of these panoramas on my laptop: unfortunately it didn't give me satisfaction.
I decided to fly back to Angel on the second day. This time we flew out from a village of gold miners simply called "88 km". One hour ride to the waterfall. The sky was overcast. What was the weather like at the waterfall? It is over 90 kilometers away. No one knew.
When we landed at the base camp at 8 o'clock in the morning, the waterfall was not visible at all. Even Auyantepui mountain walls were completely covered with constantly growing fog.
At 10 o'clock, about half of the waterfall became visible. By 11 o'clock, the top started to appear. I decided to go ahead and take off to shoot the cloud in the middle of the waterfall.
I set my second camera with a telephoto lens on a tripod to capture the helicopter with Angel Falls in the background. The camera was programmed to automatically capture the waterfall (shooting in 5 second intervals) with my helicopter in sight.
The sky above us was grey. As we took off and began to ascent, the top of the waterfall disappeared once again in the fog... Never the less, I shot one spherical panorama... On the second lap around, I felt like there was something wrong with the camera. It turned out that my shutter was malfunctioning. We had to go down, change the camera, and once again... wait.
The sky suddenly became clear and by 12:30 it was almost completely blue, but... as 'Murphy's law' would have it, both Angel waterfall and the top of Auyantepui were still invisible.
So, for the sake of not wasting time, I decided to capture the nearby waterfalls. We circled around a magnificent 300-meter high waterfall with a scary name "Dragon". Then we moved to "Salto Cortina" with two cascades of 200-meters each. Still Dragon waterfall was my favorite — located in a very beautiful place and surrounded by the cliffs on three sides, it made one of the best panoramic views.
At the end of shooting the Dragon Waterfall, I saw that the cloud above Angel had lifted. We then immediately flew back. Within just a few minutes the fog was completely gone, and I started shooting Angel Falls from above.
It was one o'clock in the afternoon, only the very top was in the sun and the bottom of the falls was covered in shade. It lasted 15 minutes. I managed to get a helicopter to fly 800 meters from the mountaintop along the falls down to the ground and shoot about a dozen spherical panoramas. It was particularly difficult to shoot at the bottom of the falls. Water vapor completely enveloped the helicopter, so much so that I had to clean the lens after shooting each panorama. While shooting my next spherical photo, I saw that a low cloud at the top of the waterfall was only slowly moving in; however, I made it. On the ground, in the camp, while our pilot fixed the removed doors, I looked back only to see that the cloud had completely covered the waterfall... This is how nature treats us: she gives us 15 minutes in 2 days!
On our way back we spotted surreal red and green colors down on the ground. It turned to be the gold mines!
After a bit of quarreling, the pilot agreed to hover over the mines with a removed door for a small tip. But he warned us that if locals see a man with the camera, they might start shooting. The prospect of running into an angry gold-digger was not the 'gold at the end of the rainbow' so to speak. At the same time I remembered how the pilot exaggerated about spending the night in the fog at the top of the mountain, and decided to risk it.
The most popular association people make with the gold mines is the city of El Dorado. According to the legend, the Spanish explorers of South America encountered many people that wore gold jewelry and used gold products in their daily lives. There arose a myth of a gold city, which according to the legend, was located somewhere on the border of modern Columbia and Venezuela. This story of El Dorado drew the Spaniards deep into the heart of the continent. Although El Dorado has never been found, variations of the legend can still be heard across the land of Venezuela.
Only upon our return home, we found out we were circling over one of the major gold mines. They have open-pit gold mining here, which explains its bright red clay. Gold miners live in the village, located directly at the borders of the mine. It's called Ciudad Dorada. Sounds very much like El Dorado, doesn't it?
And although I did not see the Golden City, I am glad that the flight over the mines went well. Perhaps the miners were tired of working at the 40-degree heat and the humidity of the jungle, or the rain scared them off (the rain that came with a rainbow). Or perhaps our pilot did his job well to earn the tip. But no one even paid attention to us, so we finished our photo shoot in one piece.
On our way back, I finally had that feeling of satisfaction from my finished work. Everything went well. The mission to shoot Angel Falls, the highest waterfall in the world, as well as its beautiful surroundings, was now a success.
Photo and text by Dmitry Moiseenko
12 November 2011
Comments
2012-04-25 13:03:58
5 from 5
"wow wonderfull fentastic amazing morvaless brilliennt super"
Rathnakaram ranga raju, India
2012-04-24 18:55:00
5 from 5
"Ojala en venezuela cambie la cultura de no valorar lo que se tiene, para despues extrañar lo que se tuvo. La Gran sabana necesita una recuperacion urgente, ya no es la misma, el hombre la esta destrozando!"
Luis Valladares, Venezuela
2012-04-19 21:01:38
"exelent"
jaffer tajdin, Rwanda
2012-04-18 10:24:10
"incredible in the world......"
abdul gafoor k
2012-04-17 19:20:02
5 from 5
"Wow!!!
That's the only word that comes to my mind after getting through this,Mother nature is amazing!

Thanks a lot for this wonderful work."
Shashank Suman, India
2012-04-16 16:45:12
4 from 5
a min m ery, Iran
2012-04-14 01:43:43
5 from 5
Dominick Critelli, USA
2012-04-12 05:25:48
5 from 5
"Lindo!!"
Eliana Daniel, Brazil
2012-04-11 10:27:54
5 from 5
"Simply amazing. Keep it up!"
V GOPI, India
2012-04-06 03:27:12
5 from 5
"Thanks to your collaboration, I placed a link to the Angel Falls (Salto Angel) panorama in our Natura digital Magazine www.natura-digital.com.
It has been visited and seen 1378 times until today, April 5, 2012
I must post this note, in order to remind some readers to read and study the history of Angel Falls. It was Jimmy Angel a small mining plane pilot who discovered the fall in 1933. Local indigenous tribes have always had the belief or tepuis being homes of the demon, thus the name Canaima, which means that this tabletop mountains are the land of the devil. That is the reason for the local indigenous tribes never entered the Churun river valley and could not reach the fall site which is partly hidden by a dent in the side of the tepui. They do not want to climb up these mountains either for the same reason. There is no way to see angel falls from the distance. Only when an American female reporter wanted to measure the real height of the fall, actually hired a group of pemones from Kamarata, located south of the Auyan-tepui, to take her there by canoe. Only then, the pemones were able to reach the site and see the fall for the first time and then gave a local name to it. I would like to know why is it objectionable to use the name of its original discoverer just because it was a north american native? Do we have to change the name Bolívar in every plaza in Venezuela because he was not an indigenous person? What about Pico Bolívar, should we also change it? Thank you all, and to those who do not like the name Angel Falls please read and study before writing erroneous facts."
Carlos Rivero, Venezuela
Varvara, AirPano: Thank you for your message, Carlos. We are impressed by your comment and grateful for the link.
2012-04-04 02:26:44
5 from 5
"HOLA, la belleza se clasifica con la máxima puntuación, viendo las fotos te metes en ellas y vives una aventura hermosa, felicitaciones ¡"
lucila jimenez, Venezuela
2012-04-04 01:03:30
2 from 5
"es una belleza pero tenemos que cuidarlos nosotros mismos los estamos destruyendo con nuestro descuido con incencios yla basura claro que es lo mas bonito ayudemos aconcerbarlos"
veronica juarez, Mexico
Varvara, AirPano: Thank you. Muchas gracias.
2012-04-03 18:52:22
5 from 5
"Hvala, prekrasno!"
biljana facini, Croatia
2012-03-31 19:56:57
"Increible!! No hay palabras para describir tan hermosos y màgicos escenarios y lo mejor es que esta en nuestra amada patria Venezuela!! Excelent... There´s no words to describe how perfect is Canaima... The Lost World... These pictures are amazing... Thanks for sharing and let's know the rest of the world about one of the most beautiful places in my country and the whole planet...Wonderful natural beauty !!!, Excellent job for worldwide. I am very proud of my country !!! Venezuela has magnificent lansdcapes that we can not find in any other ! I Love my country ! God blesses who promote the best of this beautiful place. Excelent work...thanks again"
Moralba Monasterios, Venezuela
Varvara, AirPano: We are glad you visited us and we are happy you liked this pano. Good luck!
2012-03-30 23:11:27
5 from 5
"I could give this Panorama a solid 10.

Sadly I went 19 years ago, I don't live any more in Venezuela and I regret deeply that I never went back to that mystical place. As a photography aficionado, I love these panoramic pictures. As a nature lover, I hate seeing those damn open pit mines damaging the beauty of my country.

The helicopter pilot was right usually those miners will shoot anything with a camera that moves, they don't want anyone to know how they are ripping apart the jungle.

Thanks for the beautiful panoramic pictures, keep the amazing work."
Axel Cortez, Venezuela
Varvara, AirPano: Thanks a lot for your sincere opinion.
2012-03-28 12:08:07
5 from 5
"Excelet work, Thanks to God for creating like this,Thanks for sharing."
tomchilambil chilambil, India
2012-03-26 05:35:36
5 from 5
"ABSOLUTELY SPECTACULAR !!!"
Susan Fortuna, Australia
2012-03-26 02:05:25
5 from 5
"To all of you: friends of the wonderful Kerepakupai-Meru, Canaima, (Original Name) called mistakenly 'Angel Fall'. I am a Venezuelan. In November, 2011 visit Canaima. I share with all of you this beautiful feeling that is born in the soul when there is visited this indescribable place of Tepuy Canaima and its majestic fall of water, Kerepakupai-Meru, or 'Jump to the deepest Place, if you preffer to said it in English. We, the Venezuelans, do not accept to change the original name of this cataract into the personal name of a north american stranger called Jimmy Angel, who in an ocación visited Canaima and for that reason it has dared to change the original name of the above mentioned cataract. Although this marvel in Venezuela is for the enjoyment of all those who want to visit it and go there to obtain these beautiful images, and the memory of those who with so much love and professionalism guided us for the rivers and the ways of the Big Canaima, refer to the Natives Pemones, They, the natives of the Canaima, they were that for all its years of existence in this area gave him the original name of Kerepakupai-Meru to this cataract, which meaning is in Spanish 'Salto al Lugar Mas Produndo and this way it must be known in the world, with its original name.From Venezuela I make come my deep gratitude to all those who have made possible the diffusion of this comprising video of the incomparable Canaima. And For all those whom want to visit Canaima, do not hesitate to do it. Here we are waiting for all of you with open arms, you will be always welcome."
Vicky Gonzalez, Venezuela
Varvara, AirPano: Many thanks for your extremely informative message, Vicky. We are glad you visited us. Hope, you'll visit us again soon. Good luck!
2012-03-25 22:54:06
5 from 5
"1xűen lenyűgöző,fantasztikus,lélegzetelállító"
Tóth Imre, Hungary
2012-03-25 18:45:09
3 from 5
"very beautiful. please send me music 1."
faezeh yasi, Iran
2012-03-23 18:11:15
5 from 5
"Perfect perspective, a mysterious beauty in front of surface."
兴华 温, China
2012-03-20 20:22:03
5 from 5
"I visited Angel Falls in 2010; 7 hours by dug out Canoe along the river from Canaima. Climbed up to the base of the falls through the humid jungle. Luckily weather was great from time to time. In Canaima there are 3 wide falls where one could walk behind two of them with an enormous curtain of water in front of you. Canaima Lagoon too is beautiful with unusual reddish coloured water. Thanks for the super presentation with wonderful background music. Otlichno!
Nobel Peace Prize should be given to persons like you for unifying the aspirations of the peoples of the world, instead of the war mongers."
Chandra Wijayatilake, Sri Lanka
2012-03-20 14:04:36
5 from 5
"muy cierto es que el salto Angel es un paisaje muy hermoso,unico en su estilo al igual que Canaima,pero tambien es muy cierto que es grotescamente muy caro,excesivamente muy costoso,tanto que los precios son en dolares aunque estos se paguen al cambio preferencial de 4,30,pero que siguen siendo absurdo al igual que ir a los Roques,demasiado caro,por lo menos en nuestra ciudad de Maracaibo comprar un paquete de 3 dias y 2 noches para viajar a estos lugares es tan brutalmente costoso que es preferible ir a Buenos Aires o algun otro lugar fuera de Venezuela,aquel Venezolano que este de acuerdo conque vale la pena pagar lo que sea por que es nuestro pais y hay que apoyar lo nuestro,entonces sencillamente apoya la corrupcion,estoy mas bien de acuerdo en que se tome control de este exsabruto de precios"
Erwin Duarte, Venezuela
Varvara, AirPano: Thank you very much for the opinion left. Could you, please, leave your messages in English next time?
2012-03-20 13:23:13
5 from 5
"¡Muchas Gracias!
Excelente labor la que hacen por dar a conocer las maravillas de nuestro planeta. Sigan con su excelente proyecto, disfrutenlo haciendolo y esten seguros de que su trabajo motivará a mucha gente a tomar decisiones de viaje, entre muchas otras, y a disfrutar de hermosos lugares como éste. ¡Saludos!"
Michel Spadari, Venezuela
2012-03-20 12:59:07
5 from 5
"Great views of the Angel fall! I've felt in love of our earth and her beauty. With respectful thanks!"
Vinh Nguyen, Vietnam
Varvara, AirPano: We are happy you enjoyed this pano.
2012-03-19 02:14:48
5 from 5
"En regardant et en lisant vos commentaires je me disais que la magie de Dieu etait au rendez vous, vous donnez au gens lenvie de se deplacer daller voir, admirer cette merveille de ses propres yeux.Merci"
Nancy Ais, Haiti
2012-03-19 01:11:42
"Beautiful"
Paul Porter, Canada
2012-03-18 21:54:11
5 from 5
"Najlepsa hvala za to estetsko prekrasno in tehnično dovršeno predstavitev izjemnih lepot dela Venezuele. Posredoval bom velikemu številu prijateljev, da se tudi oni naužijejo lepot tega cudeza narave.
Keep up the excellent work"
Dusan COTAR, Slovenia
2012-03-18 03:38:34
5 from 5
"Amazing photography, beautiful scenery, great website"
Joy Killeen, Australia
2012-03-17 23:11:45
5 from 5
"I have been to this wonderful part of the world.
It feels like going back into a lost world.
It is a shame that such a beautiful country has
fallen into the hands of an unfriendly government
that hurts tourism and its people."
Juvenal LLanes, USA
2012-03-14 20:28:39
5 from 5
"Wonderful natural beauty !!!, Excellent job for worldwide. I am very proud of my country !!! Venezuela has magnificent lansdcapes that we can not find in any other ! I Love my country ! God blesses who promote the best of this beautiful place !! :-) :-)"
Virginia R, Venezuela
Varvara, AirPano: Many thanks for your kind opinion.
2012-03-13 01:21:17
5 from 5
"Muy Hermosas las imagenes que tomaron de Nuestro Salto Angel, los Venezolanos somos afortunados de tener estos paisajes milenarios unicos y tenemos que hacer mas por conservarlos... Felicitaciones por su trabajo, desde Puerto Ordaz Edo. Bolivar"
Ada Guerra, Venezuela
2012-03-11 01:47:35
"very beautifull"
vahid tam, Iran
2012-03-10 07:46:12
5 from 5
"Soy una Venezolana radicada en USA, y aunque le estoy muy agradecida a este país por abrirme las puertas no puedo dejar extrañar y de emocionarme al ver una vez mas la imponente belleza del Churum Merum. Gracias por compartirlo y lo lindo es que entusiasmo a otras personas a ir a conocerlo. Excelente trabajo!!"
Sara Espinoza, USA
2012-03-09 19:02:07
5 from 5
"Great Images! Just as I remember them from my long-gone travels in the area. Keep up this work. PS. I would like to include a link to this site on our web site at www.losaltosdesucre.com"
Gorgias Garriga, Venezuela
Varvara, AirPano: Thanks for your opinion! As for the link, sure, you can use it.
2012-03-07 23:06:08
5 from 5
"Churum Meru una maravilla de la naturaleza!"
José María Lucas, Spain
2012-03-07 11:52:54
4 from 5
"Hey guys I wanna use a couple of your photos only for facebook timeline but without the logo, can I get those? I would understand if not"
Jose dd, Peru
Varvara, AirPano: Dear Jose, you can freely use the links or the screen shots. Have a nice day!
2012-03-07 05:06:46
5 from 5
"I just came from Venezuela,(January 2012) where I have been in the Angel waterfall...and will never forget such a beauty !!! I'm not a religious person but if there is a place where you can feel an spiritual experience is in this magic place.Unforgettable"
cristina soler, Spain
2012-03-07 04:14:26
5 from 5
"Me lleno de emoción por tan maravillosa creación de la naturaleza que injustificadamente aún no ha sido catalogada entre las siete maravillas del mundo.Siento verguenza, pero reconozco públicamente como venezolana, que no conozco aún en persona ese enigmático lugar.De igual manera, desapruebo como ciudadana y con mucha tristeza, el daño irreversible que la cultura del oro ha ocasionado a esa parte del Amazonas venezolano y que se extiende junto a todo tipo de explotaciones suicidas a través del territorio amazónico de este continente Suramericano, pulmón del planeta!!! Que Dios bendiga y llene de luz, a quienes realizaron de manera tan mágica este valioso trabajo audiovisual."
Beatriz Pérez Noguera, Venezuela
Varvara, AirPano: Otra vez gracias, Beatriz, por su mensaje. Es muy informativo. Le agradecemos por sus palabras buenas y agradables.
2012-03-06 23:28:27
5 from 5
"Just one word - Magnificent"
Marzia Rajabali, United Kingdom
2012-03-06 19:35:13
5 from 5
"Excellent job ! Well done guys and THANK YOU so MUCH for showing the entire world this Venezuelan jewel. Mother Earth is surprisingly BEAUTIFUL."
Marly Suarez, Canada
2012-03-06 05:51:09
4 from 5
"But for your perseverance, I'd not ever known of this Avatar-like landscape. Thanks for sharing of it."
Nancy Landry, Canada
2012-03-05 19:56:28
5 from 5
"Excelentes panoramicas y que buen trabajo, una bonita forma de recordar mi país. Bravo Venezuela."
Ricardo Rampazzo G, Panama
2012-03-05 16:30:44
5 from 5
"excelente y hermosa mi venezuela grande."
barbara serrano, Venezuela
Varvara, AirPano: Yes, we agree with you, it's truth.
2012-03-05 09:01:19
5 from 5
"Thanks for this work on my country, to make it known to the world. Excellent! Congratulations."
Anabel Fuentes, Venezuela
2012-03-04 22:57:56
5 from 5
"Very,very beautyfoul panorama!
Thank you! good day!:)"
Herbály Tamás, Hungary
2012-03-04 20:47:02
5 from 5
"Thank you for sharing your extremely excillerating wonderful photography Awesome!!"
Sal Dorion, Canada
2012-03-04 20:30:49
5 from 5
"Amazing panoramas. I'm just getting in the the hobby of taking landscape photos, and this is a great inspiration! I'm going to be whistling Lonely Shepherd for days now, thanks a lot :-p"
Bill Martin, Canada
Varvara, AirPano: Thanks, Bill, and have success in your new hobby!
2012-03-04 18:37:45
5 from 5
"COOOOOOOOL"
MENIEM ALMSMARE, Libyan Arab Jamahiriya
2012-03-04 13:35:29
5 from 5
"Gyönyőrű és egyben fantasztikus is. Nagyon jól meg lett csinálva ez a panoráma funkció is."
Peter Vécsei, Hungary