Swaminarayan Akshardham, Delhi, India
•
360° Aerial Panorama
This panorama can be opened in several different resolutions. High resolution panorama with the best quality is about 7 Mb large and it is suitable for fast internet connections and modern computers. For slower internet and old weak computers we created the smaller low resolution panorama. Some small details have been sacrificed but the size of low resolution panorama is nomore than 2 Mb.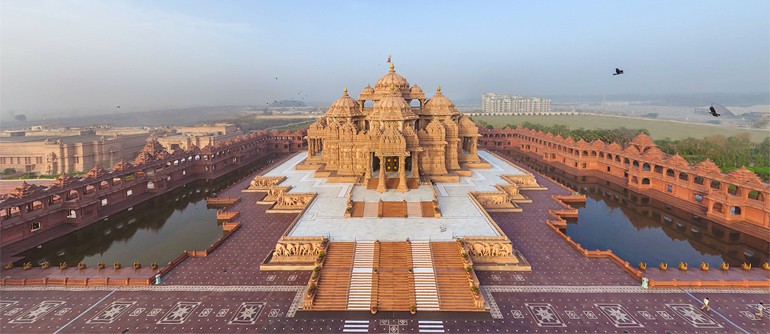 Open Aerial Panorama (high resolution)
As you might know, almost all followers of Hinduism live in India, and no wonder the world's largest Hindu temple is situated in the capital of India.
Speaking of Delhi landmarks, one would traditionally mention Red Fort, Qutub Minar, and India Gate on Kingsway. So how come Swaminarayan Akshardham (which means "temple of the God"), a magnificent and beautiful temple, is not so famous? The answer is simple: it is very "young".
It was opened in 2005. The construction took over 5 years and involved 7 thousand artisans and 3 thousand construction workers from all over India. Their combined efforts gave birth to a building 42 meters high, 94 meters wide, and 106 meters long. The structure of Akshardham consists of 234 pillars, 9 shiny domes, 20 four-sided towers, and over 20 thousand figurines depicting themes from Indian mythology. There are over 148 statues of an elephant alone!
All the facing was done by hand. Outer surface of the temple is faced with pink sandstone, while the inner surface is faced with white marble. In India, pink color symbolizes love for God, and white color symbolizes absolute purity and peace.
Thanks to its enormous size the temple is included in the Guinness Book of World Records. The temple complex takes up 12 hectares of land and includes the temple itself, several parks, a museum, a large cultural center where one can learn about Indian traditions and customs, water canals, which you can traverse by boats, and lots of cafes and souvenir shops.
Every evening there is a laser show with dancing fountains on Swaminarayan Akshardham grounds. The fountains are built in the form of a lotus placed inside a large bowl-shaped basin. The inner side of the basin serves as steps and benches for thousands of viewers.
Construction of this beautiful site was funded by donations and done through a spirit of volunterism. In order to fill in all man-made lakes and canals surrounding the temple required huge supply of water from 151 ponds around the country. In a country, where clean water is as precious as gold, it was quite a generous donation as well.
Let's take a moment and listen to Stas Sedov's story about the photo shoot.
---
During last days of our trip across India we planned to shoot several sights in the capital of the country: Red Fort, Qutub Minar, and others. We didn't plan to photograph Swaminarayan Akshardham. We knew that we couldn't even bring a cell phone inside the temple, not to mention other heavy photo equipment. However, our success in Taj Mahal encouraged us to request a photo permit for Swaminarayan Akshardham.
When we entered the temple first time we had only one document in our hands: photography permit for Delhi and Taj Mahal. At the time we were not sure what to expect, but we decided to take our chances anyway. Even if we failed with a permit, at least we would see a new wonder of the world.
The next thing we know, we are talking to the middle-age man from the local administration. It's hard to remember what exactly we were talking about, but we got him interested in our project. At the moment he didn't give us a definite answer. But he did ask us to give him time to see if it was possible to get permit for aerial photography. Meanwhile he assigned a guide to give us a half-hour tour around museums and the temple grounds.
To tell you the truth, I didn't know of Swaminarayan Akshardham existence. For me it was just another Indian temple. But that was before I entered its premises...
Usually, at the end of every trip, when almost every day you see wonders of nature and artisan masterpieces, your emotions get "washed out". It is very unlikely that something would be able to surprise you. But this was an exception! To say that I was surprised is to say nothing! I was smitten by the grandeur of the idea and its magnificent implementation in stone. It's hard to describe the range of feelings you experience while walking the grounds of Swaminarayan Akshardham. You feel harmony, tranquility, and strength of your spirit. The only time I experienced something similar was during my visit to the Meteora monasteries in Greece.
Our guide told us that the temple has no iron elements in its structure, and no cement. The concrete was used only in the foundation. The rest was made of stone. Marble and granite for the construction was delivered from all over the world. It was processed using special technology, and then joint together. All pillars of the temple are stacked, and all stone elements are turned 90 degrees after being connected. It was done to provide seismic resistance in case of earthquakes, which sometimes happen in India. Imagine the level of precision required for stone processing to assemble this big "puzzle".
Beside the buildings' structure, wall facing is quite impressive: stone figurines cover the walls all around! The size of the carvings ranges greatly: from actual size to palm size, but even the smallest figurines have the highest level of detail.
The time of our excursion flew by. I was heading toward the exit, but felt confident that we would be back here.
We were called the following evening and granted the permit to photograph Swaminarayan Akshardham. Our first photo session was scheduled early in the morning, just before the site opens for tourists. Pigeons, flying in the morning sky, quickly welcomed our RC helicopter to their flock.
It was the most comfortable photo session we had in India: both by the atmosphere and the working process. Everything indeed went very smoothly. The temple security arranged an area for us in the center of the alley for the night shooting. The temple lighting was switched on 15 minutes earlier than usual especially for our photo shoot. We just couldn't do a bad job in these perfect conditions.
Leaving premises I realized that I had just completed my most important photo shoot in India. It wasn't Taj Mahal that won me over in this extraordinary and amazing country, but Swaminarayan Akshardham! I truly hope to return to this temple one more time someday.
Photography by Stanislav Sedov and Dmitriy Moiseenko
Comments
2013-05-23 06:14:20
"بسیار زیبا"
مجمد فرخی, Iran
2013-05-22 14:49:19
5 from 5
"There is no doubt that Akshardham temple is now identity for Delhi. Delhi missed its spiritual soul for over 900 years and now with Akshardham temple the 'REAL SOUL' of Delhi-Sanatan Dharma is ever impressive and divine. Congratulations to AIRPANO team that you have truly captured the architectural SOUL of Akshardham temple... Amazing...Captivating...Art in its best form and technology..."
Praful Jethwa, Australia
2013-05-21 15:25:25
"Vary nice many thanks"
Harshad Patel, United Kingdom
2013-05-21 12:06:17
5 from 5
""I just visited Swaminarayan Akshardham temple (DELHI,INDIA) in May 2007. I love that! Must visit again!" "8TH WONDER OF THE WORLD""
JOÃO JOSÉ BRÍGIDA, Portugal
2013-05-17 07:08:48
5 from 5
nishith chauhan, India
2013-05-12 17:57:11
5 from 5
"""Really, BAPS Swaminarayan Temple is great, Even I am living here in India but, I didn't see it, but because of this panorama I amazed the great temple.., And a amazing photography with its bested photographer""
Rushiraj Gadhavi, India
2013-05-08 11:45:19
5 from 5
"Wonderful, Never seen such a beautiful monument Delhi should be proud of this wonderful creation."
jayantilal Amin, United Kingdom
2013-05-06 21:07:42
"i like Swaminarayan Akshardham is a so big and so good i coming india and i am go to"
Jatin patel, USA
2013-05-06 19:03:47
5 from 5
"it was so beautiful i cried"
patricia towner, United Kingdom
2013-05-06 16:16:04
5 from 5
"This is the wonderfull place in the world...I'm proud to be a''BAPS''"
Saiyam Patel, India
2013-05-04 14:34:55
5 from 5
"Fabulous & wonderful job done by airpano.com team, Genuinely this website is mind-blowing. It is true that we can pass our whole time without blinking eyes.I really appreciate for this, awesome."
Prajwal Sah, Nepal
2013-05-04 11:07:51
5 from 5
"magnificent and wonderful monument by the Hindu devotees by self-help post independence."
chandra shekhar, India
2013-05-03 09:37:04
3 from 5
"Excellent,are'nt they?"
VINEETH kunnath, India
2013-05-03 00:20:59
5 from 5
"I and my wife, Krishna, visited this marvellous piece of art and architecture and were immensely pleased and paid great tributes to Hindu History, our ancestors and the whole Hindu community at large. It is now the first and foremost hallmark of our capital city. thanks who made it."
Basheshar Nath BHANOT, United Kingdom
2013-05-02 14:18:44
5 from 5
"Divine Inspiration, Amazing work and Creating Wonders.. Thanks Airpano.ru too."
Akshay Raval, India
2013-04-16 22:37:06
5 from 5
"Akshardham Temple has remarkably revived the ancient Hindu Art, Spirituality & Architecture with this magnificent, beautiful, grand and marvelous temple in Delhi..."
Aditya Agnihotri, India
2013-04-15 18:20:22
4 from 5
"Overall very nice pan aroma except those birds,by the way how was your experience in the exhibitions?"
Jimmy Thomas, India
2013-04-13 16:04:20
5 from 5
"Astounding and jaw dropping experience. No doubt, it's no.1 wonder of our modern times. Spiritually divine, architecturally marvelous, sculpturally majestic,culturally immortal. Masterly build with volunteer services within short time of only 5 yrs even between many obstacles. Certainly it has God's hand. Pramukh Swami Maharaj is certainly living God beyond any doubt."
Kashyap Pandit, Canada
Anastasia, AirPano: Dear Kashyap, thank you for the nice words!
2013-04-13 07:51:52
5 from 5
"I have visited akshardham twice,the place is truely divine,peace prevails in this place,you will find peace here-a must visit place...."
Neesha patel, India
2013-04-03 14:21:18
5 from 5
"Wow......!!! It's miracle . It is world best structural engineering. I am proud to be an INDIAN and HINDU. this type of 'DHAM' never bild in the world without pramukhswami maharaj."
ravi gohel, India
2013-04-03 06:46:16
5 from 5
"Akshrdham-"Emrald set in Pearls""
DrDevendra V Shukla, India
2013-04-02 22:36:37
5 from 5
"JAI PRAMUKH SWAMIJI TO: PUJYA PRAMUKH SWAMIJI BAPA FOR HIS IMAGINATION OF EXCELLENT REMARKABLE MASTERPIECE WORK AND AUSPICIOUS MONUMENTAL OF HEAVENLY CHOICE OF AKSHARDHAM AT NEW DELHI INDIA REGARDS ASHOKPATEL, JYOTI AND FAMILY HOUSTON -TEXAS USA-77034"
ASHOK PATEL, USA
2013-03-26 16:39:03
5 from 5
"awesome....simplicity of architecture with great artistic culture appears here..i am proud to an Indian having this type of privilege monuments..and peaceful location..everybody must c........"
naren bonam, India
Anastasia, AirPano: Thank you, Naren! It was a great pleasure to visit India!
2013-03-20 11:57:41
5 from 5
"I wished i could stay the whole day in this temple. I went in February. The cool breeze and sun set image. There is no words to decribe the feeling inside. I cannot wait to visit this place again with my friends and family .. They should allow ppl to bring books and write or study here.. the air has special powers."
Vinothini Kasinathan, Malaysia
2013-03-18 15:57:32
4 from 5
"Amazing architecture ... Wonderful monument .. World class exhibition and musical fountain ...must see monument ..."
Saurabh Vaghela, India
2013-03-05 22:30:37
5 from 5
"excellent creation of pramukhswami maharaj."
Dikesh patel, India
2013-02-28 10:57:34
5 from 5
"NEVER BEFORE NEVER AGAIN"
N.V.S.KRISHNA RAO, India
2013-02-26 21:03:46
5 from 5
"Wondering how I could acquire couple of your images for me to use it enlarge and use them for backdrop on stage. one image of the wall of elephants playing musical instuments and another of the intricate pillar."
Sunanda Kulkarni, USA
Alina, AirPano: Sorry, our content is not available for downloading, Sunanda!
2013-02-25 12:24:04
5 from 5
"A very good example of MANAGEMENT in this world.Which is possible because of mu guru " PRAMUKH SWAMI MAHARAJ "...I proud to be a part of " BAPS ""
Kamal Vaja, India
2013-02-16 12:03:44
5 from 5
"Jay Swaminarayn to BAPS AND PRAGAT BHARM SAVARUP PRAMUKHSWAMI MAHARAJ.It very very very good work for world its way for take MOX."
Nirav Gajjar, India
2013-02-15 18:57:35
5 from 5
"Akshardham is a heaven on the earth."
Nishi Jalota, India
2013-02-14 20:54:41
5 from 5
"It is the brightning sun among the world's famous buildings stars."
Arjun Mistry, India
2013-02-07 13:33:41
5 from 5
"Jay Swaminarayana ! The search of PEACE with PURITY is now completed. We are lucky to have such pios dham in INDIA."
Rajiv Vaidya, India
2013-02-03 21:57:41
5 from 5
"One should never miss the opportunity of visiting Akshardham..its Heavenly place."
Sowmya Karamcheti, India
2013-02-02 12:02:21
5 from 5
"every person in the world should visit "akshardham" once in their life... otherwise they miss great opportunity too feel peace & thruth of life..."
jaykishan patel, India
2013-02-01 15:47:11
5 from 5
"Feeling proud to be Indian & BAPS Swaminarayan........... No words to say....... Just Amazing , Jay Swaminarayan"
Hardik Dave, India
2013-01-28 15:19:17
5 from 5
"Em Abril de 2006 visitei este suberbo, magnífico e maravilhoso templo. Todo aquele trabalho em mármore branco e rosa e ouro ... magnífico.No meu entender, deverá ser incluido nas melhores maravilhas do Mundo. Parabéns India. Parabens Akshardham. Repito ...LINDO, LINDO, LINDO"
JOÃO JOSÉ BRÍGIDA, Portugal
2013-01-28 13:43:03
5 from 5
"I visited Swaminarayan Akshardham temple in Aug 2012, it is amazing! Must visit again!"
Naseer Thodi, India
2013-01-23 17:58:34
"I have visited, amaging, like to visit again n again. Seen with ground level only but when saw with aerial eyes its beautyfull."
Dinesh Pancholi, India
2013-01-21 12:42:15
5 from 5
"Speechless !!!!!!!!!!! No words to describe !!!!!"
Manish Bhavsar, India
2013-01-16 14:22:47
5 from 5
""WOW" "8TH WONDER OF THE WORLD" ..."
Akash Patel, India
2013-01-12 14:32:39
"Amazing wonder, a source of divine inspirations for all times; Thanks to Pramukhswami Maharaj for giving such a divine gift to the society..."
Rajendra Sarvaiya, India
2013-01-10 21:02:01
5 from 5
"This is one of the man made wonders on this beautiful Earth."
Vinod Maisuria, Canada
2013-01-08 16:21:04
1 from 5
"the creation is very good, pramukhaswami is great architectural."
Jani kalpesh, India
2013-01-07 19:38:43
"tajmahal?"
mukhlis bule, Indonesia
2013-01-07 09:16:49
"SUPER & Fantastic & Excellent & SPEECHLESS ...............JAI SWAMINARAY...."
NAVDEEP BHATTI, India
2013-01-02 21:09:57
5 from 5
""Akshardham surpasses the 7 wonders of the world.There is nothing comparable to it in the universe.""
DEVENDRA PATEL, India
2012-12-31 11:45:57
5 from 5
"Ish adhunic yug mai akalpniya vastu nirman mandir jai jai sri swami narayan bhagwan"
Yogendra Singh Chauhan, Saudi Arabia
2012-12-31 09:54:30
5 from 5
"it's amazing,it's the place which we have to visit one time in our life"
jaydip jadav, India
2012-12-28 14:49:02
5 from 5
"just like it....!!!!"
Thacker Yash, India