Moscow, Aerial test shooting
•
AirPano.com
High resolution

Recommended resolution

Low resolution

Bit rate of 5Mbit/s, 30 frames per second
(for most powerful computers and fast internet)

Bit rate of 4Mbit/s, 24 frames per second

Bit rate of 2Mbit/s, 15 frames per second
(for old computers and slow internet)
While video is playing, you may choose a different type of projection to reduce the perspective distortion. Use right click to choose "Architectural view" from a drop-down list.
Aerial 360 Video in Moscow
In early 2011 we developed a method for filming and editing 360 video shot by 4 Canon DSLR cameras and posted an article with technical details on our website.
You can see our first test ride around the Kremlin in the car by following this link.
In this article we talk about 360 video and that it can be shot not only by professional cameras, but also by a device assembled from compact digital cameras, which gives some advantages in size, weight, cost, and can reduce the parallax.
The result you see is what we filmed from the air with such device created by one of our colleagues. This film is most certainly not a masterpiece, it only demonstrates the technical capabilities of 360 video. Something that was impossible for many years is now happening on your screens.
Flights over Moscow are illegal, but you can fly above the Moscow Ring Road (MKAD) and on the outskirts. That's why we went to Crocus City Mall in the north-west of the city where several helipads can be found. Please note that in order to view 360 video online you need a powerful computer and fast Internet connection.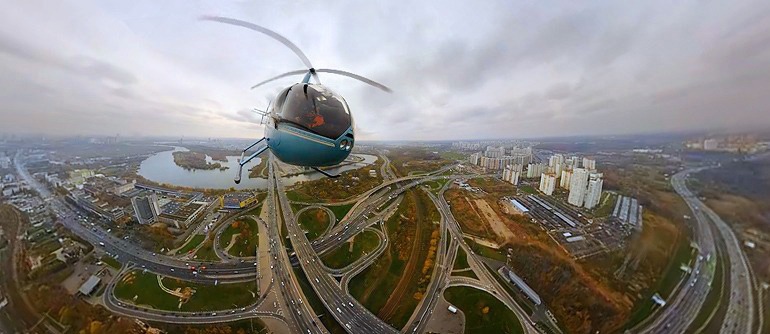 Photo and video by Ivan Roslyakov
17 December 2012
Comments
2014-07-05 23:52:16
5 from 5
"I shoot aerial photography from a R-44 and was really impressed with the 360 video. My question is WHERE is the camera located that is rotating and filming the R-44? It does not appear to be connected to the helicopter. Dave Warwick dave@vei.net"
Dave Warwick, USA
2014-02-22 06:11:49
5 from 5
"jagjit singh says it is wonderful."
jagjit sooch, Canada
2014-01-23 18:20:09
5 from 5
"Por favor CORREGIR , espacol por ESPAÑOL. Gracias"
German Porras, USA
2013-09-06 19:49:25
"Dear Sir or Madam, my name is Anna Nentwig and I am working for RTL Television, Germany's biggest private broadcaster. For a current film-project we are looking for aerial-footage that shows the city of Moscow. If you are offering footage of Moscow (in HD, aerials of the city) I would appreciate your letting me know. I am looking forward to hearing from you. Thank you in advance and best regards, Anna Nentwig Anna Nentwig RTL Sportredaktion ________________________________________________________________ Tel: +49 221 456-75437 E-Mail: anna.nentwig@infonetwork.de RTL Television GmbH Picassoplatz 1 D-50679 Köln www.rtl-television.de Ein Unternehmen der Mediengruppe RTL Deutschland"
Anna Nentwig, Germany
2013-06-13 19:44:21
3 from 5
"Awesome! Which 360-degree player are you using? Is there is downloadable desktop version?? Thank you for sharing!"
Michelle Osier, USA
AirPano: "Thank you, Michelle! You can not save panoramas to your computer. You can view them online only."
2013-06-03 12:03:35
5 from 5
"always splendid vieuws by AirPano.com"
M Shabbir Baloch, Pakistan
2013-05-29 13:25:10
5 from 5
"Really excellent video guys, but I don't like background music so much. Overall well done."
Ivan V, South Africa
AirPano: "Ivan, if you don't like background music, you can turn off it. There are control buttons in the left bottom corner. Press the "sound" button to turn the sound OFF."
2013-05-28 00:10:14
5 from 5
"the best !!!"
themis diaman, Greece
2013-04-17 05:36:59
"It,s coooool"
Golvier Y Hong, Korea
2013-03-25 15:58:04
4 from 5
"Wonderfully,amazing few words lot meanings."
ANWAR HASSAN, Bangladesh
2013-02-27 17:37:28
5 from 5
"Parabéns!!!!!!"
Paulo Rattes, Brazil
2013-02-23 18:25:44
5 from 5
"Fabulous I mear most innovative 360 video"
RAM SINGHAL, India
2013-02-04 22:10:17
5 from 5
"Ongelooflijk mooi....enig.....echt genieten !!!!!!"
geert vansteenkiste, Belgium
2013-01-22 15:38:10
5 from 5
"Amazing ... Never seen such kind of panoramic before.... Simply WoooooooooooooooooooooW"
mohsin tariq, Saudi Arabia
2013-01-17 20:29:00
5 from 5
"absolut spitze, perfekt gemacht"
TomTom Speedyvalais, Switzerland
2013-01-15 18:42:50
"its very beautiful loking"
zahid hussain, Pakistan
2013-01-11 13:09:11
5 from 5
"Awesome ! Thank's guys !"
Haris Demic, Montenegro
2013-01-11 04:10:48
5 from 5
"Awesome photos& Hello from Tunnel Hill Georgia,YSA"
Tim Taylor, USA
2013-01-09 20:26:40
5 from 5
"man!!! so coooooool :p"
amal dev, India
2013-01-07 18:09:43
1 from 5
"very good"
majid jahani, Iran
2013-01-06 05:04:27
"Ohh My God"
ahmed wagih, Egypt
2013-01-04 01:59:05
5 from 5
"amazing"
nikos sotiriadis, Greece
2013-01-02 08:31:48
5 from 5
"Absolutely amazing, obviously a foundation being set for the future."
Richard Carty, Jamaica
2013-01-01 18:02:47
5 from 5
"it is realy marvelous"
nandlal khanchandani, India
2012-12-29 23:59:52
5 from 5
"WOW!"
Polak Zpolski, Qatar
2012-12-29 16:03:19
4 from 5
"It's very beatiful.thanks alot"
Arash Nasirpour, Iran
2012-12-28 22:38:58
"Muy interesantes"
VIctor hugo MARTINEZ Almazan, Mexico
2012-12-27 15:43:50
5 from 5
"so coooool~~"
kiljae Lee, Korea
2012-12-25 15:32:54
5 from 5
"Ohh My God !! thatz soooo amazing !! great work"
Sanjay Kumar Purswani Purswani, Pakistan
2012-12-22 01:01:22
5 from 5
"¡¡Felicidades!! Como siempre sois extraordinarios y grandes profesionales. Muchas gracias por vuestro trabajo."
José Calvo, Spain
2012-12-21 09:33:23
4 from 5
"Krasivaia reprezentatia. Spasiva !"
PASCU IOAN, Romania
2012-12-20 19:03:43
5 from 5
"Magnífica presentación."
Eugenio Duque, Colombia
2012-12-20 17:59:08
5 from 5
""It´s a wonderful things to seen in my life.Thanks guys" Karel Hofmann -Czech Republic"
Karel Hofmann, Czech Republic
2012-12-20 17:28:48
5 from 5
"Excellent. Runs perfect right from the beginning. (Ok, since yesterday I'm running on completely new hardware, hehe)."
Jürgern Schrader, Germany
2012-12-20 16:34:40
5 from 5
"its wonderful"
mohamed ieleish, Egypt
2012-12-20 12:45:01
5 from 5
"always splendid vieuws by AirPano.com"
Franck Aernoudts, Luxembourg
2012-12-20 11:13:53
5 from 5
"Wow fantastic!!!!!!!!!!!! Many thanks Air pano team, Great experience I'm swinging!!!!!!!!!!!!!!!!!!! :)"
Akash Yadav, India
2012-12-18 22:32:12
5 from 5
"It's a wonderful things to see in my life. Thanks, Shivendra, INDIA."
PATEL SHIVENDRA, India
2012-12-18 11:09:12
5 from 5
"You made my day! I have never seen anything like that. Thanks guys"
John Ross, USA