The Twelve Apostles, Australia
•
360° Aerial Panoramas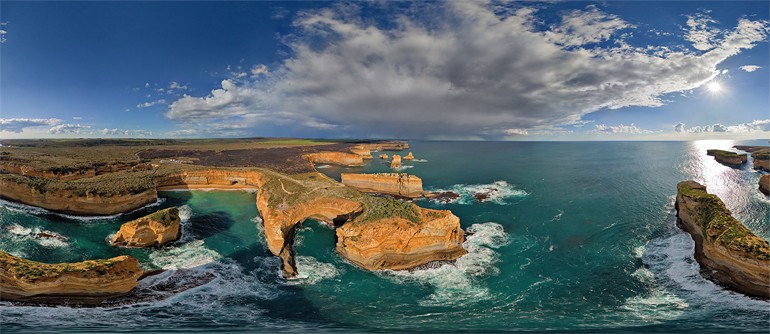 ---
The Twelve Apostles stacks located on the South of Australia not far from Melbourne is the second most known symbol of Green Continent after the Opera House in Sydney. Beautiful cliffs, arches, harbors, bays and grottos, all of them attract thousands of people. In fact, the Twelve Apostles are twelve stacks in a coastal zone. Unfortunately, one of the most beautiful sea shores yearly loses its symbols. The sea feels no mercy towards the stacks wearing away soft limestone. The Apostles haven't been twelve yet for a long time and one of them has recently come down. Nowadays, only eight stacks let tourists and photographers admire them.
The other places of interest of the national park are going through unlucky streak too. The stack named London Bridge was partly destroyed several years ago. Before, at a height of 30 meters it was possible to go along the natural bridge to a separate cliff and in a full pacification admire the sunset's beauty. It was a lucky occasion that there were no victims when the stack fell. At that time two tourists admired the sunset there. I'm not sure that peace was in their souls that moment but they had got plenty of time to enjoy the wild beauty... till a rescue helicopter appeared.
Two years ago Island Archway, which is one of the most beautiful arches in the national park, came down. As a result, the access to many interesting observation areas located on the brink of a precipices was completely denied. New paths, which are enclosed and situated in the safest but not very attractive places for photographers, are controlled by the park's rangers. If you jump over a small fence you must pay $300 penalty. And during this difficult time for the national park I had an ability not only to arrive in Australia but also visit the rest beautiful places of the Twelve Apostles national park.
Despite all the problems and restrictions my expectations came true. Having arrived at night, I enjoyed the star sky on the beach Gibson Steps which is one of the few picturesque places of the park opened for visits without any restrictions. Having successfully finished a night shooting, I began to prepare for a panoramic helicopter shooting. It was my first independent flight when I was completely responsible for the panoramas' quality and, as a consequence, I was a little bit nervous. The process of preparation was successful enough, I revised all the necessary adjustments and I thought that I had completely prepared the equipment for the future shooting. As a pilot required I had to leave my backpack with other equipment on the ground. Although the weather wasn't the best one, there wasn't a cloud in the sky and I took off with pleasant anticipation. My soul sang. Unfortunately, every song has its end. Having taken the first shots, I understood that the camera didn't function anymore. When I was preparing for the helicopter shooting I just forgot to change the accumulator and after the night shooting the battery was low. That would be the end of my first independent flight unless a miracle happened. I was lucky in finding a spare battery. A brain storm helped me to remember the moment when at night on the sea shore, I don't know why and how, but, I put the spare accumulator in a pocket. Finally, I was lucky in finding it right in the pocket...
Having finished the morning shooting with still good but boring weather I appointed one more flight in the evening. Moreover, the local thunder storms were forecasted. And Australian weather forecasters said the truth. Just after midday the sky was full of clouds and the lightning appeared this or that side but it rained from time to time and I hoped to have a good chance for a nice evening. Having waited for a suitable clear space in the sky sitting in the helicopter cabin more than one hour, we finally flew up. I didn't succeed in shooting either lightning or rainbow during the flight but there were heavy clouds in the sky which were lightened by the evening sun. The limestone stacks were also brightly illuminated. It just was a beautiful state of nature. And I really hope I've succeeded in show you at least a small part of this beauty.
16 March 2011
Comments
2017-01-07 00:54:09
"Very unteresting !"
Ioan Puaschila, Romania
2016-09-07 09:53:26
"thats nice huh"
jjkk kkjj, Argentina
2016-03-02 12:17:11
"Byl jsem v Austr#225lii 2012 n#225dhern#253 m#283s#237c v#253let#367 opravdu jedine#269n#225 cesta po cel#233 Austr#225lii nikdy nezapomenu a nikdo mi to u#382 nevezme tu vzpom#237nku."
miroslav olmer, Czech Republic
2015-09-20 14:13:08
"What are the names of the 12 Apostles ??!!? I cant find them anywhere... Please help me ! I need them for a powerpoint..."
James Bond, France
2014-03-20 17:30:07
3 from 5
"what a beautiful sceane!!!"
Shahriar Mehedi, Bangladesh
2014-02-16 18:32:19
"Fantastic !!!! If the highest mark would be 10 that's what I would be rating you."
Maria Neagu, Romania
2014-01-07 08:05:11
5 from 5
"The photography of this amazing place is exquisite. When we drove along The Great Ocean Road (which has to be one of the finest ocean drives in the world) and stopped for a few days to enjoy the panoramas of The Twelve Apostles, we could not resist splashing out on a helicopter ride ... it is SOOO worth it! Once cannot describe the breathtaking beauty of this magnificent place. The water is so blue and clean, there is nothing like it and nothing (to pollute it) between the gorgeous coastline and the Antarctica. What a great country Australia is!"
Kathryn Byrne, Australia
2013-12-29 18:11:25
5 from 5
"世界如此美丽!看这些全景图比在实地观看还美!现代技术的进步,让人们更加了解我们的地球和生存环境,建议把世界上类毁灭地球的恶劣行为也予以暴露,如环境污染问题等,唤起人们共同爱护我们的"地球村"!"
江红 东, China
2013-08-07 05:47:49
5 from 5
"Wonderful. I can travel to a new country or new place everyday in comfort. See the places that I would like to have seen and enjoy those I have been to yet again. Lovely to see these places from the air....

Many thanks
Juel. Melbourne"
Juel Hilton, Australia
2013-08-04 03:51:04
5 from 5
"I regret that i only gave you a rating of 1 on my ealier comment. I clicked on the wrong number. My rating is now correct. If you had a 10 on there i would give you a 10. And thanks again for the lovely work that you do."
Larry Hernandez, USA
2013-08-04 03:47:13
1 from 5
"My second comment since ive been looking at your site. And again, im awed by the splendor of your photography. I feel when i see the great work of the men that does the photo. and the 360 work. I can not tell you how relaxed i get. Like im actually there and truly on a vacation. Which i could not take considering my situation. So thanks a million Airpano. And i will surely keep looking at your site for as long as i can. Thank you so Much."
Larry Hernandez, USA
2013-07-25 18:43:04
"panorama yang sangat indah!! saya ingin pergi ketempat ini :)"
windy kartini, Indonesia
2012-11-10 10:43:29
"The photos are great but I would say that the Great Barrier Reef and Ayre's Rock (Ularoo)would be at the first spots that spring to mind for Australians if asked about iconic landmarks."
Joe Donovan, Australia
2012-10-30 07:52:55
5 from 5
"I have been there - but this view is fantastic"
Jennifer Pascal, India
2012-10-29 21:33:33
5 from 5
"Simplesmente Fabuloso."
António Alberto Correia, Portugal
2012-10-20 19:33:27
5 from 5
"This brings back many memories. We lived in Sydney from 1980 - 1985 and our daughter was born there. When she was 14 months old, we went to the 12 Apostles and spent New Years nearby. What a fantastic place. We traveled throughout the entire country and my best friends in the world are Australians. G'day to all my mates"
Roger Ellickson, USA
2012-10-12 00:48:36
4 from 5
"Very good job."
Krishna Chamansingh, Canada
2012-08-14 15:05:09
5 from 5
"Wondeful site - I can go anywhere in the world - just about! Have not explored too much of your site yet. I need a lot of time....stunning."
June Corlett, South Africa
2012-07-31 17:54:27
5 from 5
"Thank you wery much for your work! This is so important for everyone who likes our planet Eerth!
God bless you."
Zinaida Malenko, USA
2012-07-31 15:29:31
5 from 5
"Absolutely great. we drove the length of the Great Ocean Road on our trip to Australia in 2009 and this has brought the memories flooding back not just the Twelve Apostiles but all the wonderful sights we saw. Cannot wait to return and see it all again."
Stephen Ricketts, United Kingdom
2012-07-24 15:55:38
5 from 5
"absoluting amazingly beautiful.I have been there.happy memories all round."
philomena pipet, Australia
2012-07-22 05:44:36
5 from 5
"I was lucky to have taken my family there years ago when the bridges and most of the Apostles were standing. It truly is a magical place and one really gets the sensation of its isolation especially if you visit off season. Of course, visiting there in an Australian summer, you will find many tourists. This spectacular sight is part of the Victorian sensation called "The Great Ocean Road" which, in my view, is one of the most spectacular coastal drives on earth."
Fiona Richardson, Australia
2012-07-20 20:07:29
5 from 5
"loved it simply AWESOME sitting at home got to see so much THANKS"
hoetencia dsouza, India
2012-07-19 12:51:29
5 from 5
"I went there with my late husband in 1995,absolutely awsome.My son and wife live up on the Gold Coast.
Your whole set of photos hav been put in my photo folder,beautiful all round."
philomena pipet, United Kingdom
2012-07-19 02:33:42
5 from 5
"I saw these originally in 1978 and thought they were one of the most spectacular sights I had seen. Looking at them again from my home in Kansas makes me homesick to be back in Australia where I met so many wonderful people."
Donald Robinson, USA
2012-07-17 06:58:56
5 from 5
"I have just been sent your site by a friend and the first destination I had a look at was the 12 apostles, I have been down the great ocean road twice with my parents once and then my wife's parents and on the 2nd occasion I took a helicopter ride over them and it was truly magnificent your virtual tour gives viewers the same sight I saw from the helo if they could not do the flight for some reason. I am now looking forward to viewing other locations in your library. Wonderful work, thanks."
Bill Taylor, Australia
Varvara, AirPano: We are thankful for your message.
2012-07-14 17:06:50
5 from 5
"I want only to say thank you to all of your team for your dedication and work in bringing this wonderful project to the internet for all to see. What a beautiful world we live in - and if only we would take care of it as we should. "Save The World" - Andy Martin"
Andy Martin, Germany
2012-07-12 22:31:46
5 from 5
"I have family living in Australia. Sister and her family in Perth and Step sons and their families in Sydney. Have visited twice the last time was many years ago. The photography of the 12 Apostles is breathtaking. Next time I visit = which I hope will not be in the too distant future- I will definitely wish to see the 12 Apostles. Thank you so much for bringing these wonderful views to the world.
Keep up the good work!
Davina"
Davina Griffiths, United Kingdom
Varvara, AirPano: It is a pleasure to receive your message, Davina. Thank you too.
2012-07-11 17:02:48
4 from 5
"As what they said even we've been there but we couldn't see such great view by our own eyes. Thank you so much for those who give us so heartfelt feeling!"
Woon Tei Lai, Hong Kong
2012-07-11 14:13:42
4 from 5
"Last year I visited Australia for 10 days but unable see such mind blowing panoramic scene."
Arvind Chaudhari, India
2012-07-11 13:36:06
4 from 5
"awesome just kicking myself for not visiting such a place though I have been to Australia 4 times"
Eugene Peter, Pakistan
2012-07-11 05:10:42
4 from 5
"I Lived not far away but have never seen this aspect. Wife and I were on London Bridge- down the road- 24 hours before it collapsed !"
George Giles, Australia
2012-07-10 18:20:04
4 from 5
"Dear brother Thank God for His wonderful creation admire and enjoy in the disturbed world.T hese are all the good opportunities to forget our worries by watching the creations. Can you suggest any frirnds in this Australia to visit and gloryfy the God. We will meet our airfare. please pray for us. T"
SAMUEL CHRISTDOSS, India
2012-07-10 18:18:05
4 from 5
"Dear brother Thank God for His wonderful creation admire and enjoy in the disturbed world.T hese are all the good opportunities to forget our worries by watching the creations. Can you suggest any frirnds in this Australia to visit and gloryfy the God. We will meet our airfare. please pray for us. THANKS AND REGARDS.-REV.B.SAMUEL CHRISTDOSS"
SAMUEL CHRISTDOSS, India
2012-07-10 18:16:24
4 from 5
"Dear brother Thank God for His wonderful creation admire and enjoy in the disturbed world.T hese are all the good opportunities to forget our worries by watching the creations. Can you suggest any frirnds in this Australia to visit and gloryfy the God. We will meet our airfare. please pray for us. T"
SAMUEL CHRISTDOSS, India
2012-07-10 09:36:17
"IT's ALL JUST PLAIN CREATION GRANDEUR.
JUST NATURE's DISPLAY OF ITS PRIDE. A SHOW OFF OF THE HUMAN MIND.
EVEN A BEGGAR ANYWHERE IN THE WORLD TOWERS OVER THEM ALL.
BEING MADE IN GOD's IMAGE MAKES ALL THE DIFFERENCE. THE LATTER INCLUDING YOU, ARE THE CROWN OF GOD's CREATION. THE FORMER IS MADE FOR THE LATTER. NEVER THE OTHER WAY AROUND."
DAVID BURDER, India
2012-07-07 21:29:35
5 from 5
"I've had the privilege of visiting The Twelve Apostles. But this panoramic 360 degree view is absolutely amazing!!! Brings back wonderful memories of being there, in awe of God's creation. We are truly blessed to be able to enjoy such wonders."
Rosie Tsai, Philippines
2012-07-06 22:58:18
5 from 5
"GOD, HOW GREAT THOU ART! HEARTFELT CONGRATULATIONS ON YOUR EXHILARATING REPRODUCTION OF THE NATURE."
PALLICKAL KURIEN, India
2012-07-01 20:55:24
5 from 5
"C'est incroyable, faire le tour du monde sans sortir de son bureau.

Merci C'est fantastique"
Maurice Dubuc, Canada
2012-06-30 14:35:50
5 from 5
"I am invalid and this is for me an unique occasion to see so beautiful places. Thanks"
Giancarlo Vaia, Italy
2012-06-29 08:49:02
3 from 5
"Even the low resolution was breath-taking. Must share this link with friends. Thanks."
Jack Fernandes, Pakistan
2012-06-27 05:24:09
5 from 5
"Been there."
John Denny, Australia
2012-06-25 19:39:55
5 from 5
"The whole globe is at our disposal .Thank You so much for the fantastic viewing
Regards
Sergio Scaglietti .Sydney NSW Australia"
Sergio Scaglietti, Australia
2012-06-22 13:26:52
5 from 5
"Love the project GREAT. The one on the Great Ocean Rd. is of particular interest having walked along many of those beaches."
Brian Gymer, Australia
2012-06-21 23:40:17
5 from 5
"BEAUTY BEYOND WORDS........"Thank You" for this.....as I will most likely never be there in person."
Crystal Walker, USA
2012-06-20 06:36:11
5 from 5
"How wonderful for you to have experienced such a beautiful place. Thank you so very much"
Diana Briscoe, USA
2012-06-13 09:50:21
5 from 5
"Thanks...very interests....vantastic...beutiful.. for inform... مشاء الله لا قوة الا بالله"
Andy Lakemba, Australia
2012-06-12 10:02:52
5 from 5
"This is such a great opportunity for people around the world to get to know other places and see things from across the World.
It is incredible."
Ramjee Maurya, India
2012-06-11 20:09:11
5 from 5
"Being born and bred in Australia I would strongly suggest that this is one portion of our beautiful country to see if and when you visit Australia."
Stan Lean, Australia
2012-06-05 18:09:45
5 from 5
"Sencillamente maravilloso...una vista espectacular...sera porque me encanta mirar por la ventana cuando vuelo y esto es como estar volando y mirando pero mas de cerca que de costumbre...una maravilla...sencillamente una maravilla!!!!!!!!!!!!!!"
Marthy Montúfar, Ecuador
Varvara, AirPano: Muchísimas gracias por su comentario agradable. Estamos contentos de que le haya gustado esta panorama.