Golden Eagles fly to Moscow
•
360° Aerial Panoramas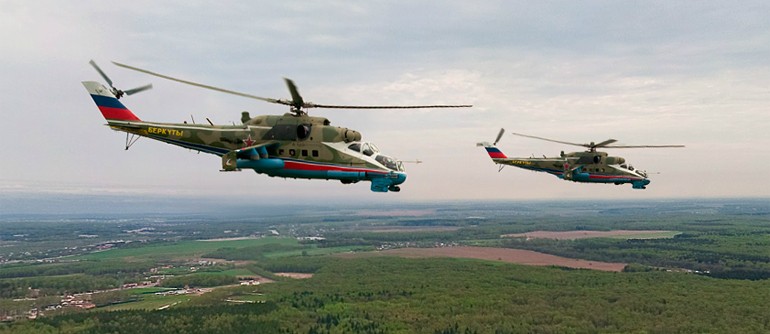 ---
History of this panorama.
We have been dealing with panorama shooting for 6 years already. Over this period, we have shot many interesting world cities: New York, Amsterdam, Kuala Lumpur, Sydney, Miami, Las Vegas, Rio de Janeiro, Dubai, Los Angeles, etc. However, despite our greatest efforts, we haven't still managed to shoot Moscow — the city, where we live. The thing is that flights over Moscow are prohibited, except for rescue and police helicopters.
However, we found this opportunity in the Spring of 2010.
It all began with the military fly-past over Moscow.
In May, we managed to get on board of a helicopter, which flew over the city during the military fly-past rehearsal dedicated to the 65th Anniversary of the Great Victory. While following its route, the helicopter flew over Red Square and we got a chance to do a unique shooting session over the Kremlin.
Shooting conditions were extremely difficult: the helicopter flies over Red Square in 5 seconds at 250 km/h; no one in the world has ever done a spherical panorama shooting in such conditions per one flight over the shooting point.
Although we had not enough time to arrange for new equipment, we developed our shooting technique in order to get what we needed and trained to shoot this way from a balcony imagining ourselves on the board of a helicopter flying over Red Square. :)
Unfortunately shooting conditions in the helicopter cabin turned out to be even more difficult than I had expected, and when we took off, I decided to refuse an idea of shooting a spherical panorama in Moscow over the Kremlin, since there was a high risk just to spoil it all. Even now, when we learned how to do this, I'm not sure, whether we would have managed to do what we wanted those days.
So when flying over Moscow, we decided to do just an ordinary traditional shooting session. After all, and first of all, we are photographers and then panoramers. :) Finally, one of the photos taken by my workmate Sergey Semenov and showing the Golden Eagles flying over Red Square attracted lots of interest of viewers and for about a month was among top photos at Photosight.ru — one of the most popular Russian photo resources.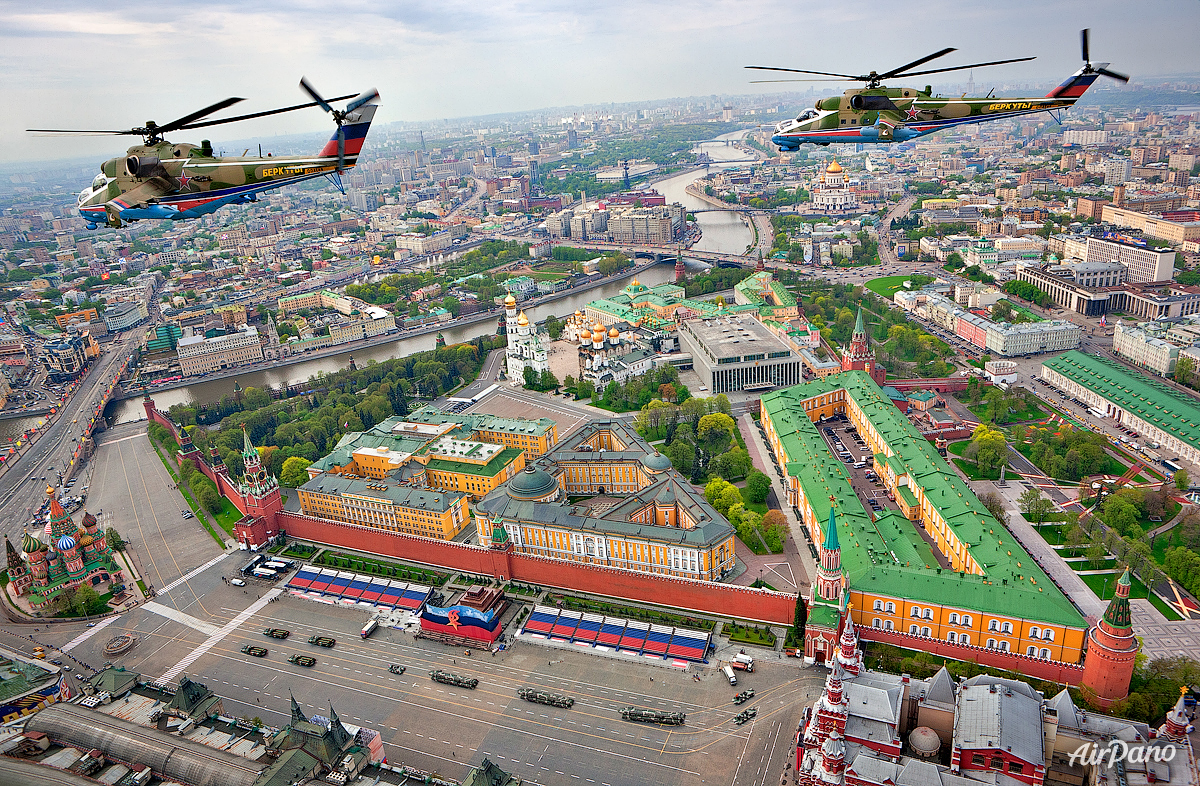 However, when flying back from Moscow to the helicopter base, we had some free time, and I decided to try the spherical panorama shooting from the moving helicopter.
We made about two dozens of trials using various techniques and finally managed to stitch one of the panoramas. Unfortunately, the weather was cloudy, and the landscape we were flying over was not much interesting, that's why the panorama itself does not have any art value. However, in technical terms, this panorama became our great success, and we're proud of these results. You may read a story about the shooting of this panorama at our website here.
To view this panorama in original size, please go here.
31 December 2010
Comments
2013-08-18 02:01:19
"muy bueno el trabajo,sobretodo,muy educativo"
samuel paez, USA
2013-03-20 17:04:02
4 from 5
"Maravilloso, gracias por compartirlo"
lucio licinio sura, Spain
2012-05-13 21:55:10
5 from 5
"v.good one&its very lovely"
Hashim M Ahamed, Sudan
2012-05-09 07:22:24
5 from 5
"ES IMPRESIONANTE EL TRABAJO QUE HAN HECHO. GRACIAS POR PERMITIRNOS DISFRUTARLO."
Adolfo Macal, Mexico
Varvara, AirPano: Nos agrada que le gusto. Recuerdos.
2012-05-06 19:51:22
5 from 5
"Mi - 24 Power!
Rydwany szatana."
Lance Hendriksen, Poland
2012-04-22 14:09:31
5 from 5
"Amazing work ! we are alliens ??!
I really want to know how you do this
congratulations, it's awesome !"
Eric Malherpod, France
2012-04-08 08:32:08
5 from 5
"Wspaniałe foto.Robi wrażenie.Pozdrowienia z Gdańska."
Jan Możejko, Poland
2012-04-03 00:37:21
5 from 5
"tk"
MEHDI KHOSHOODI, Iraq
2012-03-27 20:34:05
5 from 5
"ES PARA NOSOTROS EL PLACER DE SER TESTIGOS DE ALGO TAN MARAVILLOSO!!"
carlos rodriguez, Mexico
2012-03-16 17:13:42
3 from 5
mirzazafar alibaig, New Zealand
2012-03-10 08:52:25
"I like Airpano.ru website.
I have knowledge."
Min Thu Tun, Myanmar
Varvara, AirPano: It gives us pleasure to have your message. thanks!