Underwater Shooting on the Maldives. Divers
•
360° Panorama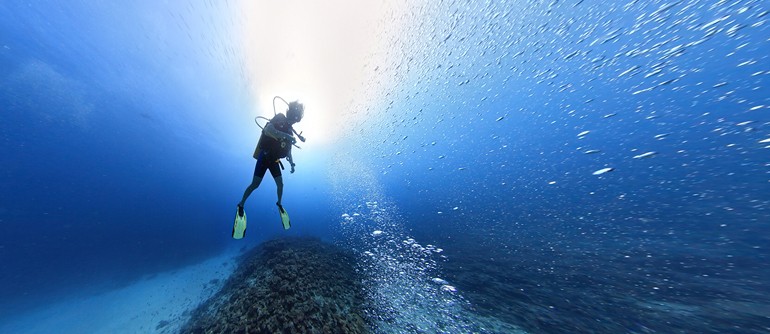 ---
This sphere shot in warm waters of the Maldives Islands continues the series of our underwater spherical panoramas.
It's curious but fact: there are no civil helicopters on the Maldives and in order not to waste time lying on the beach I decided to dive with a camera. My first training classes took place in Moscow, in my apartment, in the bath full of water where, for the first time in my life, I, with great horror, have put the camera down...
Two days long I was moving between the bathroom and computer but, unfortunately, everything was in vain. The time had come to leave for the airport. As soon as I arrived on the Maldives and within a couple of days more I was training in a shoal standing waist-deep in water near the beach closed to my bungalow.
I knew all the local fish and all the stones at a distance of 50 meters. I was running from water into the room, to my notebook, then back to the sea and again to the notebook. The neighbors were tanning, drinking cocktails, looking at me and smiling. My head top and right palm, which had held the camera, sunburnt.
As a result, after two days experiments I changed the objective, methods of shooting, camera's adjustments and its handling principles. Afterwards, I rented a catamaran and left for the nearest coral reefs and exactly there, swimming with a mask, I tried to shoot the real spheres.
I succeeded. I made a few corrections more and understood that the time to dive into the deep had come. I attended a local diving club and signed up for a coming diving. 8 years had already passed since my last diving and I remembered almost nothing. But the instructor encouraged me: "Put the oxygen cylinder on and jump into water. There you will remember everything." And I jumped. In the beginning I felt fear and it was difficult, I had to give the camera to the instructor but later I, more or less, adapted and began to shoot independently.
Here it is the result.
29 June 2011
Comments
2014-04-18 08:47:00
"Very nice"
keelapavoor c piramanayagam, India
2013-07-18 17:58:19
4 from 5
"owesome and really pleaseant place to make one feel more relaxed."
jairaj sachdev, India
2013-07-15 11:46:49
5 from 5
"It's wonderful,from the beginning to the end.Thank you. Australia is so far,l'm feeling as real(actual) visitor."
branka gostovic, Australia
2013-05-27 12:00:04
5 from 5
"Oh it is really awsome..I am still curious to watch all of them.."
Gopinath Amrutha, India
2012-10-30 02:29:00
3 from 5
islam tarek, Egypt
2012-07-25 02:06:38
"Thrilling experience! An Extraordinary venture! hats off to the divers and the one who filmed it."
velusamy gounder manohar gounder, India
2012-07-21 14:47:09
5 from 5
"Great photography and it also brought back memories
of my time in the RAF when I spent a year in the Maldives 1961/62 and we had the pleasure of a visit
From Lea Kenyon a Colleague of Jacque Cousteau and showed us some underwater photography of his experience in the Maldives.Thank you for showing
a more modern version of the Maldives!!!"
Tom McGrath, Ireland
2012-07-16 20:56:27
5 from 5
"gnrhir"
kcjgirhir kdghur, Aruba
2012-07-15 11:02:25
5 from 5
"This is absolutely breathtaking, surreal to say the least!!Racheals song is haunting and apt for this.
Far out,
How the heck was this filmed?
Was it not dangerous?
Regards and good luck in future endevours.
Jen."
Jennifer Samuels, India
2012-07-12 16:33:43
5 from 5
"hi guy, Great job! I like this very much, Thank you."
Gim Hoo Ow, Malaysia
2012-07-04 16:11:44
5 from 5
"ESTUPENDO, LINDO , MARAVILHOSO , MASSA......"
elver francisco carreira, Brazil
2012-06-24 12:11:03
5 from 5
"fantastic"
kandlekar moshe, Israel
2012-06-24 10:40:48
1 from 5
"wondarfull"
krishna murthy, Jamaica
2012-06-19 19:24:54
5 from 5
"I am astonished at the remarkable video tech.What an innovation in 360 degrees. Superb job guys!
I am getting the chills. Once again I am seeing Maldives beautiful under water world since 1972 (I lived in maldives back then for three and a half years). Thank you for reminiscences."
Farah Bangash, USA
Varvara, AirPano: Thank you. It's great that you like this pano. See you here again.
2012-06-19 04:27:04
5 from 5
"MARAVILLOSO. THANK MUCH. A WORK OF ART."
Jose Valdes, USA
2012-06-17 05:57:52
5 from 5
"Awesome,Amazing,Interesting,very good. I can only reccomend it."
thomas jones, Australia
2012-06-16 18:02:32
5 from 5
"superb"
RAMESH NAIDU, India
2012-05-19 14:40:21
5 from 5
"Belíssimo"
Antonio Calado, Portugal
2012-05-13 16:07:25
5 from 5
"I'm proud of you,anna. You are so cool. I will visit Maldive in a near future."
wanli Woo, China
2012-05-04 21:01:25
5 from 5
"It'simply wonderful"
massimo de benedictis, Italy
2012-05-03 14:04:05
5 from 5
"I have dived in Cape Verde (my home land) and Mozambique for many years and recently I have been in the crystal Red Sea, Giftun, Hurghada, very nice diving and uw photo w/D70 & Nikkor 18/70, no flash. Your shooting 360 degrees is simply outstanding superb extremely DOF and sharpness and natural colors. My congrats and thanks a lot for this opportunity to enjoy your great work."
Carlos Loff Fonseca, Portugal
Varvara, AirPano: We are grateful, Carlos, for your message. If you want, you can dive to the bottom of the Mariana Trench. Good luck!
2012-04-18 17:33:02
5 from 5
"simply superb!!!"
Saleem Merchant, United Arab Emirates
2012-04-12 14:47:36
5 from 5
"好美的景色與音樂~十幾年前就想去的國家馬爾地夫~但是去過好多地方,甚至斯里蘭卡,可就是還沒到過這裡~希望有一天能成行~"
dog old, Taiwan Region
2012-04-03 16:39:47
5 from 5
"there is no words to describe the efforts of you guys its gives the reality to us like we are there thank you so much"
Gokul Shanmugam, India
Varvara, AirPano: You are welcome! Thanks.
2012-03-20 15:17:03
4 from 5
"Really nice..."
Gajendra Saykhede, India
2012-03-20 12:28:59
4 from 5
"OMG it is just as I saw them myself when I lived there.
Gorgeous!!
avi"
avinash bhalla, India
2012-03-15 00:25:58
5 from 5
"Absolutely stunning! Thankyou so very much!"
jane haydon, Canada
Varvara, AirPano: We appreciate your opinion.
2012-02-23 12:25:07
5 from 5
Ratko Golubovic, Serbia and Montenegro
2012-02-16 06:51:22
5 from 5
"Your work is beautiful, thank you so much for your art.

One question, what is the title & author of the beautiful song in this panorama?

Sincerely,

Kacper"
Kacper Pie, Canada
Varvara, AirPano: Thanks for the comment you left! This is "Rachel's Song" by Paul Oekenfold & Vangelis.
2012-01-21 18:12:14
5 from 5
"Congratulations for 360° Aerial Panorama works.
All of these are perfectly. Thanks a lot.
Yours sincerely...

H.Tahsin BAKAN, Turkey"
Hasan Tahsin BAKAN, Turkey
2012-01-14 04:27:38
2 from 5
"sorry about my english, congratulation and thank&180s very much by those work. thank&180s"
RAUL NAVA, Mexico
2011-10-21 14:53:54
4 from 5
"A little motionless. Such situation supposes movement and liveliness but anyway this view is not ordinary and deserves attention."
Andrew Hedgehog
2011-10-14 13:48:42
5 from 5
"It's nice and unusual panorama as well as the story ;)"
Victoria Saymoor
2011-10-09 00:09:48
4 from 5
"Holy sizhnit, this is so cool thank you."
Kaden Kaden