Moscow Automobile Ring Road (MKAD), Russia
•
360° Aerial Panoramas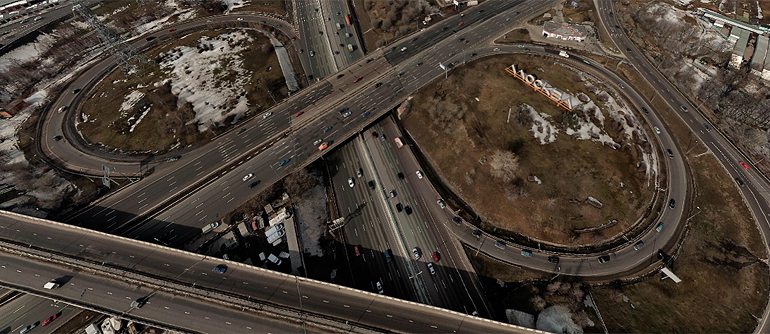 ---
MEH, Moscow
We have already been shooting aerial panoramas for 6 years. And we shot many interesting cities of the world: New York, Amsterdam, Kuala Lumpur, Sidney, Miami, Las Vegas, Rio de Janeiro, Dubai, Los Angeles and others. However, we didn't succeed in shooting the city we live in, though we did our best. The case is the flights over Moscow are forbidden except those of Russian Federation Ministry of Civil Defense and Emergency Response and Russian police.
That is why first we made a virtual tour over the interchanges of Moscow Encircling Highway (MEH) and you can view it here, on our web-site.
There are a lot of restrictions when anyone flies over MEH: it's forbidden to fly here, it's forbidden to fly there, fly only clockwise, it's not allowed going up higher certain level. But, nevertheless, we realized the shooting and the virtual tour is ready.
We have shot 3 times: first flights were done even in winter of 2009 and we finished in May of 2010.
A helicopter flew over MEH at a height of 100-200m and we stopped in the places of interest and shot there. During these flights there were many curious things: near Mega-Tepliy Stan we heard the pilots of Boeings and Airbuses were talking each other in Russian and English with different accents when the airplanes were flying to land in Vnukovo airport. We heard the traffic controllers were swearing us, because we were flying slowly. Near Yasenevo a portable radio transmitter stopped functioning because of Federal Safety Service. And then the voice from the transmitter asked: "Why do you hover here? Get off now!" Although we shot in early spring when snow was still lying, over Dzerzhinskiy and Kapotnya in the area of the huge steam-heat pipes there was warm like in summer because of the warm steam which from time to time appeared on the board of our helicopter from the heat station. And we remembered the temperature record of our shooting which was -27С. That time we had to put chemical self-heating pads into our winter boots because the shooting is always realized without doors independently on the weather.
Except of MEH itself two spheres were shot.
Here it is the sphere shot over Crocus-City from the height of 1 km. It is a panoramic view of Moscow and its region. Besides, in spring of 2010 from the height of 1 km we shot the first helicopter panorama in the world with the resolution of 1 Gig pixel. You can view it here. In spite of haze, It can be viewed not only the TV tower of Ostankino, but also the Kremlin, The Cathedral of Christ the Savior, Novodevichiy Convent and many other places of interest. The shooting was made with objectives-fixes 200, 300 and 400 mm. It was shot several panoramas (0.7, 1.5 and 3.0 Gig pixels) but to reduce the files' size it was set version 200 mm.

And now, Encircling Highway information.
Moscow Encircling Highway, also known as MEH (MKAD in Russian), is more than just next transport artery of the giant megalopolis. It is the entire phenomenon in the life of modern Russia. Lukmore is an informal internet encyclopedia that fixes all the new words, people and phenomena which have appeared recently, well, it characterizes MEH as "Russian border which separates civilization from the country side full of bears with balalaikas and home-distilled vodka in bast shoes".
The movement on MEH began in 1961 and this historical date fixed the borders of Moscow and it's just indecently to live outside them. Little time ago the phrase "It's no life outside MEH" appeared. This phrase illustrates brightly the attitude of people who in their time could settle inside the desirable circle. That is why for any modern Russian citizen, except the Muscovite, the first and main association with the Encircling Highway isn't its functionality, quantity of kilometers, levels and interchanges, but its function of border which divided country into 2 parts: Moscow and Russia.
Nevertheless, MEH has its own history and statistics and curious indeed. Its construction was planned even in the 30's; the works almost began in the 40's but were stopped by the Great World War. Because of the war the plans were revised and only in one month the easier variant of MEH was created. In the frameworks of this variant 100 km of restored old roads were connected with 30 km of the new ones. And then, upon that road which was built in a frantic rush moved army, weapons and equipment. But in peace time the encircling highway needed fundamental reconstruction which has been completed by 1961.
By the 90's the carrying capacity of MEH has almost exhausted: the average velocity was 30-40 km per hour and the pedestrians often crossed the highway, that fact, in its turn, led to the record number of accidents. Then, the second long-term part of MEH"s reconstruction began. But nowadays when the number of Moscow inhabitants and, therefore, the number of cars rose, 10 traffic lanes of MEH 108.9 km of the total longitude aren't able to cope with the traffic flows.
And it's even known why. There is an opinion that the former mayor of Russian Capital - Yuriy Luzhkov - "stole 20 cm of MEH". Allegedly, when they were making the road wider, its asphalt waysides were finally made each side 10 cm narrower than it had been planned and budgeted before. This, allegedly, allowed the mayor to save money and misappropriate millions. The real things are on MEH there are places both narrower and wider, but all of them are in the frameworks of the declared construction plans and standards; and the misappropriations during the construction completely don't depend on the width of the roadbed. However, anyone doesn't care about such details.
It's also known that once, when the next reconstruction of MEH hold, it was required to measure the road and it was found out that kilometer posts stand chaotically. The longest distance between them is 1800 m and the shortest one is 700 m. But in spite of all the absurd of the situation, it was decided to keep the places of kilometer posts as they are because Russian police and road services have already accustomed to their location. They know where and what is happened and when the news came "an accident is on the named kilometer" everyone knows where to go.
But if anybody stands apart from the folklore and politics and just look at MEH - powerful highway of almost European level - look at it like an aesthete, estimate the scales of the city, its active life and wide scope; it's possible to get more pleasure than to drive with a wind along an empty highway.
15 November 2010
Comments
2013-12-15 14:36:36
2 from 5
"Sooo. Faaaaarrr"
Nitesh Joshi, India
2012-07-27 07:43:05
"Absolutely breath taking...."
Mary P Morfenski, Ukraine
2012-07-26 05:44:38
5 from 5
"What a wonderful way to see the world when one doesn't have the money to travel. Thank you"
Carol Schembri, Canada
2012-07-22 15:19:16
"this is good momento on my life .because i am prtialy handicapped . so i have enjoid this work thank GODE and for you with love SAMAD 9961728683"
ABDUL SAMAD, India
2012-07-19 16:57:34
5 from 5
"This is very amazing and beutiful view of the nature of GOD."
MFANELO MAQUNGO, South Africa
2012-06-25 23:42:52
1 from 5
"Nice"
Erigi Narsing Rao, India
2012-05-09 16:12:21
5 from 5
"Incredible !!"
Dilip Bahulikar, India