Kuala Lumpur, Malaysia. The Petronas tower
•
360° Aerial Panoramas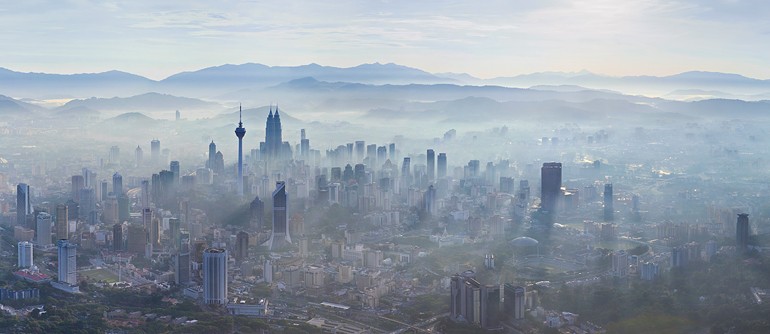 ---
Kuala Lumpur, Malaysia. Petronas Twin Towers

Petronas Twin Towers are the symbol of Malaysia's capital, Kuala Lumpur. They are the highest twin towers in the world; their altitude is 452m. Picturesque architecture along with really giant dimensions of the towers make these skyscrapers ones of the most impressive buildings on the planet.

It's curious but once upon a time the Americans disputed the pas of Petronas Towers, because their Chicago's skyscraper, Sears Tower, has the altitude of 527m. However, there are 75 meters of TV antennas of Sears Tower's altitude, which are on the roof. That is why, in accordance with the rules which are used in order to determine the highest building in the world, the commission didn't accepted these TV antennas as inseparable part of the construction, and Petronas' spires are seamless and inseparable element of the building.

If we forget that Petronas are the Twin Towers (the fact is they are two towers standing near and connected with the bridge between them), and take a look at the absolute altitude of the all skyscrapers in the world, then the priority among the buildings in exploitation is the following:

Burj Dubai - 828m
Taipei 101 - 509m
Shanghai World Financial Center - 492m
Petronas Twin Towers - 452m

Right now you can see Petronas Towers from outside flying by helicopter closed to them, look inside them, be on the bridge between the Towers as well as observe them from the ground-level.
Comments
2017-07-19 15:49:18
5 from 5
"Gracias al equipo de Airpano por estos panoramas tan bellos, se les agradece su dedicación."
Luisa García, Dominican Republic
2016-09-15 01:57:47
5 from 5
"adore the beautiful Panoramic views so much that should be named as one of them. If I should return i hope to have the the very best one that life can give xxx
My Kindest
Regards
From Ireland XXXXXXXXXXXXXXXXX"
unaWinifred omalley, Ireland
2016-01-07 11:40:09
5 from 5
"Academia Sinica"
Xin Cheng, China
2015-02-12 22:05:20
5 from 5
"Excellent views."
Hugo V#225zquez, Uruguay
2014-04-03 01:00:52
5 from 5
"It's absolutely precious, amazing!!!! Congratulations Malaysia City!!!"
Matilde San Martin Geiger, USA
2014-02-15 01:21:07
"ME GUSTARIA, COMO ARGENTINA ORGULLOSA, QUE SE DIJERA TAMBIEN EN LA NOTA, QUE LAS TORRES PETRONAS FUERON OBRA DEL ARQUITECTO ARGENTINO (nacido en la Pcia. de Tucuman)CESAR PELLI."
elsa del brio, Argentina
2014-01-16 10:52:09
5 from 5
"Wow.... Amazing ! Wonderful Malaysia "
Karen Kuan, Malaysia
2013-11-22 03:13:41
"Panorama view of the Petronas - Twin Towers in Kuala Lumpur, Malaysia."
Chai-Hoon Beh, USA
2013-11-08 15:34:10
"Visitar o Oriente é inesquecível.
A Malásia é sem dúvida obrigatório visitar, tal como MALACA, património da humanidade, nomeada pela UNESCO em Julho de 2008, uma cidade histórica da Malásia. Por esta causa nasceu a Associação Coração em Malaca em 12 de Junho de 2008.
Bem hajam todos quanto a divulgarem"
Asociação Coração em Malaca - ONGD Korsang di Melaka, Portugal
2013-11-04 11:31:16
5 from 5
"روعة في الاداء والتصوير الجميل بداعة في العمل الراقي احس وكأنني في كوالا لمبور، ماليزيا. برج بتروناس بناء وهندسة معمارية خلابة في التصميم"
أبو سهم العزاوي, Iraq
2013-10-19 15:33:37
3 from 5
Ricky Tan, Vietnam
2013-10-19 08:08:25
5 from 5
Ricky Tan, Vietnam
2013-09-18 08:17:08
5 from 5
"realmete unas tomas estupendas de una verdadera obra de arquitectura, ya las conocia pero felicito vuestro esfuerzo por mostrar al mundo lo que es capáz de crear el ser humano- alegra el espíritu y reaviva la imaginación.-"
francisco miguel salgado, Uruguay
2013-07-09 18:09:20
4 from 5
"cool"
rehan ahmad, India
2013-05-28 14:36:03
5 from 5
"Hey guys the music used in this panorama is Suzanne Ciani-Turning instrumental version...Btw Very nice panorama with beautiful music...hope to see more in future.Thanks You airpano.com"
hrushikesh ingale, India
2013-04-17 04:30:34
3 from 5
zhao zisen, China
2013-04-04 21:38:55
5 from 5
"Ahh-mazing! I added to my bucket list."
Anna B, USA
2013-04-01 18:17:06
5 from 5
"hey anna the name you have told about the music is not matching as i searched it on google and youtube..if you have any link of music then please share it to me i would greatly appreciate...Thanks"
hrushikesh ingale, India
2013-03-09 19:52:32
4 from 5
"good effort, the helicopter view is nice."
Faiz bin Zakaria, Malaysia
2013-01-31 23:44:52
4 from 5
joanna jedryka, Vietnam
2013-01-11 16:19:51
"Amazing, in particular I used to live in KL about fifty years ago.However I wish to go 'deep'into the city and its whereabouts, but dont know how to manege this. Can you kindly and simply (I am 80) explain please. Thanks.
hans kalkman"
hans kalkman, Netherlands
2012-12-25 18:07:33
5 from 5
"Mind Blowing!!!! Thanks for your innovative thinking"
Peter Soper, United Kingdom
2012-11-25 04:45:27
5 from 5
"I have no words to praise you and ur work. Really commendable"
vajrapu sriram, India
2012-11-11 21:48:47
5 from 5
jacinto ferrus escalera, Spain
2012-10-27 11:10:53
5 from 5
"i was there last year , it was really wonderfull. i love there:X"
elham lashgari, Iran
2012-10-18 13:48:20
5 from 5
"The money should have been spent building society. No one except dictators, psychotic, conceited and greedy myopic people build these monuments starting from the pyramids to these current day mammoths. Money could have been better spent on education, public housing, libraries or other truly beneficial projects. Look beyond the facade of these structures and you will see corruption, egoism, madness, opulence, starvation of any moral code known to man."
Abu Bhoy, Malaysia
2012-09-25 12:38:15
5 from 5
"It is fantastic"
PAPANASAM GANESAN, India
2012-09-08 11:00:17
5 from 5
"Excellent photography! Beautiful views! Keep it up"
Mathi L.K., India
2012-09-04 15:41:46
5 from 5
"WOW !!!! What a presentation !!
Please keep it up with addition of more countries."
Philip Pereira, Canada
2012-08-25 07:20:39
5 from 5
"took my breath away how tidy the place is. well done"
Mary weeken/wong, Australia
2012-08-09 16:30:37
5 from 5
"Excellant"
raman perumal, Malaysia
2012-08-05 18:30:38
"If it was not for those fricken screems at 04:00 in the morning, I loved the country and especially the food."
Kees Elenbaas, USA
2012-07-30 06:30:49
5 from 5
"Malaysia truly Asia :)"
Am Hazra, Malaysia
2012-07-29 15:27:48
4 from 5
"VERY GOOD JOURNY BY SCREEN"
CHINTAN LAVRI, India
2012-07-26 09:39:24
5 from 5
"Superb views of a superb country."
Muhammad Habib Khan, Pakistan
2012-07-24 22:51:46
5 from 5
"what an incredible way to travel.... very economical too~! :) great work.. I'm enjoying them all!"
hilda andrade, Canada
2012-07-20 21:45:06
5 from 5
""Simply amazing!!!.. Great job. Appreciate your painstaking effort. I work in one of the towers... The virtual views are much broader :)"
June Ho, Malaysia
2012-07-14 20:57:35
5 from 5
"Pentronas Towers,Malaysia simply amazing, it's as if you are there, Beautiful dreamy music, enhances the buildings and Engineering..just love the beautiful people of Malaysia...Dot from the U.K."
Dot Maddocks, United Kingdom
2012-07-09 01:59:09
1 from 5
"...click on Syds and get KL....? what the bloody heck - virus too?"
Peter Bras, New Zealand
AirPano: Hi Peter,
Can you explain in details what do you mean? We honestly don't understand what does "Syds" mean and where did you click it to get Kuala Lumpur. According to our antivirus and other scan there no virus on our site so far.
Best regards, Sergey

2012-07-05 08:10:00
5 from 5
"I visited KL fifth times already and happened to stepped foot on the bridge connecting the two towers 2007. Masha-Allah, it was an awesome experience... It is a must to see..."
Emran Mohamad, Philippines
Varvara, AirPano: We agree with you, Emran. It's really worth to see.
2012-07-03 06:49:58
5 from 5
Rosangela Germani, Brazil
2012-06-27 07:20:55
3 from 5
"Wonderful! It transports to me another world of
magical things"
Radhanath Venkatanaranappa, India
2012-06-20 06:36:15
5 from 5
""Fantastic, excellent One Malaysia!!""
Mahathir Barahim, Malaysia
2012-06-17 06:54:04
5 from 5
"Fabulous. Thank you our ex-PM Dr Mahathir who was determined to build this state of the art building despite all criticisms. It is now pride of the country. Proud to be Malaysian, dulu, kini & selamanya. God bless & protect this country. And also thanks Anna, for posting this picture."
Shima Ibrahim, Malaysia
2012-06-10 11:46:28
5 from 5
"god"
saeed karimi, Iran
2012-06-07 05:57:52
4 from 5
"The pictures are stunning. Baie Mooi.!!!"
Donald Lim Chin Ang, Malaysia
2012-06-04 20:54:17
5 from 5
"prachtige beelden"
louis renders, Belgium
2012-06-02 12:27:03
5 from 5
"In deep appreciation for your efforts in bringing the world to our doorsteps.Now, anyone can'go'anywhere and see virtually any place that our planet has to showcase just by a mere click of a mouse.Thank you for the 'third eye'!"
Steve Teoh, Malaysia
2012-06-01 08:50:30
5 from 5
"Awesome!!!!..."
maznan mohamad, Malaysia
2012-05-30 06:18:07
5 from 5
"wow, its fantastic...Love it!!
It great to be Malaysian.. I am so proud of Malaysia.. Malaysia Boleh!!
God bless this piece of land always..."
Wendy Ho, Malaysia