2011-05-23 15:10:54
"Thank you for giving me suggestions! I Qiangzai the shooting about a new experiment. I have most of the time each year in China, Chengdu, and some time in Beijing. If you to Chengdu or Beijing, I am glad to see you, we have the opportunity to know each other and can communicate and share panoramic photography technology."
- jacky cheng
2011-05-23 05:14:00
"http://www.360cities.net/image/2011-05-22-chengdu-test-chengdu#36.96,65.78,70.0 After reading New York, I love you ... Yesterday, I did the shooting test. Please guide us. O (∩ _ ∩) O Thank you."
- jacky cheng
AirPano: Very nice work! You may try to use longer pole(3-4 meters). In this case you will need to rotate the pole with camera. You are doing 360 shot so it does not really matter where the zenith and nadir is going to be.
2011-05-22 07:30:00
"Excelente trabajo. Felicitaciones!!!"
- Lorena Coto
AirPano: Gracias, Lorena!
2011-05-21 19:00:49
"wonderfull job. Incredible. Thank you indeed"
- miguel angel pintado lago
2011-05-21 12:53:00
"This panoramic picture is perfect. http://www.airpano.ru/files/Millennium-UN-Plaza-Hotel-New-York-USA/start_e.html?onstart=loadscene%28scene_win_4,null,MERGE%29"
- jacky cheng
AirPano: You have a really good works. We like this one for example http://www.360cities.net/image/panorama-4a-my-car-chengdu#419.30,-5.10,70.0 THe problem is that there are lots of similar panoramas. You may want to try something unusual. For example try to shot panorama in traffic jam or dynamic panorama while the car is moving. Probably you will need somedoy who will help you. You may need to use Photoshop extensively if you shot while the car is moving. We have been twice in Chengdu. Very nice city but both times it was some kind of fog. We were told that it is quite normal for your city. Is it truth?
2011-05-21 09:55:05
"See you in New York in 2010, Millennium Hotel, take panoramic pictures taken very good! I also read your website the other panoramic image is very good! I am concerned about your site last year and works in the future I will continue to pay attention. I am a panoramic photographers from China, I started in 2001, the commercial production of panoramic pictures, now, I take panoramic pictures are mainly entertainment:). I shot some pictures published in: http://www.360cities.net/profile/landeshow. I also love to shoot some panoramic images difficult, such as the Millennium Hotel in New York your kind of shooting panoramic pictures. http://www.360cities.net/image/panorama-2011-04-04-11-chengdu # 59.83,6.39,70.0 Hope that you can see more of your excellent work. Learn from you! :)"
- jacky cheng
2011-05-19 15:53:00
"Thank you for the wonderful work that you guys (and girls) did. It is a pleasure to see the fantastic places that you have seen, photographed and shared with the rest of the planet. Perhaps if you shared your techniques, more people could get involved with your project and show the rest of the world that this beauty should be treasured by all. Thank you again!"
- Edgar Schuchardt
2011-05-19 13:42:00
"Stunning photography and clever navigation techniques. Brilliant idea! Hope to see more of your work as the years go by! Is this the future of 'armchair travel'??!! Ignore the grumpy argentinos! Loved the tango montage ... I used to live in BA. Keep up the superlative visuals! Michael"
- Michael Poynor
AirPano: Thanks, Michael!
2011-05-19 07:51:00
"i want to know how to make it?"
- mohd alkuwari
AirPano: Dear Mohd, it is a quite complecated task, but we are going to write some articles about panorama shooting technique. Here is the first article which describes how to create panoramas from the outside of window.
2011-05-15 21:32:00
"You did a wonderful work! The virtual tour of St. Petersburg made me fall in love with this town <3 Id love to get to know what song you used for it. Its incredibly beautiful and Id be really happy if you could help me find it. Again: You do an amazing job! Many greetings from germany and spasibo bolshoe!"
- Stefanie S
AirPano: Thanks, Stefanie! This is a song from the movie "Gangster Petersburg" - "A city which does not". The author - Igor Korneluk. Look on YOUTUBE...
2011-05-09 01:12:09
"Beautiful pictures for the Iguazu falls, but the music is Brazilian, it is called Brasil, Meu Brasil...Brasileiro This leads to confusion, many people think that the Iguazu falls belong only to Brazil so please change the music. Regards."
- Ines
2011-05-05 00:27:00
"please correct a typo in word "Brooklyn" :)"
- leo
AirPano: Thank you very much. It has been fixed!
2011-04-29 16:18:39
"very nice!"
- Aref Alfahoum
2011-04-18 22:29:00
"great, great, great website. Million thanks for sharing our world. buenos aires argentina."
- fernanda
AirPano: Thank you Fernanda, we'll keep creating a new tours!
2011-04-18 15:31:00
"Hi, How can I work for Airpano? there is beautiful places in Brazil to photograph, as well interest companies on that services. Gilson Pilger A developer system in brazil"
- Gilson Pilger
AirPano: Dear Gilson, we have answered to your email address
2011-04-18 15:24:00
"Hi, I am Brazilian and I have had the opportunity to visit the Iguazu Falls. I really want to thank the work of Airpano, who did a great job here in Brazil. The images of Iguazu Falls were phenomenal. Congratulations! Gilson Pilger A developer systems"
- Gilson
2011-04-11 21:36:48
"Fantastico trabajo, si puedes fotografiar mi Pais Cuba, y en especial la habana"
- Mario Jose hernandez Vazquez
2011-04-05 18:09:57
"the link of iguasu falls is not working (404) !!!"
- Moses
2011-04-02 10:40:00
"Very good but you are an ignorant. The falls belong are not only to Brasil. Half are from ARGENTINA!!! How about playing a TANGO instead! Muy bueno pero sos un ignorante. Las cataratas no son solo de Brasil! La mitad son de ARGENTINA!!!"
- Cacho
AirPano: Guys, what's wrong with you? We had lots of complaints from Argentinians about this tour (you can imagine there was no complaints from Brazilians). We changed title of the tour and title of all windows to "Iguassu falls, Argentina-Brazil, virtual tour", we changed map to show what view points are located on the Argentinian side. So I don't think the word "ignorant" is about us. You probably have to think that music is international treasure and has no borders. We use English music on our Russian tours and nobody cries. We are not going to use Tango on this tour because it does not fit the situation. It's a "city" music. Porbably we'll try to find something you may like.
2011-04-02 00:44:00
"Awesome! And I´d like to see Paris, France."
- Deise
AirPano: Dear Deise, we will definetely create a Paris tour sometimes. Right now we just want to say sorry that we don't have all interesting places on our website yet.
2011-03-31 07:24:27
"Mooooooy bueno!!! Felicidades. Esperamos por más lugares. Saludos General Roca (RN) - Argentina"
- Oscar
2011-03-29 16:21:10
"Amaaaazing !!! From San Rafael - Mendoza - Argentina"
- Federico Eiras
2011-03-29 05:52:56
"Maravillosamente Fantasticas!!!!"
- carmen estrada
2011-03-28 21:56:00
"Very nice - but disapointed to see Buenos Aires Tango. Please do one of the city, not the tango!"
- Alicia
AirPano: Dear Alicia, we would love to do more Argentinian cities. Unfortunately we can't travel 365 days in a year. But I really hope we will be able to visit your beautiful country again.
2011-03-27 23:35:00
"Simply AMAZING! What a wonderful idea. Thanks for sharing so much beauty with the world!"
- Paula
AirPano: Thank you, Paula! Glad you enjoyed it!
2011-03-25 04:05:37
"muito intersante!, é como viajar sem sair de casa!!!!"
- antonio fernandes
2011-03-24 14:15:18
"fantastic, thanks !"
- toondasilva
2011-03-21 06:22:49
"Amazing places and an outstanding website . Keep up this good project"
- Cláudio Orestes do Nascimento
2011-03-13 17:39:25
"Nice work, recomended!"
- Rodrigo
2011-03-06 23:31:00
"Por favor,Paris, Rome"
- Fernando
AirPano: Dear Fernando, we will definetely create a Paris and Rome tours sometimes. Right now we just want to say sorry that we don't have all interesting places on our website yet.
2011-03-05 22:21:46
"Amazing project. Congratulations!"
- Guido
2011-03-04 00:37:00
"keep up the great work! I would love to see Bodensee (Lake Constanze) some day"
- Scott Hur
AirPano: May be! German is a very beautiful country and we have to do some work there!
2011-03-03 02:14:41
"Awesome! Congrats"
- Andre
2011-03-02 15:51:20
"You make my imagination fly. Thank you so much for this amazing work. Could you add something about 9th o f July Avenue and Obelisk in Buenos Aires? Thanks!"
- Santo Loquasto
2011-02-27 19:37:00
"Great job! Congratulations!...of course traveling is better, but you launch our mind across the world, so THANKS A LOT!"
- Mimi
AirPano: Thank you, Mimi! Have a pleasant journey!
2011-02-26 17:04:35
"Viajar eh muito bom.... melhor ainda eh voltar pra casa !"
- Gilberto Pacheco Venancio
2011-02-26 17:02:29
"Viajar é muito bom... melhor é voltar pra casa !"
- Gilberto Pacheco Venancio
2011-02-25 14:10:33
"Lindas fotos! Parabéns! Curitiba - Paraná - Brasil"
- Mariana
2011-02-20 22:59:30
"Congratulations from Athens, Greece!"
- Magdalini
2011-02-18 14:57:52
"GRANDIOOS Amsterdam the Netherlands"
- willem
2011-02-17 18:56:30
"Chapeau bas !"
- Shiker
2011-02-16 13:26:02
"Fantastic as usual. Hey Mary don't be in a "bud" mood" - just joking ...."
- Veronica Baker
2011-02-14 03:40:02
"Excelente pagina, las fotografías espectaculares."
- Matias P
2011-02-13 16:13:04
"Melhor site da internet."
- Alan
2011-02-11 05:19:00
"Amazing photos, you did a great job, congratulations =) - Rio de Janeiro/ RJ - Brazil"
- Carlos Vinicius Esch
AirPano: Thank you very much! You are always welcome to our pages.We are going to add to our website much more virtual tours.
2011-02-08 23:33:00
"The music, very well selected, is "Brasil", whose author is also from Brasil: Ari Barroso. But the Waterfalls belongs to both countries: Brasil and Argentina."
- Federico
AirPano: Sorry if you did not like the music. We'll try to find something suitable for both Brazilian and Argentinean.
2011-02-08 23:30:12
"From distant Argentina: Fantastic!, Outstanding! So many thanks to you to allow such a special view of OUR falls!"
- Federico
2011-02-08 04:03:54
"simply beautiful images, congratulations everyone who worked on this By the way, does anybody knows the name of the music which is played on the site?"
- Jonas Lavarini
2011-02-05 23:38:28
"Excelente las Cataratas del Iguazu, pero los saltos pertenecen a ARGENTINA, e Brasil solo hay 2 saltos...deberian corregirlo Gcias"
- selva
2011-02-04 04:06:03
"Excelente trabajo, maravillosas fotografias, en su viaje a torres del paine, no olviden reservar tiempo para San Pedro Atacama y su valle de la luna"
- jorge
2011-02-02 10:39:43
"Amazing site, good job all of you :)"
- Mary
2011-01-22 09:42:00
"Too great! Congratulations from China!"
- jacky cheng
2011-01-22 02:09:00
"Amazing work!! Greatings form Hungary! my panos: www.kerekterek.hu"
- Istvan Takacs
AirPano: Nice panos. Good luck in your project
2011-01-14 23:09:00
"Great airpanos Great job www.360grad.lu"
- Frank FEyder
AirPano: Good luck in your great www.360grad.lu project
2010-12-31 22:02:31
"beautiful thank you for sharing can i join you on the next journey?"
- cindy
2010-12-23 14:22:20
"amazing view i want to save this and used when iam in bud mood. thank you from greece"
- MARY
2010-12-17 23:33:12
"Awesome photos!!!"
- Andzh
2010-11-24 04:22:00
"Beautiful Images Check out https://sites.google.com/site/immersionvision/"
-
AirPano: Thank's for the sharing. It could be useful info for us.
2010-11-23 16:41:34
"Hello Andrei, I, too, attended LIKI in Leningrad. Pls contact me above email. Best rgds"
-
2010-11-15 03:35:37
"PARABÉNS ! EXCELENTES FOTOGRAFIAS"
-
2010-10-26 06:54:14
"AMAZING !!!"
-
2010-10-20 02:50:00
"Congratulations on the job. The places are really wonderful and deserve to be seen around the world. Thank you. Selmo from Cascavel/Paraná - Brazil"
-
AirPano: Thank you very much! Our expedition to Brazil was one of our most memorable trip.
2010-10-16 02:21:00
"I had the pleasure of taking Mike and Oleg up at Lake Powell and Monument Valley in my helicopter. The photos are amazing. Great work!"
-
AirPano: Hi, Maria! Sorry for my bad english, but It seems that you had double pleasure, because you left two messages here... :) Oleg.
2010-10-16 02:20:40
"I had the pleasure of taking Mike and Oleg up at Lake Powell and Monument Valley in my helicopter. The photos are amazing. Great work!"
-
2010-08-01 16:58:07
"I am traveling with this wondering pics... Hope be there soon"
- nice
2010-07-23 01:09:18
"Maravilloso es el poder de Dios"
- Minor Camacho C
2010-07-19 08:43:49
"ultrabrutal"
- laleeee
2010-07-16 14:27:06
"AMAZING !"
- F.Sadi Gucum
2010-07-01 16:36:56
"Классные фотографии, и вобшеее, унеси меня ветер куданибуть в эти красоты, Спасибо большое, приятно даже дома было сидя такое увидать"
- Евгений
2010-06-26 15:38:51
"Thank you very much for your answer and all another photos of Rio. What can I say except "wow". Photos are fantastic. Once again thank you. Best regards from Poland"
- Wiola
2010-06-19 23:25:20
"I never get bored to see Rio everyday but this awesome images makes me very proud of my home town. Congratulations for this great site! Cheers, Al"
- Albary - RJ
2010-06-16 15:47:17
"Awesome works! Awesome places! Thank you very much! P.S. Завидую белой завистью)"
- Dimitrii
2010-06-16 01:59:19
"очень красиво завораживает, спасибо что Вы дарите нам исключительно положительные эмоции :)"
- Вадим
2010-06-08 02:42:24
"Congratulations on your superb work."
- Joao Santos
2010-06-08 00:25:50
"Спасибо, совершенно непередаваемые ощущения, вы молодцы!"
- Александр Коваленко
2010-06-07 18:49:09
"Congratulations for the images! I am from Rio, and I loved to see my city in your site!"
- Rodrigo
2010-06-06 06:57:30
"Maravilhoso esse trabalho. Parabéns... Eloisa"
- Eloisa Blauth
2010-06-05 02:00:00
"Congratulatios.. beautiful.. I love my City Rio de Janeiro.. but do you know Lençois Maranhenses.. ?it is a wonderful place"
- jeferson
AirPano: Dear Jeferson, thank you! We plan visit Lencois Maranhenses in future, it is very beautifull place. Oleg
2010-05-31 01:19:09
"Класс!! Огромные молодцы, что замутили такой проект!"
- dontsov
2010-05-30 17:06:00
"Few days ago my friend show me this website. I love Rio de Janeiro and one of me biggest dream is to see Rio live. This webside is like a window.I can see this city and especialy The Statue of Jesus Christ whenever I want. This site is amazing! Congratulation for the work. Best regards from Poland"
- Wiola
2010-05-27 11:37:32
"nasdarovia"
- ricardo suarez tavallali
2010-05-24 00:58:59
"Kajdi raz chto ia viju ya bolée, liubliu Kisses from Brasil"
- Nina
2010-05-21 15:42:35
"breathtaking images. you are very special, congratulation. I will forward it among friends"
- GIANNI
2010-05-20 23:04:43
"Spectacular, please continue doing this prodigious work"
- Fernando Gimenez
2010-05-18 20:54:47
"Fantastic! Hugs from Brazil."
- Clarice
2010-05-17 21:02:00
"Vcio liudei v Brasil liubili vach rabotat,ya otchem rada za snakomitsa tebe, podoljaeche c udatcha Ya jilaiu sdarovie dlia vas.Bili eto site katori moi dotch Andreia palutila b cvoiu firma.Privet dlia Kris i Andr"
- Nina
AirPano: Привет, Нина, рад тебя видеть! У меня есть панорама, на которой изображена ты у фавелы Da Marta. Можешь посмотреть ее здесь (Открыть панораму)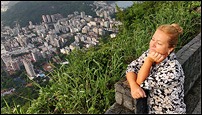 2010-05-15 03:47:20
"Parabéns estou admirada com a beleza do trabalho de vocês. Agradeço este compartilhar que amplia a visão de mundo e me permite desfrutar de tanta beleza e inspiração. Saudações do Rio de Janeiro - Brasil."
- Sonia Madruga
2010-05-11 00:30:57
"Great job!!! Wonderful world!!! Congratulations."
- Cid Guerreiro
2010-05-08 01:54:08
"Wonderful work! Brings back many Saudades. Ann"
- Ann (Alford) Zivilo
2010-05-06 06:16:07
"Simplesmente lindo magnifico trabalho,continuem mostrando o lado bonito da natureza,de repente o Homem volta a respeita-la como merece,parabens que Deus os proteja."
- Edson GeS
2010-05-03 22:28:53
"Congratulations. Que interior voce tem, que sensibilidade, merece um beijo afetuoso em sua alma."
- Marilda Sophia
2010-05-01 18:12:04
"Congratulations for the wonderful site. It´s amazing!"
- Hermínio Figueiredo
2010-04-27 21:26:44
"Rio, você é tudo pra mim! Com a devida permissão do poeta."
- Gilda Lima
2010-04-27 15:36:00
"Красивая работа! Я из Рио-де-Жанейро, и я был рад видеть этих красивых фотографий. Поздравляем! Good job! Congratulations!"
- regina mas de m. cardoso
AirPano: Thank you very much Regina! Rio is one of the most beautiful places I've ever been
2010-04-27 04:57:12
"Just perfect!!!!!!!"
- Marcus Amorelli
2010-04-23 18:17:12
"FANTÁSTICO, MARAVILHOSO O TRABALHO. AS IMAGENS ESTÃO LINDAS. APROVEITO PARA SUGERIR UM TRABALHO NO PANTANAL MATOGROSSENSE"
- Rosângela
2010-04-23 06:32:39
"Sensacional !! Obrigada pelo maravilhoso passeio"
- Cecilia Helenq
2010-04-23 05:16:11
"Excelent work!!!!"
- Marisa D
2010-04-23 04:35:28
"Foram passeios inesquecíveis!!! Maravilhoso.Espero que em breve colque outros lugares."
- Sumair
2010-04-21 22:53:16
"Boa tarde! Parabéns pelo magnífico trabalho, as fotos são fantásticas! Recebam cumprimentos do Brasil com votos de pleno sucesso! Fraternalmente, Pernelle"
- Pernelle