Underwater Shooting on the Maldives. Coral reefs
•
360° Panorama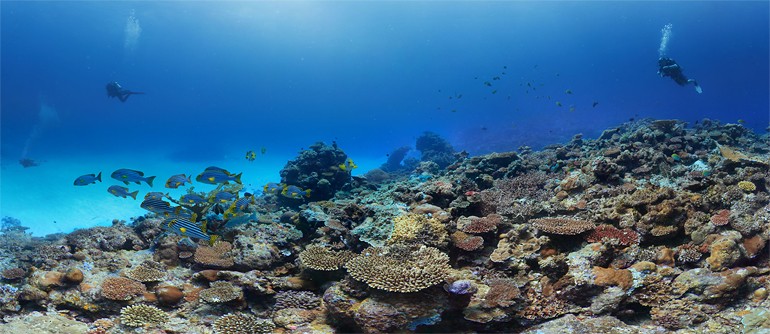 ---
Shooting Details. Maldives
This sphere shooting story began many-many years ago, about 10 years earlier, when I had got an idea to go in for diving. To realize this I had to attend the courses held in the 6 meters deep swimming pool of Olympiyskiy Sport Complex.
It was an ordinary education except of one curious occurrence which I still remember. During one of the last studies we were practicing the skill how to help another diver breathe when the oxygen in his/her cylinder has been finished. According to the instructions this diver turns to his partner in pair - baddy. It is required that the divers-beginners dive together for the purpose of security. So, the first diver turns to his partner and shows with a special sign that he needs to breathe, then the baddy shows another sign OK and after that both divers breathe using one hose one after another and, in general, it's not difficult. Perhaps, this hose is named with a special term but 10 years passed by and I forgot it, well, I'll name it as a hose.
So, we swam in a circle in the swimming-pool, showed the signs in turns one another and breathed from the hose of a partner. It was funny! Then the process became boring and we did anything we were able to. So, I was swimming and didn't disturb anyone and suddenly saw the following strange situation. My baddy, Alex, who was gamboled with somebody in the other corner of the swimming-pool, in a moment turned and accelerating began to swim faster to me simultaneously swinging his arms. First, I laughed at the manner he was swinging the arms but then, when he became closer, I was surprised by his big eyes. The further events lasted a couple of seconds. Having become closer, without any doubt Alex pulled out, I'd even say the he rooted out the hose together with the mouthpiece from my mouth. He did it so sharply that I wonder why my teeth were not pulled out...May be the reason is that I just opened the mouth being shocked and extremely surprised by the things were happening. Without any delay Alex put my mouthpiece into his mouth and began to breathe feverishly. It was evident that he needs it right now and he likes my air very much. Some time ago, when I remembered that it would be good if I breathe, it wasn't a simplest thing to take my hose back from him.
In general, the reason was that the instructor who saw that my baddy had relaxed his vigilance and had left his partner, he (the instructor) swam up to him from the back side and turned off the valve of the cylinder which allows air goes inside the hose to the diver. When Alex decided to breathe a portion of fresh air once again he understood that there was no more air. However, instead he should ask to breathe using a hose of a neighbor, he decided to come back to his baddy and strictly follow the instructions. But when he had swum up to me, Alex completely forgot about the signs interchange and as a result he just pulled out the hose from my mouth. And then the instructor came swimming, shook his finger at Alex and turned on the valve.
That was the beginning :) well, I've been distracted from the photo and next time, when we expose a new underwater panorama, I'll continue telling you the story of this sphere shooting.
15 February 2011
Comments
2013-03-15 14:22:07
"Nádhera,chvalabohu som snorchovala v Egypte tak
viem aká je to nádhera.Svet je krásny, nádherný"
Angela Pelachova, Slovakia
2013-02-10 17:39:21
4 from 5
"so pretty"
thalia lesley mylynn goodwin, Peru
2013-01-17 13:06:39
5 from 5
""What a lovely and wonderful work,real feel we can get of all over the world""
M.Islamuddin Ahmed, India
2013-01-14 02:52:22
5 from 5
"very nice"
Léon Renaud, Canada
2012-10-15 07:48:53
5 from 5
"Great job guys!! Keep it up. BTW, do you have panoramic pictures that people can purchase off your site for personal use or posting on websites?"
Mahfuz Rahman, USA
2012-07-09 01:50:35
"Thank you...the universal appeal can & should work to the good of us all."
Rita Gusdal, Canada
2012-06-23 09:24:45
5 from 5
"great"
SHAMIR HENRI, Israel
2012-06-01 04:01:39
5 from 5
"Emotionally thrilling... To see Manhattan so intimately again, Thailand, Macchu Picchu, Sydney... Even the Twelve Apostles? The world is finding its better people now with projects like this, and Wiki etc. This old fellow, is proud of and deeply grateful for your good works.
Thank you.
Charles B."
Charles Bassett, Australia
Varvara, AirPano: We are pleased with your high estimation, Charles.
2012-05-11 16:00:08
5 from 5
"All are great; Its great greattttt! I have not seen any simlier never. MANY MANY THANXXXXX!"
Dnyaneshwar Kolambekar, India
2012-05-02 13:45:25
5 from 5
"I hope you can visit Red Sea"
Sadig Ibrahim, Sudan
2012-04-27 22:20:21
"Why maldivas underwater is pointing to Airpano main page ?"
Alberto Marlboro, Brazil
2012-04-22 23:19:10
5 from 5
"it's great"
rg tamboli, India
2012-04-19 02:04:10
5 from 5
"Beautiful, congrats!!!!!"
Claudio Padilla, Mexico
2012-04-15 00:25:32
"niiiiiiiiiiiiiiiiiiiiiiiiiiiiiice"
hesham rasheed, Iraq
2012-04-06 19:39:19
5 from 5
"Fotos submarina 1"
Rafael Millan, Spain
2012-04-02 17:21:15
5 from 5
"Not only air panos, but also under water!
Where else next time?"
Jesse Lee, China
2012-03-31 21:07:28
5 from 5
"tout dabord vous dire bravo bravo ces plusque magnifique
et vous demandez si ont peut enregistrer sur le pc pour l envoyer a des amis car ces vraiment trop beau
merci d avance josiane"
josiane louis, France
2012-03-27 15:50:34
5 from 5
"wowwwwww superrrrr unbeliveble... who plays this song on Maldives underwater panorama? It's such a beautiful song."
arun kumar, India
2012-03-04 16:02:28
5 from 5
"hi is it possible to download this into my computer if yes how can i do this"
ibrahim hakim, Egypt
2011-12-16 01:10:15
5 from 5
"All panorama are very beautiful !
I haven't seen any similar never ...
Very good work.
Good luck with other places..."
Tomas Necas, Czech Republic
2011-11-11 15:06:01
5 from 5
"ממש מדהים הצילומים בתלת מימד כאשר אתה צופה זה הופך לחוויה מדהימה כאילו אתה צללתה שם"
Avi Hasan
2011-10-12 11:11:08
5 from 5
"Hello,
please tell me who plays this song on Maldives underwater panorama?
It's such a beautiful song."
Rassul TURUMBAYEV
AirPano: Rassul, this is Paul Oakenfold & Vangelis "Rachel's song"