Fiordland, New Zealand
•
360° Aerial Panoramas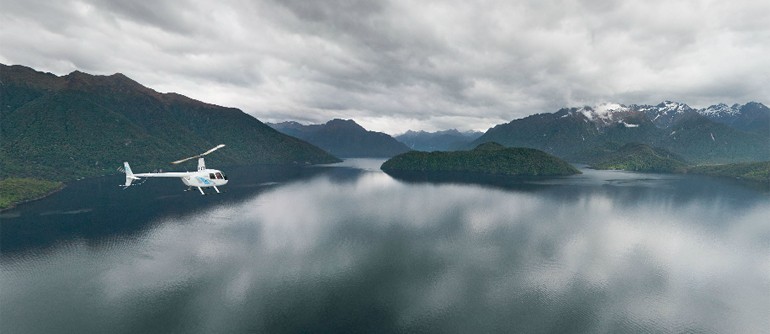 ---
New Zealand - is a real paradise for photographers. It is exactly here where the tremendous beautiful lakes, eternal snows, fiords, flaring golden beaches and even the belt of volcanic activity can be found here.
Alas, the beauty of the country doesn't guarantee beautiful photos. Half year preparation, route making, negotiations with helicopter operators - all these were radically changed by the strongest cyclone covered New Zealand. We were travelling two days long and it was raining cats and dogs with no hope at all for any sun ray. Every minute the strong wind let us understand that there were a few chances to fly successfully over Western Fiords, the most marvelous place of New Zealand.
Finally the weather became better and a pilot who, constantly coordinated us, said that we could try to take off. Unfortunately, our hopes stayed to be the hopes. We could take off and even the sun, that we had been waiting so long, emerged from the clouds but the strongest wind blew off our helicopter even at a not high flight level. We had to come back. Two days later the wind became calm but heavy rainy clouds tightly covered the fiords and the nearest lakes. There was no more time to wait and we had to follow our route.
On the one hand, we were not lucky because the weather wasn't favorable for the flights, but, on the other hand, we were lucky because that time our pilot was Rod Hal-Jones. His is a famous person in the circles of cinematographers and photographers all over the world. He flew even with Jacques-Yves Cousteau assisting him at shooting the film describing New Zealand. He flew for all the films about Harry Potter. He flew for many famous photographers. "We can't reach the fiords, the storm is coming right from there", - said Rod. "Now I'll show you my favorite place where no professional photographers have been before but you". And he showed...
We left the country of fiords in an elated mood and with a hope to come back into this severe region and explore these still unconquered places.
Two days of travel under a haviest rain I have ever seen. Forty eight hours with no single sun ray. Every minute the strong wind was reducing the probability of successful flights over the Western Fiords – the most beautiful place of New Zealand. But we didn't surrender...
15 February 2011
Comments
2014-04-29 14:11:24
5 from 5
"fantastic we are going to new Zealand 8th may 2014 next week we have only missed one year in the last 16 yrs , wonderful place and wonderful people we have friends in Dunedin , Oamaru , Auckland , We go back to places and find some where new every trip , thanks for showing some of the things we cannot get to .John & Donna"
john& donna embleton, Australia
2014-01-02 20:41:00
5 from 5
"Csodálatos ! Fantasztikus !

R e m ek !
ilyen látványért érdemes élni..."
peter javor, Hungary
2013-12-30 23:01:56
5 from 5
""Simply beautiful, would love to visit some day""
Vili Schlapak, Czech Republic
2013-12-03 18:51:36
"Is there anyone in NZ who knows the Belgian family J.VERBEKEN & An GOORIS. I am looking after them sinds years !!!!
thank you and best regards from Robert ( Belgium)"
Robert HONORE, Belgium
2013-11-20 08:00:52
5 from 5
"es un excelente país hasta me quiero ir a vivir a ese país"
Alfonso Mondragon, Mexico
2013-11-20 07:53:44
5 from 5
"beatifull!!!my like todos los países tiene sushemosuras de paisajes por ciertos muy hermosos :)"
ana mondragon, Mexico
2013-11-20 07:47:50
3 from 5
"es hermoso felicidades por tener un país tan bello"
gabriel mondragon, Mexico
2013-05-09 12:59:09
5 from 5
"Wonderful views an amazing country, reminded me of our own trip - you must have been there when we were. Just before the Christchurch Earthquake. The rain was torrential but some very nice days we were unable to take the helicopter ride to the galcier and Mount Cook would like to see those."
eileen Game, United Kingdom
2013-03-25 11:41:31
3 from 5
"Is there a volcano in Fiordland"
Yazzmyn Riley, Australia
2013-03-01 21:44:34
4 from 5
"New Zealand - it is my dream. Panoramic - it is touching real,spotless nature."
Halina Kuc, Poland
2013-02-09 08:45:39
5 from 5
"I was born in Christchurch but have lived in Brisbane most of my life. NZ will always be my home - it is truly a beautiful country with some breathtaking scenery! Your panoramas are amazing."
Alison Deegan, Australia
2013-01-31 14:15:21
"New Zealand is a very beautiful and a clean country that one must visit. My husband and my self had the luck of visiting this beautiful country in year 2009. Thanks to our friends who made it true."
Sandhya De Silva, Sri Lanka
2013-01-29 11:10:04
5 from 5
"New Zealand is one of my favourite place in the planet! Milford Sound, Fiordland is breathtaking!!! Thanks for sharing this panoramic views!"
Nell ross, Canada
2013-01-09 02:06:00
5 from 5
"Fantastic!!!!"
gyorgy zoltan, Hungary
2012-11-12 15:51:46
5 from 5
"beautiful, want to visit that place...its a place of my dreams"
Saloni Maharaj, India
2012-10-27 07:17:09
4 from 5
"I have been in New Zealand in 1967 travelling through South Island and did the Milsound Sound Trac.Amazing!!
One of the most beautiful country I have visited.
Thanks for your panoramas."
Johanna Beks, Netherlands
2012-10-25 22:03:27
5 from 5
"Wij waren er in 2007 en 5weken mooi weer.
Het is een geweldig mooi land wat een voorrecht
om er te mogen wonen SUPER.
Hopelijk tot ziens.
toine verheijen."
toine verheijen, Netherlands
2012-09-30 23:44:25
5 from 5
"We spent five months with our children in the North Island and vowed to be back to visit the South Island - a beautifully clean country, tremendous roads and swuper lay-back life style. What a novel idea to share these spectacular views with folk - well done - we envy your talen God's gift. Dave & Ronnie Hewitt"
Ronnie Hewitt HEWITT, Zimbabwe
2012-09-22 06:48:24
5 from 5
"I feel like I can visit a new place everyday if I want. Thank you for these beautiful photos, and keep it up!"
susan johnson, USA
2012-08-28 18:34:54
5 from 5
"HI NEW ZALAND"
Anurag Rastogi, India
2012-08-04 07:48:58
5 from 5
"This makes me so homesick!! Can't wait to get back there for 3 mths in Dec :) Thank you for sharing your wonderful / amazing site."
Sherrie McDonald, Australia
2012-08-02 15:55:14
5 from 5
"Wonderful I have family living in Auckland.
I have spent 3 weeks in NZ it was pure heaven."
Susan Davis
2012-07-30 08:59:12
5 from 5
"I have been watching your panormas lately and I absouelouetly love what your idea has taken you! To dazzling heights and breathtaking photos! I haven't commented on any but this one, because this time I actually have been there! We took a 2-hour cruise through the fiord, and your pictures of the lake remind me of our cruise tearing through the lake. Thanks, and continue with your amazing work!"
Sarah Cumberland, Malaysia
2012-07-26 16:56:32
5 from 5
"New Zealand is truly God's own Island,have been and was truly gutted to leave. I agree Queenstown and the bay of islands AWSOME"
timothy munns, United Kingdom
2012-07-25 23:53:56
5 from 5
"If you do the Bay of Islands (which is fabulous), also do Whangaroa Harbour which is a bit further north."
Gwenyth Frear, New Zealand
2012-07-22 05:55:06
5 from 5
"New Zealand is such a beautiful country - I think the Bay of Islands would make a beautiful spot for your 360 degree photo shots as well. Can I also make the recommendation to film what I believe to be one of the most spectacular harbours on earth, ie The Bay of Virgins, Fatu Hiva (in Polynesia); Also Cradle Mountain in Tasmania. So many wonderful places in this world - we must protect them all! Thank you for sharing!"
Fiona Richardson, Australia
2012-07-21 02:22:04
5 from 5
"I thought I was in heaven On Vancouver Island Canada But love love New Zealand"
Barbara Hillier, Canada
2012-07-20 14:22:55
5 from 5
"Have lived here all my life and still think NZ is God's own. If you ever plan a holiday here make sure you put Queenstown on your list. Scenery absolutely stunning."
Yvonne Andrews, New Zealand
2012-07-18 12:16:22
5 from 5
"My husband and I visited NZ during the Rugby World Cup in 2011. NZ has the most beautiful country side in the World. I now have two photo's of the Milford Sound developed poster size on canvas in our guest suite. If you haven't been to the South Island, you are wasting time!"
Taryn Groenewald, South Africa
2012-07-10 21:58:21
5 from 5
"We had been to New Zealand last month travelling through North Island and South Island. What a beautiful country!From Auckland to Queenstown, it is fantastic and awesome. Some one had said-If there is a paradise on earth, this is it. True."
Jones Ronald Selvakumar, India
2012-07-08 02:52:14
5 from 5
"NZ is so awesome, any time any where, have travelled the world and next best to NZ is Norway. I will always go back to NZ and it's great to be able to tune to see it any time."
christina young, Australia
2012-07-06 11:54:34
4 from 5
"Truly amazing photography and a great way to see some of the world which i will never visit. Thank you"
alison bass, Australia
2012-07-04 05:22:05
5 from 5
"How good is New Zealand for a visit? Well my wife and I have visited 11 times in 16 years....that's how good it is. New Zealand has it all...Austria, Switzerland, Norway, Sweden, Western Canada, Alaska and Chile all packaged into one. Do yourself a big favour and go and visit. One week North Island, two weeks South Island will do it. Enjoy!!"
Ron Payne
2012-07-02 20:57:12
5 from 5
"I visited the North island and the South Island, truly a beautiful country, I was fortunate to have beautiful weather all the time I was there. Wish I could visit again, but thanks to you I got to see it again. Keep up the good work."
Beverly Woolley, USA
2012-06-27 10:28:57
5 from 5
"Been there 2 yrs ago. Absolutely beautiful place hope to be there again this year. Your photography does you credit. Breathtakingly beautiful."
Joe Duffy, United Kingdom
2012-06-27 02:12:35
5 from 5
"I have been every year for the last 27 fishing the. Yellow tail kingfish tournament in beautiful Russell In bay of islands. Can't wait for next June ."
John Huse, Australia
2012-06-24 01:47:50
5 from 5
"Truly magnificent! I am fortunate to live in PARADISE"
Terry Yates, New Zealand
2012-06-23 02:24:11
5 from 5
"Wonderful! Spectacular! I cannot think of another word to describe the pictures and New Zealand. I lived there for a number of years and would be living there now if I could. The country is beautiful from the top of the North Island to the tip of the South Island. This is where I return to often to recharge my batteries, so to speak."
Elaine Dodd, USA
2012-06-21 12:06:48
4 from 5
"New Zealand especially South Island is a paradise on earth. I visisted Miford Sounds and it is simply amazing. The best country to visit and live is New Zealand. Thanks for your photos."
Vijayakumar M P, India
Varvara, AirPano: Your opinion is precious. Thank you for it.
2012-06-20 01:42:00
5 from 5
"When my wife and I visited fiordlands it rained buckets then. Despite that we found it a truly inspiring place. Too old and too far to try again but the memories will always stay with us."
Peter Harvey, United Kingdom
2012-06-14 13:09:32
5 from 5
"My holiday heaven - a bolt hole - the trout fishing is magic too,in and about Manapouri & Te Anau. One can only be relaxed in this enviroment. Congrats on the photography."
Denis Beale, New Zealand
Varvara, AirPano: Thanks a lot for congrats! Good luck!
2012-05-27 04:30:11
5 from 5
"NZ, what a place to be - i spent 11 years of my life in NZ and can't complain. Good people, Good Country, Beautiful Views and what else you want... every one must visit clean and green NZ."
Deepesh Parikh, Australia
2012-05-21 03:09:50
5 from 5
"There is only one thing I can say and that I am so proud to be a New Zealander living in God's own."
Roger O'Brien, New Zealand
2012-05-16 04:08:31
"How unfortunate it was a cloudy day, it didn't do this view justice.
I am proud to say I am a Kiwi"
Pam Landy, USA
2012-05-15 13:56:53
5 from 5
"One of the most beatiful country I have visited. The natural beauty is unparallel out of this World !!!!God must have created this country in his leisure time"
Bhagwat Murdia, India
2012-05-04 12:35:35
5 from 5
"I've been to this place many years ago. Our country is very beautiful, both main islands are quiet different to explore. A great place to take photo's of our nature, bird life and hot pools in Rotorua. I have taken some gorgeous sunsets from my house looking towads the South Island."
Raewyn Bell, New Zealand
2012-04-29 14:36:03
5 from 5
"amazing stuff, I feel as if I am there and makes me want to go to these fantastic places"
maureen barlow, Australia
2012-04-26 08:33:06
5 from 5
"Almost feels as though you can reach out and touch the trees,water..BEAUTIFUL.."
Ed Nelson, USA
2012-04-10 20:38:15
5 from 5
"Excellent view - we saw from the boat that didn't do the justice that your Panaromic view provided. Thanks and please keep up this great work!"
Ravi Vashi, USA
Varvara, AirPano: We are grateful for your attention and your good wishes.
2012-03-20 14:39:51
5 from 5
"Amazing pictures, beautiful scenery - nature at its best. Thank you."
Gurunathan Allandur, India