Kalyan Minaret, Bukhara, Uzbekistan
•
360° Aerial Panoramas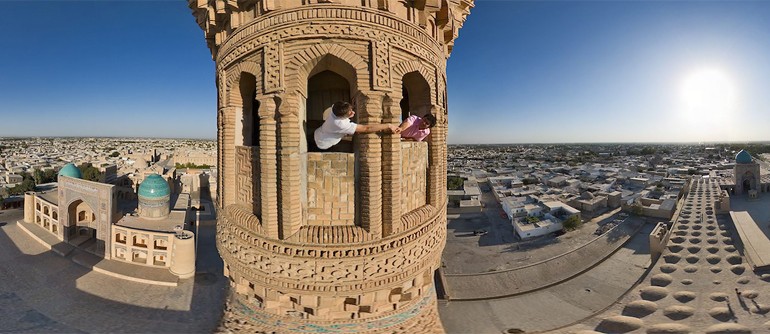 ---
The part of Silk Road and the ancient capital of khanate is Bukhara. Bukhara is one of the most picturesque and legendary cities of the world. It had been captured, destroyed many times and restored again. And behind the walls of its numerous harems no laughing south passion was burning...
Bukhara is a memorial city, museum under the sky which stopped in the past. One can get the general idea of the city if he/she goes upstairs in the Kalyan Minaret situated on the territory of the Pio-Kalyan complex. This is the most outstanding sightseeing of Bukhara in the literal and figurative senses of this word. Once upon a time the minaret served as a lighthouse for the caravans going through a desert. It has remained to this day particularly thanks to its greatness. They say that when the forces of Genghis Khan entered in the city destroying everything on their way, the great commander's cap fell when he had raised the head to look round the minaret. He said: "Such great that forced me to take off the cap!" Genghis Khan gave credit for its superiority and didn't destroy.
And there is one more remained from that time monument of Bukhara - Magoki-Attari that means Blue Mosque. Genghis Khan even didn't see it because the inhabitants of the city buried it with sand in time and unburied it only after the forces had gone.
Comments
2014-05-09 16:36:55
5 from 5
"maravilloso. Me lo mandaron por email. El mejor correo que e recibido en mi vida y tengo 80 años. Un cordial saludo"
AGUSTÍN DE CASTRO, Spain
2014-05-08 05:19:18
4 from 5
"VVVVVVERY NICE PANORAMA VEDIO"
Zohaib Ali, Pakistan
2014-03-19 16:43:05
5 from 5
"Until recently (I am ashamed to admit)I was unaware of your beautiful country. I am so glad I have since researched Uzbekistan and seeing this wonderful 3D presentation was the icing on the cake. It is jaw-dropping how amazing the architecture is and it's historic value boggles the mind! 2000 years...!?!oh my goodness,my home country has barely 200 hundred years of building infrastructure and a 100 year old building here is considered historic! The architecture in Uzbekistan is not only dazzling in beauty and detail, the engineering and structural soundness of buildings 1000's of years old is true testament to the intellect, skill, vigilance, and creativity of the people of Uzbekistan. Definitely 5 star worthy!"
cindy considine, Australia
2014-03-09 08:19:08
"Wishing for a panorama done in Sardinia"
Philippe De clercq, Italy
2014-01-19 23:14:49
5 from 5
"Beautiful, Thank You"
Linn Wellet, USA
2014-01-12 11:22:38
"Fantastic and gorgeous"
Javid Namdar, USA
2013-07-16 23:36:08
5 from 5
"bukhara is persian and tajikistan
bukhara is for persian
persian arts is nice"
hamed azimi, Iran
2013-06-22 14:02:20
"Preciosa ciudad. hace cinco años visitamos ese país y es precioso, todo él. Todas la ciudades tienen su encanto."
jose m monguilod, Spain
2013-06-14 17:44:05
5 from 5
"این است گوشه ای از عظمت معماران ایرانی"
meysam ff, Iran
2013-05-27 06:33:01
5 from 5
"I have just come back from visiting Bukhara and other places on the Silk Road and your wonderful panoramas bring it back to life beautifully. Well done!"
Boris Schlensky, Australia
2013-05-19 01:19:17
5 from 5
"I ja miałam okazję w roku 1978 oglądać skarby Buchary,Samarkandy,także pustyni Kyzył Kum będąc jeszcze studentką Uniwersytetu Gdańskiego.Dziś dzięki przepięknej panoramie poczułam tamten powiew żaru pustyni, przypomniałam sobie cudownych mieszkańc?w Uzbekistanu i cieszy mnie fakt, że nie uległy dawne skarby zapomnieniu...Pozdrawiam serdecznie, chętnie powr?ciłabym tam raz jeszcze.Barbara"
Barbara Latocha, Poland
2013-03-27 17:29:59
"Amazing. Never seen before. Thanks. Sitting in one place one can see the world"
BK LATA, India
2013-01-27 21:56:57
"In October 2011 in Bukhara there was an icy rain falling and a bitter cold wind blowing. It was still achingly beautiful and I long to get back."
Claire Lindberg, USA
2013-01-15 14:20:16
5 from 5
"Never seen such beautiful work before"
Dr. Atam Sehgal, India
2012-11-20 00:27:27
5 from 5
"Super!!!!"
Bobir Yakubov, United Arab Emirates
2012-10-13 16:56:47
5 from 5
"thanx for our beloved grand parents who gave us immorable history"
SHAFIQ KHAN, India
2012-09-13 11:12:35
4 from 5
"great work by the people of that country"
Ebrahim Goolam_rasool, South Africa
2012-09-11 09:12:33
3 from 5
"good photography and very good description and choicest selection of sites. Really wonderful."
shailendra kumar patwari, India
2012-09-01 11:27:46
5 from 5
"wonderful"
sadegh bahman zadegan, Iran
2012-07-26 21:34:54
4 from 5
"Nice!
The song name is not showing when the mouse is put on the sound button. is there another way to find it out?"
afr iend, Andorra
Varvara, AirPano: Hello! It is Abdulla Qurbonov "Go'zal Yorim".
2012-07-24 18:24:29
5 from 5
""Fascinating Persian art"! such a treasure, I could imagin it served the caravan over many centuries. Thanks for showing it to the world.
I really hope to see this and many other places on silk road"
Foad Taghizadeh, Iran
2012-07-23 09:32:10
5 from 5
"My wife is from Uzbekistan and we live in Samarkand, a beautiful woman from an equally beautiful country. I travel worldwide and am always happy to return to see and feel such amazing culture which I now call my home."
Peter Walker, United Kingdom
Varvara, AirPano: We are glad you liked this pano. Thanks for your interest!
2012-07-20 19:02:46
5 from 5
"Simply gorgeous in picture and refined and short in write up. I would've appreciated if the justification of a "Hindu"-like Name as KALYAN could have beenpresented."
Rabinarayan Mishra, Myanmar
2012-07-17 02:40:01
5 from 5
"Enough with the Iranian art is"
mahbod parsi, Iran
2012-07-15 22:43:37
5 from 5
"My wife, daughter and I visited this site as tourists last year -- part of a tour of the Silk Road. We only saw Bukhara from the ground. Seeing the Kalyan and surroundings from this perspective is wonderful!"
Robert Crow, USA
2012-07-15 07:21:08
"Have visited this site over 25yrs ago when it was still part of the USSR. Soooo glad... because right now,I believe one needs to be invited by a citizen of Uzbekistan to be able to travel there."
Ynna Naguit, USA
2012-07-13 14:27:13
"thanks to grandfather and grandmothers for this gift"
goudarz manzoori, Iran
2012-07-06 19:10:41
5 from 5
"What sumptuous treat for a shut in! Great visual feast!"
Sharayu Matthai, USA
2012-07-05 03:59:19
5 from 5
"in one word, wonderful diapo !!"
isik pamir, USA
2012-07-01 10:47:27
5 from 5
"Just unbelievable...makes my feet itch to go there!"
Carol Fynn, South Africa
2012-06-22 15:27:00
5 from 5
"Very thoughtful and Keep up the good work, keeping in mind people who might not be able to see these places due to personal reason's this is really wonderful to see it through the computer in sitting in one place. God Bless!"
Fran Menezes, India
2012-06-19 03:41:24
4 from 5
"Breathtaking! Thanks for bringing this marvel to many who unfortunately probably won't get the chance to witness it's beauty in person. Can anyone tell me what song is playing?"
Ricardo Martinez, Spain
Varvara, AirPano: Dear Ricardo, to know what song is playing, please, follow the link http://www.airpano.com/FAQ.php
2012-06-01 05:22:34
5 from 5
"THANKS TO WISE INDIVIDUAL THAT SAVED THESE BEAUTIFUL MONUMENTS FOR SO LONG, AT LEAST CHANGIZ KHAN WAS SMARTER THAN TALEBAN THAT DESTROYED THE BUDAH'S STATUTE IN AFGHANISTAN,"
AHMAD RISMANCHI, USA
2012-05-23 10:28:33
5 from 5
"It really is wonderful and what lovely idea to be able to travel the world from one's armhair. Congratulations to the howle team and to Air Pano"
Perviz Parakh, Australia
Varvara, AirPano: We are grateful for your congrats!
2012-05-22 23:17:31
4 from 5
"As I have been there several years ago, I can appreciate the fact that you show very little of the whole there is to be seen.
Anyway, it is worth the effort.
Keep on !!

A L L A"
ALLA Gonçalves, Brazil
2012-05-10 10:12:34
4 from 5
"WOW Great work. Nothing could be better . Congratulations to the all your team members."
MANILAL SOLANKI, India
Varvara, AirPano: Thank you for the comment and congratulations!
2012-05-10 00:36:11
5 from 5
"Molt entretingut,i bones panoramiques"
Dolors Godayol
2012-05-09 03:01:12
5 from 5
"Excelente manera de apreciar maravillas como ésta sin viajar...
Gracias!"
Jesús Aguirre, Bolivia
2012-04-29 22:46:32
5 from 5
"Amazing job!Thank you! Could you, please, tell me the name of the song?"
Oana V., Romania
Varvara, AirPano: It's very easy to know following this link http://www.airpano.com/FAQ.php. Thank you for your interest.
2012-04-29 04:37:51
4 from 5
"Wonderful architecture.Will never get to see it in reality, but thanks for showing it this way, so many of us can enjoy. Great music
Juel"
Juel Hilton, Australia
2012-04-25 13:06:24
"wow wonderfull fentastic amazing morvaless brilliennt super"
Rathnakaram ranga raju, India
2012-04-20 22:56:53
5 from 5
"I lived in Spain for 3 years and toured the Alhambra in Granada. Which was simply EVOCATIVE of this gorgeous turquoise minaret...and the music is wonderfully appropriate!"
Mina Bósquez, USA
Varvara, AirPano: Thanks a lot for your interest and attention.
2012-04-18 00:10:25
"this urged me to visit Uzbekistan. please tell how to get Visa??? I,m Iraqi. thank you"
kusay alzuhairy, Iraq
Varvara, AirPano: Suppose, you have to go to the Embassy of Uzbekistan in your country. They'll tell you what is necessary to get visa.
2012-04-15 08:05:27
5 from 5
"a PICTURE of the old WORLD even as it is todau.. yhe photogrphy is unbelievable!!!"
ed nelson, USA
2012-04-10 10:00:57
5 from 5
"I was there last Dec. Great structure with exotic scenery!"
Halimah Md Yunos, Malaysia
2012-04-06 16:48:30
2 from 5
"God's creation is beautiful"
Lujein Lutfi Lujein, Indonesia
2012-04-05 11:05:00
4 from 5
"Good work, Keep it up"
Kiran Kumar Vemuru, India
2012-04-04 15:06:26
5 from 5
"Subhanalalh.....alhamdulillah wa la ila ha illalah, Allah hu Akbar."
Tom Ahaditomo, Indonesia
2012-03-31 00:48:09
5 from 5
"حقا ما اروعها"
انتصار ربيع, Iraq
2012-03-30 06:38:09
"XELENT . jayaraman"
jayaraman. sivaramakrishnan