Zermatt, Monte Rosa, Matterhorn-Cervino area
•
360° Aerial Panoramas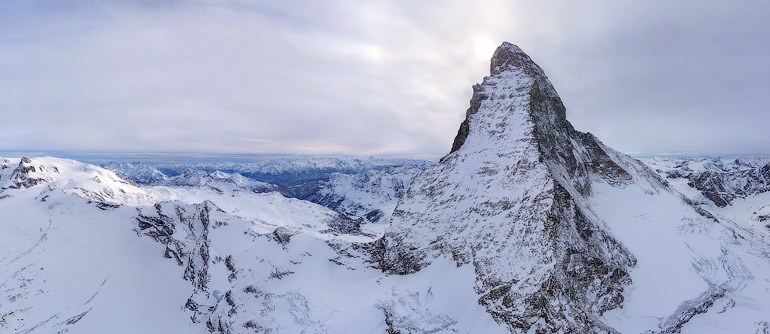 ---
Ranking traditional icons of Switzerland by their increasing size may look like this: Swiss watch, Swiss knife, Swiss chocolate, Swiss cheese, and Swiss bank. The largest icon of Switzerland — the Matterhorn Mountain — caps the list.
We took pictures of the Matterhorn in 2010 when skiing with Dima Moiseyenko in Zermatt. We had to fly to the mountain twice.
The first day we flew up very close to it, right to the base, and took some standard landscape panoramas. While stitching the images that night we realized that huge 4478-meter tall Matterhorn looked like a small hill on our panoramas. And from a helicopter we saw an enormous giant hovering over us. An amazing optical effect due, perhaps, to the challenge of trying to fit the whole world on a small screen.
So we had to fly again the next day. This time our helicopter blades were almost touching the mountain slope, which seemed to be taking all the space around us. The wind at the slope was very strong: about 70 km per hour. Our pilot, with great difficulty and quite reluctantly, held the helicopter close to the mountain for several minutes, and then said: "That's it. It's not safe here. I am leaving". And so he left. We hardly had time to finish shooting.
Speaking of the Matterhorn, I made another personal discovery.
Upon my return to Moscow, I was going over panoramic shots taken close by the mountain, and noticed a small hut snuggling on the Swiss-side ledge of the Matterhorn. I looked it up on Google Maps — it was called Solvay Hut. This refuge was built in 1915 at 4003-meter altitude. It can fit about 10 people in case of emergency during summiting the mountain. Another Google search revealed an image of the second hut (Rifugio Carrel) on the Italian side. After that I was actually able to find it on our panorama taken from the western side of the mountain.
By the way, Italians have a different name for the Matterhorn — Monte Cervino.
And now let's turn to official facts.
---
Situated on the border of Switzerland and Italy, the Matterhorn is like a pyramid in the center of Europe, with four triangular faces meeting at its summit. Like any other pyramid (whether it be the famous pyramids in Egypt or a bit less famous pyramidal structures in Mexico), the Matterhorn Mountain is also full of mysteries and tragic stories.
In terms of altitude, the Matterhorn is the fifth among the Alpine peaks, but the difficulty of a climb ranks it second to none. Its faces are so deceptive, that even the most experienced climbers could not ascend them until 1865; and the southern slope remained unconquered for another 66 years.
Time after time results of those ascents were rather ambiguous. For example, Edward Whymper (British) and his fellow climbers made the very first successful ascent of the mountain. And as they began their descent, rope broke and killed four of the brave pioneers. It's interesting that the two mountain guides Peter Taugwalder father and son, who survived this accident and the first ascent, were the great-great and great-great-great grandfathers of our colleague Matthias Taugwalder who provided couple of panoramas for this tour.
In 1933, three French climbers were first to finish one of the Matterhorn routes, but they all died on the way back.
Hermann Perren, a mountaineer and a guide, became famous thanks to the Matterhorn too. His goal was to ascend the mountain 150 times, but he fell and died 10 ascents short of his goal.
Although all of the Matterhorn ridges and slopes have been climbed by now, and guides take large tourist groups to the peak (which makes some of the routes really crowded) — still about 10 to 15 people die climbing the Matterhorn every year.
The Matterhorn has its character. At least, that's what the residents of the nearby town of Zermatt are sure of. They say that even the weather in Switzerland, in this part of the country, depends on the mood of the legendary mountain. When the sky is gloomy and the 4478-meter tall Matterhorn peak is hidden behind the clouds: the mountain is out of humor. When the Matterhorn wants to play a joke, it pretends to be Vesuvius: clouds are covering up only part of the mountain making you believe the peak is smoking, as if before eruption. But when "his highness" is in a good mood: it is showing off, gleaming with its glacier hat, as if inviting you to take an unforgettable picture of the Matterhorn.
The town of Zermatt (situated at 1600 meters altitude) enjoys the proximity of such a popular neighbor. Not only is it one of the most popular ski resorts in Switzerland. It is, in fact, the tourist landmark of Switzerland. It offers activities all year round. Even summer activities, as one can guess, are related to vacationing in the mountains. Zermatt even has a so-called sunrise train, which takes you to the Matterhorn peak to witness the sunrise of unparalleled beauty.
The bordering country benefits from the mountain pretty much in the same way. The southern slope of the Matterhorn is home to a small town called Brueil Cervinia, an extremely popular ski resort in Italy located at 2006 meters above sea level. It does not need to compete with Zermatt. They simply have to accept the fact that they share the mountain. That is why both resorts have shared ski routes, tourist routes, and a great number of tourists coming here for an active outdoor time and ski tourism in the Alps.
...There is a saying: everyone, who sees the Matterhorn mountain, will be successful and wealthy. Perhaps, this is the reason why Swiss banks have so much money in their volts. Come visit the Matterhorn, the famous landmark of the nature of Switzerland, and who knows, the local saying may just come true for you.
9 November 2012
Comments
2015-11-03 02:09:44
5 from 5
"Your site and your pictures and descriptions from the Matterhorn is may be the best we can find on the Internet. I am in great admiration of those a work.
I climbed up by the easiest an normal way from H#246rnlih#252tte some 38 years ago. Now I can climb virtually on all faces thanks to you. It's even more beautiful than to climb in reality. Thanks at lot to to have putting on your really artistic shots. Best greeting from Switzerland to Russia."
Heinrich WAGNER, Switzerland
2015-01-15 13:35:28
5 from 5
"emozionante"
marisa bubani, Italy
2014-11-19 20:19:07
5 from 5
"Please Visit INDIA more...."
Dharmendra Jatiya, India
2013-11-06 11:51:14
5 from 5
"Great!!! It brings me back 30 years of vacations in Zermatt. Heini Taugwalder was a good friend of mine, several times I spent a night or two in his home.He used to say "Zwei Heini auf them Eis" Enrique = Heinrich = Heini. He could be the father of your friend.
Congratulations for your job wel done.
Enrique"
Enrique Jober, Switzerland
2013-09-17 00:03:42
5 from 5
"Parabéns pelo trabalho incrível!"
Claudio Bezerra, Brazil
2013-07-12 04:14:41
5 from 5
"There are not words, to describe the majesty of Matterhorn."
Francisco Steves, Colombia
2013-06-08 23:12:40
5 from 5
"Mis más grandes felicitaciones por aproximarnos de forma tan realista al misterioso y majestuoso Matterhorn-Cervino."
Jorge Eduardo Marín del Campo, Mexico
2013-05-01 02:26:58
5 from 5
"Thanks very much/Wunderschön/Nagyon szép."
Andras Tarcsai, Austria
2013-03-16 04:08:52
"Estupendo trabajo y no menos maravillosas vistas. ¡Enhorabuena!"
Javier Crespo, Spain
2013-03-09 21:25:48
5 from 5
"EXELENTE TRABAJO Y UN REGALO PARA LA HUMANIDAD DE JOVENES CON TALENTO Y VALOR IMPRESIONANTE, MIS FELICITACIONES"
Jesus Montañez, Mexico
2013-03-04 00:51:11
5 from 5
"Im amazed every time i sit down and watch your beautiful work on my computer. I sit and put my self there mentally and consider myself part of the scenery and landscapes. I truly love your panoramic view of all your work. Thanks for the enjoyment you have given me."
Larry Hernandez, USA
Varvara, AirPano: Dear Larry, thank you for your kind words! Hope to see your comments again!
2013-03-01 08:21:30
5 from 5
"I climbed the Matterhorn last August 2012.
I'm so happy to share with my Friends this exceptional panorama.
( up western side, down eastern side )
1000 times thank you."
janine Linder joris, Switzerland
2013-02-05 22:03:29
5 from 5
"Wundervolle Aufnahmen, einfach wunderbar"
Othmar Weißbacher, Austria
2013-02-04 13:56:26
5 from 5
"Thank you .your work is amazing"
abolfazl jafarnezhad, Iran
2012-12-07 13:21:31
5 from 5
"Bonjour
Chapeau bas Messieurs pour votre travail , c'est vraiment magnifique
Bravo
fc"
francis Courtois, France
2012-12-05 10:41:23
5 from 5
"best"
ramazan esmaili, Iran
2012-11-29 09:26:41
5 from 5
"One of the climbers worth paying homage to is Lucy Walker, who was advised by her doctor to take up walking as a cure for rheumatism. She was the first woman to climb the Matterhorn, in 1871, and she did this wearing a dress!!"
Batya Fonda, Israel
2012-11-25 01:11:42
5 from 5
"Prachtige beelden en muziek.Ik geniet er elke avond van. Proficiat.

Jan Simonya , België"
Jan Simonya, Belgium
2012-11-17 03:47:44
5 from 5
"This brings tears to my eyes - why is it the human race does not appreciate what an unbelievably beautiful gift they have been given and, instead of working to preserve the beauty of the planet and live in peace, insists on plundering its resources, making war against their neighbors and hoarding resources while poverty kills the destitute? If you are an individual with the power to stop the exploitation of the earth, stop a conflict or assist the needy, please pause and contemplate how you could make the world a more beautiful place. There has to be some type of everlasting punishment for those who have deliberately squandered such beauty."
Claire Gendron, USA
2012-11-16 04:14:15
5 from 5
WALTER MARES, Brazil
2012-11-15 19:30:10
5 from 5
"superb relexsing"
IRSHAD HUSSAIN SHEIKH, Pakistan
2012-11-15 18:10:44
5 from 5
"Your awesome photography proves to me that best artist is its Creator GOD ! ! !
million thanks for your stupendous work, sir, hats-off ! ! !"
subhash madan, India
2012-11-13 02:59:03
"The mountain is half Swiss and half Italian. It's not compeletely correct to say that this mountain is an icon for Stitzwerland because it it also an icon for Italian Alps.
I say this just for friends who barely know where this mountan is."
Andrea BC, Italy
2012-11-11 21:54:24
5 from 5
"Maravilhoso!!!!"
Paulo Rattes, Brazil
2012-11-09 23:16:52
5 from 5
"Just amazing.....what a photography.....love you site"
Munawar Khalid, USA
2012-11-09 22:25:46
"magifico"
Lloyd Silver, USA
2012-11-09 21:44:52
5 from 5
"This is the most amazing site I've come across in all the years I've been online. I've been telling everyone I know about it - and some people I don't know. Thank you."
Kris Young, USA
2012-11-09 21:39:05
5 from 5
"Well, I think it's Switzerland/Italy border and not France on pano 8 ! ;-)
Very nice job as usual ! Congratulations"
Eric Malherbe, France
AirPano: Thank's mate! Of course you are right!
2012-11-09 19:02:31
5 from 5
"excelente trabajo.felicitaciones.
cuando van a hacer algo en colombia?la sierra nevada de Santa Marta seria un maravilloso lugar."
ernesto ruiz, Colombia
2012-11-09 18:51:45
5 from 5
"Outstanding work of high quality and significant interest."
Dan Adler, Israel