Plosky Tolbachik Volcano, Kamchatka, Russia, 2012
•
360° Aerial Panoramas
This panorama can be opened in several different resolutions. High resolution panorama with the best quality is about 7 Mb large and it is suitable for fast internet connections and modern computers. For slower internet and old weak computers we created the smaller low resolution panorama. Some small details have been sacrificed but the size of low resolution panorama is nomore than 2 Mb.

high resolution


low resolution

available soon

This Virtual Tour is also available in the following formats: -

ULTRA HIGH
---
In early 2011 we developed a method for filming and editing 360 video shot by 4 Canon DSLR cameras and posted an article with technical details on our website.
Something that was impossible for many years is now happening on your screens.
Now we would like to show the unique 360 video of the Plosky Tolbachik volcano eruption, Kamchatka, Russia which has been taken in December 2012.
Please note that in order to view 360 video online you need a powerful computer and fast Internet connection.
If you would like to see our virtual tour of volcano which has 12 spherical photo panoramas (not a 360 video), please click here.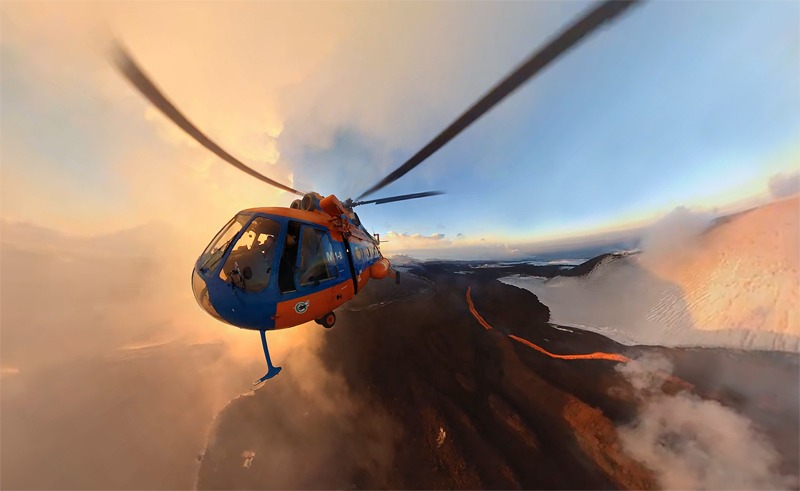 Authors of the video: Dmitry Moiseenko and Ivan Roslyakov
31 January 2013
Comments
2015-06-14 19:02:56
"very beutif
ul ok"
kamel .j jelveh, Iran
2015-03-02 02:12:07
5 from 5
"lot of thanks for your videos and its selection"
vinod kumar thakur, India
2015-03-01 16:16:59
5 from 5
"well,it's beautiful!welcome to china!"
ding shi, China
2014-12-26 21:36:52
5 from 5
"thanks"
diba firozjaiy, Iran
2014-12-15 22:25:40
1 from 5
"ok"
abbas abady, Iran
2014-11-26 06:27:02
"fantastic"
chang xiaozi, China
2014-11-10 00:08:18
5 from 5
"Very good"
Akbar Xagan, Iran
2014-09-24 17:14:21
5 from 5
"Increíbles fotos y videos, gracias por mostrarnos las maravillas de la naturaleza y logros de la humanidad."
Lisandro Velasco, Mexico
2014-05-09 05:54:08
"Good!!!"
Douglas Haunss, Brazil
2014-05-05 00:28:02
5 from 5
"fantastic. beautiful. very well done."
bob poller, USA
2014-02-23 12:33:09
5 from 5
"酷毙了好吗!!!!虽然我还没看!!"
feng fei, China
2014-01-14 18:08:37
"Vynikajúce a interesantné ...."
Anton Kašička, Slovakia
2014-01-04 22:10:11
"Thank you very much for your video. Fantastic!"
Erika Karanyicz, Hungary
2013-12-20 21:51:53
3 from 5
"Sorry i put 3 because lot of slowly down pictures... while my PC is not overtaken. Thanks a lot all the same because we can travel with you."
PAPY Mougeot, France
2013-11-16 16:19:20
5 from 5
"Impressive! What a technique!!! It's absolutely great!"
Harro Smit, Netherlands
2013-10-08 08:16:27
"It's fantastic, like that earth is in the first
time born."
hyosung jung, Korea
2013-10-02 15:55:28
5 from 5
NELLY SHRAER, Israel
2013-09-25 09:40:38
"i am unable to open this video... its saying error!!! not any resolution opens! kindly check"
Dipakk Polekar, India
Varvara, AirPano: Please read some notes if you have a problem with our 360 video
If you have any problems with our video (video is not playing or you experience any delays during playback), we suggest a few basic decisions:
1. Pause until the video loads up completely and then play the video.
2. Try to play video in low resolution.
3. Try to close all other open programs and all active tabs of your browser.
4. Restart the computer.
5. Try using a different browser (there are several popular free browsers: Google Chrome, FireFox, Opera, Safari, Internet Explorer)
2013-09-07 20:40:02
5 from 5
"Felicidades, es impresionante. Se que seguiran mejorando los videos 360 con nodos, para visitar otras secciones de los videos.
Pude ver todos los videos 360 en mi computadora Pentium 4 con 2.8 gigahertz de procesador y 1.5 Gigabytes de memoria ram y tarjeta de video nvidia Gforce 4 TI 4400."
Francisco Javier Felix Lares, Mexico
2013-09-02 23:07:40
"good it,s perfect"
morsal shahbazi, Iran
2013-08-28 07:20:37
5 from 5
"GREAT VIEW IT IS VERY WELL DONE nOTE YOU SHOULD VIEW THE city OF OTTAWA ONTARIO CANADA ONE OF THE NICEST CITY IN THE WORLD"
LARRY SAUMURE, Canada
2013-08-13 09:28:54
"Awesome, very nicely taken."
swarupa reddy, India
2013-06-11 01:13:21
"What is the camera attached to!?!?

Hahaha! You can look around, but I do not see a boom or anything holding the camera. It's magic I tells ya!"
Smokey 94086, USA
2013-06-03 13:14:17
5 from 5
"Incredible work,force top production team!!!"
梓辉 魏, Hong Kong
2013-06-03 05:43:44
4 from 5
"very good"
jian xu, China
2013-06-01 15:15:16
1 from 5
"verry nice wonderfull"
josef ochsenhofer, Austria
2013-05-13 23:28:01
5 from 5
"Sooooo beautiful and nice!!"
Segundo Silva, Netherlands
2013-05-12 10:39:52
"Thank you very much for your video"
fahim afzal, Bangladesh
2013-04-21 20:20:35
5 from 5
"beautiful"
francisco iparraguirre, Mexico
2013-04-18 23:00:49
5 from 5
"that is great"
amir bahadori, Iran
2013-03-29 14:11:38
5 from 5
"Nice video"
Maek Winson, USA
2013-03-28 21:50:42
"je ne peut que dire fantastique"
niederhoffer jean-claude, Switzerland
2013-03-26 09:34:51
4 from 5
"oh, it's great experience... sitting on your laptop, viewing all the places visited during holidays is really fabulous....!!!"
GOPAL KHIRSARIA - Rajkot (Gujarat), India
2013-03-18 15:02:42
"Increible ¿como lo haceis?"
Nacho Gonzalez, Spain
2013-03-15 20:57:35
5 from 5
"Desta vez um vídeos, parabéns!!!!!!"
Paulo Rattes, Brazil
2013-02-27 10:26:51
5 from 5
"Really its amazing Work"
vikram Desai, India
2013-02-26 15:22:29
"NEVER YOU UNDERESTIMATE THE POWER OF A HUMANBIEN FOR THE LORD GOD HAS MADE IT SO ,TAKE CARE WHEN IT COMES TO LIVE AT EN TIME ,FOR IT IS NEAR AT YOUR DOOR STEP"
SYLVESTER STARLLONE, Cameroon
2013-02-15 00:25:29
3 from 5
Emad Guindy, Egypt
2013-02-12 22:28:19
5 from 5
Alberto Bruno, Italy
2013-02-10 07:16:28
2 from 5
"I bought my last camera just to take panoramic pictures. I am a big fan of the old style . This picture taken focused in to close. Would have been a beter shot futher away to get the full effect."
Steven Johnson, Philippines
2013-02-09 04:37:13
5 from 5
"Brave people with great ambitions create fantastic scientific art."
Mehdi Kavian, Iran
2013-02-08 20:49:11
5 from 5
"muy bonito, muchas gracias!"
annette müller, Spain
2013-02-08 14:34:09
5 from 5
"It`s grandios...."
Robert Prieler, Austria
2013-02-07 23:34:00
5 from 5
"Marvellous!!!"
Gabriele Graziani, Italy
2013-02-07 18:32:24
5 from 5
"Superrrr...it is the most beautiful place!!!"
Vasile Bird, Romania
2013-02-07 15:38:50
4 from 5
"Privet!
Bolshoye spasibo!, for it.
Hasta el proximo contacto para seguir maravillado y conocer lugares esquisitos del mundo.
Vsego nailuchshego!"
daniel garcia rusca, Argentina
2013-02-07 14:31:55
5 from 5
"Fantastic, but i like the 12 spherical photo panoramas like usual as well because there are more visual information and data embebed wiht the "?".
Magnífico trabajo, sois unos maestros de la fotografía."
Francisco Javier Díaz Benito, Spain
2013-02-07 14:22:19
5 from 5
Karl Heinz Hug, Germany
2013-02-07 13:19:59
5 from 5
"Impressionante la qualità e il livello dei video e delle foto che pubblicate! Complimenti davvero per l'ottimo lavoro svolto..."continuate così a farci sognare in giro per il mondo""
ROBERTO RUSCIANO, Italy
2013-02-07 13:04:05
5 from 5
"Speciale e maestoso, impossibile avere parole per descrivere quello che presentate ogni volta, fatto molto bene e anche molto interessante.
Grazie per il lavoro e per questo tipo di vedute.
C.G"
Giancarlo Corti, Italy