Volcano Klyuchevskaya Sopka, Kamchatka, Russia, 2015
•
360° Aerial Panoramas
This panorama can be opened in several different resolutions. High resolution panorama with the best quality is about 7 Mb large and it is suitable for fast internet connections and modern computers. For slower internet and old weak computers we created the smaller low resolution panorama. Some small details have been sacrificed but the size of low resolution panorama is nomore than 2 Mb.

high resolution


low resolution

available soon

This Virtual Tour is also available in the following formats: -

ULTRA HIGH
---
My relationships with volcanoes has developed in a different kind of ways: Icelandic Grímsvötn stopped erupting right at the day of my arrival, and all what it had left for me was a slight smoke that I took a photo of with my iPhone. Though Tolbachik volcano in Kamchatka was more gracious: it gave quite a big portion of lava making it possible to create wonderful tours of both 360 video and spherical photos.
I have had an eye on Klyuchevskaya Sopka volcano since quite a long time ago. The volcano has a very beautiful, ideal conical shape. Moreover, it is not just the highest erupting mountain in Eurasia, but in the whole world with the only exception of South America. This giant erupts once in a couple of years and this show lasts up to two or three months. At the point of its highest activity its altitude can change to several hundred meters, usually it is slightly less than five kilometers.
On the 1st January 2015 a new eruption occurred. AirPano team had never taken the decision to go on expedition so quickly: everyone agreed at once that we should go. We also decided to squeeze the monthly work plan into one helicopter flight session: beginning with documentary photos and ending with the stabilized 360 and 4k video, not speaking about usual for AirPano spherical panoramic photos.
Having packed warm clothes and the supply of equipment weighing 200 kilograms (every item was in duplicate and some of them even in triplicate, just in case), the three of us, three photographers, jumped into the airplane, thence into the jeep, that was waiting for us in Petropavlovsk. In 24 hours we arrived at Kozyrevsk village where we could watch the eruption and where we found our expected helicopter. The weather was serene and fresh: -20... -25C°. During the following day we had some practice in a standing on the earth MI-8 helicopter and split our tasks in the process of shooting. Then at night we had a reconnaissance ride in our jeep: we could see flaming aurora, the volcano was awake. Nothing foreboded the challenges that we were to come across in the following days.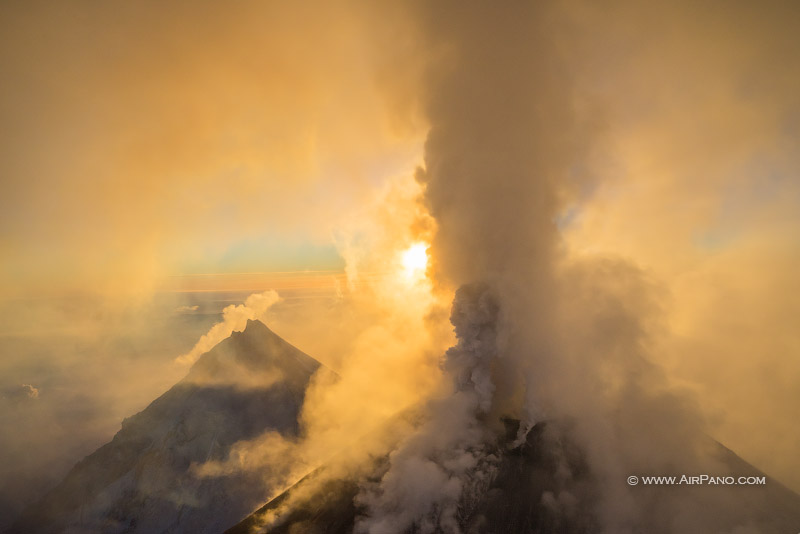 It was decided to fly over at sunset. Having discussed our plan with the pilot and been instructed how to use the oxygen tanks, we set off.
It was quite difficult for the helicopter to gain the altitude of the crater. The slopes were covered with fog and smoke coming from the lava and ashes. The visibility was less-than-perfect, but the clouds illuminated by the sun looked very beautiful, so we began working. But from that moment onward everything went wrong: several GoPros broke down, one by one; our cameras showed a battery discharge notification just after being on for a couple of minutes. One by one we were getting some oxygen from tanks. The pilot told us that the outboard temperature was -50C; that was at the time when port-holes, illuminators and doors were open. Every now and then we could feel the smell of volcanic evaporations. The helicopter was shaking with tension becausе the air was very discharged at the altitude of 5000 meters. At the smallest move it could easily lose the altitude and it was quite an effort to gain this altitude again. When we finally succeeded in adjusting the only working camera, the pilot told us that we were running out the fuel; we had only five minutes to complete our task. In a hurry we managed to complete several panoramas, then we slammed the door and our pilot dived with such a force that we felt our ears pop painfully. And as our helicopter was returning to the base, we could watch the majestic colours revealing at sunset, and then an especially large ash cloud growing in the reddish evening sky...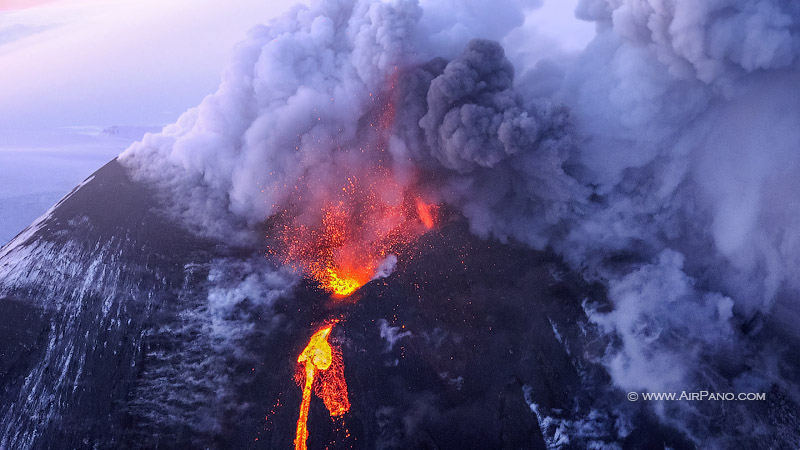 Our decision for the next day was to fly half an hour later. We double-checked our equipment, changed the broken GoPros and put our batteries in the inside pockets so they would not freeze.
We were about to take off, already in the helicopter, when we suddenly realised that the stabilizing suspension for a video camera was not working — a cable got unsoldered. As a result, we spent 30 minutes more to go and bring a solderer and fix it up. We took off at the rays of the setting sun, and it was what we relied on: at the altitude of 5000 meters the sunset starts half an hour later. At dusk lava looked more bright and vivid. but we didn't have much time. Changing batteries like bullets in a machine-gun, we managed to create some beautiful pictures and panoramas. It was getting dark, our cameras could not focus anymore. But the worst thing of the evening was the failure of the GoPro, the one that took us half an hour to fix up. The second flight ended up in a total failure.
We did not have enough time to experiment with sunset. So, in order to bring home at least something, we decided to fly in the morning. When we woke up we could not even make out the silhouette of the mountain in the clouds. The pilots were warming up the helicopter. We truly hoped that it was cloudy only at the foothill, and it was clear at the top of the volcano. And, actually, it was so. But the wind rose, it was blowing off the ashes almost horizontally, every move of the helicopter was an effort and took a lot of time to perform. At the time when the fuel was nearly over, we finally managed to make some progress in the plan we had initially created, although our cameras kept on breaking down every now and then.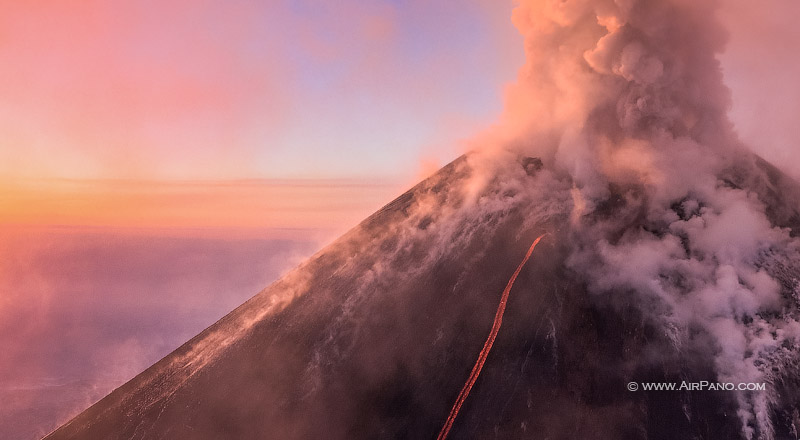 "How was it, the eruption?", people kept on asking. But, to tell the truth, we could barely see it. The fight with our equipment constantly breaking down either because of the altitude or the cold, agitation, the lack of oxygen, and, in general, being behind the camera does not allow to stare in the window that much... So, we will have a better look at the eruption on our panoramas and video together with you...
Volcanoes never surrender so easily...
Authors of the video: Dmitry Moiseenko, Stas Sedov, Sergey Shandin and Ivan Roslyakov

1 June 2015
Comments
2015-07-19 13:23:47
5 from 5
"it's a wonderful world ···"
#37329 #29577#29747, China
2015-07-09 17:42:11
"so amazing!"
Yao Wang, China
2015-07-05 15:20:17
5 from 5
"It is amazing, fabulous.
We can see the world at a moment like flying bird."
ranjan prajapati, India
2015-06-26 09:29:37
"nice#65292I can see earth word"
Liu Sirui, China
2015-06-07 22:44:52
5 from 5
"Rewelacyjne zdj#281cia!
Dzi#281ki za wspania#322e doznania przy ogl#261daniu waszych dokona#324."
Halina Zawrzykraj, Poland
2015-06-03 19:05:43
5 from 5
"Wonderful efforts, magnificent shots were captured! Thank you so much for the invaluable experience, and to Stas Sedov, Sergey Shandin and Ivan Roslyakov and AirPano team."
Winnie Yuen, Australia
2015-06-03 12:40:13
5 from 5
"Its beautiful !"
Naren Pradhan, India
2015-06-03 02:31:53
"Mi profundo agradecimiento a todos lo que hacen posible viajar y tomar estas vistas tan maravillosas y que nos alegran la vida hacen psoble que conozcamos toda esta maravilla. Dios los Bendiga y cuide siempre."
ROSA NILVA GUEVARA PRADO, Peru
2015-06-02 19:41:42
5 from 5
"If your highest mark was 10, it would be my selection for these photos. Reading the text adds a personal touch to your incredible photos. Thank you soooo much for your work and your courage and patience to obtain just the right views of the real wonders of the world, seen through your eyes first, but I don't mind not being first. In fact, I would never see such sights without AirPano! Obrigada! irene"
irene linda, Brazil
2015-06-02 19:00:15
5 from 5
"Uniquely beautiful shots, great job, thank you"
Karel Hofmann, Czech Republic
2015-06-02 18:14:56
5 from 5
"FABULOUS ! NATURE....."
German Porras, USA
2015-06-02 15:50:53
5 from 5
"Nice"
karthik Reddy, India
2015-06-02 14:51:44
5 from 5
"Awesome ! Amazing.....Beyond words.....Best wishes in advance for the next Panorama !!"
Gopakumar K G, India