Vatican City State
•
360° Aerial Panoramas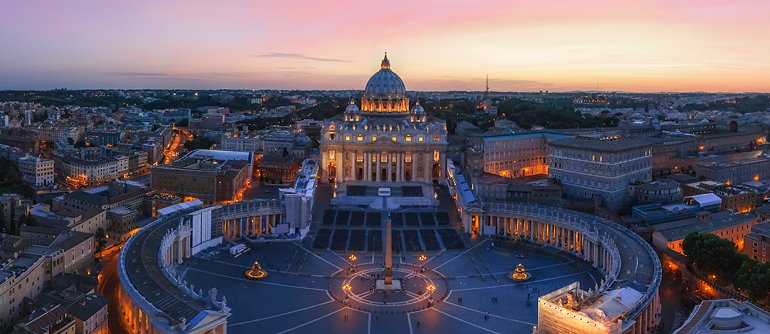 ---
Vatican City is the smallest independent state in the world with a total area of 0.44 square kilometers and the total length of the state border of 3 kilometers.
The "border" is quite symbolic. It's a white line on the pavement along the outer perimeter of St. Peter's Square and the defense wall built in the XVI century to prevent trespassing. Actually, this type of wall surrounds any monastery or a bastion. Vatican has neither border guards nor passport control, but it has a certain dress code. Since Vatican is a religious country, visitors are supposed be dressed appropriately (no shorts or cleavage). However in general, Vatican and its majestic monuments belong to a long list of Rome landmarks.
Vatican has almost two thousand years of history. Mons Vaticanus hill was here in the past; the name is translated from Latin as "the place of divination." It was considered sacred in ancient Rome. The Circus of Nero was built here, a place where the ruthless emperor tortured his victims. Also, it was in this circus that Saint Peter met his death. In 326 A.C., when Christianity came to this land, Constantinian Basilica was built atop of alleged tomb of Saint Peter, which gave start to Papal State.
It rapidly expanded, and by the end of XIX century it occupied most of the Apennine peninsula. In 1870 the Kingdom of Italy seized the papal lands. At that time the Pope locked himself in the Vatican Hill, declaring himself a prisoner. It took six decades to settle the political confrontation between the Italian Government and the Papacy. So in 1929 Vatican City State became a sovereign territory of the Holy See.
Despite its small territory, Vatican City has fabulous treasures. The treasures have accumulated gradually, and over time this collection has grown so much that now it requires separate museums. So today the main Vatican landmarks contain priceless works of art, created by famous artists and sculptors.
Famous St. Peter's Basilica in Vatican City is more than just a tourist attraction. It's the heart of the country, a symbol of Catholicism and, until recently, the largest Christian church in the world. It employed several generations of great artisans, including Raphael and Michelangelo.
The church has the internal floor area 15160 square meters (with total area about 23000 square meters). Its height is 133 meters and length is 211.5 meters (with portico). The dome sits on top of four heavy pillars; it has an inner height of 119 meters and 42 meters in diameter. St. Peter's Basilica in Vatican City has given up its first place only recently. In 1990 a church in the capital of Cote d'Ivoire, an African country, surpassed it in size. But even this largest Christian church was built after St. Peter's Basilica in Vatican City!
And of course, we should mention the giant Cathedral Square, which was built to accommodate maximum number of believers. It's a world masterpiece of urban planning. It has monumental fountains and an obelisk, which contains pieces of the Holy Cross. At nighttime the square is illuminated, creating a special atmosphere in this sacred place.
Of course, Vatican City is more than just a church, the square, and museums. Over a half of the city-state territory is filled with gardens established during Renaissance and Baroque era by order of the Pope. Most of the gardens are well maintained, but there are wild areas with dense thickets of oak, cypress and other wild trees. There are bats, snakes, rabbits, and birds in the gardens! As well as Pontifical Academy of Sciences, Pius IV villa decorated with mosaics, palaces, towers, college, and the Vatican Railway: cleanest and most un-crowded train station in the world.
These (and many more) parts of Vatican City are not open for tourists. However, now you can see them on our aerial panoramas.
Photography by Stanislav Sedov and Dmitry Moiseenko
31 October 2012
Comments
2016-03-14 21:26:14
5 from 5
"Grande realismo y preciosos reportajes Maravillosos paises FANTASTICO"
isidro manlleu roig, Spain
2014-12-11 22:15:00
5 from 5
"wonderful i hope see Vatican always thanks"
Hussen Ali, Ethiopia
2014-09-15 21:19:32
"wow vartical city never head of it.well looking good wish i can someday visit."
Boss Mayor, Nigeria
2014-07-19 10:41:40
4 from 5
" site gives very good information "Thankyou" ."
Harjeet Singh, India
2014-04-27 18:36:02
5 from 5
"Impressionante, é uma aula de geografia "in loco". Irresistível para quem gosta de coisas bem feitas. Parabéns pessoas do bem."
José Geraldo Geraldo, Brazil
2014-03-18 14:21:12
5 from 5
"Magnífico power point, de alta calidad en sus formas y en su contenido. Mi enhorabuena a quien o quienes lo hayan gestado."
Pedro González-M, Spain
2014-01-21 02:26:20
5 from 5
"revelation speaks of the harlot (unfaithful church)among 7 hills. they wear scarlet and purple. a gold cup filled with blasphemes and lies. christ will come and destroy this place and people who do not believe. vatican city is the babylon the bible speaks of. the harlot"
roger clark, USA
2014-01-07 22:57:25
5 from 5
"Wonderful ! Thanks ." Morato- PY4NZ"
JOSE MORATO, Brazil
2013-12-30 20:43:54
"No hay nada que supere en belleza y riqueza muchos tesoros acumulados durante muchos años pero cabe preguntarse¿ Porqué tanta gente muere de hambre? Si todos somos humanos y necesitamos socorrer las necesidades básicas. ¿Qué pasa con las religiones, son humanitarias o son un negocio?"
German Moreno, Costa Rica
2013-11-28 05:56:09
"Very wonderfull. Its fantastic. Thanks"
Felix Alfaro Huamanchumo, Peru
2013-11-13 23:57:21
5 from 5
"So beautiful!! Thanks so much for the photos! The panorama did not work for me. I still put give stars anyway, b/c it eoildvprobably be good otherwise. Bummer.:-( I love foreign countrys. This is such a beautiful place!! I'll be going to paris, France soon! Again thanks for the photos keep on shooting!!"
horsecrazy russel, Canada
2013-10-18 04:04:11
1 from 5
"Me gustaria conocer todo, y tener una entrevista con el PAPA"
norberto miguel Garcia, Argentina
2013-05-01 00:44:20
5 from 5
"I would like to embed several panoramas in a forum by using html code . That's why I need to stop autostart for the sound. Does someone know the code for SoundOff at start? Thanks a lot!"
M Ö, Sweden
2013-04-22 16:39:12
5 from 5
"if we can able to see 360 view is too good , and thanks"
selvin christopher, India
2013-04-22 16:33:01
4 from 5
"super"
selvin christopher, India
2013-03-25 04:51:41
5 from 5
anne isakson, USA
2013-03-11 19:53:24
5 from 5
"Thanks to those who give us the chance to visit such marvellous scenery while we are sitting in our armchair. Keep on, you deserve a nobel price of information."
Jean MUSSY, France
Varvara, AirPano: Dear Jean, many thanks to you for your kind words!
2013-03-10 11:48:50
5 from 5
"Thanx a lot to the Panorama, that we can see/enjoy the places which are not allowed to see the visitors, who go to the such a big and famous place in the world."
Dinesh Sharma, India
Varvara, AirPano: Thank you, Dinesh! By the way, we have panoramas from another interesting places around the world :)
2013-03-01 15:24:12
5 from 5
"Just GREAT the idea, music, pictures, like at home... And my home I like most!"
Peter H. Berthold, Germany
2013-01-10 17:47:44
"very very very good
thanks"
samaneh ghorbani, Iran
2013-01-05 21:53:23
1 from 5
"thanks for you"
raad ali, Iraq
2013-01-05 19:12:16
5 from 5
"Uau!!lindo!maravilhoso!ô glória!!DEUS É MARAVILHOSO!PRA QUEM NÃO PODE IR A ROMA (EU),ROMA VEM ATÉ NÓS!MAGNIFICAT!!!!OBRIGADUUUUUUUUUUUU!!DEUS CONTINUE ABENÇOANDO ESSE MUNDÃOOOOOOOOOOO!!BJS!!AMEI, AMEI, AMEI!!!!"
ivani freitas, Brazil
2013-01-04 14:08:27
5 from 5
"God Bless."
John Herbert, Ireland
2012-12-21 23:19:55
5 from 5
"Wow... i have been there 2 times, but not this way :) SUPER job you do and share with the world, a reborn and different "Family Of Man" by Edward Steichen. GO on!"
Stefan Schiermeyer, Germany
2012-12-16 05:52:40
"FORMIDABLE CALIDAD ! ADELANTE, SON LOS MEJORES,.como siempre gracias."
German Porras, USA
2012-12-12 15:31:31
5 from 5
"Thank you very much, very good job. Wonderful. Vatican is the great place. God bless you."
Tom Holan, Czech Republic
2012-12-01 02:25:23
5 from 5
"Awesome thanks you for a wonderful day, we wll be frequent visitors"
Antony &Morita Cesonis-Dixon, Canada
2012-11-24 20:16:48
5 from 5
"Very awesome 360 degree airpano It looks like almost
real. This virtual world website"
Indraneel Das, India
2012-11-21 13:00:27
5 from 5
yaser hassanzadeh, Iran
2012-11-12 03:32:04
"Nice but unlivable city: dirty, chaotic and with arrogant and ignorant people everywhere."
Andrea Bergognone, Ireland
2012-11-08 18:54:20
5 from 5
"Awesome"
Loganathan s, India
2012-11-08 17:28:38
5 from 5
"Unbelievable! Thank you!"
Barbara Baugh, USA
2012-11-06 11:21:21
5 from 5
"Divin place and monuments. St.Peter's Basilica interior is wonderful. Excellent your creativity and publishing. Thanks !"
PASCU IOAN, Romania
2012-11-06 08:21:31
5 from 5
"Excellent creativity and publishing, Excelent job and million thanks"
Killer Techi, India
2012-11-05 15:27:08
5 from 5
"GREAT, VERY WONDERFUL"
Michael Kwao, Ghana
2012-11-05 13:30:46
4 from 5
"Breathtaking! thanx so much"
Olga Hlongwane, South Africa
2012-11-05 06:22:08
5 from 5
"Wonderful! thanks"
TH Nguyen, Canada
2012-11-05 01:04:25
4 from 5
"I always wanted to visit the Vatican..This panorama is the next best thing..Thank you very much"
Joseph Edward Lee, Canada
2012-11-04 21:45:48
5 from 5
"Awesome, magnificent, words really failed me. Thank you and congratulations guys from me and the rest who are given the chance to view these fantastic places without leaving our houses. Hope to see more in the future. God bless"
Linda Limpo, United Kingdom
2012-11-04 17:07:07
5 from 5
"thanks for sharing.its fantastic.thanks again!!"
jesse abrigo, Philippines
2012-11-04 05:04:11
5 from 5
"Incrível!!!!"
Paulo Rattes, Brazil
2012-11-04 01:42:28
5 from 5
"Outstanding! The viewing of this pictorial (especially the interior) with the song & singing by Celine Dion of Ave Maria is "spine tingling". Thank you, thank you so very,very much for this panorama."
Ed Nelson, USA
2012-11-02 08:41:36
5 from 5
"Astonishing!!"
Pradeep Kaushik, India
2012-11-01 23:16:28
5 from 5
"more than excelent"
samt loutfy, Egypt
2012-11-01 22:48:59
5 from 5
"wonderful -"
mohamed eleish, Egypt
2012-11-01 19:36:19
5 from 5
"Fantastic, Fantastic, Fantastic! Once again it brought back the beautiful memories of the wonderful trip that my dear mother and I had made to The Vatican, during our trip to Istanbul and Rome. Thank you very much for reviving those beautiful memories. God Bless."
Fren Bill, India
2012-11-01 19:19:10
5 from 5
"wonderful. This site gives very good information of important things in the world"
Venkateswarlu Badathala, India
2012-11-01 18:35:42
5 from 5
"Another masterpiece! Great work. I am a big fan of your work. One little tip for a 1st time visitor they might not realize that by clicking onto 1 of the helicopters that they get a different perspective.Perhaps a little note saying where to click, ie. the person in order to enter. Thanks for sharing.Regards."
johannes maurits, Mexico
2012-11-01 16:12:16
5 from 5
"I feel as I`m with all those saint people!"
danica cvetkovska, Macedonia
2012-11-01 15:48:22
5 from 5
"Wonderful ! Thanks ."
Michael O'Sullivan, USA