Virtual Tour over Artificial Islands in Dubai, UAE
•
360° Aerial Panorama
This panorama can be opened in several different resolutions. High resolution panorama with the best quality is about 7 Mb large and it is suitable for fast internet connections and modern computers. For slower internet and old weak computers we created the smaller low resolution panorama. Some small details have been sacrificed but the size of low resolution panorama is nomore than 2 Mb.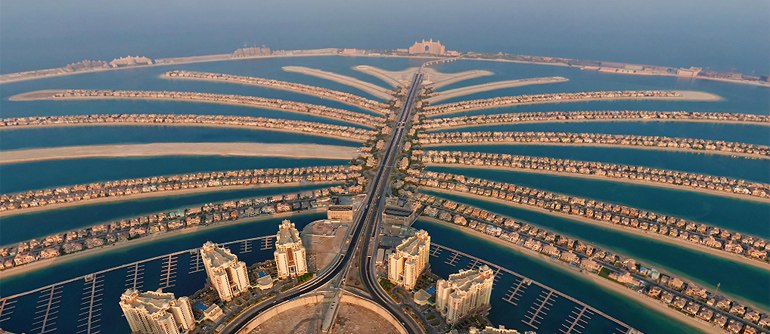 Open Aerial Panorama (high resolution)
This Virtual Tour is also available in the following formats: -
LOW
-
iPad/Android
| | | | | |
| --- | --- | --- | --- | --- |
| | | Tweet | | |
The United Arab Emirates is one of the most amazing countries in the world. Millions of tourists come there to see its places if interest, however, almost all of them are man-made.
The Emirates can't boast of either impressive mountain relief like the Alps do, or of water zest which is fiords located in Norway or of great forests with the richest flora and fauna of Amazonia...The desert, sea coast and oil, perhaps, are the only wealth of the UAE. That kind of wealth is quite enough in the neighbor country of the region. But exactly the Emirates are famous for their landscapes. Why so?
The answer is evident: the landscapes have been created artificially in order to overtake and surpass as well as to eclipse and impress as much as ever possible. The aim has been achieved. And the most outstanding project in that sphere is the artificial islands of the Emirates.
The construction of the biggest in the world archipelago named Palm Islands began in Dubai Emirate in 2001. Millions of tons of both sand and stones were being put by the workers imitating a palm which is the most honored and popular tree of the East. As a result, close to the Emirate's coast "three palm trees" grew: the Jebel Ali, the Deira and the Jumeira.
The Jumeira is surrounded by a crescent which is both Islamic symbol and simultaneously a breakwater. The island's size is 5 by 5 meters; the total size is comparable with eight hundred football fields. The island joins the mainland with the 300-meters bridge and the crescent and a palm top are connected with an underwater tunnel. And there is a monorail on the bridge — the first one in the Middle East.
On the Palm Islands there is a super luxurious hotel Atlantis as well as other chic hotels; most mansions and apartments have already been acquired by the richest people of the planet or are still waiting for their turn to be bought. And the rest world population can admire this beauty for free, for example, from the bird's-eye view that allows understand its size and forms.
Not far from it there is another largest artificial archipelago — the World. The idea of its creation appeared two years later. By that time Dubai had become very popular among the tourists all over the world and there was an extremely beach shortage. At the same time, in the UAE they can't just put sand into water; sand should be of any unusual form.
As Arabian sheikhs have the habit to implement grandiose plans and, therefore, they decided to create... all the Earth continents at the coasts of Dubai. But right in the process of this idea's realization it became clear that it would be hard to sell such huge territories. That is why the continents were divided into number of islands in order anyone could buy the Island of France or any state of America which is also surrounded from all sides by water. Besides, the World includes not only continents or countries but also cities or such sphere like fashion: there is the Island of St. Petersburg or the Fashion Island (Isla Moda).
Finally, now the island sizes vary from 14 to 83 thousand square meters, the width of the straits may be from 50 to 100 meters and their depth — from 8 to 16 meters.
It wasn't also easy to find a place for the future project of artificial islands. By that time the coast line had already been occupied by the Palm Islands. They had to put sand and make islands 4 km far from the coast. And they are really islands, not like the Palms: the World doesn't join the continent with a bridge. All 300 islands are available only by sea or air transports, regular ferries and private yachts or boats. The getting time will not be more than twenty minutes.
Nowadays, more than half of the World's ready objects have already been sold. The construction works still have been going on. The highest price for an island reaches 38 billion dollars. It can vary depending on location, size and distance to other islands.
Brad Pitt and Angelina Jolie are among the most famous buyers: they chosen Ethiopia. And one of the islands in Antarctica estimated at 7 million dollars became a gift of a sheikh to Michael Schumacher...
25 June 2011
2014-05-29 06:20:46
5 from 5
"Ia fasciated by this. Last year they moved to S.A.and love it. He works fo ARAMCO. Very intereting article."
cathie morse, USA
2014-04-09 21:20:21
4 from 5
"A M A Z I N G ! ! !
WISH I COULD BE THERE."
UZI BARCAI BARCAI, Israel
2014-03-17 14:34:56
"so beautiful...my ream is to go there.."
Zenny Lacumbo, Japan
2014-01-29 21:04:30
5 from 5
"Fantastično!!"
Cedomir Hila, Croatia
2013-12-21 01:14:05
1 from 5
"Zaista je ovo FENOMENALAN sajt!
Cestitam tvorcu istog, jer ste nas OBOZILI njime.
Cika Barba"
Dragoslav Barbaric, Serbia and Montenegro
2013-11-25 18:32:48
"no puedo abrir la pagina de dubai"
MARIA ELENA LESKIW, Argentina
2013-11-14 04:54:23
5 from 5
"I love this website and UAE. I been there many times and Dubai never disappointed me, I love the high quality tour over the Palm Island. Dubai is the place to be!"
Scott Kornfeind, USA
2013-06-20 13:56:04
1 from 5
Adelino Pereira, Cuba
2013-06-20 13:54:12
"very nice and biutifull. please get some panorama pictures from my dear country Iran"
mousa mehdizadeh, Iran
2013-05-02 19:23:23
5 from 5
"amazing super structure"
varun prakash, India
2013-03-19 19:43:22
"i like photografy"
imran pervaiz, Pakistan
2013-03-01 09:03:14
3 from 5
"good. updation required regularly"
suseelan padmanabhan, India
2013-02-18 19:06:53
5 from 5
"Ich bin begeister von den Aufnamen.Habe noch nie so was schoenes gesehen"
Peter Schulz, Germany
2013-02-04 21:15:46
5 from 5
Sunil PARIKH, India
2013-02-03 22:25:03
4 from 5
"This is great website your airpano and i like your photography and video very very thanku for make this site."
durani mulla, India
2013-01-15 11:17:24
5 from 5
"very beautiful. please get some panorama pictures from my dear country Iran."
saeed askari, Iran
2013-01-11 15:56:26
5 from 5
"thank you for this pictures and vieo you make wounderful job. congratulations!"
luis faber mora, Colombia
2013-01-09 05:06:49
5 from 5
"am fost in dubai de cincizeci de ori cu afaceri incepand cu anul 1997 am vazut cum s a construit acest oras iubesc aceste locuri de fiecare data merg cu multa placere"
tanase ioan, Romania
2013-01-02 17:39:07
"thanks for airpano. I really like this website."
sriram godavarthy, India
2013-01-02 17:33:30
5 from 5
"awesome pics"
sriram godavarthy, India
2012-11-25 23:21:59
4 from 5
"My son Stephen and his wife Sandra live and work in Dubai and I have been there a few times and seeing this wonderful view brought back happy memories of the whole area. Quite spectacular view"
Richard Leslie, Canada
2012-10-30 10:02:17
3 from 5
PESAR BAMI, Iran
2012-10-19 00:52:18
5 from 5
"Hi Thanks for images.I will happy if get some panorama pictures from Iran and publish them"
Ali salimi, Iran
2012-10-15 06:06:28
5 from 5
"Simply Fantastic;no words to tell.
Thank you camara man,god bless you,to show us gods creation so beautiful,in my life I can go & see all the places or not.
once again thank you for your Creativity"."
JYOTHI SINGH, Kuwait
2012-10-15 02:17:56
"espectacular por la imagenes, y espectacular por el poder economico de un pais que se ha superado por la venta mundial del petroleo. sin embargo las riquezas de la tierra, deberian haberse distribuido en forma equitativa, y ver progreso en aquellos lugares donde las personas buscan un carton, una lata de zinc, para poder construir sus pobres casas. esto no es justo para cualquier religion que ose decir ser la mejor."
olman roberto castro padilla, Costa Rica
2012-10-04 19:48:27
"nise"
REZA s, Iran
2012-10-03 10:16:53
5 from 5
"this site perfect."
alireza babaii, Iran
2012-09-28 12:45:26
5 from 5
"its really so good"
Harhsada Chaure, India
2012-09-06 18:46:06
5 from 5
"Amazing!!!! absolutely superb!!!!!!"
Ronald Lemmy, Spain
2012-09-06 15:20:34
5 from 5
"Excellent!"
Reza Shokrollahi, Iran
2012-09-05 03:44:23
5 from 5
"Espetacular!"
Michelle Resendes, Brazil
2012-09-03 18:31:36
5 from 5
"Excellent!"
Deepak Nathoo, South Africa
2012-09-01 11:09:08
3 from 5
"thanks.you are best
thanks so much"
Ali uneci, Iran
2012-08-21 03:35:59
5 from 5
"Thank you so much. It's wonderful."
anne mai, Hong Kong
2012-08-19 21:35:39
5 from 5
"I'm so interested in seeing all of Dubai. Have not
had time to pursue places as yet - but plan too!!
An incredible e-mail."
Beverly Pearsall, USA
2012-08-03 08:17:10
4 from 5
"Thanks all talented photographers have been giving us amazing pictures.
Best regards
Mr.HUNG PHAN (PSA)
Mrs. TAM PHAN (PSA)"
HUNG PHAN, USA
2012-07-30 08:59:39
4 from 5
"Superb.."
Vinoth Kumar, India
2012-07-25 06:24:57
5 from 5
"ohhh trickshot"
wesane 9, Japan
2012-07-20 21:08:43
5 from 5
"You are to be congratulated for such a magnificent creation as this. I could not believe my eyes as I viewed your website. As a photographer I can only imagine the inner beauty of such a creative group of persons whose dream has culminated into such a place as this. I only wish it were possible for us to witness it in person."
Gregory & Diane Weldon, USA
Varvara, AirPano: We are very grateful for your comments as well as for your appraisal.
2012-07-17 09:11:40
3 from 5
"Fantastic.."
Muhammed Sadique, United Arab Emirates
2012-07-16 08:02:34
5 from 5
"Best constriction ever seen"
Nitin Ghadi, India
2012-07-13 10:13:44
5 from 5
"Realy So Good only just Amazing."
Maheshwar Dwivedi, India
2012-07-12 22:59:36
5 from 5
"Speechless.."
Anshul Jain, India
2012-07-10 13:31:02
4 from 5
"I had an office in UAE under auspice of Bin Dhahi -the best safest and enjoyable time of my life.No need to lock your car, hotel room, no radicals, midnight safe as lunch time, cooperation of government unbelievable, my ideal instantly realized (Im an architect) Working people (mostly Pakis) are totally different from those in Pakistan, no taxes, free health, tolerance to everything. I would change/vote in Australia for UAE any time despite I don't particularly like Islam."
Radovan von Winterberg PhD, Australia
2012-07-04 19:40:13
5 from 5
kyung kim, USA
2012-06-25 09:23:38
5 from 5
"We will sail out of Dubai in April, 2013. What a wonderful way to get a preview."
Tommie Colmerauer, USA
2012-06-24 08:34:21
4 from 5
"My husband and I will shortly be going to Dubai. This was a lovely way to acquaint myself with the city."
Barbara Burnett, USA
2012-06-17 06:53:09
5 from 5
"Simply fantastic! Wow! Is to let anyone with an open mouth ... I loved it."
Lea Osorio, El Salvador
2012-06-16 18:16:53
"This is an amazing project and would like to congratulate everyone involved in it. Besides the technical aspects the choice of places and the musics picked in the backgrounds fits the characters of the panoramas and creates a perfect combination . Thnx again for this amazing experience""
ashok kadam, India
2012-06-12 10:39:40
5 from 5
"why not,,,about Bhutan?"
rin pelmo, Bhutan