Top Hotels in Turkey
•
360° Aerial Panoramas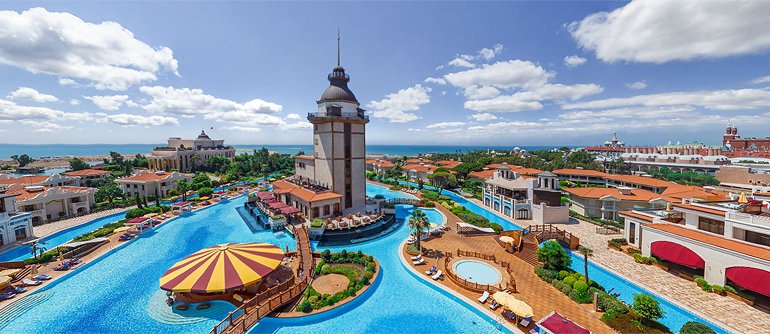 ---
While photographing fascinating places of the planet, we have never really paid attention to tourist destinations.
However, when Tez Tour — one of the leading travel agencies approached us and offered to take aerial photographs of Turkish hotels, we thought it would be interesting not only commercially, but it could also benefit the AirPano project.
Turkey is famous for its resorts. Millions of tourists come to Turkey every year. More and more hotels are being built on the Turkish shore to meet ever growing demand. The variety of Turkish hotels can satisfy every taste. There are true masterpieces of architecture, secluded club houses surrounded by green golf courses, boutique bed and breakfasts, and huge ultra-modern hotels.
We had to photograph 323 hotels from air. Half of them required aerial spherical panoramas. Usually one day of shooting on location delivers a limited number of high quality images. Thanks to precise planning and professioanal experience of our photo crew, we managed to finish this project within one month.
Unfortunately, it is impossible to show all 323 hotels in one virtual tour, so we made a hard desicion and selected most interesting ones. In our opinion, these 11 hotels represent the true beauty of Mediterranian shores of Turkey.
10 March 2013
Comments
2018-02-07 19:00:58
"ok .."
bkb goner, Australia
2015-06-20 18:04:12
5 from 5
"Hello! This post could not be written any better! Reading through this post reminds me of my good old room mate! He always kept talking about this. I will forward this write-up to him. Pretty sure he will have a good read. Thank you for sharing!"
Virgil Dresdner, Brazil
2014-12-26 12:43:35
5 from 5
"WONDROUS THANKS YOU"
S#304NA SAVA#350, Turkey
2014-08-19 22:01:36
5 from 5
"Turkey is my first choice for holiday.Fantastic hotels and resorts to suit all.superb choice of food,outstanding hospitality in all inclusive resorts,Hugh variety of entertainments and extremely hard working and friendly people.have been 5 times and looking forward to visiting again next year.Panorama is doing a great job by providing this great service."
Arjun Hirani, United Kingdom
2014-03-27 13:25:08
4 from 5
"perfect"
desmond miles, France
2014-01-28 20:45:40
5 from 5
Wolfgang Willburger, Austria
2013-09-09 12:33:12
"very nice place.bravo to your websit"
Erfan zandi, Iran
2013-09-02 01:10:44
5 from 5
"Excelent photos, beautiful seaside, romantic music. Very useful job, thanks so much AirPano."
Vera Tomanova, Czech Republic
2013-06-03 09:17:21
5 from 5
"fantastic panorama.."
vatalia yogesh, India
2013-06-01 17:31:56
5 from 5
"One Word for this site - Awesome !!!!!!!!!!!!!!!! Best wishes from India !!!"
Gary S, India
2013-04-16 18:06:48
5 from 5
"I love your websit thanks a lot for your beautiful panaromas"
hossein mahditabar, Iran
Varvara, AirPano: Hossein, thank you! We're pleased that you like it!
2013-04-09 17:53:49
4 from 5
Aschi und Graziella Zwahlen, Switzerland
2013-04-08 13:34:23
"Very beautiful good place"
li runfa, China
2013-04-07 16:05:39
5 from 5
"Visited in July 2012- silence beauty...."
Dan Linea, Australia
2013-04-06 17:57:43
5 from 5
"很好"
天斧 黄, China
2013-04-05 20:16:15
5 from 5
"Outstanding, Superb, awesome.
Thank you"
Robert Hajek, Canada
2013-04-03 22:17:43
5 from 5
"nice place!!!! great job airpano"
omar covarrubias, Mexico
2013-04-01 14:49:01
5 from 5
"Excellent panoramas"
navin patel, India
2013-03-31 00:56:47
5 from 5
"Very beautiful is my country ..."
Osman GALATASARAY, Turkey
2013-03-29 13:54:55
5 from 5
"Great place!"
Alex Smooth, USA
2013-03-26 22:54:53
"its very nice"
mohsen aeenedar, Iran
2013-03-21 20:47:51
5 from 5
"Sangat menarik ini benar-benar baik, saya akan pergi ke sana, duniawi salam :)"
Ranchoddlas Whadalldle, India
2013-03-20 13:49:38
5 from 5
Virgiliu Popescu, Romania
2013-03-20 11:02:29
3 from 5
"Very good ,"
shahnawaz Ansari, India
2013-03-19 15:32:52
5 from 5
"Very Good,Thank you AIRPANO."
Mohsen Zibaraftar, Iran
2013-03-18 15:05:38
"You suprised me every time.. Thanks airpano"
Branko Matosevic, Croatia
2013-03-16 10:38:28
5 from 5
"Superb..."
Dharmesh Bamrolia, India
2013-03-15 20:40:29
5 from 5
"Fantástico, parabéns pela foto."
Paulo Rattes, Brazil
2013-03-14 20:28:57
5 from 5
"super Panoramen!!"
Peter Jörgensen, Germany
2013-03-14 19:09:38
5 from 5
"I HAVE BEEN WATCHING YOUR PANORAMA EVER SINCE SOME FRIEND POSTED ON MY WALL, THANKS TO HER AND PANORAMA, I ENJOY IT DAILY"
KHATRY MOHAMED NOORMOHAMED, Kenya
Varvara, AirPano: Thank you, Khatry! It's great that your friend showed you our website.