Golden Ring of Russia, City of Suzdal
•
360° Aerial Panoramas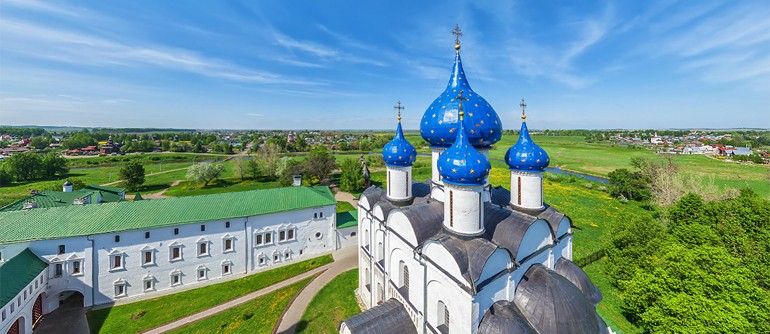 ---
Suzdal is one of the most striking and unique cities in Russia that has preserved its ancient monuments. Suzdal was first mentioned in the year 1024 AD: it was the time when the local population rebelled after losing their crops to drought. Kniaz (Prince) Yaroslav the Wise successfully suppressed the rebellion, after which the city, located on the picturesque banks of Kamenka River, began to actively grow and develop.
The city of Suzdal has been a capital of several "principalities for three centuries. At that time, even Moscow was a secondary settlement. Moreover, the first confirmed mentioning of Moscow is dated back to 1147 AD, when Yuri Dolgorukiy (literally Yuri the Long-Armed), the Kniaz of Rostov and Suzdal, invited his allies to a town called Moscov.
It is no wonder that such an important city has always been raided: Tatar-Mongols, Crimean Tatars, Lithuanians, Poles, and even other Russian rulers battled for the right to control Suzdal. On top of that, the plague claimed nearly half of the population in the middle of the 17th century.
Only when Russian history entered its peaceful period did the city of Suzdal know peace as well. In the middle of the 19th century, a new railroad bypassed Suzdal, which caused the decline of the industrial development of the city, but on the other hand, it helped preserve its original historical image.
The construction of Christian monasteries started in Suzdal in the 16th century with the building of the Kremlin fortress. Due to destructive wars, only 5 of 11 originally built monasteries survived till the beginning of the 19th century. However, even that was enough to make Suzdal one of the largest religious centers of Russia.
Now, the city of Suzdal is on the list of World Heritage Sites and is a part of «Zolotoye Koltso» (The Golden Ring), a tourist route going along the ring of ancient Russian cities that preserved their unique historical and cultural monuments. It is prohibited to erect tall buildings in Suzdal. The distinctive features of the museum-city are its quiet, narrow streets, old wooden houses, and large number of churches.
The Kremlin is the most famous landmark of Suzdal. Located on the territory of the Kremlin, the Cathedral of the Nativity was built in 1222 — 1225 AD; it is the oldest building in the city. The female Monastery of Deposition of the Robe is easy to spot near Kremlin, as its 72-meter-high bell tower is the tallest structure in Suzdal. By the way, during the Tatar raid in 1238 when the city was almost completely burned down and its residents were taken captive, the walls of the Monastery of Deposition of the Robe withstood the overall destruction and harbored few surviving local people.
Built in 1240 AD by Alexadner Nevsky, the St. Alexander Convent is one of the oldest structures; and the church of the Transfiguration is one of the most important sites of the Suzdal Museum of Wooden Masterpieces...
To be honest, the list of Sizdal's landmarks may fill up several pages: there are dozens of churches and unique masterpieces of local craftsmanship, and each and every one of them has its own story.
However, first of all, this open-air museum must be admired for its beauty, and the best way to do it is certainly from a bird's eye view.
Photo and text by Stas Sedov and Dmitry Chistoprudov
5 November 2014
Comments
2016-12-26 00:47:58
5 from 5
"A very beautiful place"
Viktor Anisimov, Russian Federation
2014-11-15 22:04:44
5 from 5
"Excellent photography. Awesome pictures and videos. I hope life gives me a chance to visit this beautiful place. Thank you for your wonderful work. God Bless.#128077#128076#128515"
Fren Bill, India
2014-11-07 06:01:15
5 from 5
"beautiful ! When I have time, I do really go to Russia to visite such quiet place..

By the way, this is my site to show some chinese panoramic works too: www.720yun.com"
JoQi Woo, China
2014-11-06 19:07:00
5 from 5
"amazing"
mohamed ieleish, Egypt
2014-11-06 05:08:02
5 from 5
"Cool and very peaceful! Thank you!"
S.M. Naufer, Sri Lanka
2014-11-06 00:04:22
4 from 5
"Bardzo pi#281kne i interesuj#261ce.Szkoda,#380e nie pokazano tak#380e wn#281trz tych zabytk#243w."
Halina Zawrzykraj, Poland
2014-11-05 21:27:18
5 from 5
"I enjoy every single video. Thanks a lot"
juan riera, Spain
2014-11-05 20:15:14
5 from 5
"Belissimos videosfotos que n#227o perco!
Tanta coisa linda que s#243 assim pudemos apreciar."
Jos#233 Campos, Portugal
2014-11-05 17:15:34
5 from 5
"Very nice countryside beautiful presentation !!!! Thank you"
Karel Hofmann, Czech Republic
2014-11-05 15:49:41
5 from 5
"Nice"
Karthik Reddy, India
2014-11-05 12:47:42
5 from 5
"Nunca me pierdo sus videos virtuales,
y los uso como referencia a los lugares que
quiero viajar, hice el tour del Golden Ring en
1998, todos los lugares son bellisimos. Es impresionante como la gente guardo su religiosidad a pesar del sistema, gracias, me han traido lindos recuerdos.. Adela."
Adela segura, Guatemala