San Francisco, Golden Gate Bridge
•
360° Aerial Panoramas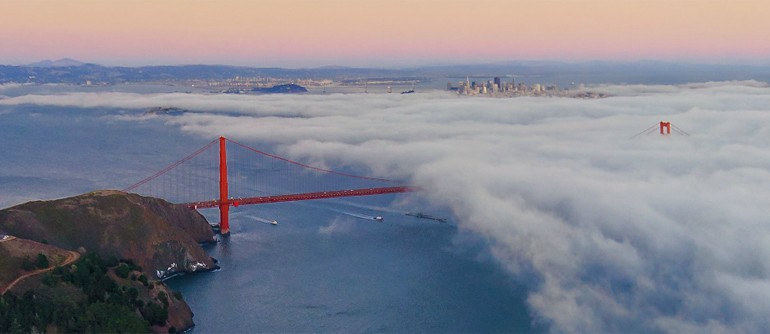 ---
I've been waiting for this photo shoot for a long time... Perhaps even my whole life. Over the past 20 years and despite numerous visits, I haven't seen the Golden Gate Bridge covered in fog. For me, it has been quite an unlucky streak. According to my photography colleagues, they were not lucky either. But why? The location of the bridge is unique: it was built where the frigid water of the Pacific Ocean collides with the warmer water of the bay all year around. Along with the winds and other atmospheric phenomena it should create foggy and cloudy weather frequently. However, it doesn't and it actually happens very rarely. For a Russian photographer, who doesn't live in the city but only visits it time to time, it would be extremely lucky to catch this fog even during the right season.
It was September — the fog season. It took me 10 days to negotiate with a rental company, where I was going to hire a helicopter for an aerial photography. The main reason for their delays was the fog itself — helicopter pilots don't like limited visibility. They prefer a clear sky — a complete opposite from what I was looking for. There was another complication: I spent the entire week before the scheduled flight in one of the Nevada deserts with poor mobile phone reception. I received their confirmation a day before the flight: "We can fly, as long as there is no fog and strong winds :)". We agreed to start an hour before the sunset.
And so today I drove to the helicopter, which was waiting for me 30 miles away from San Francisco. However, evening rush hour slowed me down as I got into every possible traffic jam on the way out of the city, and so I arrived at the meeting place much later than our scheduled flight time, even though I left an hour beforehand.
The pilot didn't look like he was in a hurry either... It seemed to me that everything was moving in a slow motion: here we were getting in the cabin, here the propeller started to rotate, faster and faster, here we were ascending, giving the way to a Boeing plane, and finally the downtown skyscrapers appeared ahead of us... It is a challenge to photograph San Francisco in the evening, because the city is blocked by hills from the west. The hills shelter the city from direct contact with the Pacific Ocean, and this is why darkness descends on San Francisco 20 minutes before the sunset... "That's it, — I thought as I looked at my watch, at the city in the distance and the setting sun. — My photo shoot is over. I am too late..." But suddenly I realized — there was still a chance!
I saw the tops of skyscrapers shining with gold, the bay was subtly lit, and an incredible fog was shimmering with red hues of the setting sun. The fog, which I had been waiting for over 20 years, was streaming down from the Russian Hills to dissolve into the city. I was so mesmerized with this view that I almost forgot about the photo shoot. I asked the pilot to hover as I took a few panoramic shots over the downtown and then told him to head to the Golden Gate Bridge. But nothing happened. The pilot pronounced two magic words "THE FOG" and continued maneuvering above skyscrapers. The bridge was indeed covered with fog; but not completely — luckily, one half of it was still visible.
Copyright: Allan Smorra, www.ohmsweetohm.me
"Take me there" — I pointed to the bridge. But the pilot continued saying something about the wind and the turbulence and above all else, passenger safety... I ended up alleviating his concern for my "safety" by paying him an additional $100.00 in cash. "Ok, I'll take you there but you have to shoot fast. And not under the bridge" — that was the pilot's condition. "Under the bridge... It's a good idea! Perhaps I'll photograph it next time. But today I need to shoot OVER the bridge" — I replied as the pilot changed our circular trajectory and headed towards the bridge.
We finally made it to the bridge. The helicopter was flying over the cloud that was flowing though the bridge's two towers. The top of one tower was lit by the setting sun while the haze covered the rest of it below. The top of the second tower was still visible but already in the shade. All this beauty was surrounded by a mass of shimmering fog rolling from the Pacific Ocean... The sun was almost touching the slope of the hill with only a few minutes left before the final sunset... The helicopter hovered near the bridge; I leaned outside and quickly shot the spherical panorama over the lit tower. But as I started shooting the second one, the sun hid behind the hill. I turned to the pilot, waved my hand up, and shouted, gesturing to take the helicopter higher. He didn't understand me asking something in respond. "Go, Go! Take us higher" — I shouted in Russian, pointing to the place where the sun was a moment ago. Suddenly he understood me and quickly pushed on some pedals — perhaps, gas — the helicopter vibrated and started ascending. And there was a "Wow! moment" — we slowly overtook the setting sun. It appeared again, and even though the whole city and the bridge was already in the shade, the fog was once again covered with gold and shimmery sparkles. I started shooting without waiting for the helicopter to stop, thinking that it might be my last panoramic photo of the day, in hopes that our guys would be able to stitch it later somehow. My camera finished full 360° circle, and with the last click of the shutter the sun finally left the city of San Francisco... I wiped off the sweat from my forehead. I did it! I've been waiting for this moment for 20 years — and now I finally did it!
---
The third and final panorama of this virtual tour has a different story; it is more mundane but no less intense.
Three years earlier, in May 2008, we shot this panorama from the Golden Gate Bridge. For this purpose we brought a four-meter-long telescopic pole from Moscow to the U.S. Along the way, it went missing twice in two separate airports, but two weeks later, by the end of the trip, it miraculously reappeared. However, that was not the end of our adventures: the moment we packed our things after the photo shoot, three police cars came after us :) Luckily, everything ended well.
---
So, here is a bit of information on one of the most recognizable bridges in the world — The Golden Gate Bridge.
The Golden Gate Strait connects the Pacific Ocean and San Francisco Bay. A military topographer, John Fremont, is credited with giving this poetic name to the strait; it reminded him of a harbor in Istanbul named Golden Horn. The idea of a bridge across the Golden Gate Strait had been around since the 19th century, but due to limited technical capabilities, it was not possible to bring it to life until the beginning of the 20th century. Engineer Joseph Strauss, who by that time had designed about 400 bridges, came up with the idea to stretch a suspension bridge across with two pillars of over 2.5 km in length. His project received attention but was rejected.
Yet, the city of San Francisco kept rapidly growing, and every year its streets became more and more congested with cars. Experts started to evaluate all the pros and cons of constructing an automobile and pedestrian bridge with a traditional design. The construction cost of such a bridge was estimated to be an incredible amount of money — 100 million dollars. However, the city did not have sufficient funds.
Joseph Strauss claimed that he could construct a suspension bridge that would cost a maximum of 27 million dollars. President Franklin Roosevelt approved this bold project, and so the construction finally began.
But, that was not the end of the bridge's struggles. The construction was conducted in harsh weather conditions. Frequent fogs, wind, and strong waves made it extremely difficult to erect pillars, to pull wire ropes, and to install bridge spans. Despite the most rigorous safety regulations, before the completion of the bridge, there was a tragic accident that killed 10 men on the spot.
Those who believe in mystical powers are convinced that this "christening" determined the further grim destiny of the bridge. The matter-of-the-fact is that the most recognizable landmark of the city, and for a long time the longest suspension bridge in the world, has gained greater glory as "the suicide bridge". The first suicide occurred in 1937, three weeks after The Golden Gate Bridge was opened.
In the 1990's the number of suicides exceeded one thousand jumpers. After that, it was decided not to keep an official suicide count. However, it is known that about once every two weeks there is a new suicide attempt. There is no good explanation to this phenomenon because The Golden Gate Bridge is not the only bridge in the vicinity. According to some statistics, there are 85 suicide attempts on the Golden Gate Bridge, while there are only 14 attempts on the nearby bridge.
However, this story isn't all tragic.
During the large International Construction Exhibition in Las Vegas in 1999, the Golden Gate Bridge was the only bridge that made its way to the top 10 construction achievements of the 20th century.
There is also an emotional story of a baby deer that ran across the bridge in the 2004. The young deer survived, but the traffic was stopped for 20 minutes.
The color of the bridge, which is bright orange, or "international orange", was chosen by the first consulting architect of the project — Irving Morrow.
You might ask this question: how often is it painted?
The answer may be surprising: the painting of the Golden Gate Bridge is an ongoing daily maintenance job performed by a crew of 28 painters. The total expenses on the bridge maintenance amount to 14 million dollars a year, which includes paint and coverings.
Although the Golden Gate Bridge was originally designed as a highway, everything mentioned above makes it also a unique monument of architecture and culture, as well as a famous tourist attraction: the spectacular view of the city and the strait from the bridge attracts millions of tourists.
You too have a chance to admire it!
Photo and text by Oleg Gaponyuk, Sergey Semenov and Dmitry Moiseenko
2 October 2011
Comments
2016-05-11 17:30:32
5 from 5
"I Love the view from Hawk Hill. I was stationed there on the hill,a missal site for the Army 1962 to 1964. Grate Duty.Radar Oprt."
Billy Hughes, USA
2016-03-06 09:11:01
5 from 5
"I went there with a Bud in 1961...
Also watched the Chinese New Year Parade..

Drove My Family there in December 1974. #129299.

Age prevents me from going Again...... SAD...."
Bill Dickson, Canada
2016-03-02 12:10:31
4 from 5
"Byl jsem a San Francisco miluji jako Prahu. Golden Gate Bridge je n#225dhern#253 gigantick#253 pro#353li jsme ho p#283#353ky a m#225me na n#283j kr#225sn#233 vzpom#237nky i fotografie."
miroslav olmer, Czech Republic
2015-11-28 05:08:37
5 from 5
"Conner Smith, glad your still with us today......"
Dave Trovato, USA
2015-09-16 10:52:57
4 from 5
"i nearly commited suicied on this brigde once."
connor smith, Belgium
2015-07-14 11:05:22
4 from 5
"i love san francisco as well as the golden gate bridge."
connor tripett, Australia
2015-07-13 11:04:59
4 from 5
"this is my dad on the picture"
connor trill, United Kingdom
2014-12-24 08:56:01
"I wish before dying could kiss Golden gate and say to all men who made it thanks ,thanks , and thanks to all people that made such this country named U.S.A . happy NEW YEAR to you and all Americans who trying to save Democracy Human rights from Jefferson ..to Obama good look with your own family and Big American people . sorry about my bad English God sake USA"
Hossein Aghili, Iran
2014-10-29 03:42:08
5 from 5
"SF Bridge, is my 2nd favorite bridge in the world, behind the Story Bridge in Brisbane, Australia, but, ahead of the Sydney Harbour Bridge,lol.
We walked across the SFB on a beautiful clear morning, we got to the other side and sat and admired the bridge as the fog slowly started to cover the bridge until you could see it no more. One of the most amazing sight's ever, but, it sure was cold driving back to the other side on the top deck of the Hop On, Hop Off bus, lol. One of the best days of my life :-"
Janet Nicolson, Australia
2014-09-14 22:21:24
5 from 5
"I was stationed at Mt Tampias in 1965-1966. It was a beautiful site to look at the Bridge when the Fog left. Many Memories."
Duane Rapelje, USA
2014-07-26 20:00:18
5 from 5
"Visited in May 2004, Most beautiful city. Best vacation ever. And as they say, Left my heart in San Francisco"
Bobbie Caldwell, USA
2014-07-12 23:34:04
4 from 5
"I went to Berkeley for a graduate programa during 1970-1971. I enjoyed tremendously. Loved de bay área, the ambiance, the environment, the people, the hippies, CAL, etc. I am looking forward going there before is too late. Best part of my life."
Luis A Montero MBA -71, Chile
2014-05-25 18:24:41
"When I first saw the bridge, I was horrified by the awful colour. I guess I thought it was painted gold by the name. I also wish I knew how many coats of paint are piled on top of each other and if they remove it or is it an inch thick by now?"
linda Blair, Canada
2014-05-20 16:20:55
"IN 1936 I FLEW UNDER THE GG BRIDGE !!
THEY WERE TRYING TO ENCOURAGE COMMERCIAL FLYING ."
ELAINE KELLEY, USA
2014-04-24 11:20:52
"Undoubtedly, Goldengate is enjineearing masterpiece in the world ,tanks fram enjineears who make it , i really like to touch it some day."
kamran nikfarjam, Iran
2014-03-24 14:39:59
5 from 5
"super !"
michel taccoen, France
2014-02-07 18:54:07
5 from 5
"IT IS WONDERFUL, I VISITED SAN FRANCISCO MANY TIMES, ALWAYS I WENT TO THIS MARVELOUS BRIDGE.YOU HAVE EXCELLENT PHOTOS.
THANK YOU"
RONALD BARAHONA, Honduras
2014-01-18 03:25:26
5 from 5
"fantásticas imágenes. . . .SUPER."
MARIO RODRIGUEZ, Mexico
2013-12-20 19:44:07
"Thanks to my nephew and family who lived in SF. I got the opportunity of going through GG in 1994"
Chitra de Silva, Sri Lanka
2013-10-23 16:17:33
"very good scene. I like it."
Albert Sequeira, India
2013-10-23 12:02:56
1 from 5
"I had the opportunity to visit this engineering marvel,wonderful."
Ramachandraiah Narayanappa, India
2013-10-15 13:38:20
3 from 5
mani keyvan, Iran
2013-09-11 08:53:24
5 from 5
"very goooooood....
ZENDE BAD KERMANSHAH 19"
MOHAMMAD NIAZI, Iran
2013-07-05 00:36:05
4 from 5
mariajose delhoyoesteban, Andorra
2013-05-28 05:09:21
5 from 5
"POR MULTIPLES RAZONES MI CIUDAD PREFERIDA EN USA Y EN AMERICA: LLEVA MI NOMBRE... BAUTISTA DE ANZA FUE SU FUNDADOR...MI TIO MODESTO TRABAJO EN SU CONSTRUCCION Y LA CIUDAD ES BELLISIMA.
MI PRIMERA SALIDA AL EXTRANJERO FUA A SAN FRANCISCO, PARA ENCONTRARME CON PIERRE LUIGI NERVI, CONSTRUCTOR DE SAINT MARIS CATHEDRAL.
I LOVE SAN FRANCISCO"
FRANCISCO BAUTISTA, Mexico
2013-05-28 04:32:35
5 from 5
"Beautiful a feat of engieering."
Roger Lee, Australia
2013-04-28 23:43:38
5 from 5
"Excelente!"
alberto rodríguez, Spain
2013-04-26 20:09:39
5 from 5
"simply worderful. You made me feel as if I was back in my beloved Frisco."
Loreto Guridi, Chile
2013-02-23 10:22:50
5 from 5
"Really beautiful I love it"
Paul Zappia, Italy
2013-02-21 18:48:56
5 from 5
"Having been to a lot of places you photographed I appreciate the fabulous job you did with your cameras. I think maybe you will do a lot for tourism. Thank you"
Roger Meakes, United Kingdom
2013-02-07 12:36:47
5 from 5
"Awesome... sakkath,"
Arjun Kumar, India
2013-01-19 19:29:35
5 from 5
"Prachtig!!!"
Mathieu van Bezel, Netherlands
2013-01-17 22:41:23
5 from 5
"Diese Bilder sind so fantastisch, dass ich mich nicht satt sehen konnte. Vielen Dank"
Heidi Beuret, Switzerland
2013-01-09 13:53:19
"As most people who have jumped off the bridge, ALL were facing the city and not the open Ocean and so the city and county placed a wire fence on that railing and so nobody can,or has done, jumped off in a rather long time so once again your facts about one person every two weeks jumping off is WAY off the mark,it has NEVER been known as suicide bridge, who tells you this crap,I have lived here for years and worked as tour guide..The "other" bridge you mentioned must be the Bay Bridge and as far as I know nobody has ever jumped off that as they would be facing Oakland !!."
Andrew Wilson, USA
2013-01-09 13:44:43
"Your video is great however your facts are somewhat wrong. -- The G.G.B. as we locals sometimes call it is in fact "The bridge that spans the Golden Gate" as this was the gateway to the gold fields,1849, in days gone by hence the name. It has nothing to do with a bridge in Istanbul."
Andrew Wilson, USA
2013-01-07 00:01:05
5 from 5
"Of course my rating is a plus 5! Born and raised in downtown SF in 1949 - went to Notre Dame des Victoires Grammar & High School (best yrs of my life!)We'e hoping for a 50 yr reunion of Grammar school in 2013 - anyone interested?? Love Sausalito too."
Jeanne Mathews-Schurr, USA
2012-11-17 20:56:25
5 from 5
"J'ai vu ce panorama depuis un bâteau de croisière ainsi que des bernaches duCanada durant le dîner: impressionnant!"
Gilles Léonard, Canada
2012-11-17 20:51:53
5 from 5
Gilles Léonard, Canada
2012-11-02 17:16:55
5 from 5
"Prachtige niet alledaagse opnamen.
Hernieuwde kennismaking , maar dan anders als "normaal""
john hanegraaf, Netherlands
2012-10-17 15:36:31
5 from 5
"Everyone can rest easy. The cat was in no danger because the cat wasn't really there. It must have been photoshoped into the picture. How do I know? The cat casts no shadow. You can see the shadow of the pipe but not the cat. :)"
Chris Hawbaker, USA
2012-10-11 16:41:00
5 from 5
"I have had the fantastic pleasure of visiting San Francisco and went to the bridge and read the plack at the bottom of the bridge with its history inscribed.Just too marvelous.The U.S.A.is big,thinks big,and acts big because they are wonderful and clever people."
Lou Corbitt, South Africa
2012-10-03 21:35:51
5 from 5
"la magia de las fotografias son los instantes en que las puede ver y capturar lo demas es s superfulo es el instante"
jose maximo sanchez aranda, Mexico
2012-09-10 03:51:42
1 from 5
"you are a mad russian .....a nut to risk your life for this photo...its not that important"
wynn hammer, USA
2012-09-07 07:56:55
5 from 5
"Wonderful place to view..."
pallavi saxena, India
2012-08-21 18:34:07
5 from 5
"I loved the photograph of the Golden Gate bridge with the cat sat sunbathing so high up. A brave puss.I hope he stayed safe!!!!
Fantastic photography.
Thank you."
Marian Hemming, United Kingdom
2012-08-15 07:36:21
5 from 5
"what to say? no description req. just fantastic.
when i saw this one,i was in trance. i forgot, that i am looking at what?"
drsuryakant vora, India
2012-08-14 16:30:19
4 from 5
"I grew up across the bay in Richmond. My most interesting experience on the bridge was walking across on a foggy day where in the middle you couldn't see either Marin County or SF. When I visit now I always drive up the hills of El Cerrito and view the bridge from there. When they opened the bridge from Richmond to San Rafael I took a carload of my friends and made the loop from Richmond to San Rafael to SF to Oakland and back home. The bridge is truly a national treasure."
jack repass, USA
2012-08-13 12:45:48
5 from 5
"I lived in Marin County in the late 60s, early 70s and I commuted into downtown
SF for five years. I played a game with the fog ... would it be high (not
able to see the towers) or low (I'd drive in pea soup). But your photography
is unbelievable! Makes me want to move back west!"
Gertrude Sandor, USA
2012-08-12 13:52:03
5 from 5
"Fantastic. Wonderful What. A. Breath. Taking. Views
Of. A. Big. World. Thank. You"
queeniesmalley@bigpond.com Smalley, Australia
2012-08-10 14:39:58
5 from 5
"the best pano site on the web, with an excellent presentation. KRpano is a powerful tool, the stiching SW looks like PTGui Pro with some minor sky problems - well done guys !"
Michael Ammel, France