President of Russia V. V. Putin handed AirPano the Grant Certificate from the RGS
---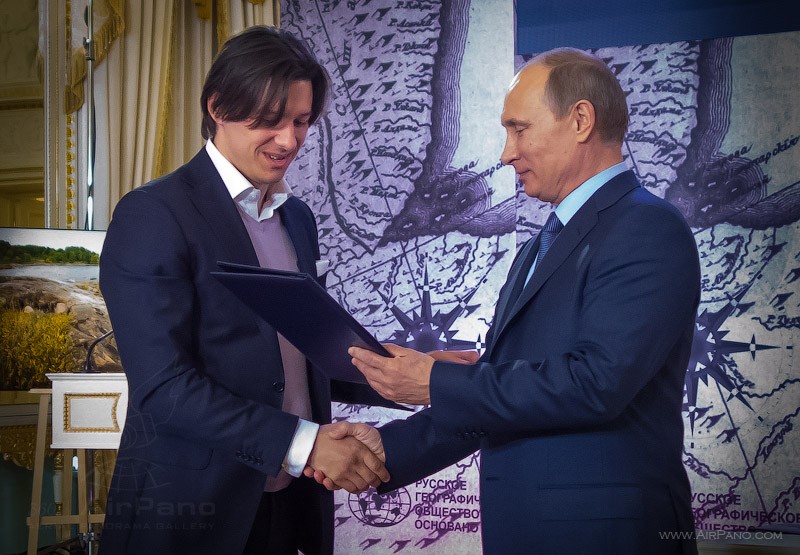 The meeting of the Russian Geographical Society's Board of Trustees was held today, on April 30th, 2013, in St Petersburg. President V. V. Putin and Mr. S. K. Shoigu, the Minister of Defense of the Russian Federation participated in the meeting.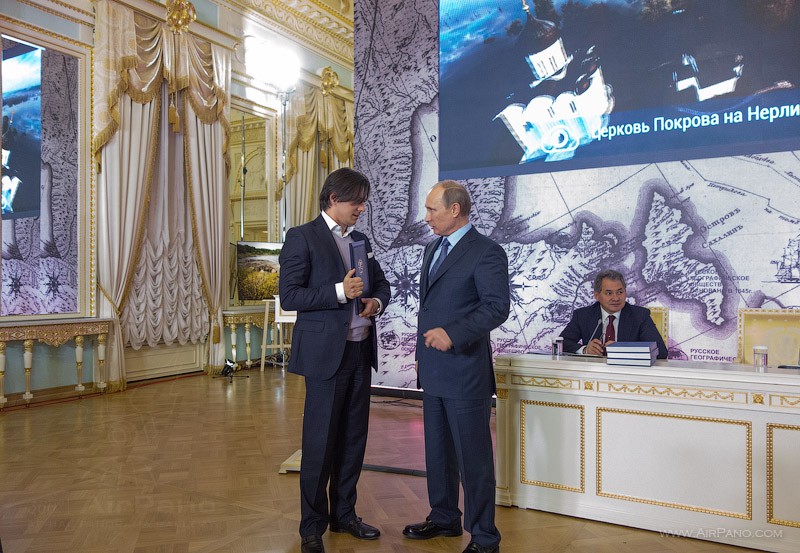 During the award ceremony President V. V. Putin handed Sergei Semenov, the representative of AirPano team, the Grant Certificate from the Russian Geographic Society (RGS).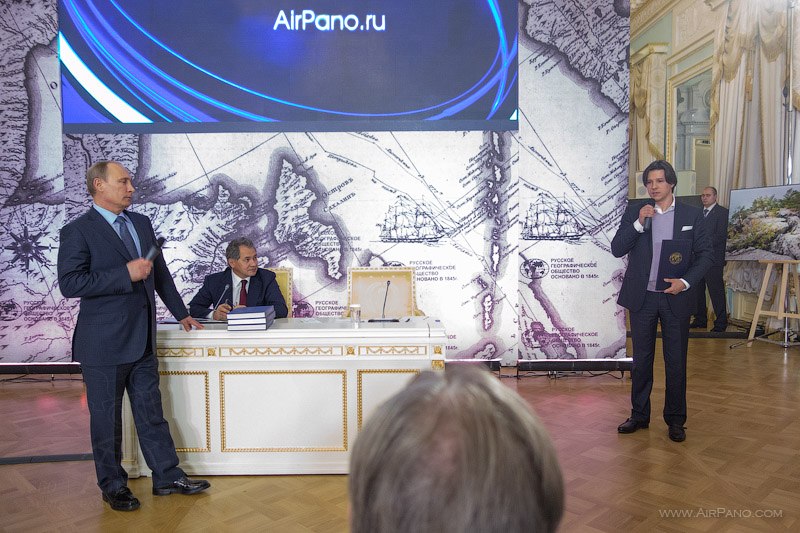 Based on the findings of RGS Special Committee, AirPano project was nominated for a monetary grant to develop virtual tours over most remarkable locations in Russian Federation in 2013.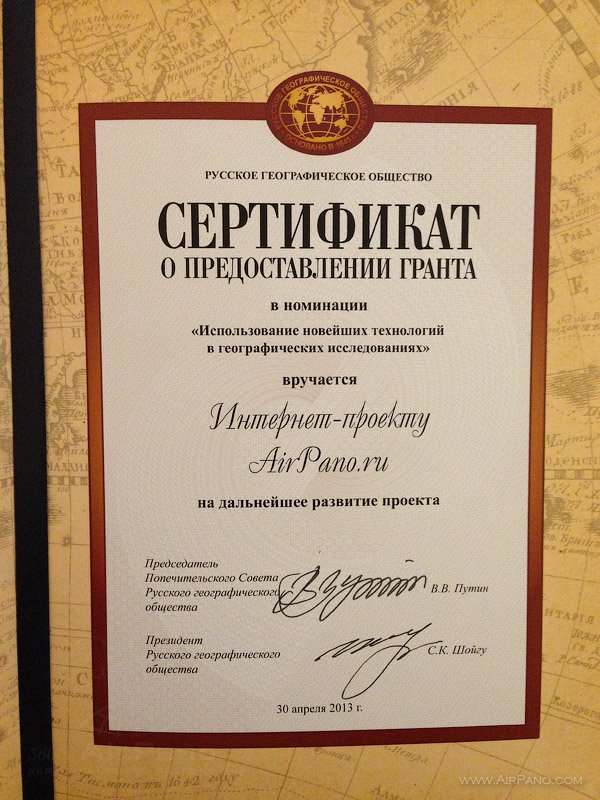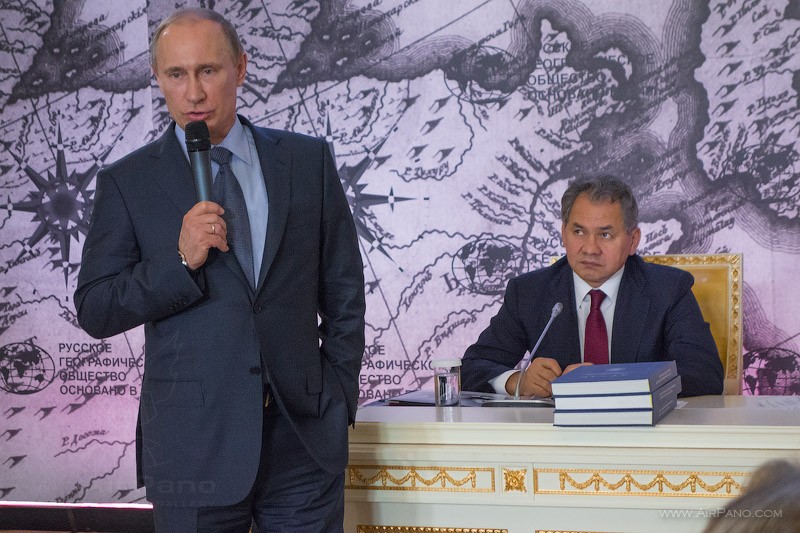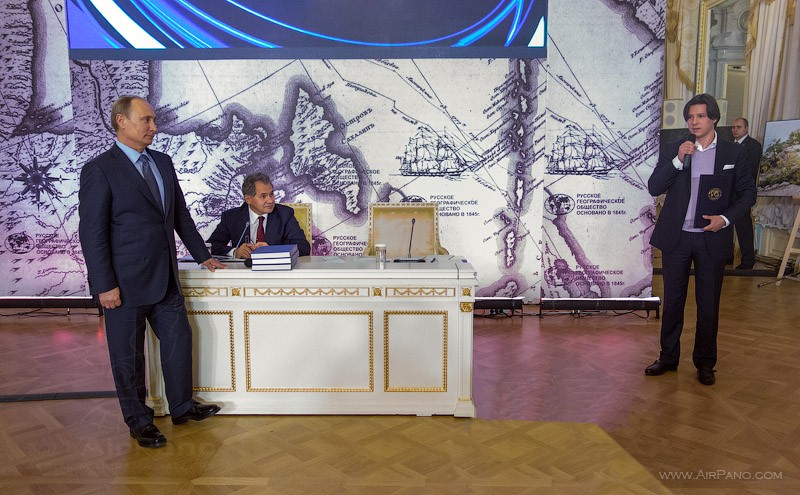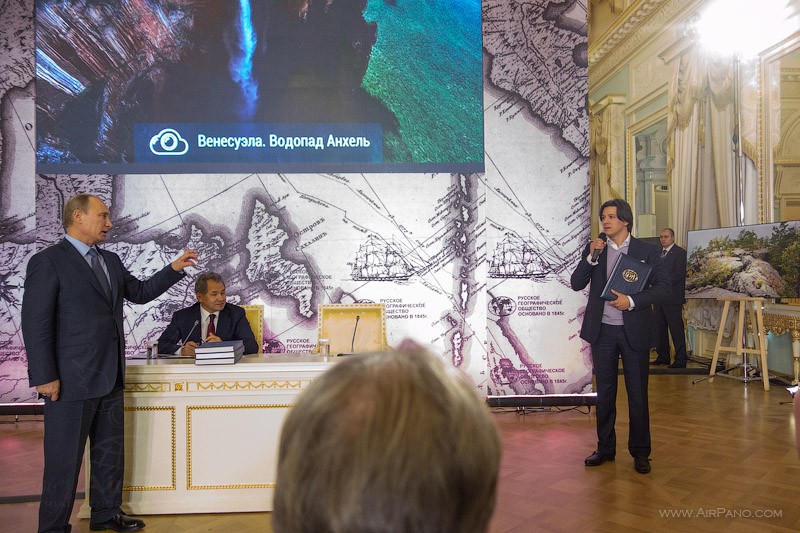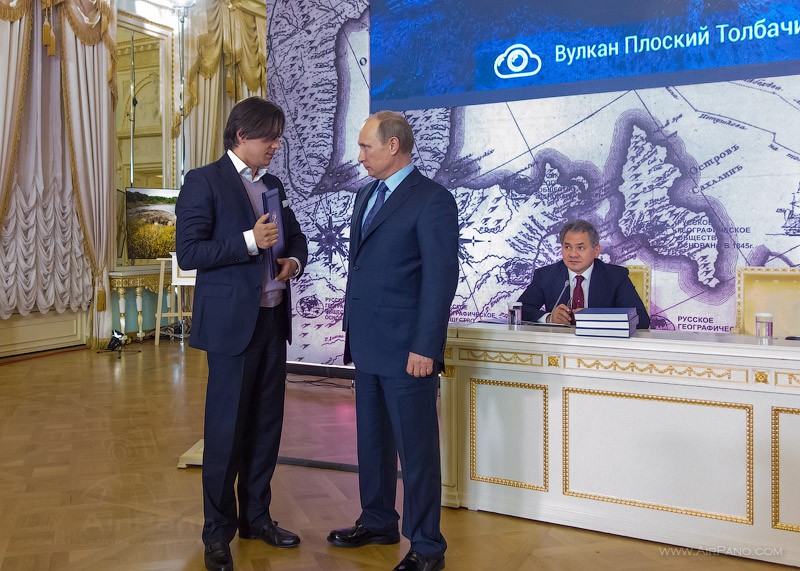 Comments
2014-07-15 18:32:59
5 from 5
"Congratulations, I have never seen such dedication to detail, it is so brilliant, and I would like to thank you for allowing us to see the world, as possibly we never could. Absolutely excellent !"
gerald guile, United Kingdom
2014-06-21 19:40:31
5 from 5
"我看好你,请联系我!!"
hehe hello, China
2014-05-13 15:02:48
5 from 5
"4 Pm at the end of my working day, i travel the world with you, some make me sad, but more give hope, choice what would i have done, if i wasn't here, go to all the places where i haven't, or just somply travel the world with you. thank you, from my heart"
Mohammed AlEidi, Saudi Arabia
2014-03-23 21:56:18
5 from 5
"Great work.....informative for ongoing generation!!!!"
Khawaja Aqil Ahmed, Pakistan
2013-11-19 20:49:26
5 from 5
"No words can express this visual extravaganza. Truly a world without any boundaries. Panoramic view of the world from the heaven"
Ashit Sheth, India
2013-11-06 15:04:18
5 from 5
"Congratulations! You all deserve it. And what a fantastic way to present Russia that will be!"
David Lennox, United Kingdom
2013-10-25 18:10:23
5 from 5
"Excelente trabajo. Soy super aficionada a conocer lugares. Siempre ha sido mi delirio y gracias a uds cuando voy a un lugar conosco de antemano donde estoy. Todavia me faltan muchos por conocer...Mil gracias...."
Yajaira Perez, USA
2013-10-19 15:54:07
5 from 5
"You are well deserved. Wish you all the best & good luck."
Tushara Wasantha, Sri Lanka
2013-10-07 20:19:37
5 from 5
"Wow! it's great
Thankyou Ashok"
Ashok Patel, India
2013-09-18 23:57:31
5 from 5
"Briliant , Wellcome to Serbia"
MILAN POPOVIĆ, Serbia and Montenegro
2013-08-14 17:51:12
5 from 5
"Mille mercis aux auteurs. C'est vraiment très beau et bien fait.
Dominique"
Dominique Mailhot, Canada
2013-08-08 21:17:03
5 from 5
"Excellent and invaluable artwork!

Gratulalok mindnyajuknak akik reszt vettek ebben a felertekelhetetlen munkaban. Sok sikert kivanok."
Laszlo Uto, Canada
2013-07-30 15:00:29
"bonjour Chere ABOUCHEHADE ALBERTINE

Mes Grandes felicitations pour tes continuelles reussites et j espere te revoir le plutot possible mon adresse email est :

mn.alahmar@yahoo.fr

A Bientot

Mounir"
mounir alahmar, Syrian Arab Republic
2013-07-16 02:16:49
5 from 5
"I love it! Carry on... !"
Corinna Gilbers, Germany
2013-06-28 03:28:15
5 from 5
"Parabéns vocês merecem !"
Paula Cardoso, Portugal
2013-06-19 07:45:49
5 from 5
CLARA INES GONZALEZ VARGAS, Colombia
2013-06-19 06:09:59
5 from 5
"FELICITACIONES AIRPANO Y AL RUSSIAN GEOGRAPHIC SOCIETY POR ESE PROYECTO, EL CUAL COMPARTEN CON TODO EL MUNDO Y PERMITEN QUE PODAMOS VER Y DISFRUTAR SEMEJANTES PAISAJES TAN HERMOSOS EN ESOS TOURS VIRTUALES, CONGRATULACIONES GRACIAS."
CLARA INES GONZALEZ VARGAS, Colombia
2013-06-12 04:11:18
5 from 5
"This is fantastic...But/ And in New Zealand the only talent you needs is your family blood line..."
mike packer, New Zealand
2013-06-04 10:43:22
5 from 5
"Thật là đẹp.Tuyệt vời.

It is beautiful. Excellent

Ýòî êðàñèâî. Êðàñèâûì."
Bình Minh, Vietnam
2013-05-24 17:00:51
5 from 5
"Merci, merci de m' avoir donné tant de bonheur et de plaisir. J' ai l' âme étreinte d' émotion et les yeux emplis de larmes! merci de nous enrichir de votre culture et de nous transmettre votre savoir. Cet acte de générosité et du don de soi, mérite d' être inscrit dans les Annales de l' Humanité !!! Merci pour toute personne qui œuvra à ce noble acte. Je vous adresse du fond du cœur mon cri d' admiration."
Albertine d' Aboucheade de Mortemart, France
2013-05-21 15:14:36
"Yeeeee!
We are all as ONE! We are together opening spirit of our Planet with the Airpano. In a smart, polite, eco-friendly way. Not the way of colonization, occupation, and greedy globalization.
All the people on this planet should be united in the way we all the same. Intelligent, kind, respectful.
Much hugs to our planet which is floating with us in the endless shores of the Universe and all the kind people on our planet ;)))"
Radomir Ragarin, Estonia
Varvara, AirPano: Thank you, Radomir, for your kind words and your countenance!
2013-05-19 16:46:14
5 from 5
"Ïðèâåò è ïîçäðàâëåíèÿ (from google translate)
Hello and Congratulations, You deserve this award for bringing us views of the world around us like no one else has before. Almost like being there. Before visiting the Maldives I just had to check out your 360 panorama ! awesome. Do visit India and use your 360 panoramas for this beautifull country too. Thanks once again. ----- Huzefa."
Huzefa R, India
2013-05-19 01:24:27
"congratulation, goood work, :)"
Grzegorz Mirek, Poland
2013-05-14 15:30:07
"Very well-deserved. Congratulations from all of us at the Giza Project, Harvard University!"
Peter Manuelian, USA
2013-05-13 21:54:37
5 from 5
"Toutes mes félicitations et à plus de consécrations !"
Hamoudi Yassine, Algeria
2013-05-13 14:50:12
5 from 5
"Congratulations!"
asia360 cities, China
2013-05-10 16:37:46
5 from 5
"Felicitaciones, Airpano y al gobierno de Rusia, Exelente lo que hacen, GRACIAS POR COMPARTIR CON EL MUNDO LO QUE HACEN, MIL FELICITACIONES!!!!!!!!!!"
christian comes, Argentina
2013-05-09 15:04:25
5 from 5
"Congratulations Sergei .
Spassiba !
Il y à notre planète et la Russie , très joli pays ; Saint Petersbourg et bien d'autres endroits .
Je m'inspire de vos vidéos pour mes voyages ."
Albert RONCERAY, France
2013-05-09 02:36:59
5 from 5
"BRAVO !!Gratulálok."
Bor Ferenc, Hungary
2013-05-08 04:22:26
"Congratulations, Well deserved!"
David Fuelling, USA
2013-05-06 18:18:15
5 from 5
"Great news! I know very little about Russia nad have no time to make big journeys...I'll be looking forward for your new work!"
Burak Ercümen, Turkey
2013-05-04 05:52:24
"Sinceras felicitaciones, Congratulations to the best !."
German Porras, USA
2013-05-03 19:25:16
5 from 5
"As a supporter to this website,恭喜( congratulations!!!!)"
yi xin, China
2013-05-03 14:08:29
5 from 5
Dieter Falk, Switzerland
2013-05-03 09:41:32
5 from 5
"Congratulation !!!"
Thus Spoke zarathustra, Iran