Peterhof, St. Petersburg, Russia
•
360° Aerial Panoramas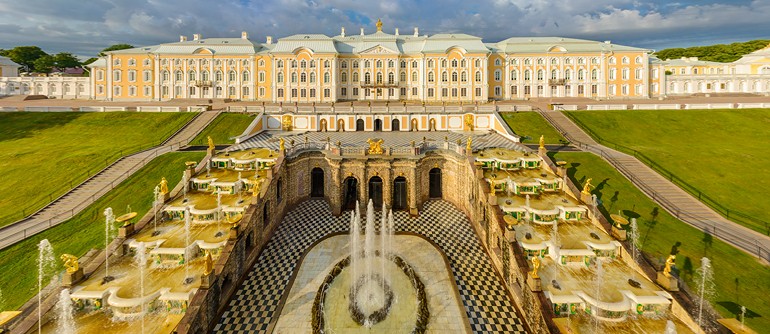 ---
Nowadays Peterhof is a world-famous complex consisting of various palaces and gardens, and it's considered to be one of the most important sights in St. Petersburg and Russia. Before the 18th century its territory was occupied by only a few Finnish villages. It wasn't until year 1705 that the word "Peterhof" appeared in the first travel journal of Peter the Great (Peterhof is Dutch for "Peter's yard"). The tsar saw this area as a good place to construct a landing for travelling to and from Kotlin island.
By 1714 Peter the Great had the idea to build a luxurious country residence, as luxurious as French Versailles. The complex of magnificent buildings was meant to glorify the power of Russia, and its recent victory over Sweden for an outlet to the Baltic Sea.
To turn this idea into reality the construction was started in the nearby village of Strelna, but later it turned out that the terrain in Peterhof would allow to build higher fountains due to its numerous underground springs, so construction was moved there. The best architects of Europe were invited to participate in the construction process. However, old drawings made by the tsar, his decrees, and notes on the documents suggest that the general concept design of entire complex, and, sometimes, design of individual architectural elements and fountains belonged to Peter the Great himself. The grand opening of the residence took place in 1723: by that time they planned out the Lower Gardens, dug the Sea Channel and launched some fountains; they also placed statues, vases, and busts on cascades, terraces, and alleys. Even then the beauty of "Peter's yard" astonished visitors, but a new round of construction started by the Empress Anna Ivanovna, successor of Peter the Great, that made Peterhof one of the largest palace-park ensembles in the world.
Modern Peterhof includes several palaces and park complexes that were under construction for almost two centuries. The Lower Gardens, Upper Gardens, and English Park were built in the 18th century; the Alexandria Park, Kolonistsky Park, Meadow Park, Alexander Park, Sergievka Park, and Lower Dacha were built in the 19th century. Peterhof is often compared to Versailles (the tsar's project was realized as intended), but many critics believe that it's a wrong comparison. European palaces and parks are more continental, whereas Peterhof was born from the romance of sea and it perfectly blends into surrounding picturesque waters.
One of the most famous landmarks of Peterhof is Samson Fountain, the central fountain with 21 meter high water jets. According to the original plan, there was supposed to be a statue of Hercules defeating the Hydra of Lerna in the center of the Grand Cascade fountains, but it was replaced by a statue of Samson tearing the lion's mouth.
A fountain monument was erected in 1735 to commemorate the 25th anniversary of the historic victory of the Russian army over the Swedes at the Battle of Poltava on June 27th, 1709 (the day of St. Sampson the Hospitable). It explains why Hercules was replaced by Samson: the lion is associated with Sweden, because it's depicted on the arms of Sweden.
The fountain was badly damaged during the World War II, and the original statue was lost. The Samson that we can see now in Peterhof is a copy that was carefully re-designed using archival drawings and photographs.
There were other Peterhof sights that were damaged during the war: the Upper Gardens, the Lower Gardens and fountain water pipeline system. The restoration work started in 1944 continues to this day. But it's hard to notice: the complex of palaces and gardens has been restored almost completely, which you can see for yourself through our panoramas.
Photo by Stanislav Sedov and Dmitry Moiseenko
25 October 2013
Comments
2016-09-17 12:57:50
5 from 5
"Thanks for this virtual tour, my dear 'travel buddy'! Peterhof is breathtaking... Greetings from South Africa"
Tanya Gerber, South Africa
2014-06-17 20:50:09
5 from 5
"I viewed this some time before, and I had a dream last night about the secenes. Now I get here again ,and I burst into tears."
Luoman Li, China
2014-04-22 04:10:59
"i love this place :) and nice job"
ammar tahar, Algeria
2014-04-21 09:00:15
5 from 5
"Τhis Panorama is wonderful, i have walk around and in this pallace but from the tired its impossible to have full opinion,"
RIGAS NIKOLAOU, Greece
2014-03-21 07:32:51
5 from 5
""It's beautiful,and owesome.... congratulations to all your team thank you"

Pls let me know the format of the 360 degree view!!! Is it make on 3D Max?"
Girish Kumar, India
2014-02-28 22:28:34
1 from 5
Gerhard Schmelter, Germany
2014-02-26 06:00:53
5 from 5
"***** ... ONCE AGAIN I would like to express my GRATITUDE to each and every one of those who have made possible this EXCELLENT WORK!!!!
~.~ On behalf of my FRIENDS and also my own:
T H O U S A N D ... T H A N K S !!! ~.~

Ines T. B.
USA/ARGENTINA"
Ines BARRIONUEVO, USA
2014-02-24 21:00:16
5 from 5
"Simply wonderful! one of the best laces i've ever seen! If I can give you an advice, you can also make the panorama of Pushkin/Zarskoe Selo near Saint Petersburg"
Vale XD, Italy
2014-02-20 18:55:40
5 from 5
"The beauty of the Peterhof is almost beyond comprehension. We visited these palace grounds in 2011. Seeing the Peterhof again brought tears of emotion."
Jeannine Eiesland, Russian Federation
2014-02-16 14:29:33
5 from 5
"Awesome, Paris of the North"
Pawel Dudek, Poland
2014-02-13 00:43:56
5 from 5
"¡¡¡ F A B U L O S O !!!!!"
ROLANDO GONZÁLEZ GUERRERO, Mexico
2014-01-27 14:54:38
"Áîëüøîå ñïàñèáî, ðåáÿòà ,,,âåëèêîëåïèå.."
mohamed eid al shabshiry, Egypt
2014-01-15 12:12:30
5 from 5
"Wonderful! Perfect job, thank you!"
Momcilo Vukovic, Austria
2014-01-05 23:05:37
4 from 5
"it is wonderful,please put a picture from Tabriz"
mehdi hadi, Iran
2014-01-02 16:00:02
"Thank you...."
Lida del Monte, Netherlands
2013-12-22 11:33:05
5 from 5
"Your site is wonderful. Please keep up the good work. I love it!"
Juanita Hamilton, USA
2013-12-09 09:41:07
5 from 5
"PERFECT !!!!!!!!!!!!!"
marta gobet, Argentina
2013-11-16 15:36:45
"I went in this wonderfull place in 2012 I spended amazing days"
Odete Schwab, Brazil
2013-11-02 15:09:21
5 from 5
"Very nice !!!!!!!!"
Nancy Moulkiarotou, Greece
2013-10-31 16:46:47
5 from 5
"Muhteşem!"
gürbüz kılıç, Turkey
2013-10-29 00:22:04
5 from 5
"Beautiful, I can't express all filling, don' have enough word to do this, Thank you so Mach"
Sergey Zagorodnev, USA
2013-10-28 21:28:00
5 from 5
"¡¡FANTASTICO!!, ¡¡EXTRAORDINARIO!! No hay palabras
para expresar tanta belleza.
Hacéis un trabajo maravilloso. MUCHAS GRACIAS."
José Calvo, Spain
2013-10-27 18:45:57
5 from 5
Mao Xi chun, China
2013-10-27 18:45:38
5 from 5
Mao Xi chun, China
2013-10-26 15:11:21
5 from 5
"Congratuletions.It is an amazing video."
Aristeidis Bezerianos, Greece
2013-10-25 23:40:44
5 from 5
"Impresionante video .Muchas gracias."
Hugo Leon Giraldo, Colombia
2013-10-25 21:32:18
5 from 5
"FABULOSOS Y FORMIDABLES ! videos , de Patrimonios de la Humanidad.Excelente calidad."
German Porras, Colombia
2013-10-25 19:01:26
5 from 5
"Greate shots.
how much is the height of the "Above the grand cascade " panorama?"
Saeed Dehghani, Iran
2013-10-25 18:19:31
"its amazing"
renu gupta, India
2013-10-25 17:02:21
5 from 5
""It's beautiful, congratulations to all your team thank you""
Karel Hofmann, Czech Republic
2013-10-25 15:44:39
5 from 5
"Wonderful!
Thank You!
You let us see the beautiful places we can not travel to, free, for no cost. Thanks many times, especially because its being free, for otherwise I couldn't see it from inside Iran!"
Reza Hariri, Iran
Varvara, AirPano: Thank you, Reza! We are glad if you will visit our site again!
2013-10-25 15:10:03
5 from 5
"Stunning, it's nice to see the rest of the world.

Thanks to you guys we can also see the world"
George Kuyk, South Africa
2013-10-25 13:27:49
5 from 5
"Extraordinarily beautiful, congratulations to all overviews of your impressive work!
-------------------------------
Straordinariamente bella, complimenti anche per tutte le panoramiche del vostro imponente lavoro!"
Fabio Anchieri, Italy
2013-10-25 13:22:43
5 from 5
"unusual picture i ever seen ///"
ali akbari, Iran
2013-10-25 12:27:40
5 from 5
"Nice"
Karthik Reddy, India